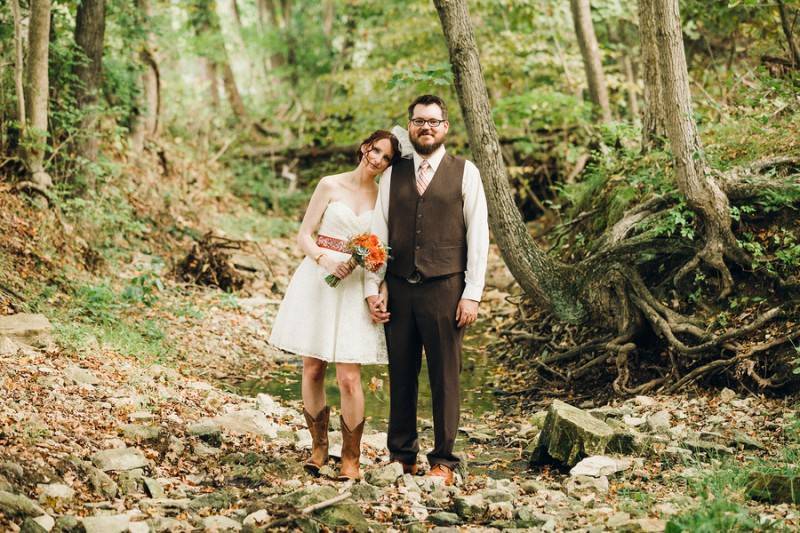 The DIY details and personal touches in this wedding are so abundant that we can surely say that this day was truly close to our couple's heart. And what's amazing is that not only our bride who took part in making these details, but some of their guests had a hand on it too! They made homemade pies to share during the event and we all know how a slice can make anyone's day. Everything was just creatively rustic! It's every artsy girl's dream wedding. And we're lucky enough that Jessica shared with us her process on making these projects! She did not withhold any information. Thank you!
Congratulations Jessica & Jeff!
Was there any Do it Yourself (DIY) projects? If so, can you describe them in detail?
Yes! I had a lot of fun gettin' crafty! The inspiration was rooted in the old time square dance, which tied in nicely with the burlap and lace trend. Chalkboards and the "J &J" was an easy theme to use throughout as well. I have always loathed the traditional guest book and knew I wanted something more interesting. I saw a 'wish tree' on Pinterest and decided I could make one. I bought an old watering can at a flea market for about $20 and used branches from a Birch tree in our back yard. I stamped the wish cards with our initials and tied the hanger ribbons in our colors, then made a chalkboard sign so guests knew what to do with the cards. I think I made 5 or 6 small chalkboard signs, one for the wish tree, one for the bar, one as a 'thank you', one with the dinner menu, and one for the favors. I found unfinished chalkboards at JoAnn's and used wood stain on the pine frames, and a chalk pen to write out the messages. That took about an afternoon to complete and cost around $30.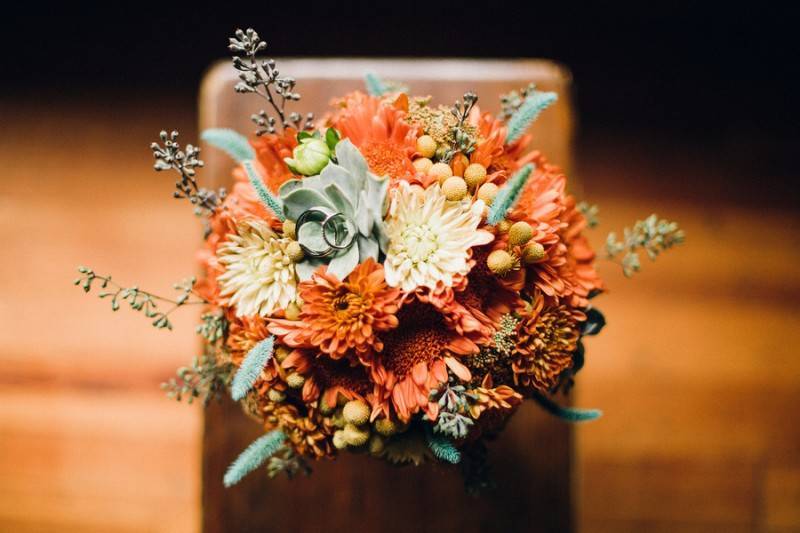 I didn't want to spend a lot on table decorations, I knew I wanted candles all around and flowers of some sort. I had family save all their glass jars of different sizes, plus I had quite a few old mason jars already. I did buy about 20 more mason jars on Craigslist for $20. I fell in love with the look of Babies Breath for flowers and it's super affordable. I ordered it in bulk from Sam's Club for about $100 and had more than enough. We just made simple bouquets in the jars and put candles in some of the other jars. I had tied jute bows around all the jars ahead of time. It was probably about $160 for all the table decorations.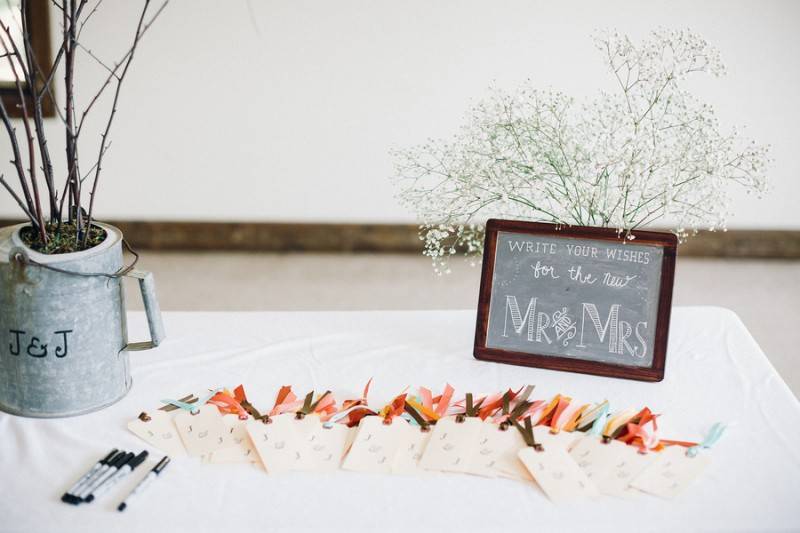 My mom sewed burlap table runners for all the tables, and a really pretty one with ruffles for our 'sweetheart table'. The burlap cost around $75 and it took her a couple days of sewing to complete them. She also made our heart shaped ring bearer pillow out of burlap and embroidered "Reed" and our wedding date onto it. It now sits in one of our living room chairs. I made some burlap and doily bunting/banners for the pie table, they only took a few hours to make. I ordered the doilies on Amazon as I couldn't find vintage ones for an affordable price, they were around $25. For the pie table, I bought several glass cake stands (some new, some vintage) for around $100 total and borrowed a couple as well.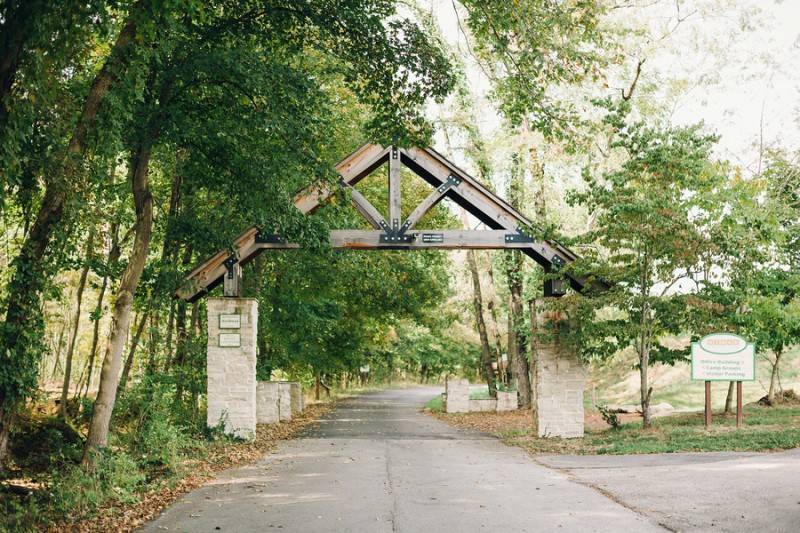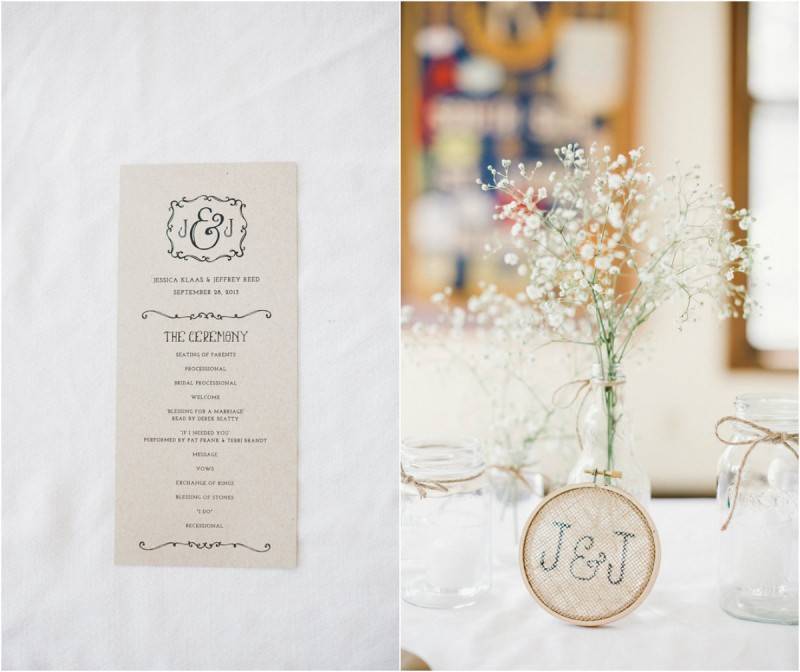 I was also able to reuse some decorations my girlfriends had made for my shower – some tulle bunting which we hung around the fireplace, as well as a burlap "Let them Eat Pie" sign they had made for the shower. I really wanted galvanized washtubs for the bar and was going to purchase them on Craigslist for about $175, but the Universe smiled upon me – a neighbor had set some out on the curb for free! That was an amazing find. For my 'something blue', I had my mom sew a heart-shaped piece of my deceased father's old blue sweatshirt into the bodice of my dress. That idea was 100% Pinterest, and it was nice to have something of my dad's with me, yet it was private at the same time since most of the guests didn't know it was there. It was a special way to connect with my dad on that day.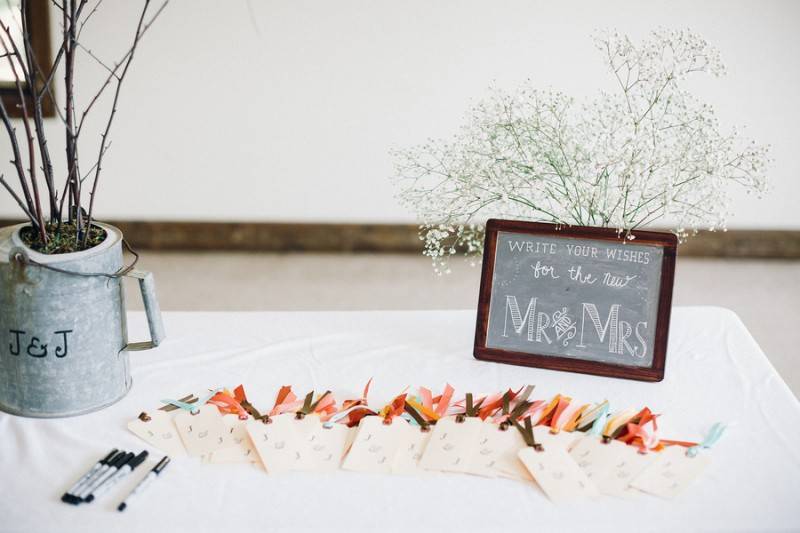 I have to say though, my favorite DIY piece by far was the pies. Pie is big in my family and several of us love to bake them. My original plan was to bake all the pies myself, but as the day approached I quickly realized there was no way I was going to be able to pull that off! My cousin, an uncle, an aunt, and a dear friend each made 2-3 pies to contribute and we ordered a few from our favorite pie shop in town. Having all the homemade pies was really special and helped make the day feel more relaxed. Everyone that made a pie said they thought it was really fun to contribute to our day, and it added to that old time feeling we were going for.

Photographer:
What do you think is the overall story for this album?
Jessica and Jeff were married in a rustic lodge located in Eureka, MO. There were around 60 guests in attendance. The couple had props for all of the guests to be photographed in. They had a square dance caller and a bluegrass band for their entertainment. For dessert the couple chose pies. They provided some premium pies and their guests were encouraged to bring their special family recipes. The couple helped to cut and serve the pie for their guests. The bride's father had passed on so she had him close to her in the form of a heart cut out of one of his blue sweatshirts and sewn into her dress close to her own heart. Both sets of the groom's grandparents had also passed on and he carried photographs of them in his vest pocket throughout the day. The two of them were so incredibly fun and ready for anything. They made a point to dance with all the guests that would let them!
What was your favorite part of the day?
Our favorite part of the day was when Jeff and Jess cut the pies for their guests. It was such a humble and loving gesture for them to care enough to dig in and take care of everyone who was there to celebrate with them. Close second would be when they were serenaded while cutting their own pie by the best man and his friend playing guitar and singing "Pecan Pie" by Wilco.
What were the highlights from the ceremony & reception?
The guests were handed stones as they entered the ceremony. They were asked to hold the stone and think of a special blessing or wish for the couple. The stones were collected at the end. At the reception it was nonstop fun starting with the pies and ending with the square dancing. Many guests said they would've never done it had it not been for Jess and Jeff's wedding reception. The floor was always full of dancers.
Was there a theme for the ceremony and reception?
Burlap and lace as described by the bride
Vendors
Photographer:  Oldani Photography
Musicians:  Downstream Duo
Musicians:  Dugout Canoe
Invitation Designer:  Neilly Design
DIY or Handmade Goods Designer:  Peony Papeterie
Bakery:  Pie Oh My
Veils and headpieces:  Ruche
Floral Designer:  True Lei Floral Design
Reception Venue:  Wyman Center