Wedding planning is often more stressful than most couples expect, and as DJs we hate when wedding playlists are hastily put together, so we decided to give couples in planning some inspiration for their wedding's first dance songs.
We came up with the top 50 first dance songs of 2016 by reviewing song choices of engaged couples in northeast North Carolina. Most of the weddings we analyzed took place around Wilmington and around the Outer Banks areas of Corolla, Duck, Kill Devil Hills and Nags Head.
As you can see in the list below, NC couples showed their diverse music interests and unique personalities in their choices for first dance songs in 2016 with selections by Michael Buble, Van Morrison, Aerosmith, Etta James, George Strait and Chris Stapleton.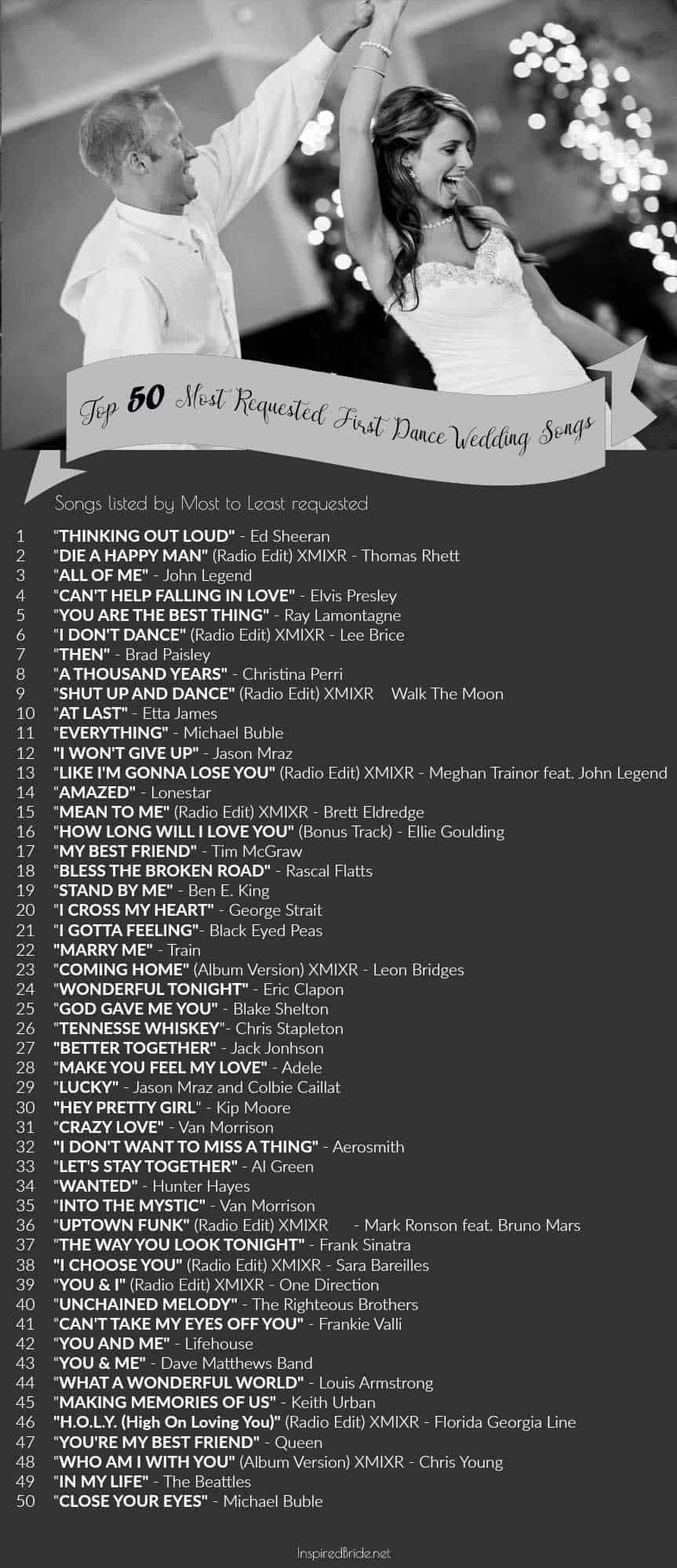 1. THINKING OUT LOUD – Ed Sheeran2. DIE A HAPPY MAN (Radio Edit) XMIXR – Thomas Rhett
3. ALL OF ME – John Legend
4. CAN'T HELP FALLING IN LOVE – Elvis Presley
5. YOU ARE THE BEST THING – Ray Lamontagne
6. I DON"T DANCE (Radio Edit) XMIXR – Lee Brice
7. THEN – Brad Paisley
8. A THOUSAND YEARS – Christina Perri
9. SHUT UP AND DANCE (Radio Edit) XMIXR – Walk The Moon
10. AT LAST              – Etta James
11. EVERYTHING – Michael Buble
12. I WON'T GIVE UP – Jason Mraz
13. LIKE I'M GONNA LOSE YOU (Radio Edit) XMIXR – Meghan Trainor feat. John Legend
14. AMAZED – Lonestar
15. MEAN TO ME (Radio Edit) XMIXR – Brett Eldredge
16. HOW LONG WILL I LOVE YOU (Bonus Track) – Ellie Goulding
17. MY BEST FRIEND – Tim McGraw
18. BLESS THE BROKEN ROAD – Rascal Flatts
19. STAND BY ME – Ben E. King
20. I CROSS MY HEART – George Strait
21. I GOTTA FEELING – Black Eyed Peas
22. MARRY ME – Train
23. COMING HOME (Album Version) XMIXR – Leon Bridges
24. WONDERFUL TONIGHT – Eric Clapton
25. GOD GAVE ME YOU – Black Shelton
26. TENNESSE WHISKEY – Chris Stapleton
27. BETTER TOGETHER – Jack Johnson
28. MAKE YOU FEEL MY LOVE – Adele
29. LUCKY – Jason Mraz and Colbie Caillat
30. HEY PRETTY GIRL – Kip Moore
31. CRAZY LOVE – Van Morrison
32. I DON'T WANT TO MISS A THING – Aerosmith
33. LET'S STAY TOGETHER – Al Green
34. WANTED – Hunter Hayes
35. INTO THE MYSTIC – Van Morrison
36. UPTOWN FUNKRadio Edit) XMIXR – Mark Ronson feat. Bruno Mars
37. THE WAY YOU LOOK TONIGHT – Frank Sinatra
38. I CHOOSE YOU (Radio Edit) XMIXR – Sara Bareilles
39. YOU & I (Radio Edit) XMIXR – One Direction
40. UNCHAINED MELODY – The Righteous Brothers
41. CAN'T TAKE MY EYES OFF YOU – Frankie Valli
42. YOU AND ME – Lifehouse
43. YOU & ME – Dave Matthews Band
44. WHAT A WONDERFUL WORLD – Louis Armstrong
45. MAKING MEMORIES OF US – Keith Urban
46. H.O.L.Y. (High On Loving You) (Radio Edit) XMIXR – Florida Georgia Line
47. YOU'RE MY BEST FRIEND – Queen
48. WHO AM I WITH YOU (Album Version) XMIXR – Chris Young
49. IN MY LIFE – The Beattles
50. CLOSE YOUR EYES – Michael Buble
"Thinking Out Loud" by Ed Sheeran came in as the favorite among couples. Thomas Rhett's "Die a Happy Man" and John Legend's "All of Me" rounded out the top three first dance wedding songs. Elvis Presley's "Can't Help Falling in Love with You" and Ben E. King's "Stand by Me" also made the list for classic first dance songs.
Most Popular Artists and Their Songs
We also looked at which artists were the most requested, and which of their songs were most popular for couple's first dances: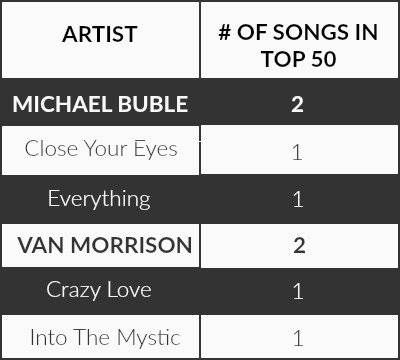 About The Analysis
To come up with this top 50 list, we analyzed more than 250 first dance wedding song selections made through our wedding music planner to discover the top 50 listed above. Lonestar's "Amazed" was a given, but Walk the Moon's "Shut up and Dance" really surprised us. We have to applaud the couples who chose Bruno Mars and Mark Ronson's "Uptown Funk" and "I Gotta Feeling" by The Black Eyed Peas. What an upbeat way to start a party.
We hope this first dance songs list helps you with your wedding song planning. Do you have any first dance wedding songs that aren't on our list? Let us know in the comments.
About the Author
George Wainwright has been a DJ since 1988 and is the owner of Coastal DJ & Video, a team of DJs and videographers serving pretty much all of NC. His music favorites include Beach Classics, Old School, Disco, Top 40, and Club.