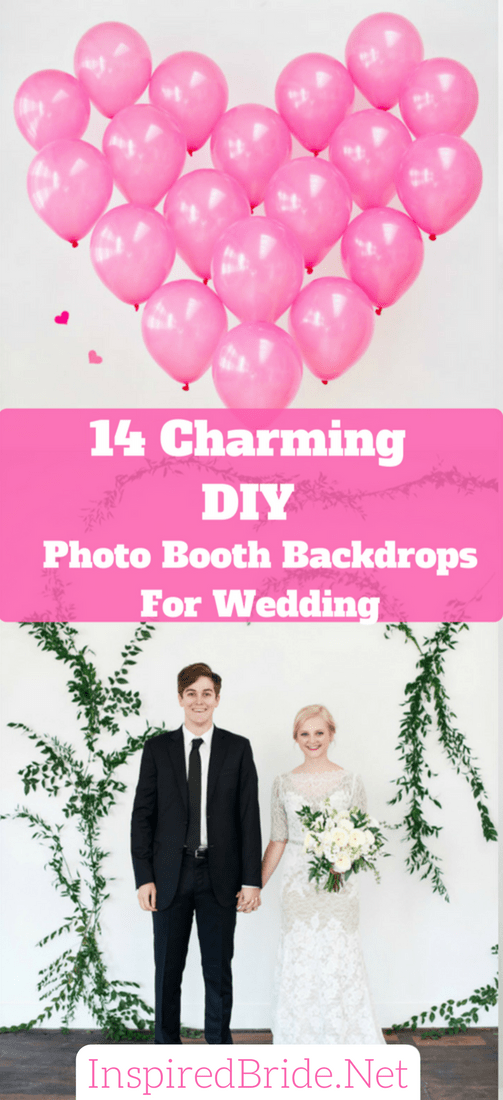 The busyness of your wedding day sometimes cuts down guest interaction time. If you would want to make sure that your guests gets to mingle with one another, why not have a photo booth? It is a fun way to have all your wedding guests getting to know each other and goofing around. However, some photo booth backdrops can be a little bland and uninspiring. And nobody wants that.
I have curated a list of the most charming photo booth backdrops just for you! Here are some of my favorites:
1. Lace Canopied Sofa Photo Booth Backdrop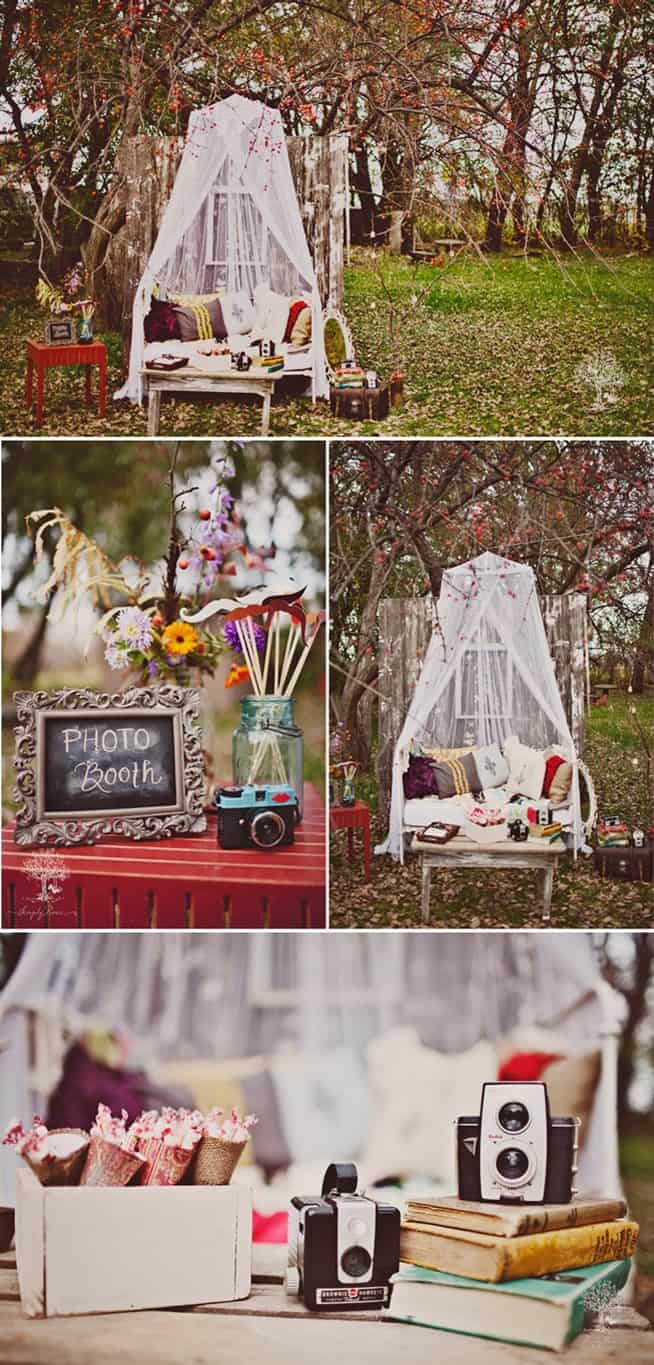 Perfect of an artsy garden wedding, you can dress up an old backyard tree with this lace canopied sofa. Throw in some mismatched throw pillows, cozy blankets, and eclectic little pieces that encapsulates you and your husband's personalities. You can even hang some of your favorite couple pictures on some of the branches!

2. Ribbons and Indoor String Lights Photo Booth Backdrop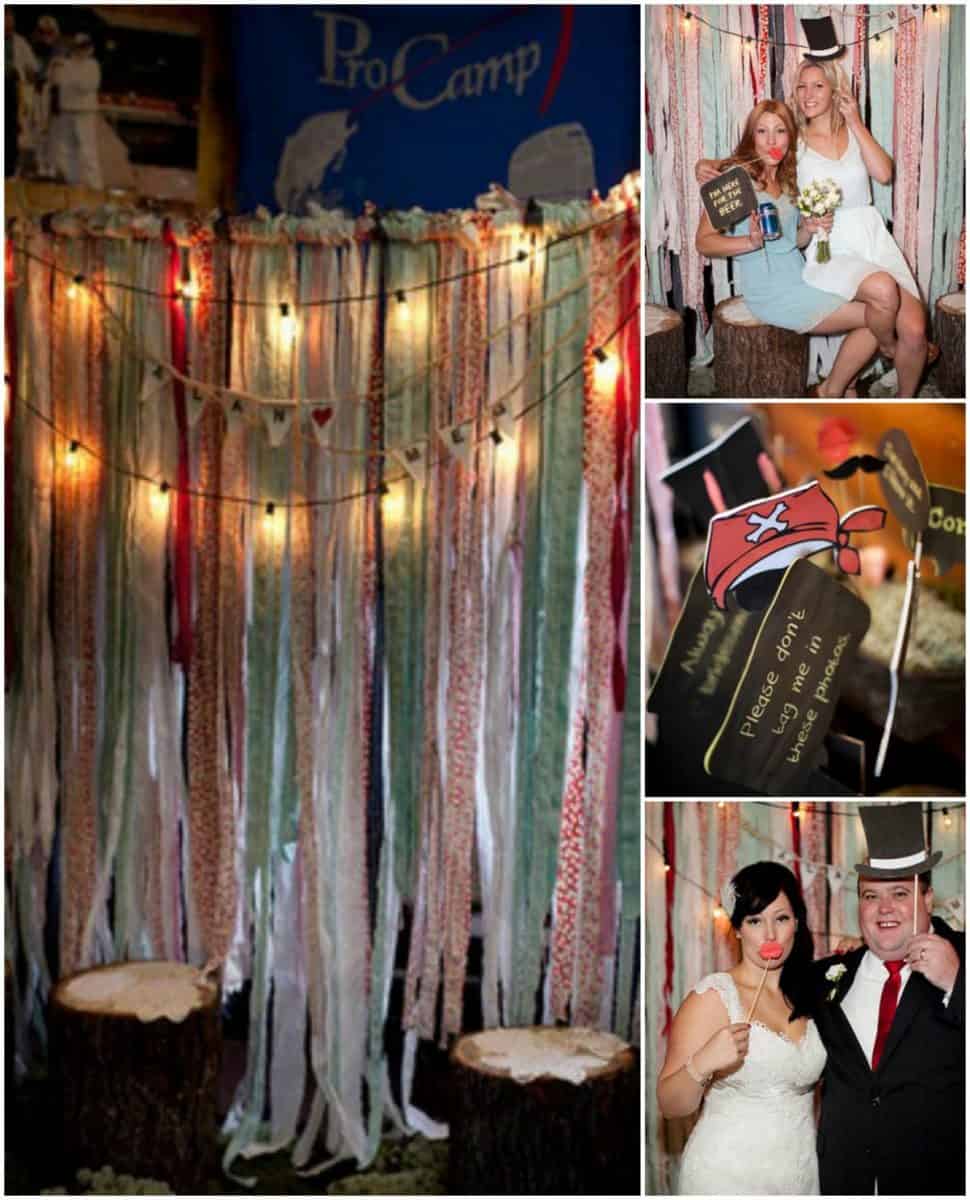 String some colorful ribbons and drape some indoor string lights on a photo booth stand to create an easy DIY photo booth backdrop that won't scrimp on the fun factor.  Confetti Daydreams has a fantastic DIY on how to make your own photo booth stand. You can add letter buntings for some added oomph!
3. Fresh Flower Wall Photo Booth Backdrop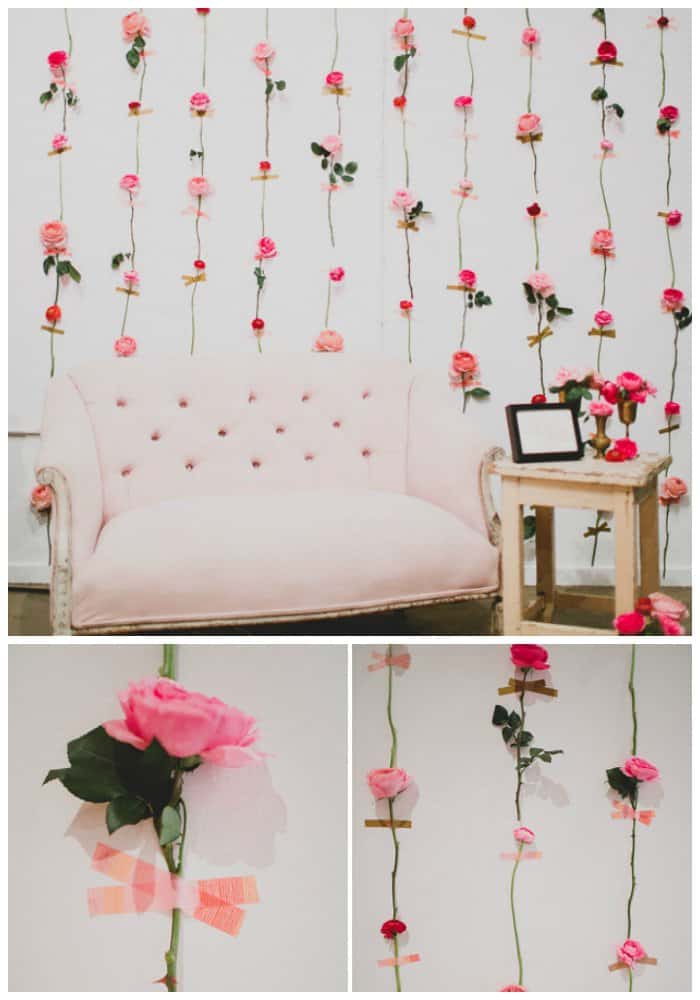 Want to bring the garden into your indoor wedding? You can make that happen by making taping fresh flowers on a wall. Having these pretty blooms adorn your photo booth backdrop is truly a sight to behold. Green Wedding Shoes has the steps on how you can recreate it on your own. Just make sure that your venue is okay with you taping things on their wall.
4. Giant Balloon Heart Photo Booth Backdrop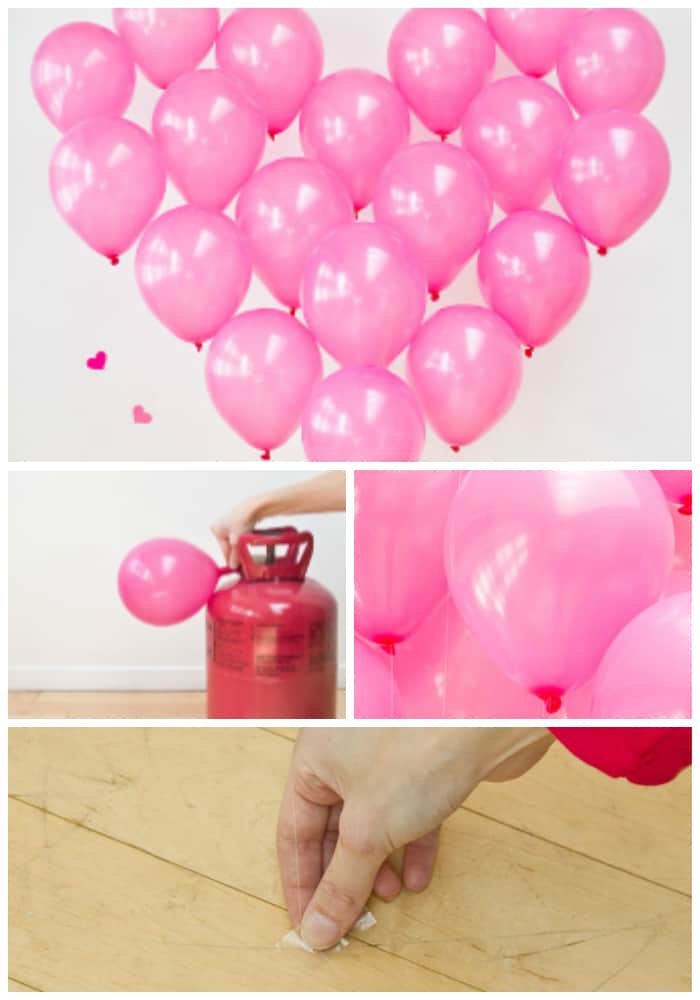 Studio DIY's giant balloon heart will send many hearts aflutter. You only need 3 things to recreate this beauty – latex balloons, clear string, and clear scotch tape. Choose the balloon color that matches your wedding color palette. This DIY is so simple that it can literally be done the morning of your wedding day.
Tip: You can also decorate a few balloons with knotted ribbons.
5. Fluffy Clouds Photo Booth Backdrop
Want to gather your entire bridal party to bond before the big day? Why not invite them for an afternoon of arts and crafts making this fluffy cloud photo booth backdrop? This activity will surely bring your entire bridal party closer while making sure that your wedding looks top-notch. A Practical Wedding has the step-by-step guide.
6. Dip-dyed Coffee Filter Curtain Photo Booth Backdrop
The always-caffeinated bride will find this photo booth backdrop DIY really fitting for her personality. If you are a coffee lover, you might already have the main material for this craft. If not, you can buy coffee filters in bulk here. Style Me Pretty shows us how to do it.
7. Cocktail Napkin Flower Garlands Photo Booth Backdrop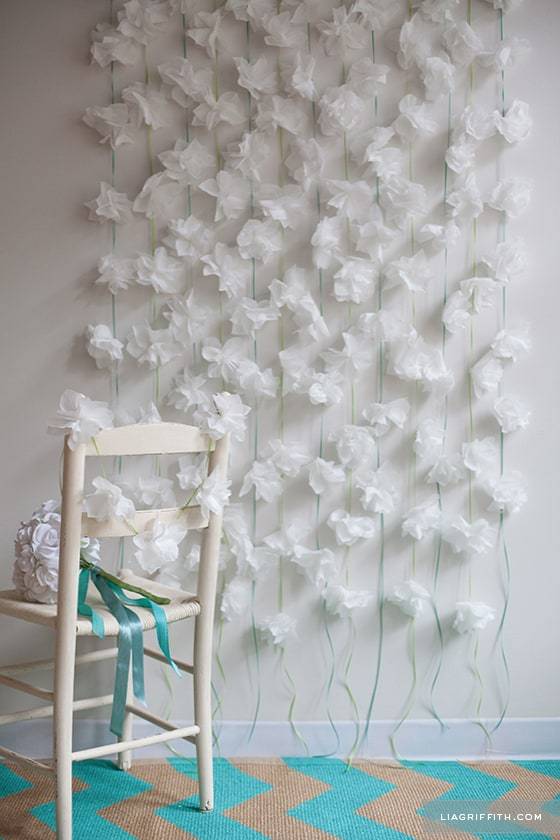 Paper flowers DIYs are popular for a reason. They are cheap, easy to do and look oh-so-pretty when done. This cocktail napkin flower garland backdrop by Lia Griffith is no exception. This all-white piece is a dreamy addition to your already-gorgeous affair.
8. Suspended Pink Carnations Photo Booth Backdrop
For the true-blue romantic bride, this suspended carnation garland backdrop provides the right amount of whimsy. The cascading flowers perfectly encapsulates the airy organic feel of a flower garden wedding indoors. See the inspiration for it at Ruffled's floral shoot.
9. No-Sew Geometric Installation Photo Booth Backdrop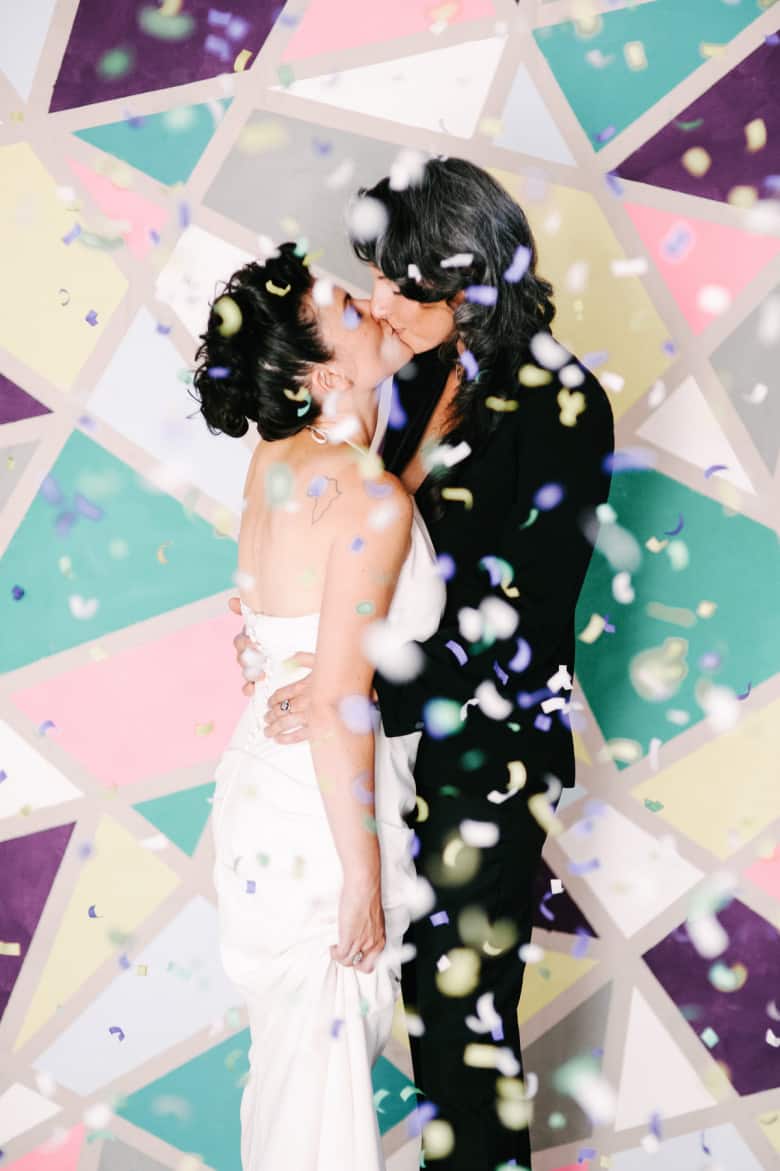 This backdrop can be used in almost any venue because it hangs from a freestanding frame. Made from brightly-patterned fabric inspired by The Fig House in LA, it's easy to transport with absolutely no sewing required. If this particular pattern doesn't really suit your wedding, you can pick out a fabric on your local craft store that fits yours. A Practical Wedding has the DIY deets.
10. Wall of Vines Photo Booth Backdrop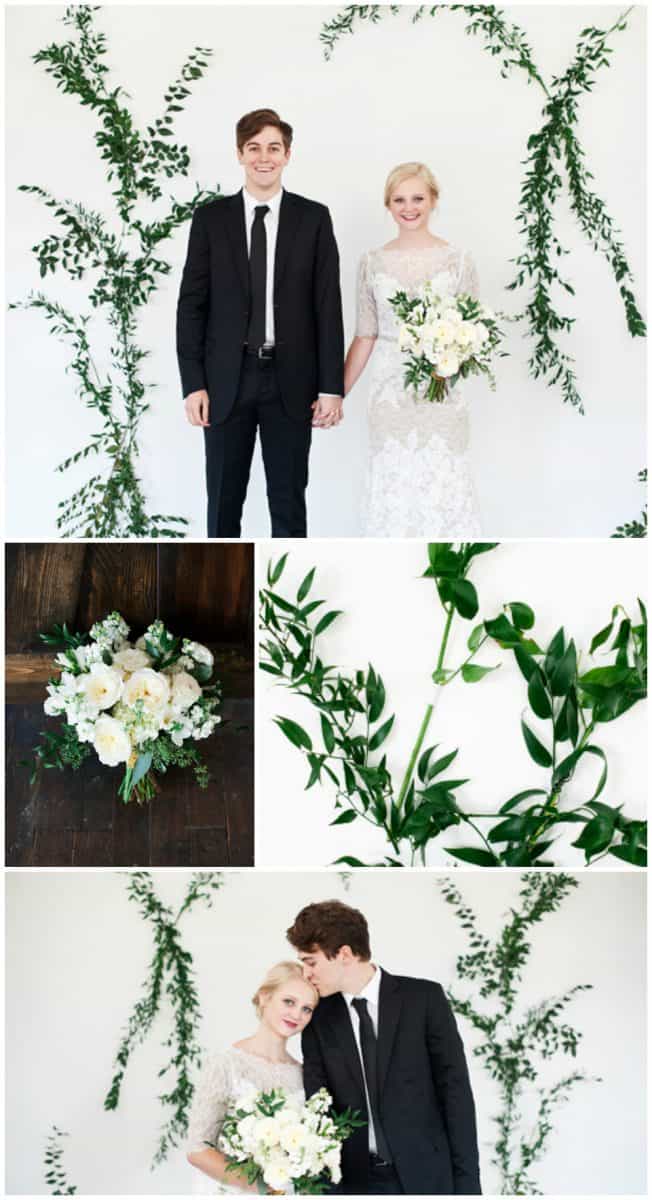 Easily one of my favorites, this wall of vine transforms a plain hotel room to a picturesque posh English summerhouses of Jane Austen's time. With Greenery as 2017's Pantone Color of the Year, incorporating a wall of vine will be a trendy twist to your modern classic wedding. Prepare to swoon at Ruffled's full tutorial here.
11. Hanging Yarn Drop Photo Booth Backdrop
If tying yarns together is your idea of a great weekend afternoon, then I suggest you keep a pot of tea boiling and spend the rest of the afternoon making these hanging yarn backdrops in between sips. No need for macramé skills if you don't have any. This DIY is so simple it can be done even before you reach for a crumpet. Check out Ruffled for the full tutorial.
12. Lace Canvass Photo Booth Backdrop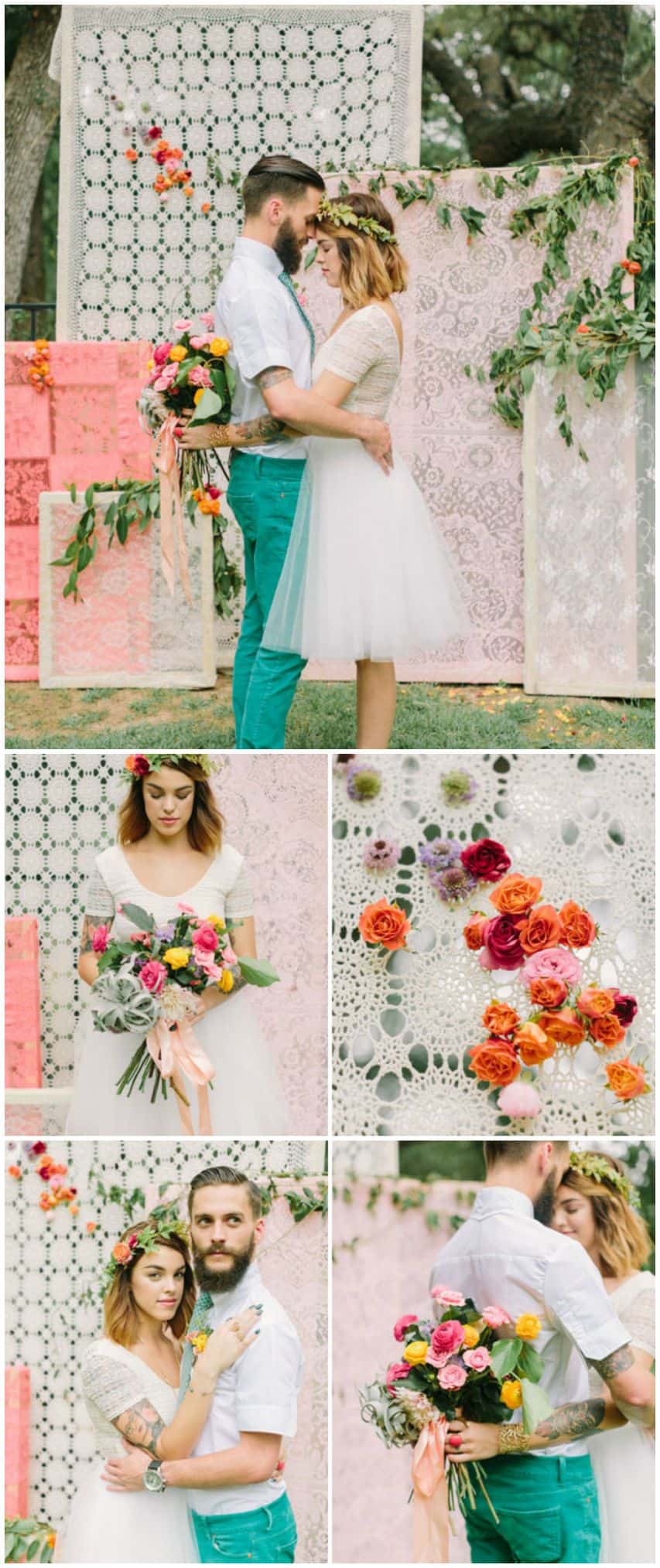 You can mix and match your favorite lace in patterns and colors for this custom-made backdrop. You can source your lace from your favorite local vintage stores or flea markets. Green Wedding Shoes has the the full guide to these bohemian backdrop for that perfect vintage touch.
Tip: Put some paper wedding flowers on the fabric to make it more pretty.
13. Ombré Tissue Paper Wall Photo Booth Backdrop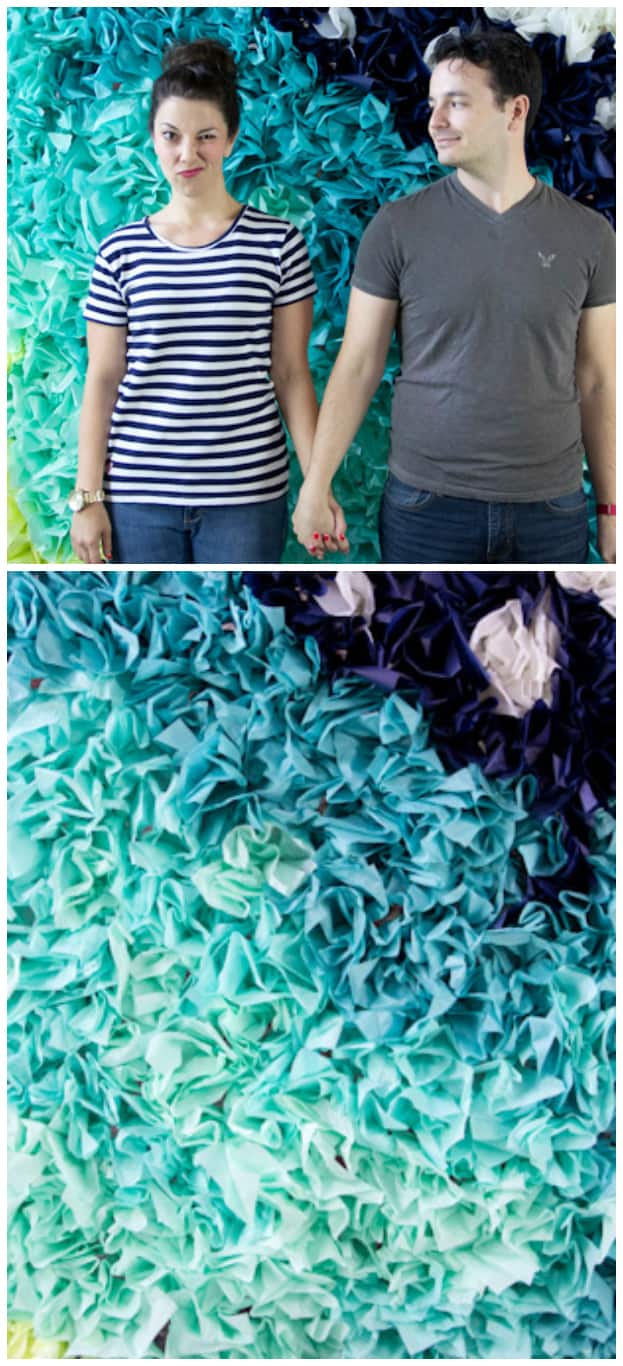 Lovely Indeed's ombré tissue paper wall is the perfect accent for a casual, laidback wedding. This scored major color inspiration points in transforming a drab wall into a super interesting one. The DIY tutorial uses a professional photo backdrop frame, but you can make your own with PVC pipes.
14. Giant Paper Flower Garden Photo Booth Backdrop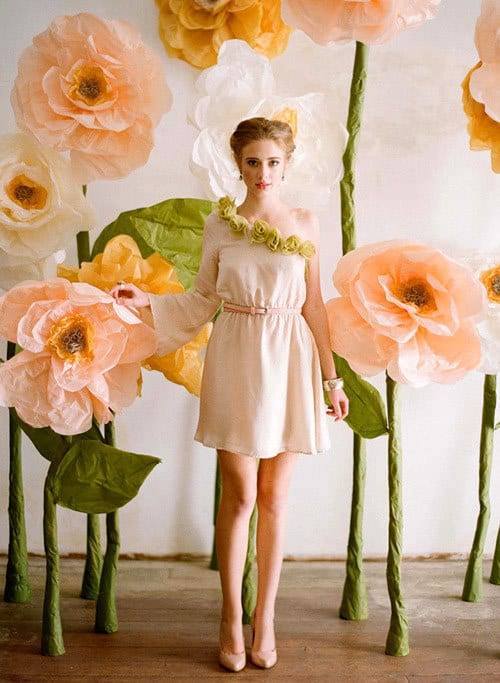 For serious crafters and DIY enthusiasts, we have reserved the hardest one for the last. But believe us, the effort you will put into this will be rewarded by the squeals of delight by your wedding guests. Transform any space to a giant fairy-tale garden with this Design Sponge's DIY.
I hope that you are able to draw inspirations from the 14 charming photo booth backdrops we picked. Let us know in the comment section which one you intend to use for your wedding!