Introducing the ultimate destination wedding planning guide, a step by step process to make planning simple and easy. The great thing about destination weddings at all-inclusive weddings is that there are a destination and resort that can meet any wedding budget you may have. In general, destination weddings are especially affordable, and a lot less stressful, then your average local wedding in the States.
Follow below for the 6 easy steps for planning your very own destination wedding:
Step 1: Choose Your Destination
Choosing your destination is always the first step in planning your destination wedding. Once you know your destination, many of the details will fall into place naturally. There are many things to take into consideration when choosing your destination. Where are most of your guests traveling from? Which locations will have the most resort options? Which destinations will have the best prices?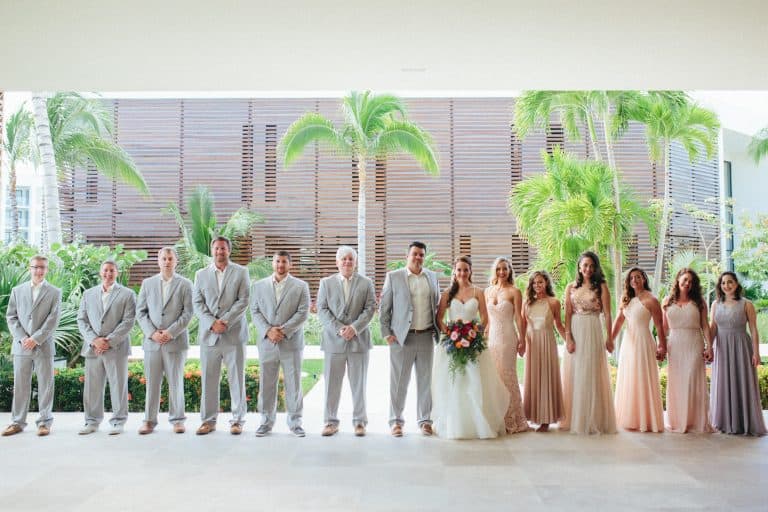 The most popular countries for affordable destination weddings are the Dominican Republic, and Jamaica. Furthermore, you can find affordable wedding resorts in Mexico as well. Of course, you can host your destination wedding at the smaller Caribbean Islands, like Saint Lucia or St. Martin, but they may come with higher travel costs. Mexico is the top choice because it's centrally located and easy to get to for guests, and couples have access to stunning resorts on both the Caribbean and Pacific coasts. Jamaica and the Dominican Republic follow behind Mexico with affordable resort options, and there are numerous flights to get your guests to these island countries.
No matter your chosen destination, your agent will equip you with their expert knowledge of popular wedding resorts. Resorts vary from lavish colonial-inspired properties to utterly chic and contemporary hotels. They can help you score free wedding perks, like room upgrades or free private events based on the number of guests attending.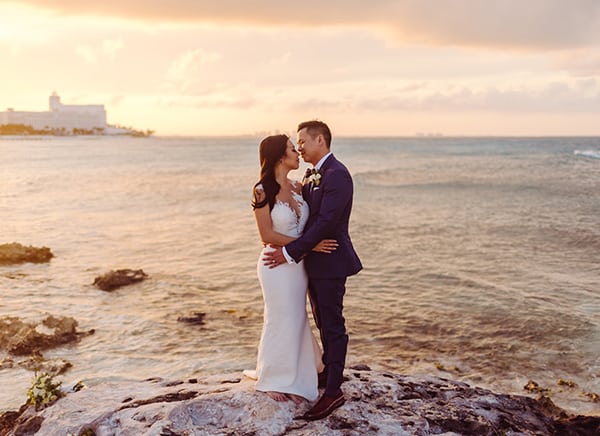 Step 2: Decide When to Host Your Wedding
Seasonality is a big factor to consider when planning your destination wedding abroad. Travel agents often break down the calendar year into the low, shoulder, and high seasons for destination weddings. High seasons means the highest occupancy for resorts, which could leave some guests stranded if they don't book quick enough, or paying much higher costs for rooms.
The weather could also play a factor in seasonality. High season is typically considered January, February, March, April, and July. But you may also see high occupancy rates in December and May as well. Use this seasonality guide to learn more about occupancy sell out.
Step 3: Determine Your Budget
Lucky for you, an all-inclusive destination wedding can fall within any budget you may have! From free elopements, or completely free wedding packages for meeting booking requirements, to lavish and large luxury weddings that curates every last detail.
When you consider the budget, you should focus on what you would like to spend on your destination wedding, and also what you will expect your guest to spend in order to attend. Use this destination wedding cost calculator to see how much a wedding could really cost.
Step 4: Choose Your Wedding Package
Now that you have your resort chosen, it's time to select your wedding package! All-inclusive resorts feature a variety of wedding packages, which vary by priced-tier or in the number of inclusions they offer. They'll start with a small ceremony and elopement packages for around 10 guests, and the final package on offer will be a showstopping collection that will feature every bell and whistle the resort features.
Basic Packages – Basic packages are often just for the couple, or a small number of guests. It will just include a basic ceremony decor setup and your location.
Upgraded Packages – These packages welcome plenty of guests and further decor options. You'll see popular inclusions like wedding cakes, receptions, and champagne toasts.
Luxury Packages – The luxury package will be the highest offering your chosen resort offers. It will include extravagant decor, a private reception, and music and food menus to choose from.
Of course, customization is welcomed to any wedding package you may choose. Think of your wedding package as a start-off point to mold the ceremony you envision.
Step 5: Choose Your Ceremony Venue
What type of ceremony venue do you have in mind? Today's resorts host a variety of unique venues, from pristine beachfront to sky-high rooftop terraces. After you determine if you want a civil or symbolic ceremony, determine the venue you would like. For more inspiration, see venues by type through this image gallery tool.
Step 6: Plan Your Wedding
Unlike with a traditional stateside wedding, destination wedding planning at all-inclusive resorts doesn't typically begin until around 3 months prior to the wedding date. Your wedding department may host a wedding every single day, so rest assured knowing they have perfected the process.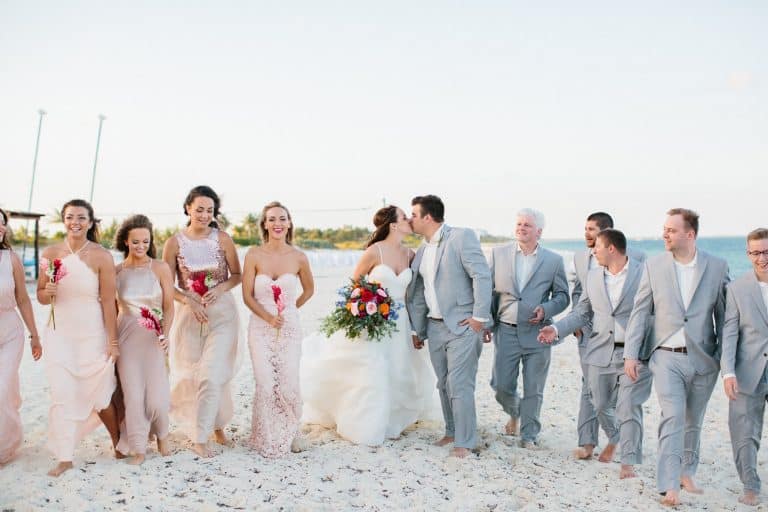 Your wedding coordinator can always answer any questions you may have, and they can provide a variety of brochures and pamphlets that will showcase all of the ceremonies and add-ons that are possible. The sky is the limit when it comes to planning, and your wedding can feature everything from live music and fireworks, to crafted signature drinks, open bars, and late-night snack carts.
Get Started with your Destination Wedding Planning