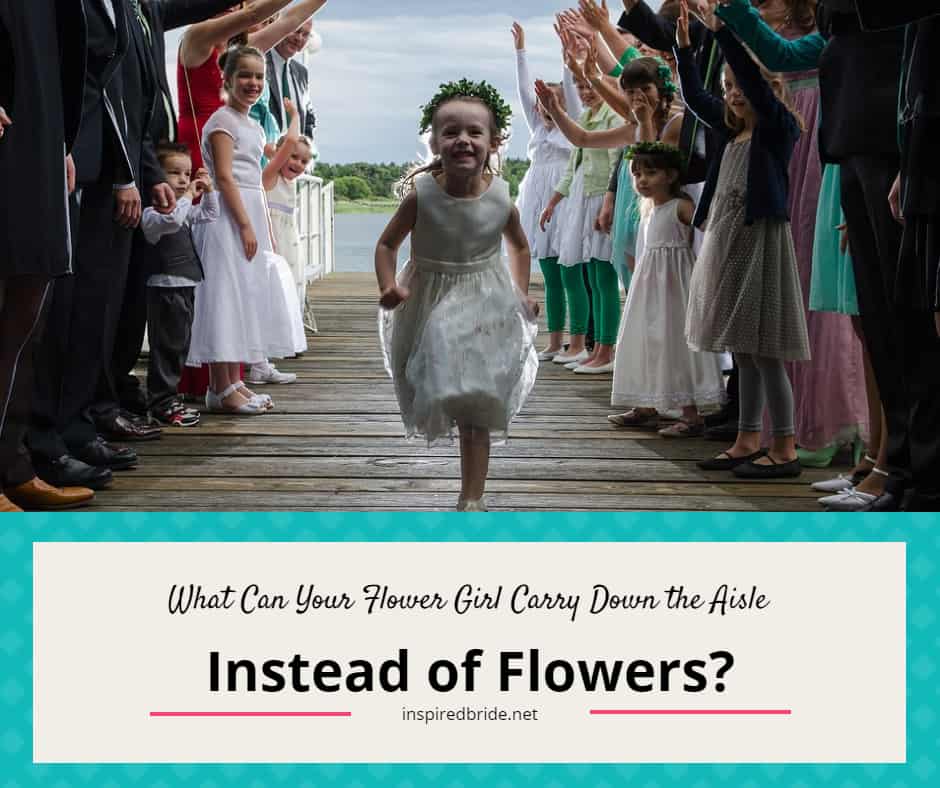 You've chosen your perfect flower girl (or girls), and now you need to choose what she'll be carrying down the aisle with her. While many couples still decide to go with the traditional flower basket filled with petals, many others are choosing to have their flower girls carry something different.
This choice can come about for many reasons. One of the most common is because many wedding venues don't allow flower petals on their carpet—in fact, lots of wedding venues don't allow anything to be tossed. Another reason is that the flower girl may be too young to understand the concept of sprinkling petals. In fact, she may just dump the entire basket out! Or perhaps you simply want something more unique.
Flowers are a staple in weddings, symbolizing love, new life, and a brighter future. But you can explore creative alternatives to replace flowers or accentuate freshly picked blossoms to make your wedding more remarkable and stunning. Moreover, pretty flower girls who carry unusual items can be a great memory to look back in wedding photos and videos.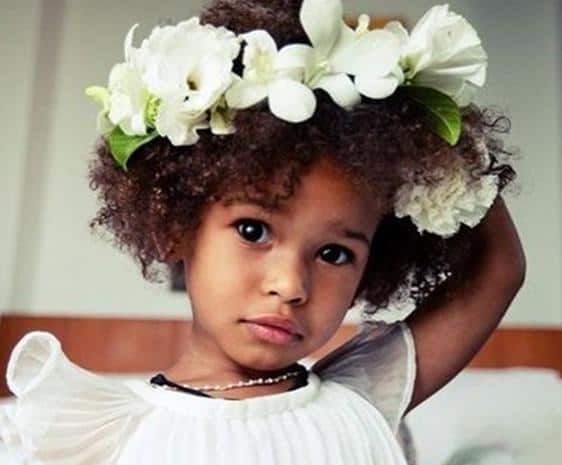 Whatever your reasons may be, here are some great alternatives for the flower girl petal basket. This list was compiled by the wedding planning professionals at the Taglyan Complex in Los Angeles.
Sign/Pennant
Signs are probably the most popular choice when it comes to petal basket alternatives. They're a favorite because they're so customizable. They can say anything the couple wants, from "Here Comes the Bride" "to Mr. and Mrs." to "Wait 'til You See Her!". Signs and pennants can also match the theme of your wedding because the materials can also be customizable—for signs, everything from chalkboard to burlap to wood to canvas. For pennants, they are available in thousands of colors, styles, and patterns. The possibilities are countless, and you can get very creative with your options.
Framed Photo
Some couples choose to have their flower girl carry a framed photo of a loved one who has passed and can't be there. This may seem like a strange idea, but it's actually very touching. Other couples who like the idea of their flower girl carrying a framed photo but may not necessarily want it to be a deceased loved one will often use a photo of themselves, perhaps from one of their first dates.
Mini Bridesmaid Bouquet
Just as the flower girls sometimes wear younger-style versions of the bridesmaid dresses, it may also be a fun alternative for them to carry mini-versions of the bridesmaids' bouquet. This is something that will make them feel like the "big girls".
Kisses
Do you have a little ham on your hands? If so, instead of carrying anything at all, it may be cute to simply have her throw kisses to your guests. Tell her that you want her to wave to the people, throw them kisses, and look pretty. Your guests will eat it up—and it will multiply the cuteness if you have more than one flower girl!
Wand
Wands are great for flower girls to carry down the aisle, mainly because they look so sweet and are very versatile. Depending on what tone your wedding has, you can get a "real" wand, or you can go the fairy tale route and have one made from flowers, twigs, and ribbon. This is one that your flower girl(s) will truly love because they'll feel like a princess!
The Bride's Train
This is an older tradition that seems to be disappearing from weddings. It may be because brides now want to be the very last to walk down the aisle, or because smaller flower girls may not do a good job. However, if you feel like your flower girl can handle it, the image of her carrying your train behind you will look very sweet. Just make sure to walk slowly enough for her to keep up!
Dried Lavender
As mentioned before, many wedding venues don't allow real flower petals to be thrown (apparently flower petals can stain carpet). However, if you really have your heart set on your flower girl throwing something floral, consider dried lavender. It makes a fantastic flower petal alternative because it looks beautiful in photos, and smells wonderful as well.
Lantern
If you're having a daytime wedding, having your flower girl carry a floral lantern will look charming. And if you're having a nighttime wedding outdoors, a lantern lit with a fake candle, LED lights, or Christmas tree lights will have a very magical effect.
Balloons
Flower girls carrying balloons can make a fantastic visual. They can also match any colors or theme of your wedding, which will look great in photos. They can even be heart-shaped. Just be sure to tie the balloon to the wrist of your flower girl if she's smaller so that it doesn't fly away and make her cry! If you choose a balloon, you also may want to have someone standing by to help control the situation if your flower girl starts playing with the balloon and becoming distracting to your wedding guests during the ceremony.
Box of Tissues
This one is just good for a giggle, as well as photos. Having the "flower girl" carry a box of tissues down the aisle and offer them to guests will make them smile. If she's old enough to understand, she can also "toss" tissues as well.
Lollipop Bouquet
Very…"sweet", right? Lollipops are colorful, bright, and whimsical, and the right "arrangement" can be truly dazzling. Your flower girl carrying a lollipop bouquet will be an adorable sight, indeed—just as long as she doesn't start sampling the goods!
Bubbles
This one is a bit more popular than some of the others on this list. If your flower girl is old enough to blow bubbles effectively, it can be a great visual and a good alternative to a petal basket. Some couples even take it a step further and disguise bubble guns with flowers for their little ladies.
Something Sentimental
Sometimes a sentimental item is very meaningful for a flower girl to carry down the aisle. Did you meet your partner in high school? If so, your high school yearbook from the year you first met is a good idea for her to hold. If you met at the beach, she can carry seashells. Or if you met at a party, maybe a bottle of vodka. (Just kidding.) If the item is truly representative of a crucial moment in the couple's life, it does make for a very sweet moment.
Garlands
This one works when you have two flower girls. Still within the floral family, long garlands look amazing and will add a regal (but still sweet) touch to the wedding procession.
Glowing Candle
If you're having a nighttime wedding—especially outdoors—you may want your flower girl to carry a glowing fake candle to create a dreamy, romantic effect. This makes a particularly good petal basket alternative, since it's much more visible than the petals anyway.
Floral Pomander
Another very popular item for flower girls to carry down the aisle is a floral pomander, or "kissing balls" as they are sometimes referred to. Visually pleasing and set apart from a bouquet, pomanders are quite sweet and create an angelic vibe.
Vows
Having your flower girl bring your vows to you is also a good idea. She can present them in a fancy box or basket, and she will feel like she has a very important job—because she will! If you like this idea but it makes you nervous to have the vows carried by a young flower girl, hand them over to someone you trust until the moment she will be transporting them down the aisle.
Isis Wings
Want your flower girl to look like a mini rock star? Why not give her Isis wings instead of having her carry something? These fun wings will give her something to do with her hands, and they make for fantastic photo ops.
Pets
Definitely the most adorable flower basket alternative! Lots of couples want to incorporate their best four-legged friend(s) into their special day. If your pet does well with strangers and your flower girl is comfortable with him or her, consider having her carry, walk, or cart them down the aisle. For multiple pets, a wagon may be a cute idea. Incorporating pets into a wedding is always a lovely crowd-pleaser.
Confetti
Confetti has a similar aesthetic to flower petals, only it's much more festive. It also comes in countless colors and styles, so you'll definitely be able to find something to match your wedding. Plus, your flower girl will have a blast throwing it!
Parasol
If you're having an outdoor wedding, parasols make very pretty alternatives to petal baskets. They can be covered with flowers or pearls, they can be Japanese-style, they can have customized wording, or anything else your heart desires. They also serve a double purpose of protecting little girls' skin from the sun.
Pinwheels
Many flower girls these days carry pinwheels down the aisle instead of petal baskets. Pinwheels come in all colors and patterns, so there are plenty of choices, and you can even have them custom-made to match your wedding if you want to get super specific!
A Single Stem
Having your flower girl simply carry one individual flower looks absolutely adorable, especially when the flower is big and bright. She won't have to throw anything—she can just concentrate on making her way down the aisle while looking as cute as can be.
A Combination
Maybe you've looked over this list and it's given you the idea to incorporate more than one petal basket alternative. Maybe your flower girl will walk down the aisle with your pet, while holding a balloon and throwing kisses! The thing to remember is to understand exactly what your flower girl can handle, especially if they are pretty small.
Hopefully these flower petal basket alternatives will give you some great ideas for your own wedding. Keep in mind that it's important to check with your wedding venue to make sure that whatever item you want your flower girl to bring down the aisle with her is allowed. You'd be surprised at some of the rules out there, so it's always wise to ask. Good luck!