In the age of selfie, Instagram and Facebook, we are always taking fun photos of ourselves and our friends on almost every night out, and the same thing happens at weddings! The best way to get those fun photos of your guests at your wedding is by having a photo booth! Photo booths – who doesn't love them?! They are SUCH a fun activity to incorporate into your wedding! A lot of couples are incorporating photo booths into their weddings, even celebrities like Kim and Kanye had a photo booth at their wedding! As a wedding photographer, I've seen all of the fun that people have at wedding photo booths, which is one of the many great reasons why you should have one at your wedding. In this post, we'll take into account why you should consider contacting one of the photo booth rental places in your area and make sure they can deliver one with some famous fun photo props!
So, first things first. Here are our top 3 reasons why you should have a photo booth at your wedding:

1) They Serve as Great Entertainment!

One of the best reasons to have a photo booth is to entertain your guests. It's important to consider that weddings have down times, and you have to think of a way to keep your guests entertained during those times. For example, at the majority of weddings, normally the formal wedding photos are taken right after the ceremony during the cocktail hour, and sometimes guests can get a little antsy waiting for the cocktail hour to end and the reception to start. Photo booths are perfect for this part of your wedding day! Guests can be goofy and stay entertained while they wait for the bride and groom to return and for the reception to start. As they say, time flies when you're having fun and time will be flying for your guests if you choose to have a photo booth!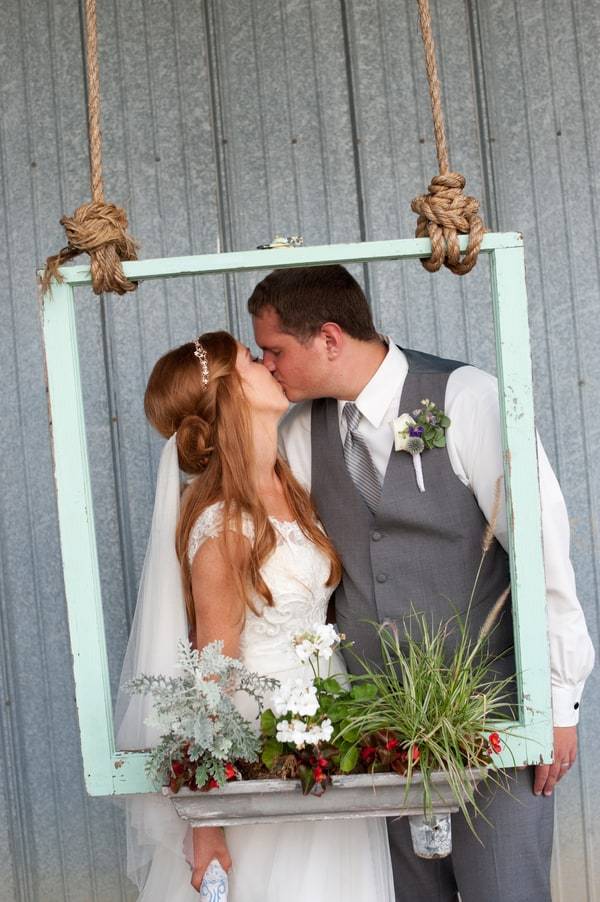 2) They Make Great Memories!
With most photo booths having the ability to print out multiple copies of photos, it ensures guests get a copy, as well as the bride and groom! Some photo booth companies even have the option of making a photo guestbook from the photos taken at the booth, which makes for a great keepsake for the bride and groom! After the big day, they can look back and see all the photo booth photos and remember how much fun their guests had at their wedding!
3) They are FUN!
Obviously, wedding photo booths are fun! The best thing about them is that they are great for all ages! I've seen everyone from kids to grandparents enjoy a photo booth! A photo booth provides endless entertainment from the beginning of the night, all the way until the end!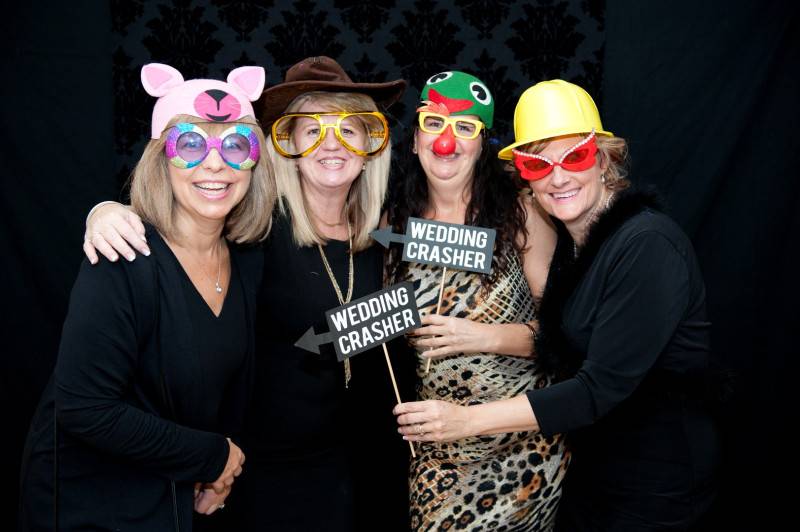 Famous DIY Photo Booth Projects
Second, you can really up the fun factor by adding your own, homemade props! Who knows, these fun props could be your ultimate DIY wedding project. Take a look below at our favorite photo booth signs and objects! Find out here how to make your own mustache props for your photo booth! You can even go full out and build your own photo booth wall that your guests will love and that will look amazing for photos!
Chalkboard Props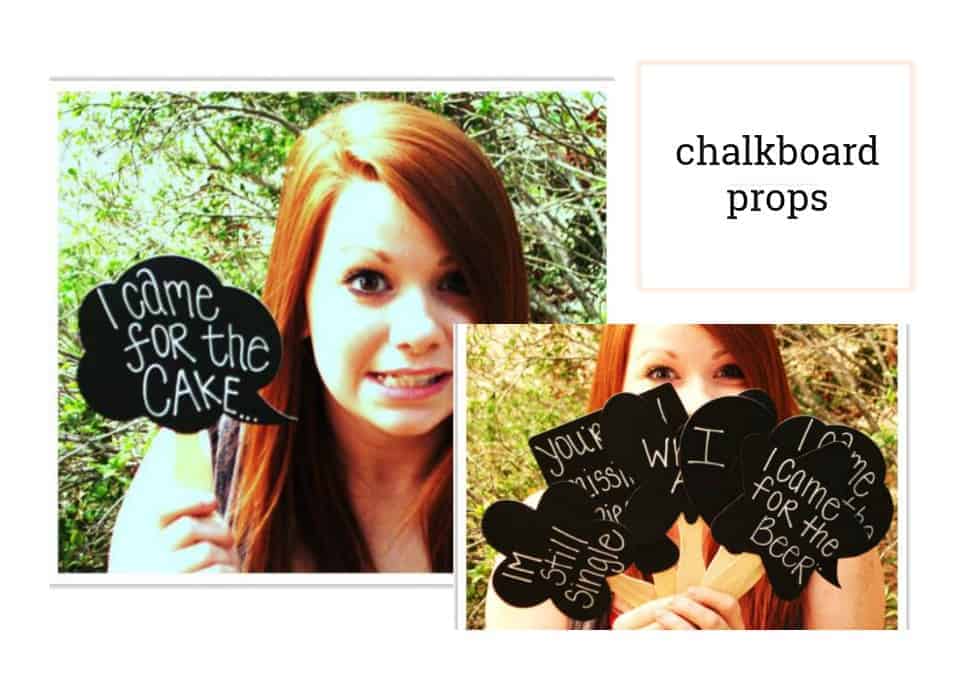 These chalkboard props from Itty Bitty Wedding top our list. They are reusable. Write, erase and write again. Many photo booths come with props already, but what set these apart is that you can customize it based on what you want to say. You can be fun and write "why you came to the wedding" or be serious and use it as an alternative to a guest book where your guests can write their messages. Regardless of what your guests choose to write, all I know is that at the end of the night, reading what they wrote will definitely put a smile on your faces.
The Wall
This is a beautiful feature in any wedding and can be created to match the décor and theme. It's a perfect photo opportunity and a wonderful chance to create some fun and hilarious memories.
For the wall, you'll simply need a few sheets of plywood and a small frame as well as a brace so the "wall" will stand on it's own. Then, select large, ornate frames – you can find these at thrift stores and yard sells around dated art – and cut out holes in the wall at different heights that are slightly smaller than the frame.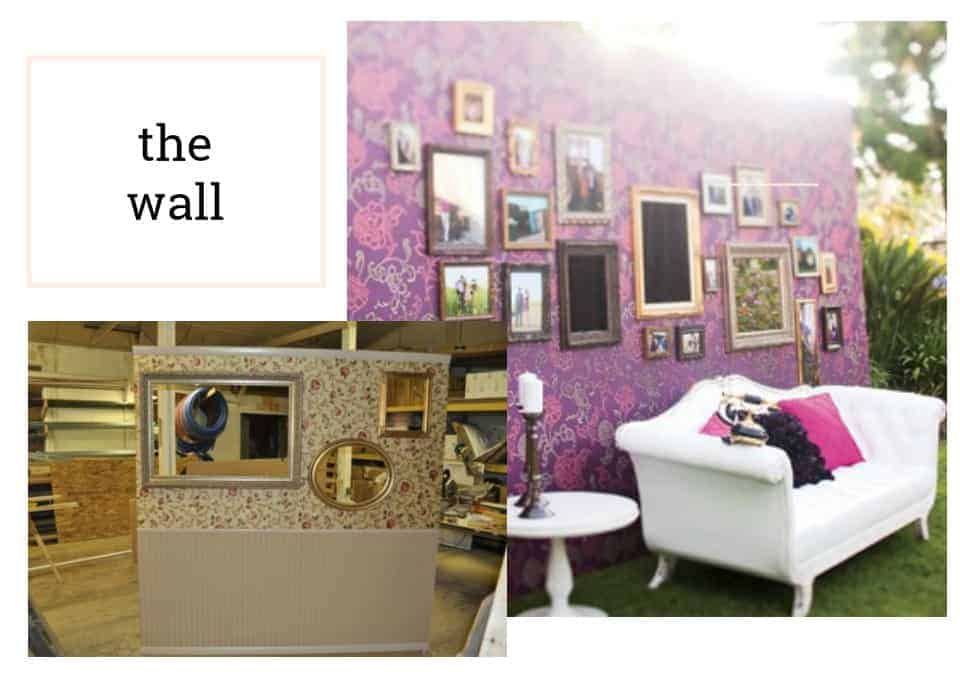 Tip: When building and painting the wall, make sure it's done completely outdoors. The wall should stay outdoors but can be covered with a portable canopy to reduce the sun and heat if you're having a summer wedding.
Picture Frames
Guests just step behind the wall and put their faces into the frames so pictures can be taken. There are lots of fun combinations; take pictures of the bridesmaids, the parents of the couple, the grandparents, the bride and groom themselves. To do this, hang the frames around the holes and then either wall paper the wall or paint it. You'll probably want to paint the frames as well.
If you want a wedding filled with laughs, endless fun and great memories, a photo booth is definitely the right source of entertainment for your big day!