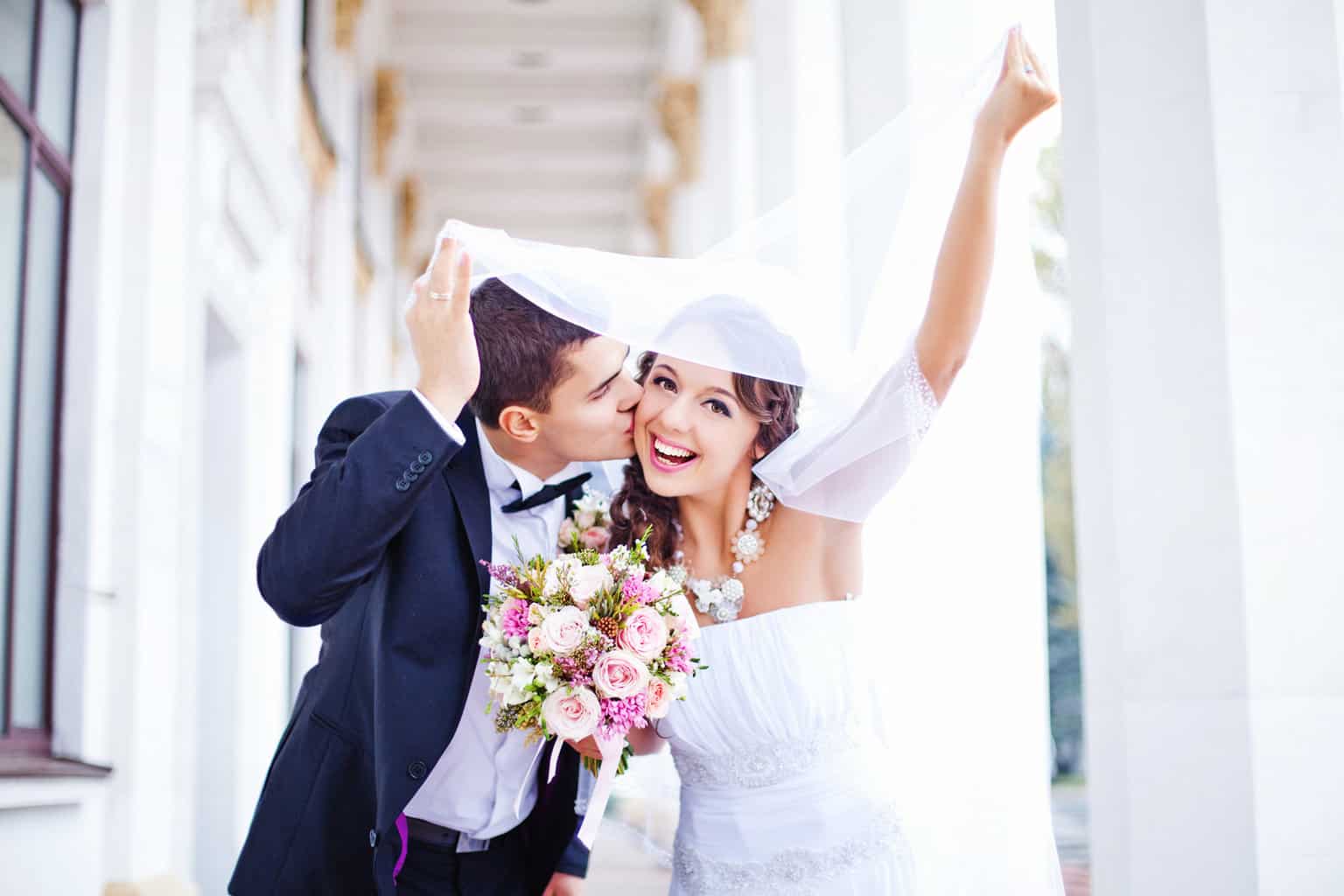 Dreaming of a beautifully romantic wedding is easy, but writing vows can be quite daunting.
There's no denying – it's difficult, to say the least, to capture the depth of your love story and express the profound emotions you feel for your loved one.
Whenever I think of love stories, my mind immediately goes to rom-coms.
So, why not take inspiration from the experts themselves?
Countless artists have captured the feeling better than any of us "mere mortals" ever could.
So, if you're currently struggling to find the words for your vows, look no further. This article will show you an ultimate collection of wedding movie quotes perfect for expressing the undying love you feel on your big day.
The Timeless Appeal of Romantic Movie Quotes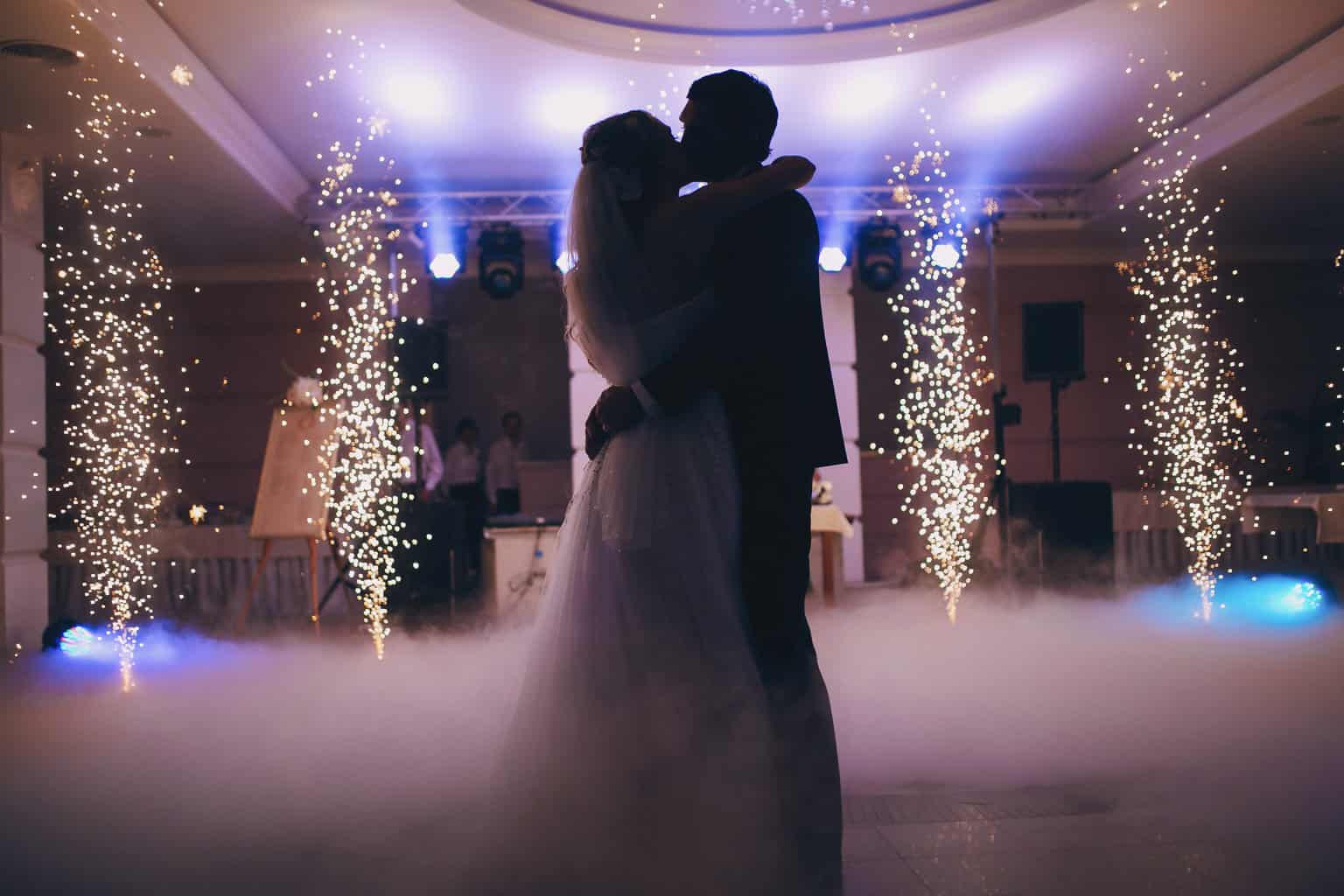 Love and romance are prominent in cinema storytelling.
Memorable moments are created through tender words exchanged between a couple, leaving a lasting impact of intimacy, mutual respect, and love long after the movie ends.
Likewise, romantic comedies are a beloved genre that captures the essence of falling in love and navigating the complexities of relationships. These timeless films showcase how love has evolved over time, and they remain a constant source of fascination for devoted fans and new viewers alike.
I'm not surprised that many people opt to use movie quotes for their wedding speeches. After all, many brides aspire to feel like Walt Disney's Cinderella felt.
Crafting the perfect vow on your wedding day is crucial, though.
Logically, a helpful tip is to draw inspiration from love quotes in movies to jumpstart your creativity and create a personalized vow that truly reflects your deepest feelings.
As a true romantic at heart, I am deeply moved by romantic quotes from movies and believe they resonate with others who share my passion.
How Pinterest Became the Go-To for Wedding Inspiration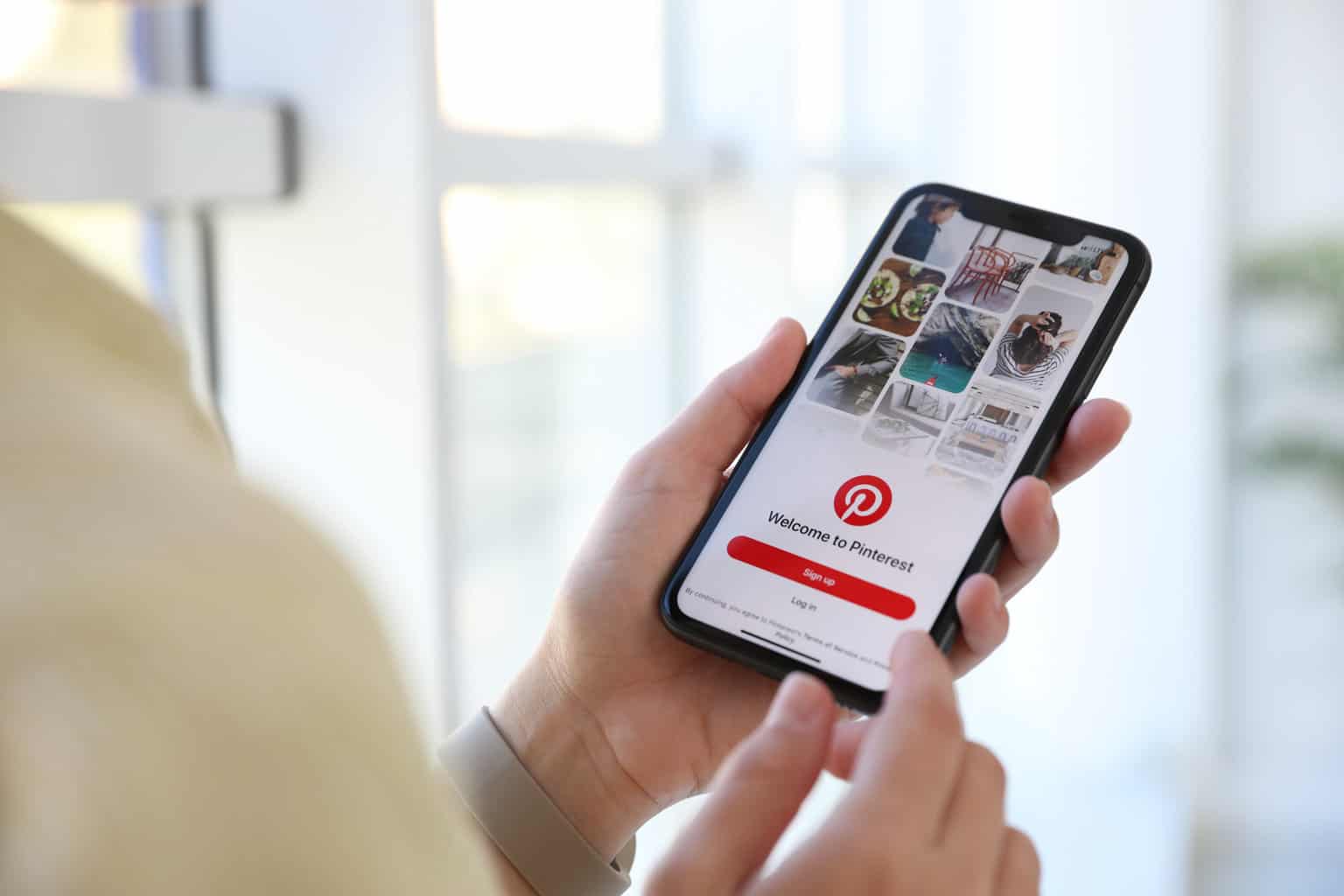 Spending one lifetime with your favorite person is precious. And in order to prepare for that big day, I highly recommend using Pinterest as your trusted sidekick.
It's a fantastic visual platform that offers a plethora of ideas and inspiration. On this app, you can find everything from floral arrangements to dresses and cakes – within minutes of scrolling.
With its vast collection of stunning photos, you can easily create the perfect color schemes, reception layouts, stationery designs, and wedding themes – basically everything that your favorite person deserves!
And if you're searching for popular movie-inspired wedding quotes for your wedding day, Pinterest has got you covered!
Find wedding quotes from your favorite movies on Pinterest – where every romantic soul can discover something special.
Top 50 Romantic Wedding Movie Quotes from Pinterest
If you are a hopeless romantic like I am, join me in discovering the 50 most inspiring wedding quotes for your vows.
These heartfelt wedding quotes will make your human souls and hearts flutter with joy!
Most Popular Romantic Quotes for Wedding Speeches and Vows
Let the countdown begin!
I'll be listing down the famous wedding quotes with the masterpieces they come from.
"Take my hand, let's see where we wake up tomorrow, searching for meaning, but are we all lost stars trying to light up the dark? Who are we? Just a speck of dust in the galaxy?" – Begin Again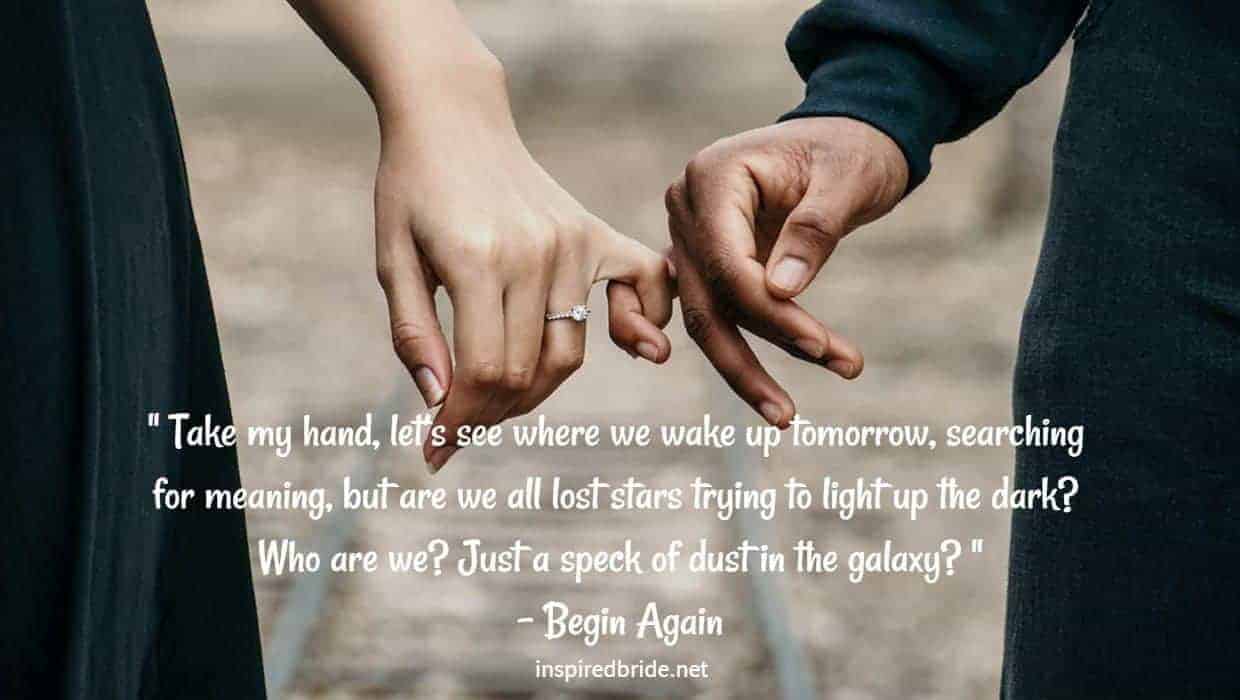 "This is happening, I am here, and I am looking at her. And she is so beautiful. I can see it. This one moment when you know you're not a sad story. You are alive, and you stand up and see the lights on the buildings and everything that makes you wonder. And you're listening to that song, and that drive with the people you love most in all the world. And at this moment, I swear, we are infinite." – The Perks of Being a Wallflower
People call these things imperfections, but they're not. Oh, that's the good stuff. And then we get to choose who we let into our weird little worlds. You're not perfect sport, and let me save you the suspense; this girl you met, she's not perfect either. But the question is whether or not you're perfect for each other." – Good Will Hunting
"It's like in that moment the whole universe existed just to bring us together." – Serendipity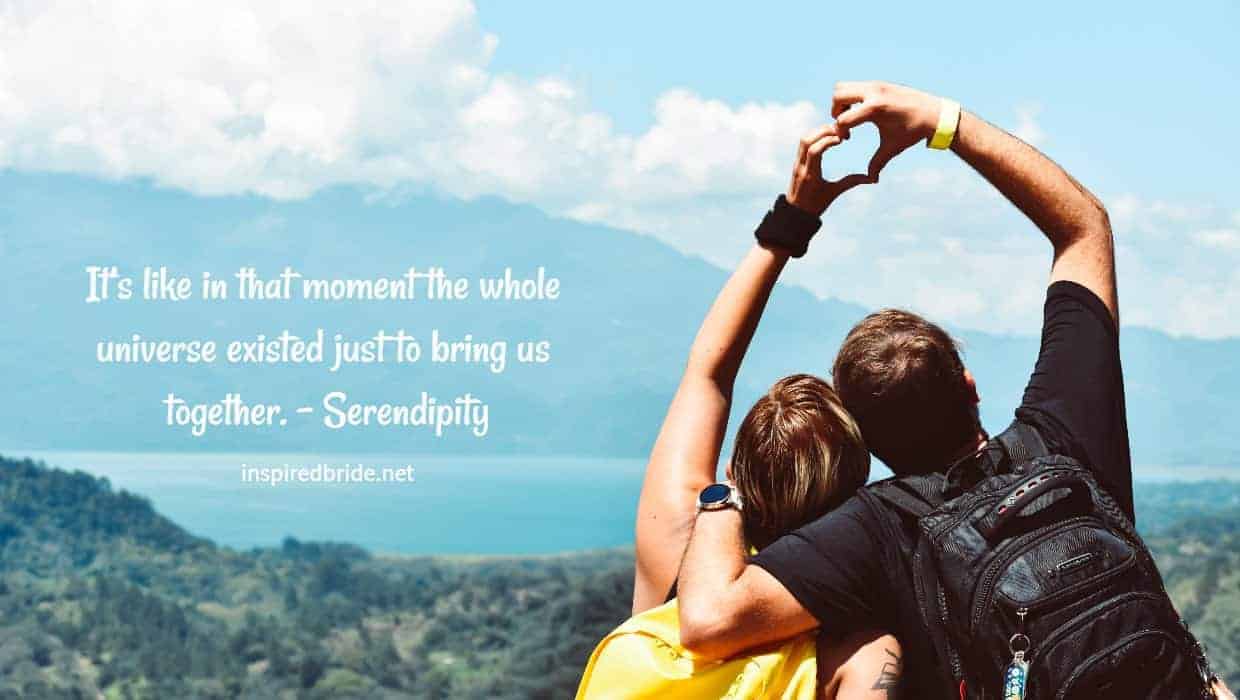 "I've come here with no expectations, only to profess. Now that I am at liberty to do so, that my heart is, and always will be, yours." – Sense and Sensibility
"Love is passion, obsession, someone you can't live without. If you don't start with that, what are you going to end up with?" – Meet Joe Black
"I love you very much, probably more than anybody could love another person." – 50 first dates
"They say when you meet the love of your life, time stops and that's true. What they don't tell you is that when it starts again, it moves extra fast to catch up." – Big Fish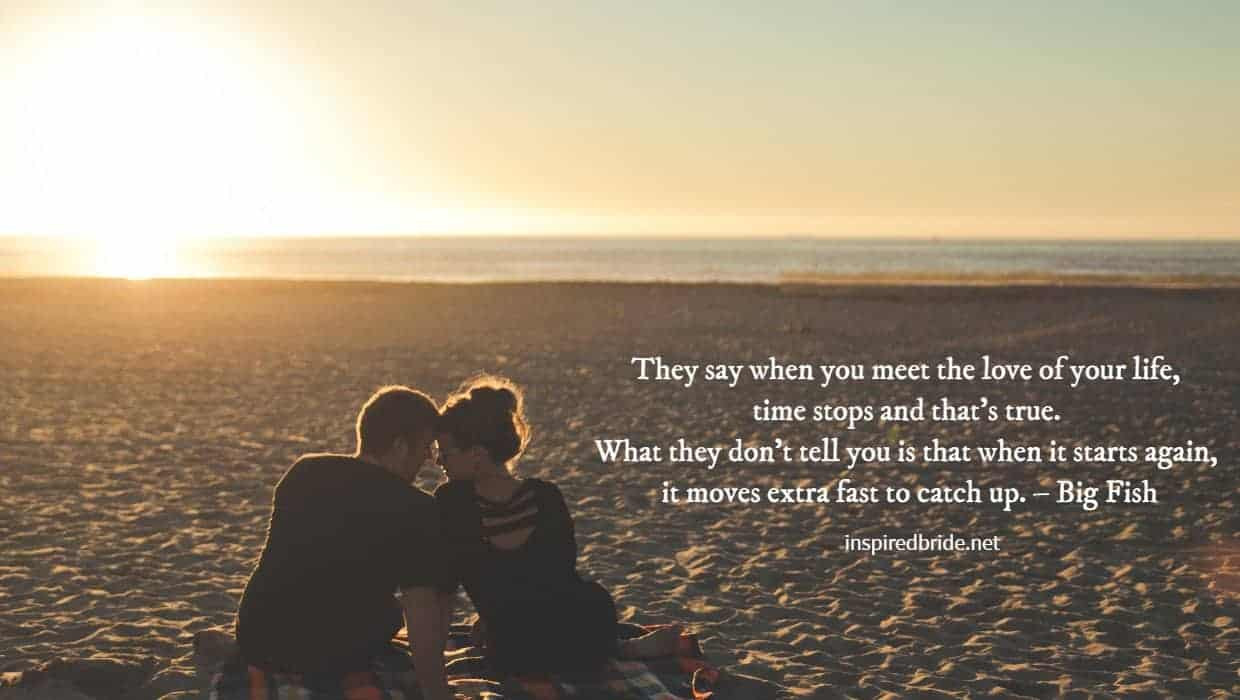 "When you realize you want to spend the rest of your life with somebody, you want the rest of your life to start as soon as possible" – When Harry Met Sally
"The greatest thing you'll ever learn is just to love and be loved in return." – The Moulin Rouge
"In my opinion, the best thing you can do is find someone who loves you for exactly what you are." – Juno
"I vow to fiercely love you in all your form, now and forever. I promise never to forget that this is a once-in-a-lifetime love. And to always know in the deepest part of my soul that no matter what challenges might carry us apart, we will always find our way back to each other." – The Vow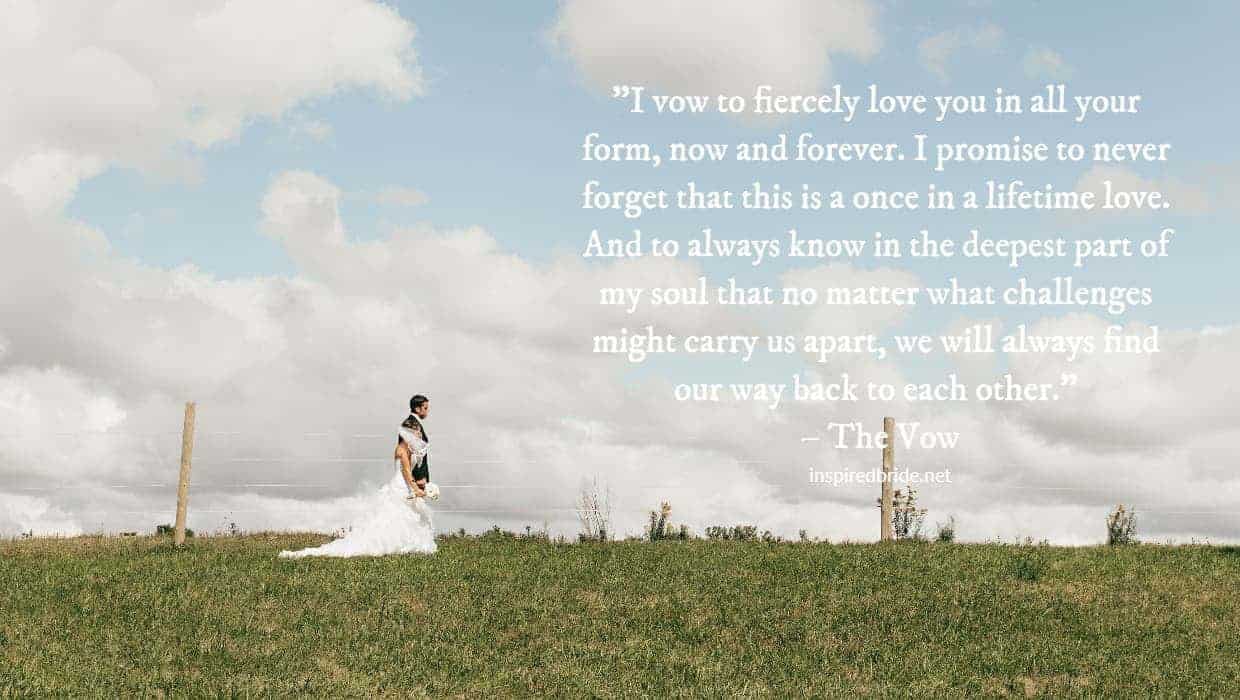 "I would rather spend one lifetime with you than face all of all the ages out of the world alone." – The Lord of the Rings
"I would wait for a hundred years if it meant you were there at the end of them." – The Lake House
"The best love is the kind that awakens the soul and makes us reach for more that plants a fire in our hearts and brings peace to our minds." – The Notebook
"You had me at hello." – Jerry Maguire
"No matter what happens to us, every day spent with you is the best day of my life." –The Notebook
"Sometimes the smallest things take up the most room in your heart." – Winnie the Pooh
"Winning the ticket, Rose, was the best thing that ever happened to me… it brought me to you. And I'm thankful for that, Rose. I'm thankful!" – Titanic
"May you never steal, lie or cheat, but if you must steal, then steal away my sorrows, and if you must lie, lie with me all the nights of my life, and if you must cheat, then please cheat death because I couldn't live a day without you." – Leap Year
Love means never having to say you're sorry. – Love Story
You will never age for me, nor fade, nor die. – Shakespeare in Love
"May you never steal, lie of cheat, but if you must steal, then steal away my sorrows, and if you must lie, lie with me all the nights of my life, and if you must cheat, then please cheat death because I couldn't live a day without you.:" – Leap Year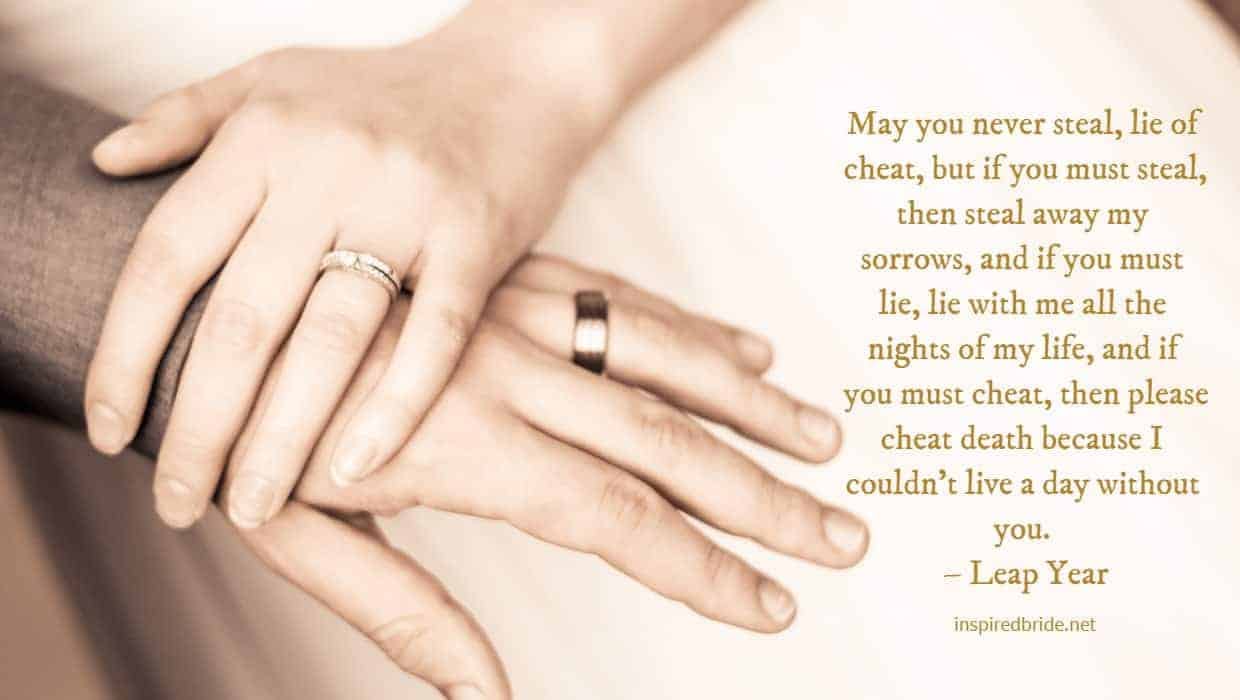 "…It seems to me that love is everywhere. Often, it's not particularly dignified or newsworthy, but it's always there… If you look for it, I've got a sneaky feeling you'll find that love actually is all around." – Love Actually
"I guess when you're young, you just believe there'll be many people with whom you'll connect with. Later in life, you realize it only happens a few times." – Before Sunset
"If you want love, then this is it. This is real life. It's not perfect, but it's real." – Before Midnight
"Don't forget I'm just a girl, standing in front of a boy, asking him to love her." – Notting Hill
"You made me a man by loving me… If you can promise me anything, promise me that whenever… You lose complete faith that you'll try to see yourself through my eyes… You made my life, but I'm just one chapter in yours… Don't be afraid to fall in love again. Watch out for that signal when life as you know it ends." – PS I Love you
"I love you, I knew it the minute I met you. I'm sorry it took so long for me to catch up. I just got stuck." – Silver Linings Playbook
"I didn't plan on falling in love with you, and I doubt if you planned on falling in love with me. But once we met, it was clear that neither of us could control what was happening to us." – The Notebook
"I am nothing special, just a common man with common thoughts, and I've led a common life. There are no monuments dedicated to me, and my name will soon be forgotten. But in one respect, I have succeeded as gloriously as anyone who ever lived; I've loved another with all my heart and soul, and to me, this has always been enough." –The Notebook
"It was a million tiny little things that, when you added them all up, they meant we were supposed to be together.. and I knew it!" – Sleepless in Seattle
"You are so busy being you that you have no idea how utterly unprecedented you are." – The fault in our stars
"I will never stop trying, because when you find the one, you never give up." – Crazy Stupid Love
"I know that a life without you is no life at all." – Leonardo Davinci, Ever After
"When you realize you want to spend the rest of your life with somebody, you want the rest of your life to start as soon as possible." – When Harry met Sally
"… It's not going to be easy. It's going to be really hard. We're going to have to work at this every day, but I want to do that because I want you. I want all of you, forever, you and me, every day… Picture your life for me 30 years from now… What's it look like? If it's with him, go. Go! If I thought that's what you really wanted. But don't you take the easy way out." – The Notebook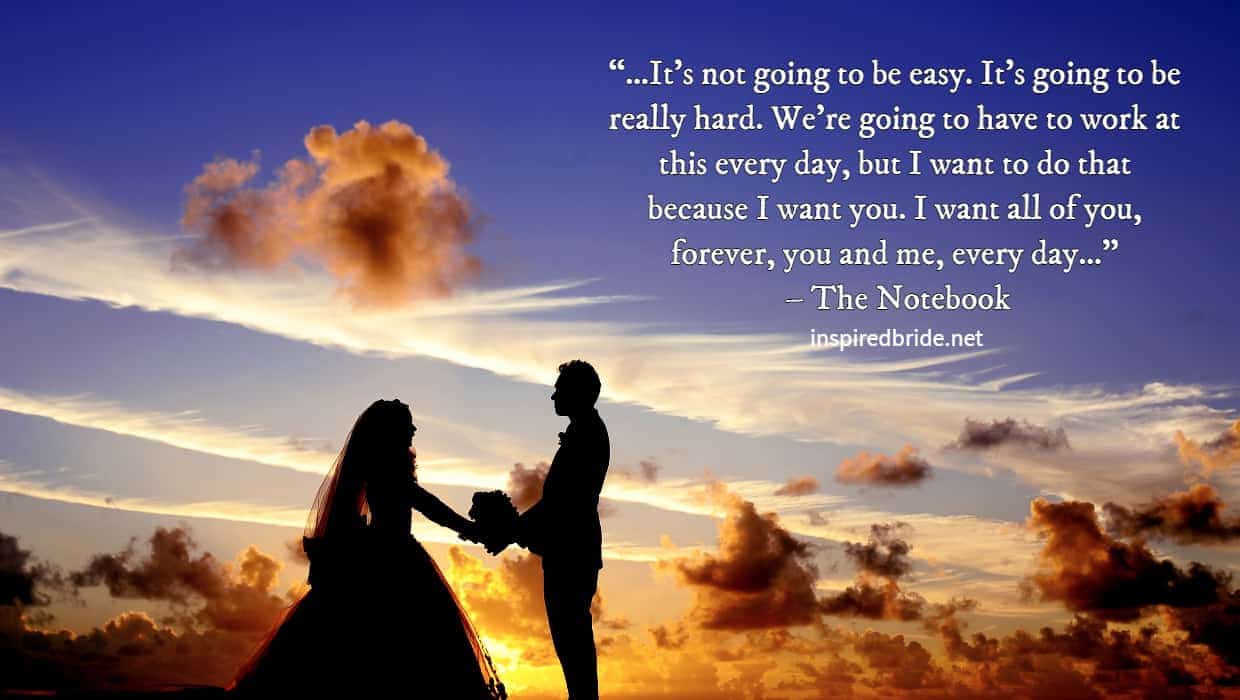 "Our love is like the wind, I can't see it, but I can feel it." – A walk to remember
"You have bewitched me, body and soul, and… I love you. I never wish to be parted from you this day on." – Pride and Prejudice
"You are pretty much the only thing that makes me wake up in the morning." – Me Before You
"The greatest thing you'll ever learn is just to love and be loved in return." – Moulin Rouge
"I love that you get cold when it's 71 degrees out. And that it takes you an hour and a half to order a sandwich. I absolutely love that you get a little crinkle above your nose when you're looking at me like I'm nuts. I love that after I spend the day with you, I can still smell your perfume on my clothes. And I love that you are the last person I want to talk to before I go to sleep at night. And it's not because I'm lonely, and it's not because it's New Year's Eve. I came here tonight because when you realize you want to spend the rest of your life with somebody, you want the rest of your life to start as soon as possible." – When Harry Met Sally
"Love is a song that never ends." – Bambi
"Hope guides me. It is what gets me through the day and especially the night. The hope that after you're gone from my sight, it will not be the last time I look upon you." – A Knight's Tale
"It's like our time together is just ours. It's our own creation. It must be like I'm in your dream and you're in mine or something." – Before Sunrise
"Death cannot stop true love. All it can do is delay it for a while." – The Princess Bride
"I think I'd miss you even if we'd never met." – The Wedding Date
"I fell in love the way you fall asleep: slowly, and then all at once." – The Fault in Our Stars
"You are my greatest adventure." – The Incredibles
Incorporating Quotes into Your Wedding Day
As a newly married couple, both you and your special person want to show how deeply you love each other, and incorporating meaningful quotes into your wedding celebration can be easily achieved with some creativity and planning.
You can show everyone how deeply you love your special person by including these wedding quotes on your big day. Incorporate your favorite quotes when telling vows or giving a toast.
You can also display them on signs, menu cards, wedding congratulations cards, and centerpieces – all with the aim of enhancing the ambiance and romance of your ceremony and reception.
Why Movie Quotes Resonate So Deeply
Mignon McLaughlin once said, "A successful marriage requires falling in love many times, always with the same person."
And to be honest, I agree with this sentiment 100%!
Romantic wedding quotes expressing deep and lasting love are common in films – but that's not the only place they're meant to be.
Using these quotes during your own wedding ceremony can set a romantic ambiance and leave a lasting impression on your guests, reminding them of their own incredible wedding.
Incorporating movie quotes into wedding vows has become a widespread technique for creating unforgettable moments – and for a good reason!
It is a known fact that human beings naturally crave beauty and romance, and a lot of individuals aspire to have a successful and happy marriage – like those in your favorite romance movies. By infusing cinematic inspiration in your vows, you can confidently make the experience a truly memorable one.
If your big day is around the corner, don't hesitate to scroll through these 50 wedding movie quotes and find the one(s) that resonate with your love story!
If you're working on wedding vows you may want to check out:
Good luck, love birds!