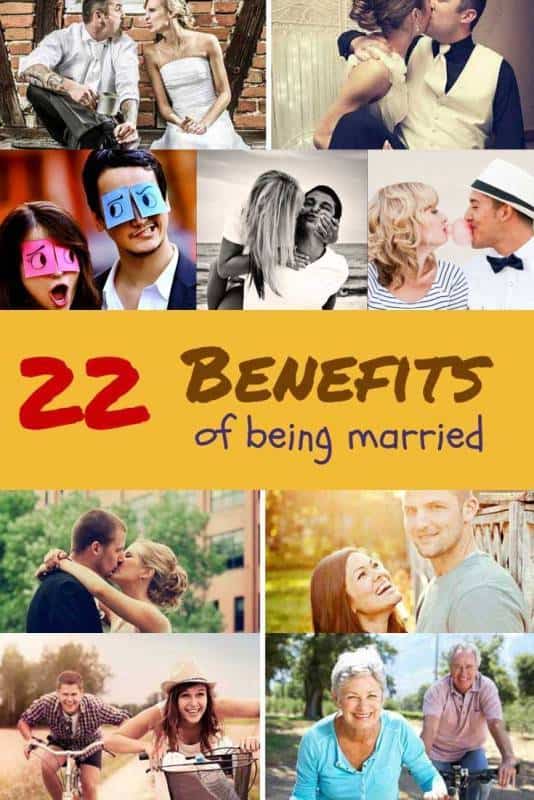 It's getting close to your big day, and you'll be married to the man you love. Here are 22 marriage benefits you'll experience after saying your vows!
22 Marriage Perks
Emotional support: Marriage often provides a strong emotional support system, as spouses can lean on each other during challenging times and share their joys and sorrows.

Companionship: Marriage offers a lifelong companion with whom you can build a deep and meaningful connection, creating a sense of belonging and togetherness.

Financial stability: Couples often pool their resources, which can lead to better financial stability and the ability to work toward common financial goals.

Health benefits: Studies suggest that married individuals tend to have better physical and mental health, potentially due to the emotional support and healthier lifestyle choices often associated with marriage.

Social support: Marriage can provide a wider social network through extended families and friends, which can be valuable during times of need.

Shared responsibilities: In a marriage, partners typically share responsibilities like household chores, childcare, and financial planning, which can lead to a more balanced and efficient life.

Intimacy and partnership: Marriage encourages a deep level of intimacy and partnership, allowing couples to explore their emotional and physical connections on a profound level.

Legal recognition and protection: Marriage provides legal recognition and protection for the relationship, ensuring that both partners have certain rights and responsibilities under the law.

Longevity: Some research suggests that married individuals may have a longer life expectancy compared to their unmarried counterparts, although the reasons for this are multifaceted and not solely attributed to marriage.

Improved mental and emotional health. Studies have shown that married people are happier, healthier, and live longer than unmarried people. They also have lower rates of depression, anxiety, and stress.

Greater financial security. Married couples are more likely to be homeowners and have a higher net worth than unmarried couples. They are also less likely to experience poverty.

Stronger social support. Marriage provides a built-in social support system that can help couples cope with stress, provide companionship, and offer emotional support.

Better parenting. Married parents are more likely to provide a stable and nurturing home for their children. They are also more likely to be involved in their children's lives and provide them with the support they need to succeed.

Improved physical health. Married people are more likely to have healthy habits, such as eating a healthy diet and exercising regularly. They are also more likely to get regular checkups and preventive care.

Greater sense of purpose. Marriage can give people a sense of purpose and meaning in life. It can also provide a sense of belonging and connection.

Improved communication skills. Married couples learn to communicate effectively with each other, which can help them resolve conflict and build a stronger relationship.

Increased creativity. Studies have shown that married people are more creative than unmarried people. This may be due to the fact that marriage provides a supportive and stimulating environment for creativity to flourish.

Greater resilience. Married couples are more likely to be able to bounce back from adversity. They also have a stronger support system to help them cope with difficult times.

Increased happiness. Marriage is one of the most important factors in a person's overall happiness. Studies have shown that married people are happier than unmarried people, and that their happiness level increases over time.
22 Other Marriage Benefits You Didn't Think Of..Until Now
You'll have a live-in spider killer.
Someone will always be around to reach the top shelves in the kitchen for those yummy menus.
You'll live longer; studies have shown married couples live longer.
You'll always get a Valentine's Day present… and an anniversary present!
Your husband is like a built-in toe warmer waiting on the other side of the bed.
You will always have someone to share your deepest secrets with.
You'll have a dishes-doing partner… and a dance partner.
There's always someone to wake up if you have a creepy dream.
You'll have someone to support you in all things.
Having someone there to bring you soup when you're sick.
Starting a family with the man you adore.

bellagala.com

Having a husband is like having a handyman on-call 24-hours a day.
Gaining a whole extra family that you'll love and who will love you.
Knowing that someone always has your back.
You'll have a Sunday morning newspaper-reading partner.
He'll be your partner in crime.
It's nice having someone who knows you as well as you know yourself.
Two heads are better than one, especially when you're coming up with excuses for staying home from work, getting out of a prior obligation, etc.
You always have a date on Friday and Saturday night.
Someone is always there to share laughs with.
Looking forward to your husband walking in at the end of the day.
You'll have someone to try new recipes on… and someone to tell you how your butt looks in those jeans!
(Bonus). You get to grow old together and still do fun stuff!
​There is a special kind of love between a husband and wife who have gotten comfortable with each other that is priceless. Good luck to you and may you thoroughly enjoy that priceless love with your husband.
​I hope you enjoyed this! Which one is your favorite? 🙂