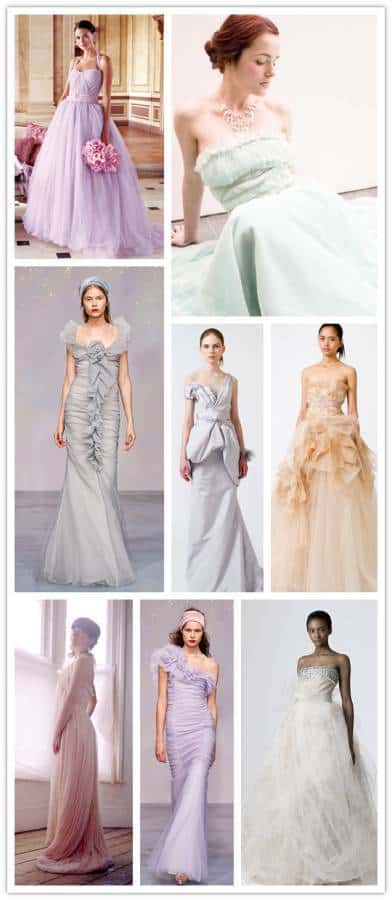 While the tradition of wearing white is still very much alive, more and more brides are incorporating color into their wedding attire and accessories. Many brides have opted for more colorful footwear, embellished their white gowns with vibrant sashes, and replaced traditional veils with chic hair accessories, many of which incorporate bright accents like peacock feathers and handmade flowers. Far less ladies however, have opted for a colored wedding dress – not only a serious fashion statement but also an unmatched way to express your personal style.
For those of you thinking a bolder hue might be too daunting, consider more muted tones with a hint of color throughout the dress instead. I've pulled a collection of some of my favorites from around the web in the hopes of inspiring some of you to break away from tradition and find something completely one-of-a-kind to wear on your wedding day. Just think about how amazing it would be to walk down the aisle in one of these gowns. I'm curious what your thoughts are on these selections. Do you have a favorite? Are you a traditional girl committed to sticking with white? Or after viewing the samples above, are you open to exploring more colorful options?
Dresses from (left to right by row) Reem Acra, Samuelle, Luisa Beccaria, Vera Wang, Vera Wang, Samuelle, Luisa Beccaria, and Vera Wang. Images from their respective designers' sites.
• • ♥ • •
Katie Murphy is the editor of Aisle Candy, a sparkling new wedding blog offering sweet inspiration for the modern bride. She loves sharing her passion for beautiful photography, pretty paper and unique weddings with others in the industry and modern brides-to-be. She works in Boston as a marketing director and grew up on Cape Cod.