Planning a wedding calls for some stressful times, endless details, deadlines, family drama, and budget costs. These are often enough to take all the fun away. Here is where MasterBundles may come in handy. It's a marketplace, where you can search through endless options of templates to use for planning your wedding.
You can use the professional ppt templates in any way you want. If it's for wedding planning, utilize the templates to keep track of all the checklists, budgets, and small details that are easy to miss but play a big role on a special day.
To help you plan the big day, below we've included the overall wedding timeline and some wedding trends you'll be obsessed with!
An overview of the wedding timeline
Wedding planning can seem very overwhelming, but if you give yourself approximately a year, you can plan everything out without a hurry and stress.
12 months before the wedding
This is a time when you need to think about your budget, guest lists, and overall theme you want to use for your wedding. You can also consider hiring a wedding planner, who could support you throughout this journey and keep everything organized for you.
A year before the wedding is a good time to choose a potential venue and caterers. You can also start hiring photographers, videographers, DJs, and others who might have tight schedules and should be booked in advance.
11-7 months prior to the wedding day
During these few months, you can start shopping for your wedding outfits and designing invitations. You can also do an engagement photoshoot, look for florists, and do other important things, which should be booked beforehand. You can also start looking for bridesmaid dresses and bridal party accessories.
6-3 months prior to the date
When the wedding is coming up, it gets more and more stressful. During this period of time, you should not forget to do the hair and makeup trials to make sure you look stunning on the wedding day. It's also important to consider how you're going to move to and from the venue. Another key aspect to consider at this time is planning out the menu.
You can also start writing your vows, checking catering options, and planning out the activities during the wedding day. Everything depends on what you've decided to do and how to celebrate this special day with your closest friends and family.
Last 2 months before the big day
These are the most stressful and exciting months. At this time, you should have all wedding invitations sent, plan out the seating options, do several fittings, etc. This is the busiest time of the preparation period, that's why make sure you have a checklist of everything that should be done to not miss something important.
Top Wedding Trends in 2022
Wedding traditions have been changing throughout the years. Currently, the top wedding trends include the following:
Disposable cameras
We all know about professional wedding photography and videography, however, you only receive these photos and videos weeks if not months after the wedding. Stocking up on disposable cameras and putting some at each table, will allow the guests to snap pictures all night. These photos develop in minutes' time and serve as a great memory.
Getting ready together
One of the most common legends states that couples can't see each other before the ceremony. But let's be real, the wedding day is about you as a couple, why would you want to spend half the day apart?
Picture Installations
In the era of social media, a modern wedding should definitely include installations of a perfect photo background. This will truly wow the guests and serve as a place to create content.
Trendy merch
It's an ongoing tradition for the couple to give guests some gifts at the end of the wedding. This usually included some treats, a mini wedding cake, or some magnets. However, here is a great idea, print some suitable merch that symbolizes your couple. It's a small gift guests will get to wear on a daily basis and will remind them of your couple.
6 PowerPoint wedding templates from MasterBundles
With so many tasks to look after and details to organize, planning a wedding can seem overwhelming. If you give yourself a helping hand with wedding PowerPoint templates, the tasks become more fun and less stressful.
Here are a few templates with which you can track wedding checklists, quest lists, party planners, budgets, party menus, grocery lists, and ceremony decorations.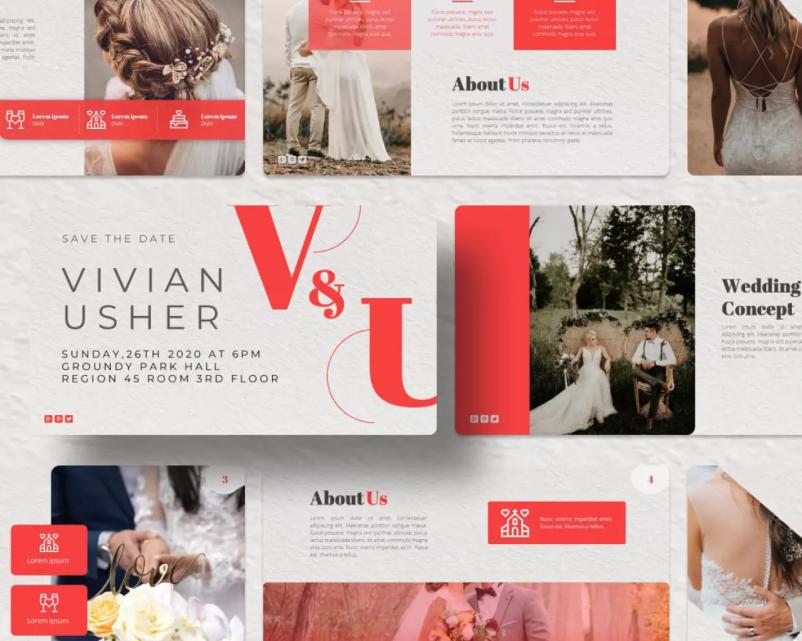 This modern and abstract template includes 50 slides in 4 color schemes. Match your wedding vibes by choosing from various schemes and backgrounds. All slides are fully editable, so you can customize them the way you want.
You can utilize this template to include special day details that you will then share with the guests. Add plane/transfer tickets, wedding location temperature, dress code elements, the reception timeline, and other information the guests might need.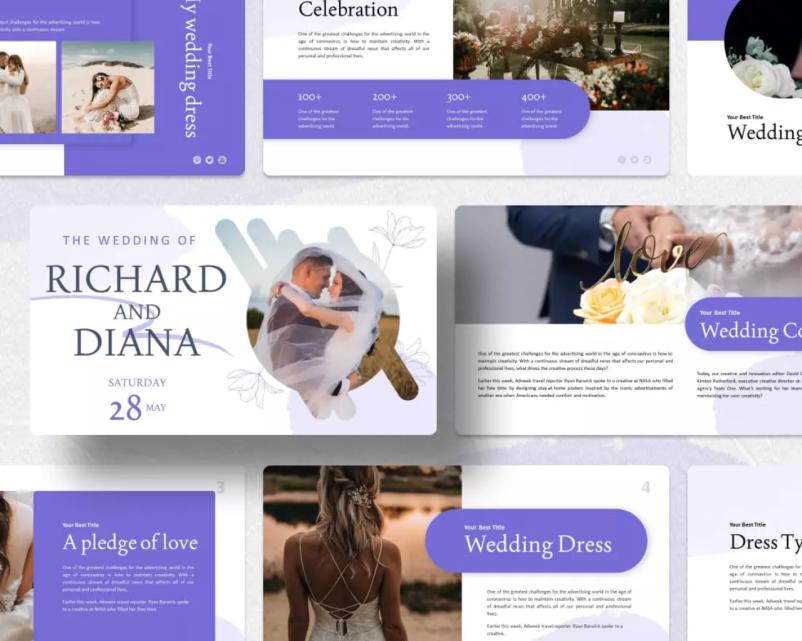 The wedding-themed presentation template is available in 4 different colors. All 50 slides of this template include various section breaks, covers, maps, flowcharts, image layouts, and more, all of these add-ons will help with wedding organization aspects. The template design is simple but modern that will fit any wedding style.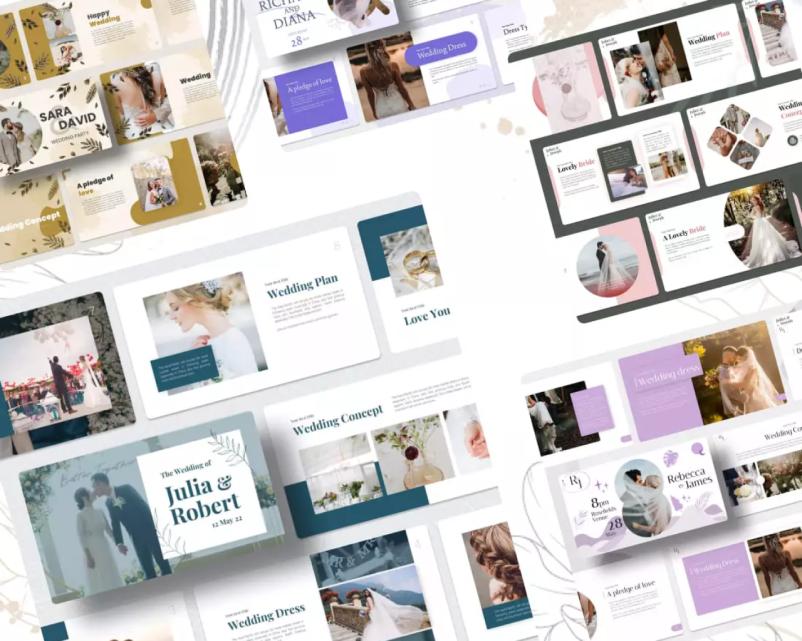 This is a bundle of 5 different wedding presentations, which you can use for different purposes. For highlighting various topics there are different slide layouts that all create an amazing, beautiful presentation.
These templates also feature various designs, so you can choose the one you like the most. You can use these presentation templates to either plan a wedding or for example, play the presentation on repeat (a special presentation about your couple) in the lounge area.
This wedding presentation template has a variety of elements that will call for a wow effect. The unique placeholders are just perfect to include your engagement photos. In addition to beautiful photography, the animated slides will act as an attention catcher.
With this template, you get to choose from various color schemes. It's fully editable and available as a PPTX file for download.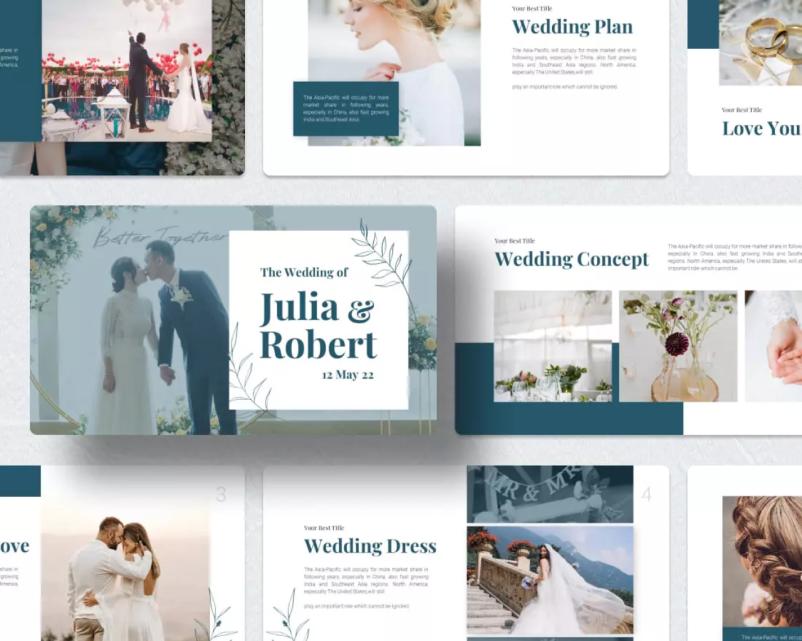 A modern elegant design will help you with a stunning presentation for your wedding. Its design allows you to focus on small details and an emotional introduction of the couple, where they met, special moments together, and which guests mean a lot to the couple. You can edit this template in PowerPoint, Keynote, or Google Slides.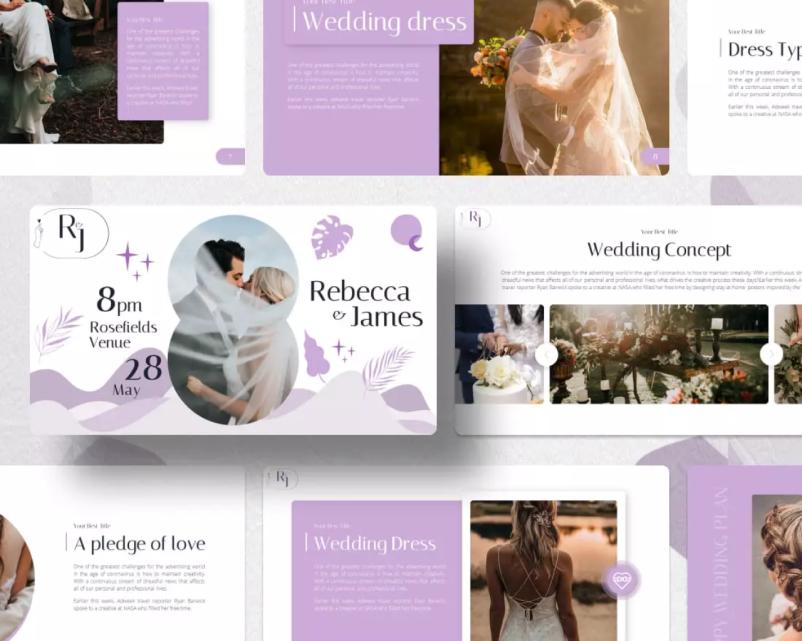 This PowerPoint template has a simple design, which can be perfect for an elegant slideshow presentation. Regardless of its smooth design, you get a pack of 50 unique slides, available in 4 color schemes. Each slide can be edited with wedding images and unique details. This serves as a great planner with no distractions, clear plans, lists, and guides.