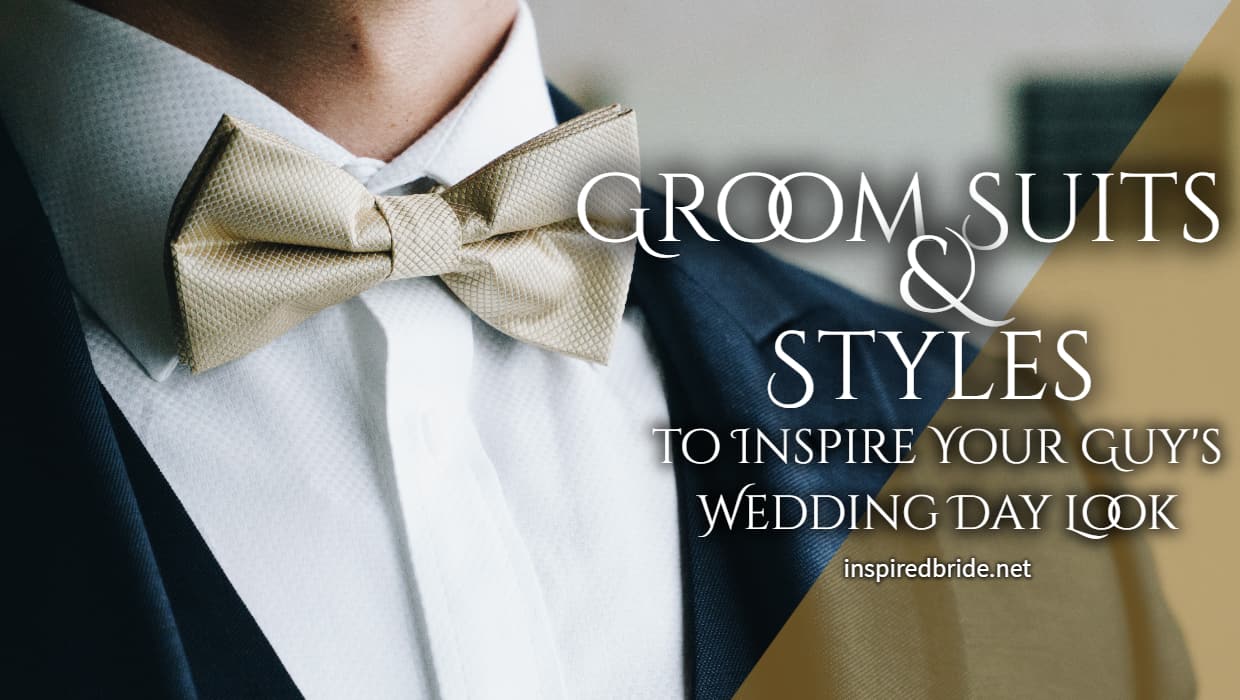 It may seem as though a groom has one option for his wedding-day wardrobe — a black tuxedo or suit, a white shirt and perhaps a black bowtie or tie to finish it all off. But your husband-to-be doesn't have to settle with what's expected of him unless, of course, he dreams of rocking a classic tux when he says, "I do." If not, let yourselves be inspired by the following five ideas that veer from the traditional wedding style.
1. Casual Wedding? Casual Look
One of the golden rules of a groom's wedding day wardrobe is that it has to match the formality of the occasion. If you're throwing a black-tie wedding with the rest of the bridal party and all your guests dressed to the nines, then your groom will have to follow suit — pun intended.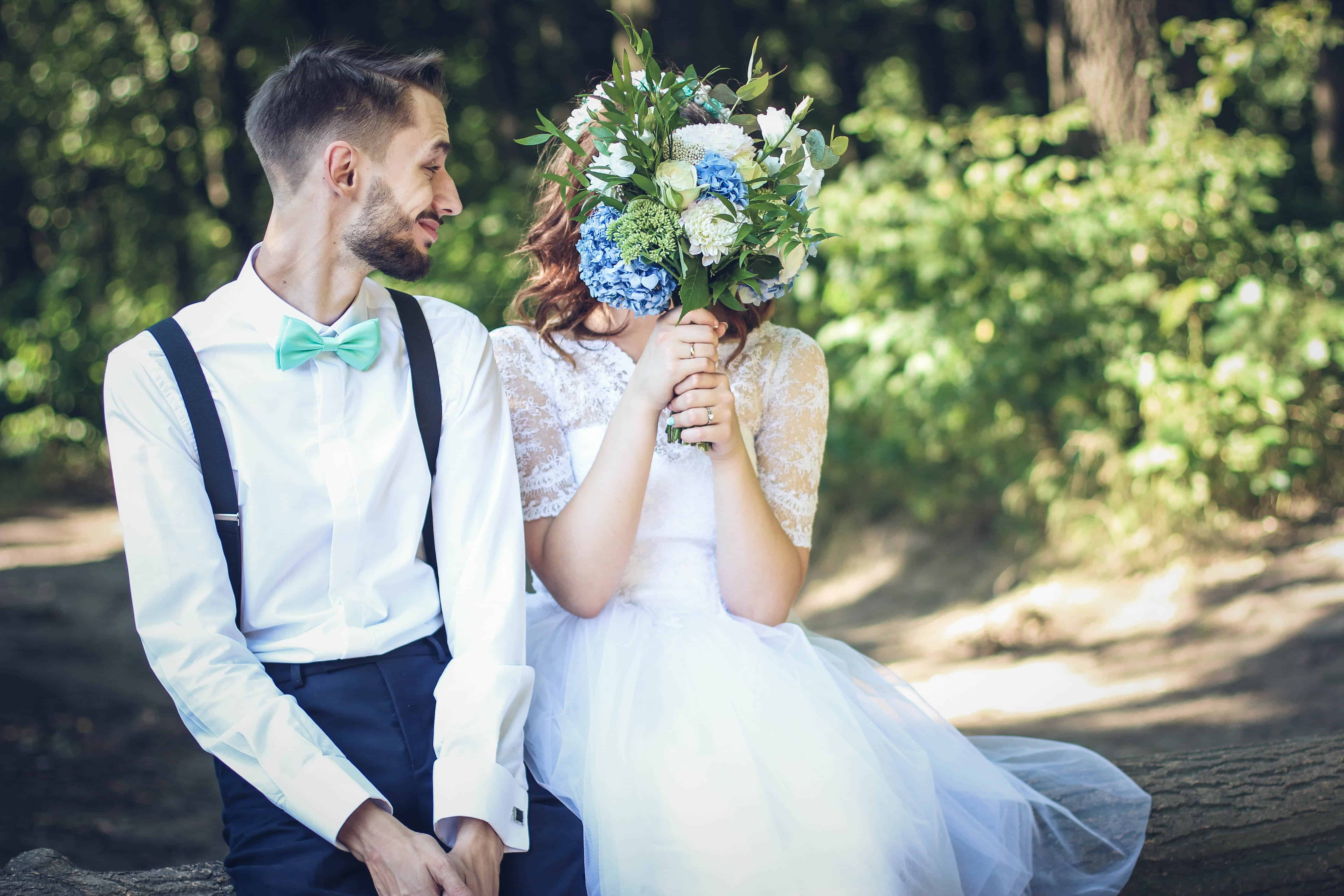 However, a more casual affair can allow him a little bit of wiggle room in what he wears. This all comes on a sliding scale — some grooms might choose to wear blazer and slacks instead of a suit, while others will ditch the jacket altogether. No matter what, the chosen look should fit your groom well, and it should flatter his body type. With those principles in mind, he really can't go wrong.
2. Use Your Wedding Colors
The bridesmaids aren't the only ones who should be able to wear color. Your groom, too, can choose his look based on the hues of the day. Just as your dress will be a memorable garment for you to slip into, imagine how your groom will feel when he gets to wear a deep maroon or powdery blue suit on your wedding day.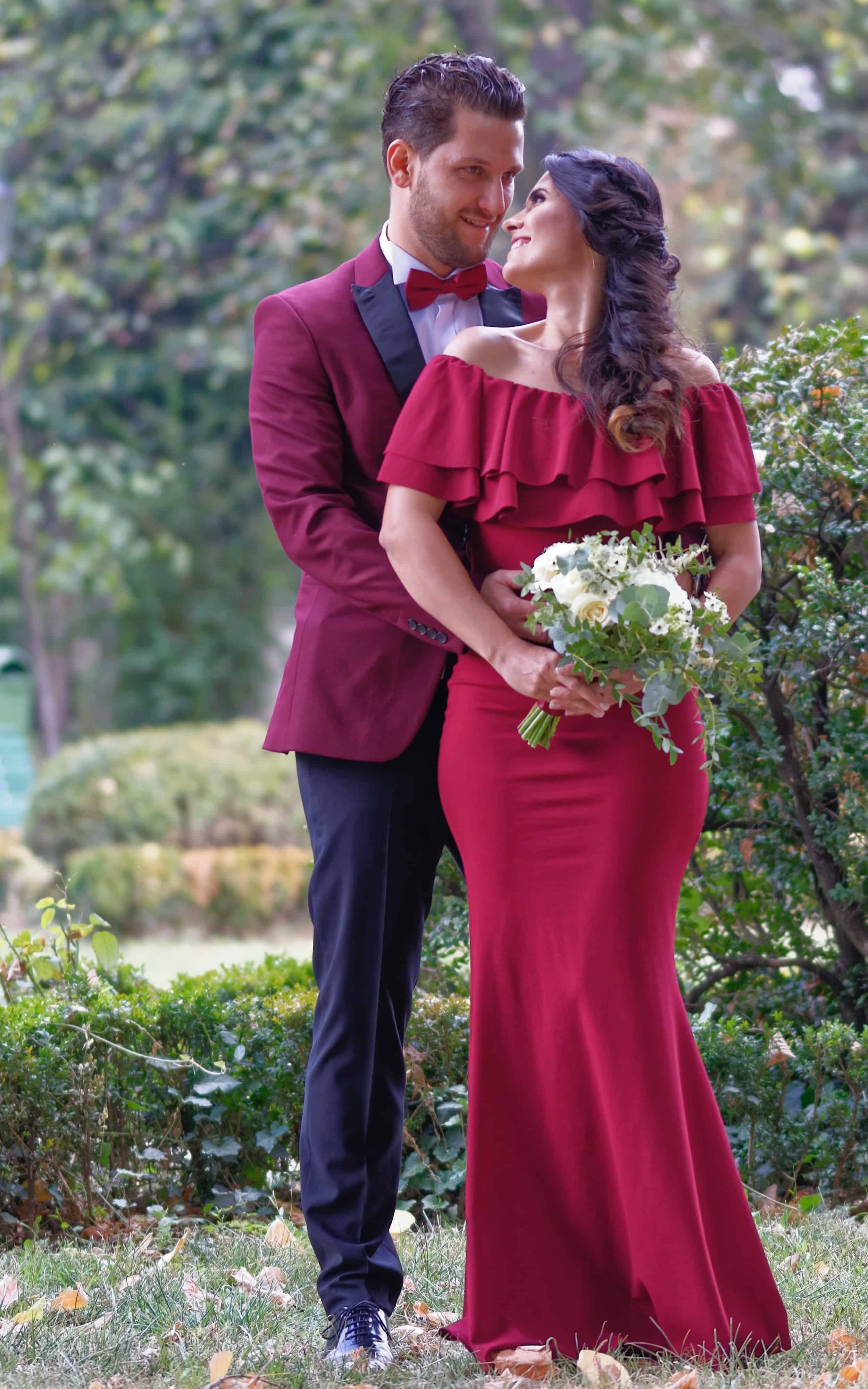 As you seek out the right shade for him to wear, keep two ideas in mind: he could wear his favorite color, or wear a color that corresponds with the season in which you get married. For instance, a spring wedding will probably call for pastels, while an autumn ceremony will have everyone wearing warm, saturated hues, like a chocolatey brown or burnt orange.
Even if these suit colors sound crazy, don't knock 'em til you try them. You'll be surprised to see how sharp your man looks in a well-tailored colorful suit and a coordinating shirt and tie.
3. Don't Forget the Groomsmen
A bride will often spend days trying to find her perfect gown. Then, she selects the perfect style of dress to flatter all of her bridesmaids. The hue of the fabric will coordinate with the ceremony and reception colors, too.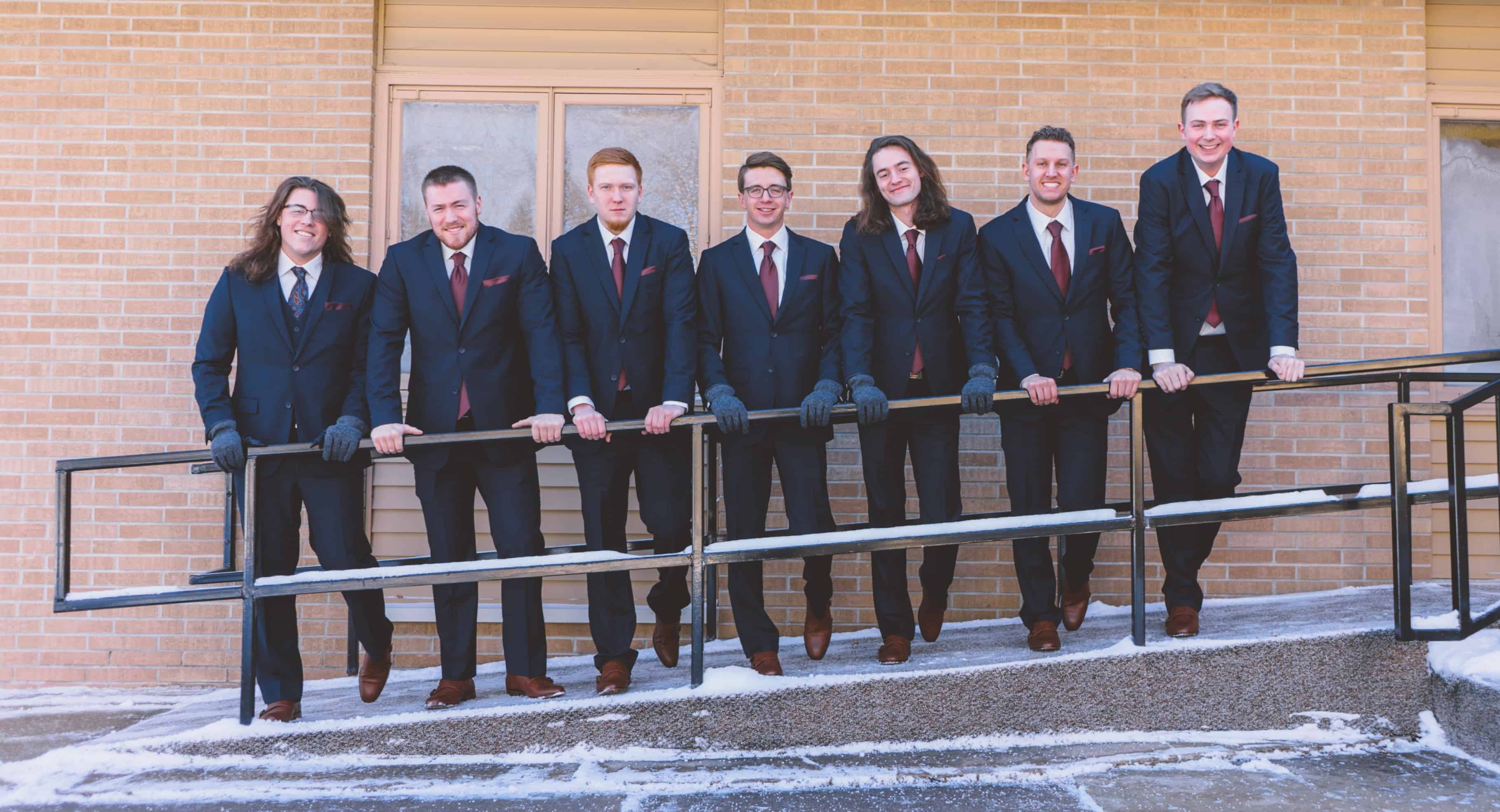 It's a tough task, but it's not an impossible one — and not one that should be reserved for the bridal party only. Once your man decides on his look for the big day, it's vital that you coordinate that with what his groomsmen will wear. So, for example, if he goes with a blush-colored suit, you'll have to incorporate the same shade into the groomsmen's attire. You probably don't want them all in pink, too, but a blush button-down or tie will have them all coordinated to perfection. A good rule of thumb is, if you have two wedding colors, the groom wears or accessorizes with one and the groomsmen do the same with the second shade.
4. Have Fun with Accessories
Even if you have a traditional suit-and-tie look in mind for your groom and his attendants, don't shy from letting them all have fun with how they accessorize their outfits. The same already applies to bridesmaids — you might even be considering the option of your girls going down the aisle in mismatched dresses. Give your groomsmen the same type of autonomy.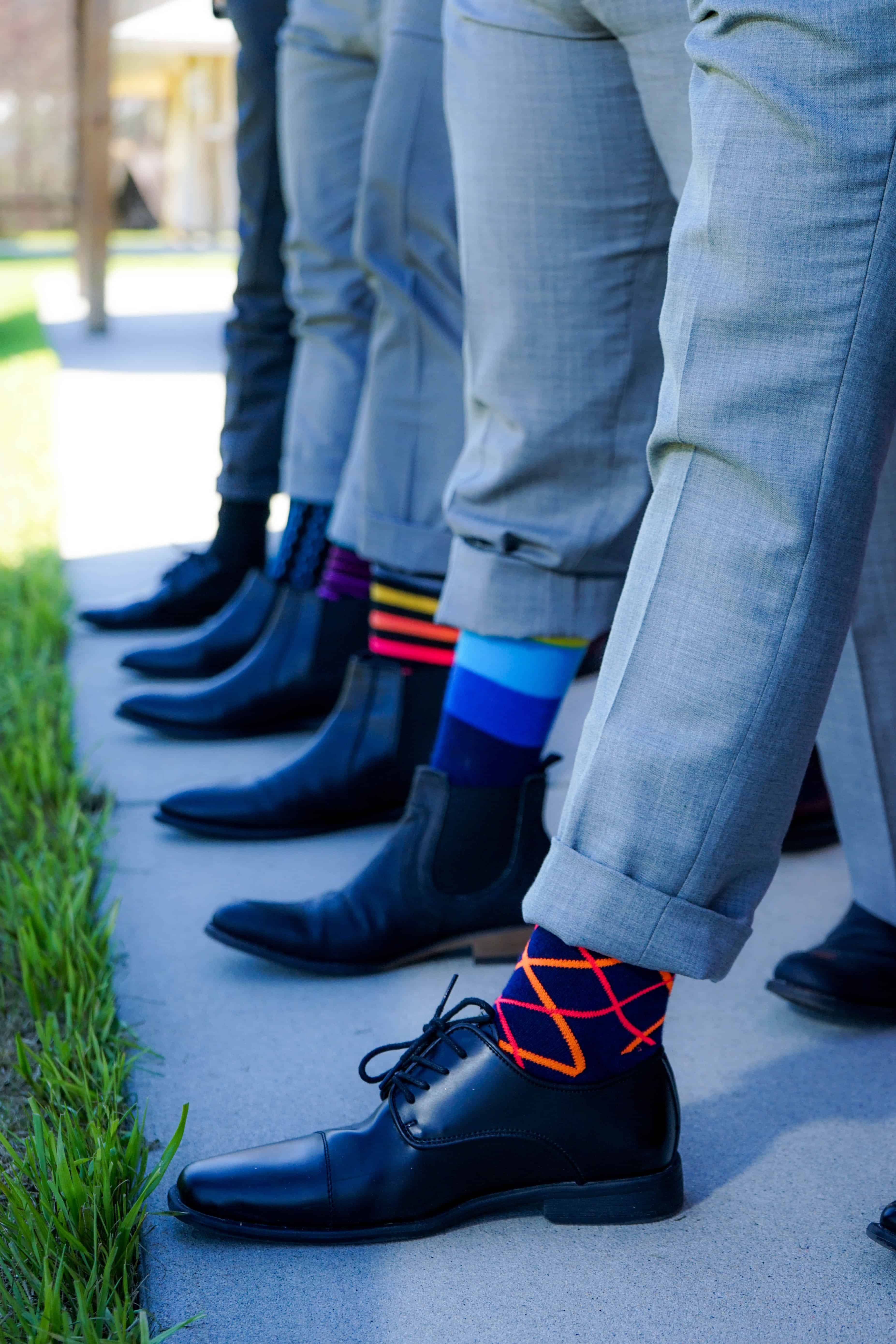 It could be something as small as the cufflinks they wear or the socks they slip on before they get dressed. Perhaps you'll let each groomsman pick out his tie from the wedding's colors. Even the boutonnieres can be customized with little charms or fabric accents. Get creative and show some individuality.
5. Mix It Up with Patterns and Textures
Finally, plenty of grooms before yours have shown their personality through a unique combination of patterns or fabrics on their wedding day. For instance, rather than a monochromatic shirt under his suit jacket, your groom might rock a floral, polka dot or checkerboard-covered button-down. This option, of course, should only be deployed in the case that your man enjoys wearing such patterns — if not, he can experiment with fabrics instead.
New textiles add texture and interest to a traditional suit. Plus, if the groom chooses a more casual fabric, it'll make a fancy silhouette fit in at your casual wedding. For instance, a linen suit would work perfectly for an outdoor or beach wedding because it's a lighter everyday fabric. Consider other materials for further interest, including velvet, denim, wool or seersucker.
Let Him Be Himself
You're comfortable and confident in your wedding dress — your groom should feel the same in his get-up. These five styling ideas will help him get there, creating a look that's put-together and cohesive with the rest of your celebration. And, with that, you'll be thrilled when you walk down the aisle and see what he's chosen to wear.