One of your biggest wedding planning decisions will be your wedding flowers. You'll need to decide on colors, styles, arrangements, and more to find the perfect wedding flowers. All of the options can be quite overwhelming, especially once you factor in pricing and seasonal constraints. But did you know you could use gorgeous, realistic-looking wood flowers for your wedding without the stress associated with fresh flowers? Here are 10 things you should know about using wood flowers for your wedding.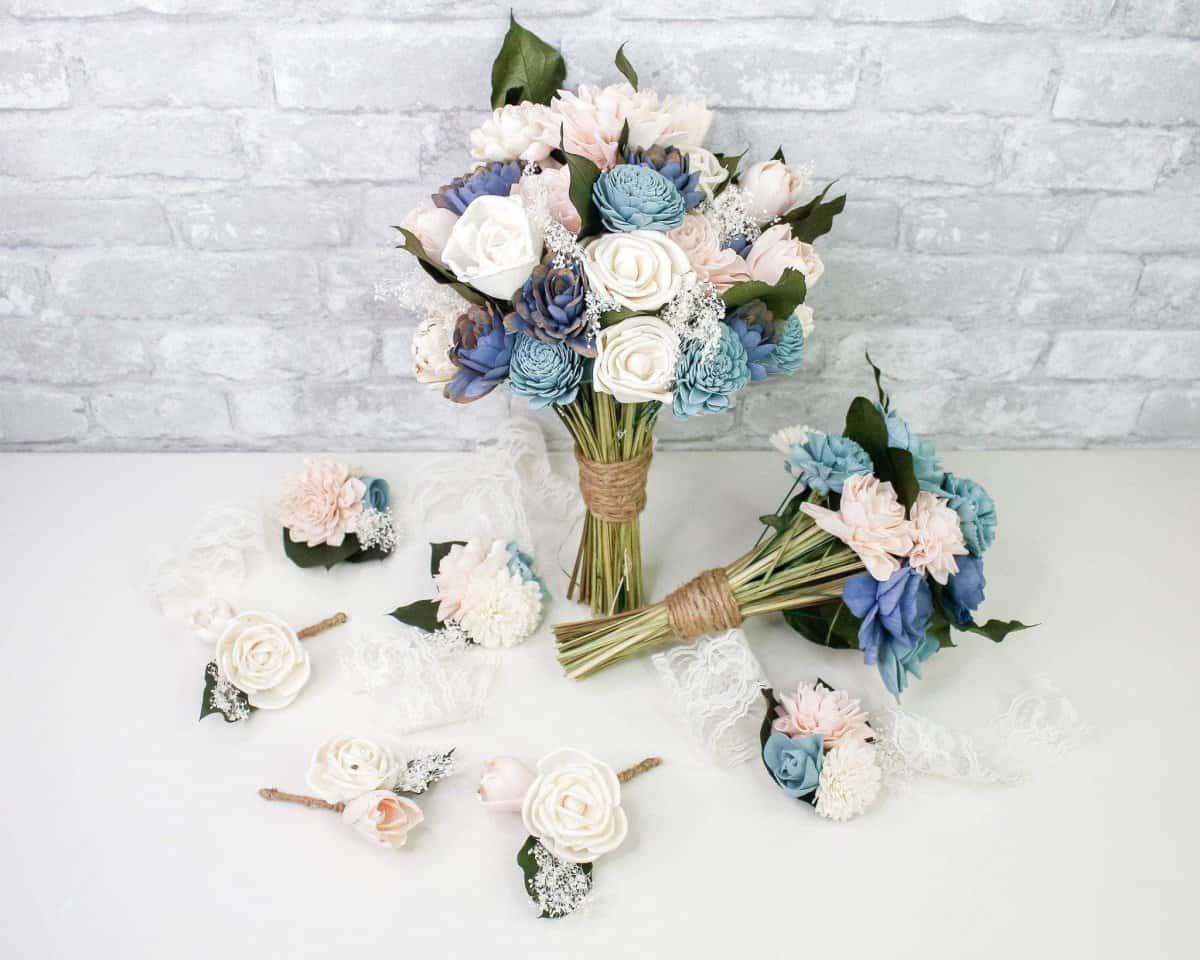 1. What Are Wood Flowers?
Wood flowers aren't made from traditional wood trees. Instead, they're made from sola wood, which comes from the tropical tapioca plant root. To make flowers, this root is ethically and carefully harvested, processed, dried, preserved, and shaped into hundreds of different flower styles. Wood flowers look realistic and beautiful as they're professionally shaped to imitate popular types of flowers, such as roses, peonies, chrysanthemums, daisies, and more. Read on to learn about many of the benefits of using wood flowers for your wedding!
2. They're Affordable
One of the biggest benefits of using wood flowers for your wedding is that they're incredibly affordable, which is a big deal to any bride with a budget. In 2022, the average cost of fresh wedding flowers was around $2,500-$3,500. With inflation and supply shortages, it is possible that the average cost of fresh wedding flowers will be even higher in 2023. If you're trying to stick to a stricter budget for your wedding, those numbers might seem intimidating. Luckily, you can use wood flowers for your wedding and save a lot of money, adding flexibility to your budget. When you use wood flowers for your wedding, you'll be spending a fraction of the cost of fresh flowers. For example, the average fresh flower bridal bouquet costs around $250. When you shop at Sola Wood Flowers, you can get a unique, personalized, full-size bridal bouquet made with wood flowers for $50 or less. Imagine the money you'll save when you buy all of your wedding flowers from Sola Wood Flowers! The money you've saved on wedding flowers can go towards another part of your wedding, like buying your dream dress or catering food for your reception.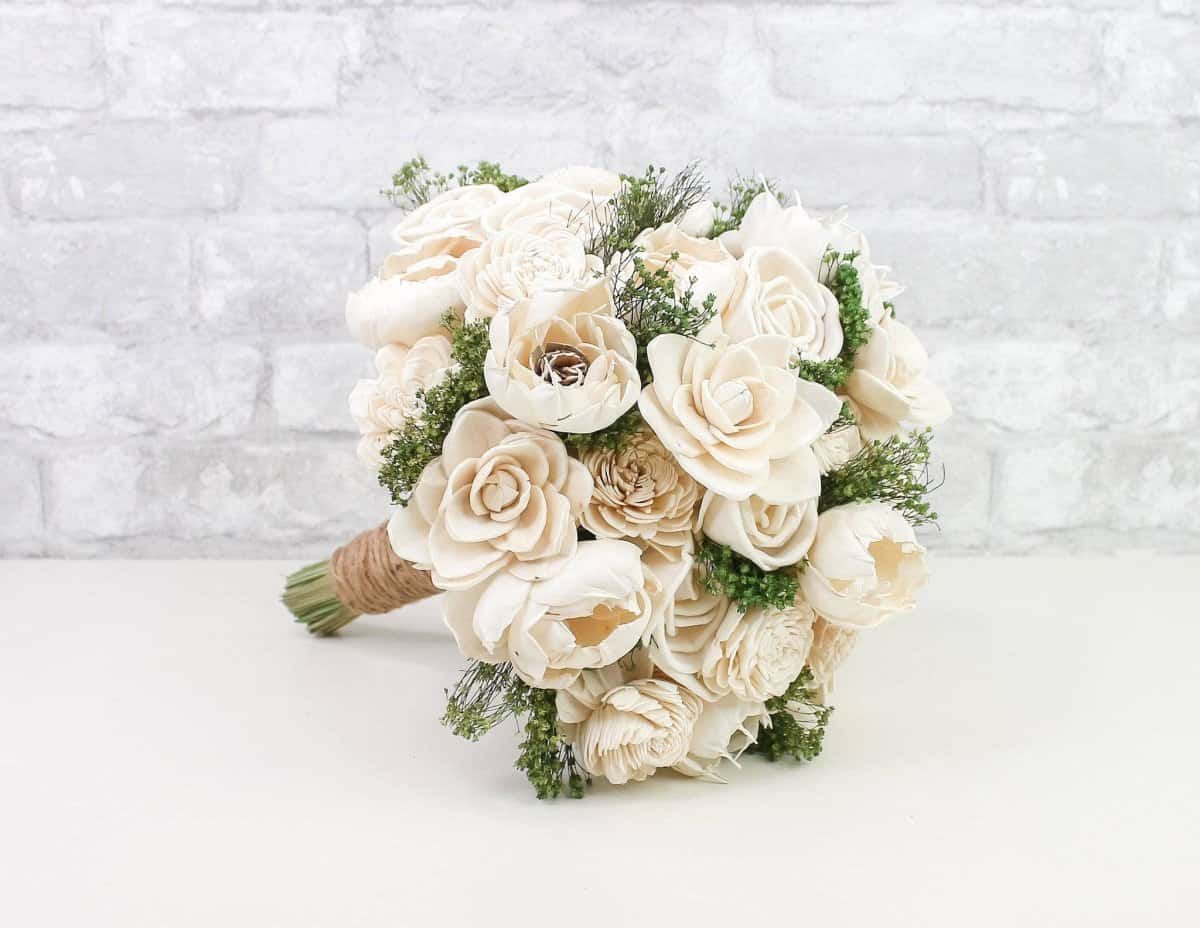 3. They're Long-Lasting
Wood flowers are well-known for being long-lasting and durable. Unlike fresh flowers, wood flowers don't wilt and die. They don't need to be watered or misted or constantly monitored. Instead, they're carefully preserved in the creation process, which makes them long-lasting and easy to care for. Your wood flower wedding bouquet will stay looking beautiful for many years to come. To help your wood flowers stay flexible, damage-resistant, and soft instead of brittle and fragile, make sure they're treated with Sola Softener!
4. They're Customizable
Another great perk of using wood flowers for your wedding is that they're totally customizable. Sola Wood Flowers has hundreds of styles and color combinations to choose from, including customizable filler and greenery options and flower arrangements that are built specifically for you. If you love the look of one of their wedding collections but aren't sold on the colors, you can customize your wood flowers by selecting different dye colors for the arrangements.
5. They're Easy to Maintain
Wood flowers are incredibly easy to maintain over time. This will make your wedding day so much less stressful! Instead of worrying about your wilting fresh flowers, you'll be able to trust that your wood flowers are looking stunning and you'll be able to spend your time and energy enjoying the wedding events. To care for your wood flowers over time, make sure that they're kept out of direct sunlight. Being in the bright sun for long periods of time can actually fade the colors of your wood flowers. That being said, if this occurs, you can always add a fresh coat of dye to your wood flowers to restore them to their original bright shade! You should also periodically dust your wood flowers to keep them clean and in good condition. You can easily dust your wood flowers by blowing them with a low-power hair dryer or fan or by brushing them with a soft cloth.
6. They're Always in Season
When you're using fresh flowers for your wedding, you'll have to worry about whether or not your desired flowers are in season at the time of your wedding. If they're not, you'll either have to change your plans or ship your flowers from a different part of the world. Both options could turn out to be quite expensive! When you use wood flowers, you'll never have to worry about your flowers being out of season. All styles and colors of wood flowers can be created at any time of year.
7. They're Environmentally Friendly
Another benefit of using wood flowers for your wedding is that they're environmentally friendly. Unfortunately, some wedding flowers aren't grown and harvested in a way that is ethical or eco-friendly. Sometimes, practices are implemented that can be harmful to the flowers and environment, as well as workers. Shopping at local flower farms might help with this problem, but using wood flowers can eliminate this issue entirely. These products are sustainably harvested from materials that are plentifully and readily grown in nature.
8. You Can DIY Your Own Flowers
When you're budgeting for wedding flowers, one of the biggest expenses will be to pay for a florist. Wedding florists often charge you additional amounts for their experience, industry knowledge, and labor. You can save money and time by DIYing your own wood flowers. With Sola Wood Flowers, there are many different wedding flower arrangements that you can choose from including corsages, boutonnieres, centerpieces, bridesmaid bouquets, decorations, bridal bouquets, and more. By choosing their "DIY" option when ordering these arrangements, you'll be shipped a craft kit and given all the supplies you need to DIY your wedding flowers. Check out their Sola School for some helpful tutorials and tips!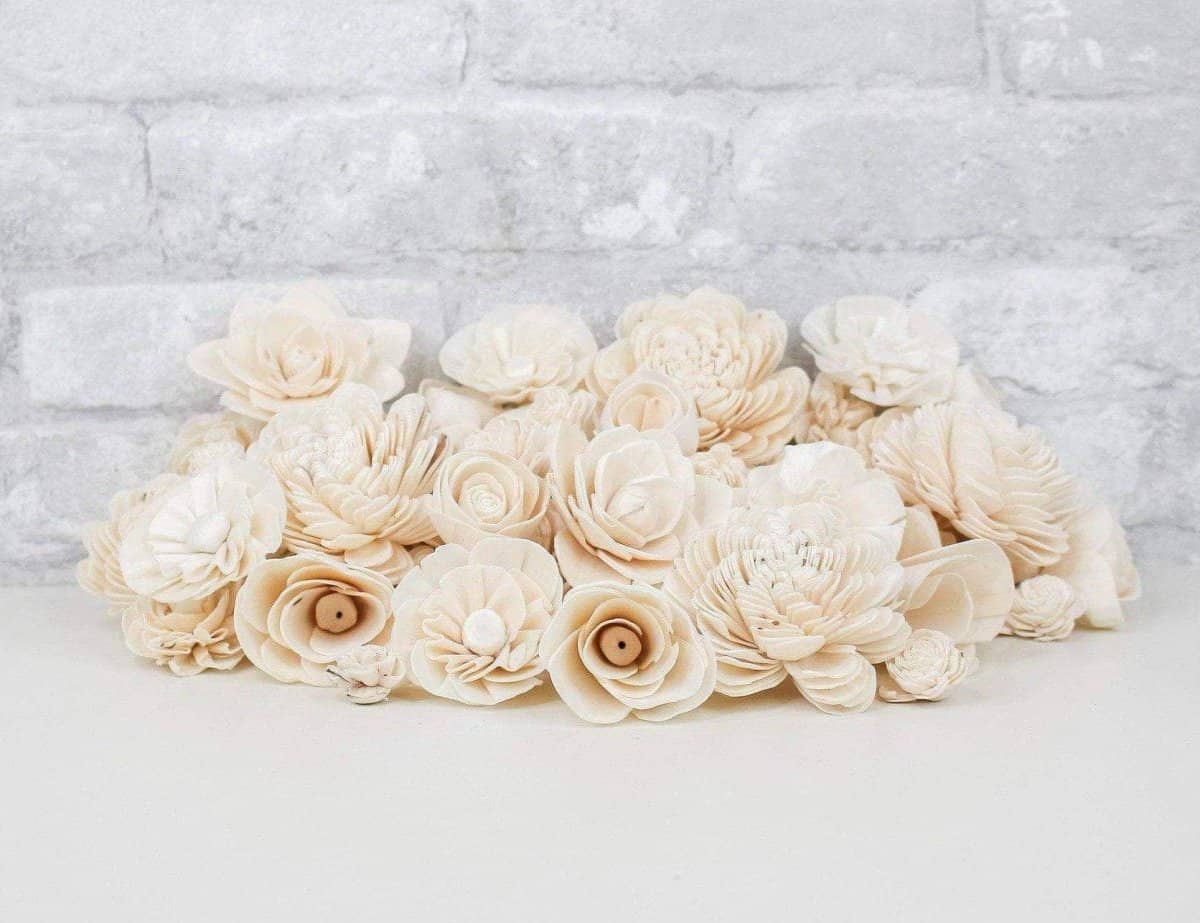 9. You Can Have Them Built For You
If you aren't as confident in your crafting skills, you can have Sola Wood Flowers create your own customized arrangement by choosing the "Built For You" option. When you select this option, the floral stylists at Sola Wood Flowers will carefully put together your flower arrangements, including any customization features you've chosen, and ship your perfect flowers to your doorstep! There is no extra charge included in this option, which is incredible, considering what you'd have to pay a florist to provide the same service.
10. Have a Unique Style? They'll Be Perfect.
When you're working with fresh flowers for your wedding, it is difficult (if not impossible) to find really unique shades of flowers. If you have a really unique color scheme for your wedding, you'll be able to achieve the perfect colored flowers by using wood flowers. These flowers can be custom dyed to match any shade, no matter how unique your style may be. If you have an uncommon flower style for your wedding, Sola Wood Flowers could be the perfect option for you.
So, as you're trying to choose your wedding flowers, don't rule out wood flowers! Remember the many benefits that wood flowers offer when you use them for your wedding, including their customization, their affordability, and their long-lasting nature. Wood flowers will look stunning on your wedding day and for many years to come! You won't regret it when you choose to use these beautiful wood flowers for your wedding.