With June being the official start of summer and National Candy Month, it's only fitting to feature a few of the coolest, most refreshing cocktails that are sure to please any sweet tooth. Pick one as a signature cocktail or mix up a few and serve them at your bridal shower, bachelorette party, or wedding cocktail hour.
Pineapple Coconut Champagne Cocktail
A champagne cocktail with a tropical twist.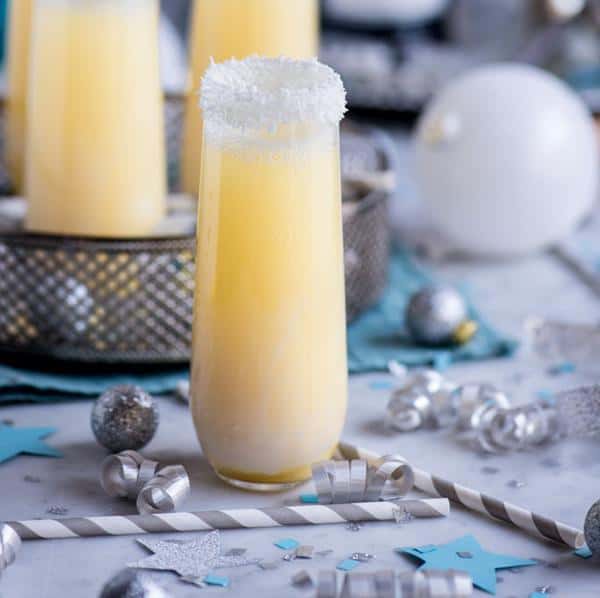 Recipe via Pineapple and Coconut
Ingredients:
Pineapple juice (chilled)
Coconut juice (chilled)
Champagne or Prosecco (chilled)
Simple syrup
Finely shredded coconut
Directions:
Pour some simple syrup in a small bowl and the shredded coconut in another small bowl. Dip the top ¼ or so of your champagne glasses in the simple syrup and then in the shredded coconut making sure the rim is well coated. Set aside to dry.
Fill each champagne glass with 1 ½ ounces of each pineapple and coconut juices. Fill the rest of the way with the champagne or Prosecco. Serve immediately.
Frost Bite
A fruity citrus cocktail with a hint of mint for ultimate refreshment.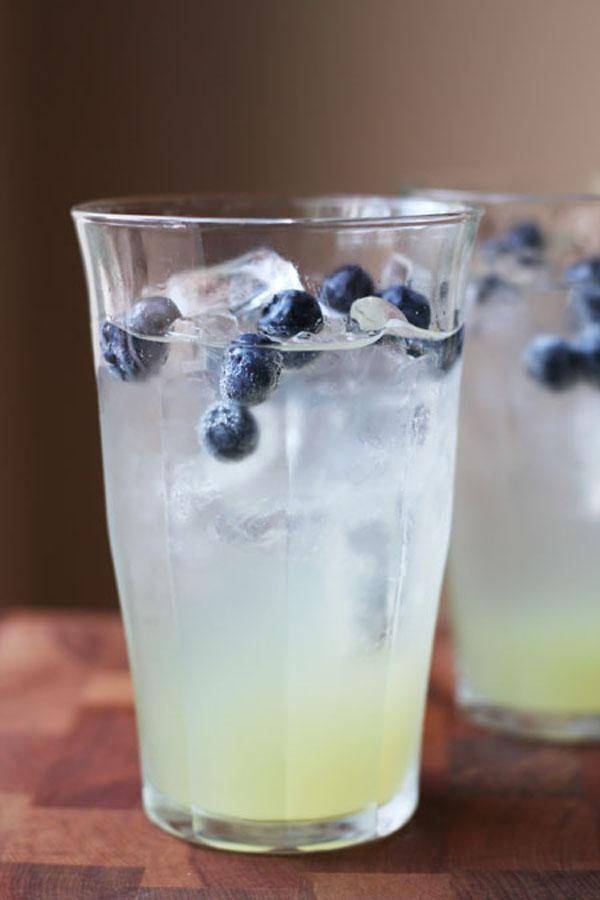 Recipe via This Week for Dinner
Ingredients:
3 ounces Sierra Mist Natural
1 ounce Blue Curacao
1 ounce Coconut Vodka
Fresh mint
1 ounce Pineapple juice
Fresh blueberries (optional)
Directions:
In a shaker filled with ice, mix coconut vodka and pineapple juice.
Add blue curacao, fresh mint and blueberries.
Shake all ingredients well and strain into a large glass filled with ice.
Top with Sierra Mist Natural.
Strawberry Pimm's Cup
Packed with summer fruits, which makes it healthy (right?).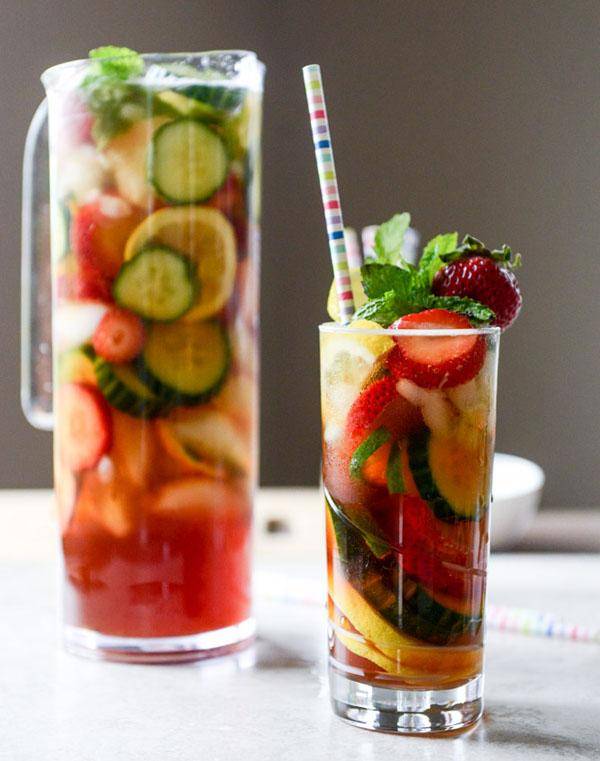 Recipe via How Sweet It Is
Ingredients:
Handful of fresh mint
4 cucumber slices
4 strawberries, sliced
2 lemon slices
2 lime slices
4 ounces Pimm's No. 1
1 lemon wedge
1 lime wedge
4 ounces ginger beer
1 to 2 ounces club soda (optional)
Directions:
Fill your glass with a mixture of ice, strawberries, cucumber slices, fresh mint, lemon slices and lime slices. Remember to save a strawberry or some mint for garnish on top, if you care to.
Once your cup is full of ice and produce, pour in the Pimm's and squeeze in the lemon juice and lime juice from each wedge.
Use a knife or cocktail stirrer to stir the mixture.
Pour the ginger beer over top and finish with the club soda. Give it a gentle stir. Garnish with the leftover mint or strawberry or lemon wedge.
Pink Lemonade Jello Shots
Technically not a cocktail, but would be so cool to serve at a pre-wedding party.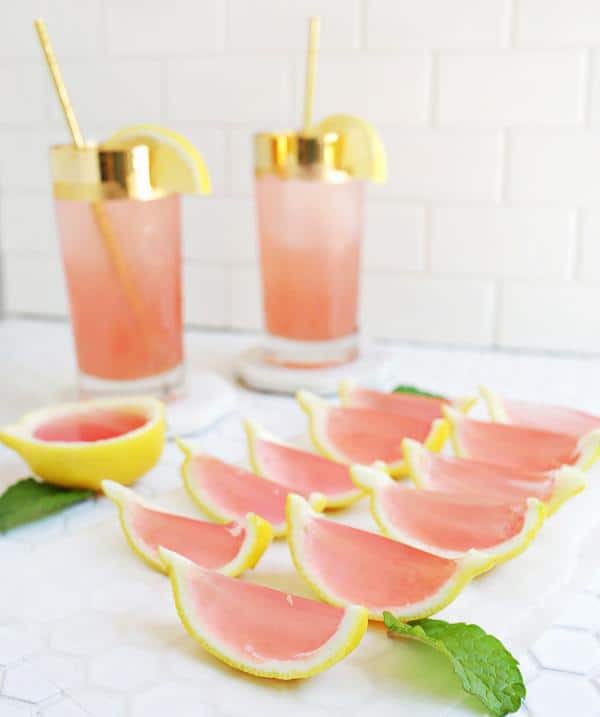 Recipe via A Beautiful Mess
Ingredients:
2 packets of unflavored gelatin
1 cup pink lemonade
1/2 cup regular vodka
1/2 cup lemon vodka or Lemon Eddy
5 lemons
Directions:
Cut your lemons in half and use a spoon (a serrated grapefruit spoon works great if you have one) to scoop out the insides as much as you can.
Heat the lemonade in a pan over medium heat and stir in the packets of gelatin slowly until they dissolve. Add the lemonade and gelatin mixture to a bowl and pour in your vodka liquids. Stir until combined.
Transfer the liquid into a pourable container and place your lemon halves into a muffin tin to keep them upright. Pour in the liquid until each half is full and refrigerate for 4 hours or until set.
Remove the tin once the lemons have set and slice into slices right before serving.
Queen Bee Mojito
Combines honey and citrus for a truly sweet and refreshing drink.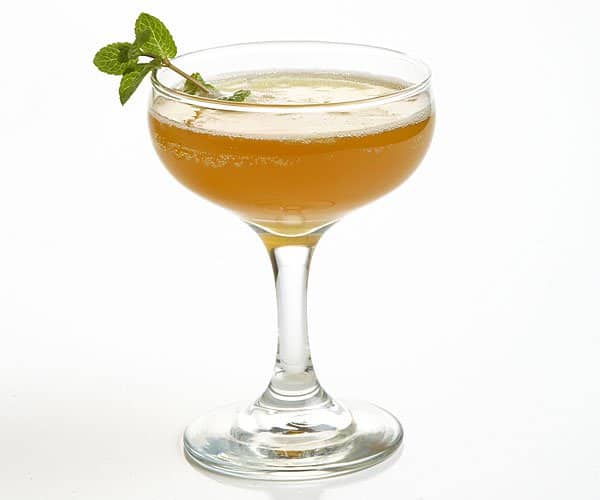 Recipe via Fine Cooking
Ingredients:
2 Tbs. honey syrup
1 Tbs. fresh lime juice
4 large mint leaves, plus sprigs for garnish
2 Tbs.aged dark rum
1 dash Angostura bitters
2 Tbs. chilled sparkling dry wine
To Make Honey Syrup:
Combine equal parts of your favorite honey and boiling water and stir to dissolve. Let cool completely before using.
Directions:
Put the honey syrup, lime juice, and mint in a chilled cocktail shaker. Press (don't pulverize) the mint with a muddler or wooden spoon until fragrant.
Add the rum and bitters and fill the shaker with ice. Put the lid on the shaker and make sure you have a tight seal. Shake as hard as you can for about 10 seconds and then strain into a chilled small coupe.
Add the sparkling wine and garnish with a mint sprig.