Unless you're a member of a royal family — and even if you are — your wedding dress is likely going to be the most extraordinary item of attire you're ever going to have. Not only because it's  meant to be worn on one of the most important days of your life; and not only because you want it to create and enhance a vision you may have carried in your mind since you were a little girl. But also, because it's going to be more intricately designed and expensive than any dress you've ever owned.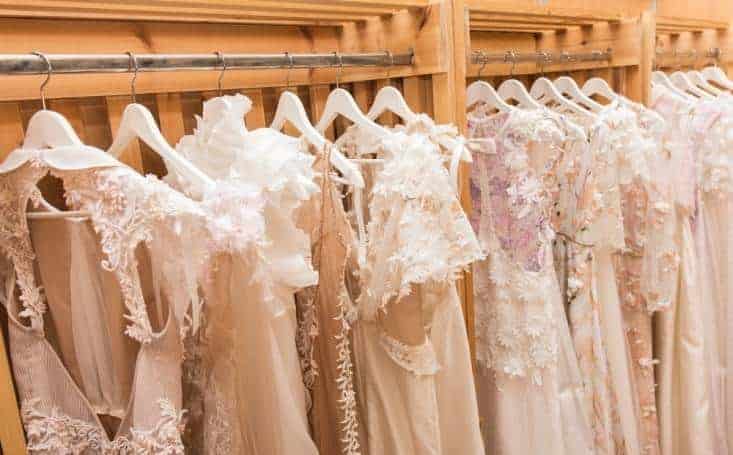 Before you head out to go shopping for that once-in-a-lifetime gown, here are some things you should be aware of:
Know Your Price Range
The minute you step into a bridal salon, you will be surrounded by rack upon rack of the most enticing fantasies you can imagine. If you don't know what the absolute top of your budget is, you will find yourself trying on gowns that you cannot possibly afford… and all that will lead to is misery. The last thing you want to do on a shopping trip is fall desperately in love with a dress that's stratospherically above your price limit. (And no, it is not reasonable to think you can cut the reception's food budget in half to compensate.)
When you're computing how much you can spend, don't forget the costs of a veil ($100 and up, way up), and of alterations. Your dress will almost certainly need to be hemmed, and depending upon beading or other details and how many layers of fabric there are, hemming can cost hundreds of dollars. Lingerie cups, bustles, and other details add up quickly; the alteration cost for an elaborate gown or substantial tailoring can reach or exceed $800.
While we're talking about money, be prepared to pay up to a 60 percent deposit once you've selected and ordered a dress even though you may not receive it for six months or more. All the experts advise putting the deposit on a credit card so that you have a fallback position if there are problems with your order.
Some bridal salons offer their financing but do your research before you agree to sign up for it. Compare their terms with credit cards that may offer lower rates as well as rewards.
Be Sure of Your Wedding Season and Location
If you go in search of a dress before you know where and when your wedding will be, it may be fun, but it's anything but practical. Make sure you've decided at least on the season and kind of location you want before you do any serious shopping. A heavy silk satin gown with a long train that's perfect for a winter wedding in a church isn't going to do at all if you wind up with a summer wedding at the water's edge.
Don't wait too long to make those decisions, though, because most dresses take four to six months after ordering to arrive in the shop, and alterations can take at least a month or more after that.
Have an Idea of How You Want to Look
Given how many gorgeous styles and fabrics wedding dresses come in, it's a very good idea to do some research before you step foot into a salon. Only mayhem will ensue if you get to the store and expect to be shown everything they have. Check out all the dresses in the magazines and on specialty wedding sites.  (As if you haven't been doing that since the minute that ring hit your finger!)
Visit the websites of designers themselves, too. If you find some designers you click with, you can find out where their dresses are available and contact your local salons to see if they have or can get the samples you're interested in.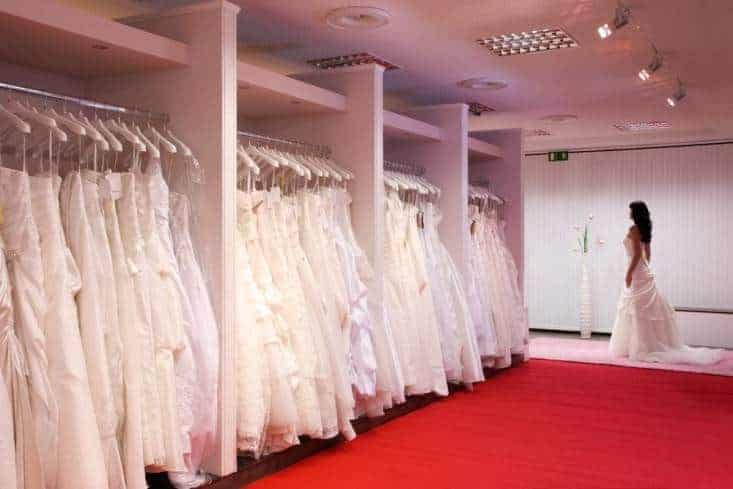 Be Prepared for Your Shopping Appointment
You don't have to do yourself up all the way but pay some attention to your hair and makeup so that you get the full effect of the dresses you'll be trying on. And wear appropriate nude or light-colored undergarments, so they don't distract. Most importantly, bring along only a couple of relatives or friends whose judgement you trust and whose taste complements yours.
As much fun as the excursion promises to be, the point is to get thoughtful comments and suggestions from people who want you to look your best, not to host a hen party.
Once You've made Your Decision
Make sure that your contract includes the correct style number, size, and color, and that any special instructions were transcribed accurately. Double check that the price, deposit paid, delivery date and your contact information are correct.
By the way, whatever your dress shopping experience is, someone has had the same one. For some advice from women who've been there, check this out.