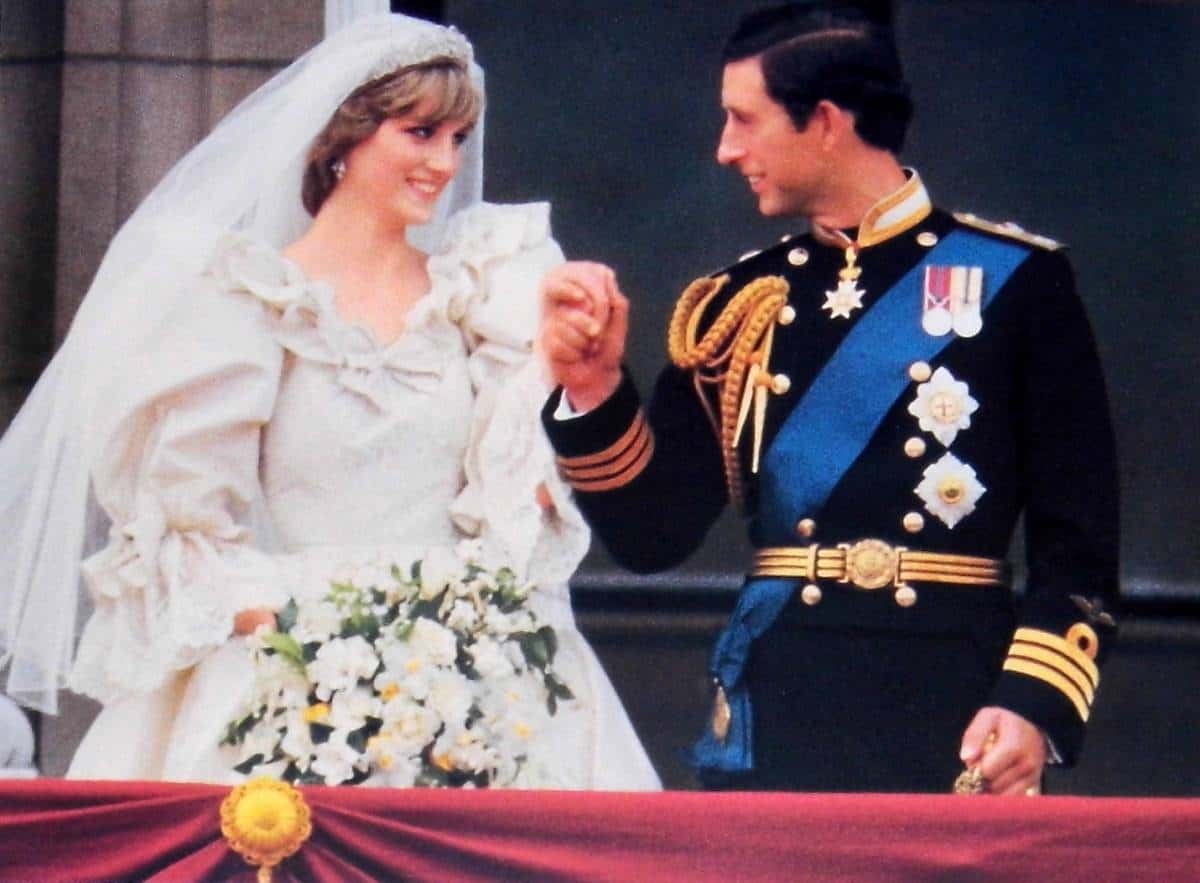 Source: www.flickr.com
Clothes have always been used to convey special connotations and meanings. Our bodies remain the same, but our emotions and events do not and clothes are the perfect way to portray our feelings & proscribe to our surroundings, making our body feel at one with our mind. One such significant time is a wedding, an event marking the closure of one chapter of our life and our transition into another, but more blissful period, and we need to make sure that our dress perfectly embodies our transition, elation, pride, happiness & above all our love, on that special day.
A girl's wedding dress marks one of the most significant moments in her life; a moment that she'd hopefully cherish forever. The pressure to look their best and make all the right choices when it comes to the dress has brides all over the world biting their nails.
Wedding dresses come in all sorts of styles. You can go for the traditional long white gowns or go with something short and fun that is more reflective of your personality.
Some brides keep things classic while others choose be a little more daring. Angelina Jolie chose to wear a veil with appliqued drawings made by her six children while Marilyn Monroe ditched the white dress altogether and opted for a brown pencil skirt.
Royal weddings over the decades have given us the most breathtaking wedding moments but celebrities haven't been too far behind.
Here's a list of the 10 iconic wedding dresses that left the world in awe and continue to inspire.
1. Amal Clooney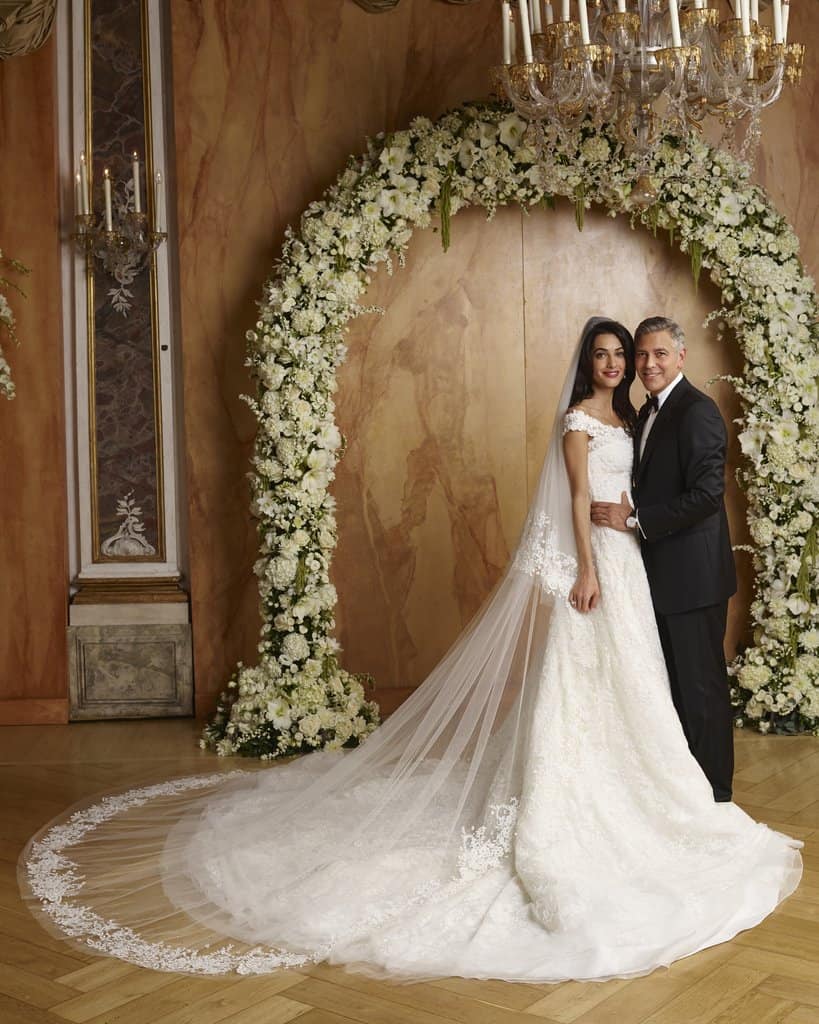 Source: www.popsugar.com
The brilliant Amal Alamuddin tied the knot with husband George Clooney in one of the most anticipated weddings of the year. Amal donned a bespoke Oscar de la Renta and as always, embodied true elegance on her big day.
Oscar de la Renta designed a one-of-a-kind off-shoulder gown made of French lace, embellished with pearls and diamante. However, it was the dress' sweeping, long train that had everyone talking.
2. Kate Middleton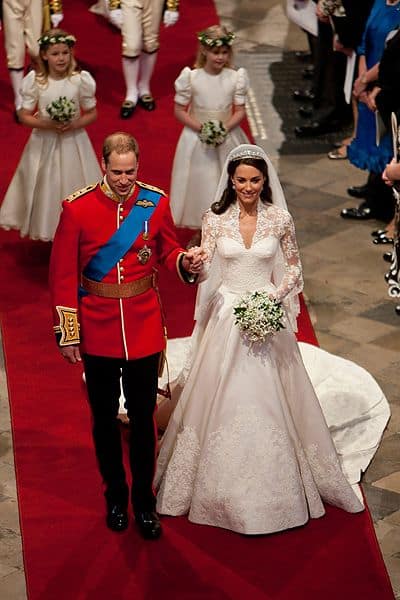 Source: www.flickr.com
No one does a wedding like Britain's Royal Family. Kate Middleton married Prince William in one of the most iconic weddings of our times. Understandably, the designer was kept a secret until Kate walked to the altar. Sarah Burton (from the House of Alexander McQueen) was revealed as the brain behind the beautiful gown.
The ivory dress was slightly padded at the hips to give the skirt a bit of a poof. It featured a satin bodice and Chantilly laced long sleeves.
3. Gwen Stefani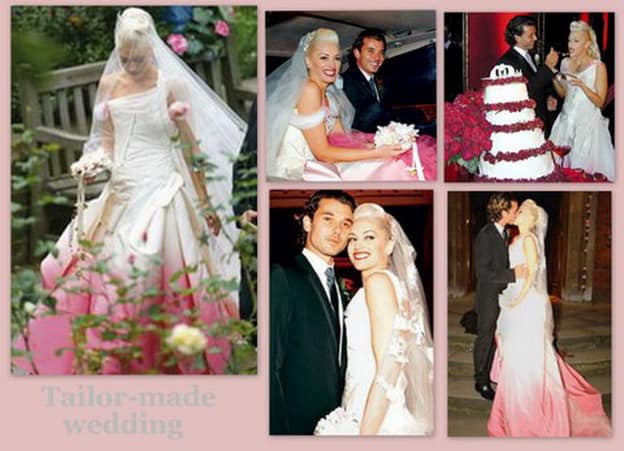 Source: www.flickr.com
Gwen Stefani is known for the unique tone of her voice, her awesome physique, her never-ageing looks and of course her quirky dressing sense. It was no surprise that her wedding dress too came with a twist. The Star stayed to true her punk rock roots and went the unconventional route for her wedding day. She donned a Christian Dior bespoke gown designed by John Galliano.
The dress combines standard wedding dress elements with volume and a skirt with bubble-gum pink, dip-dyed hand-paint at the bottom. Gwen was one of the first to experiment with a colored wedding-dress – even on her big day, her personality shone through her dress.
4. Salma Hayek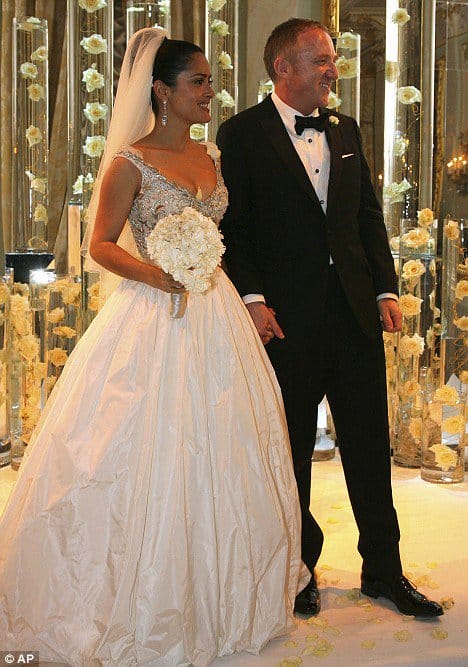 Source: www.dailymail.co.uk
When you're marrying France's richest man, there's immense pressure on your wedding day to look like a goddess – and boy did Salma live up to it. The beauty donned a lavish Balenciaga princess gown by Nicolas Ghesquire.
5. Kim Kardashian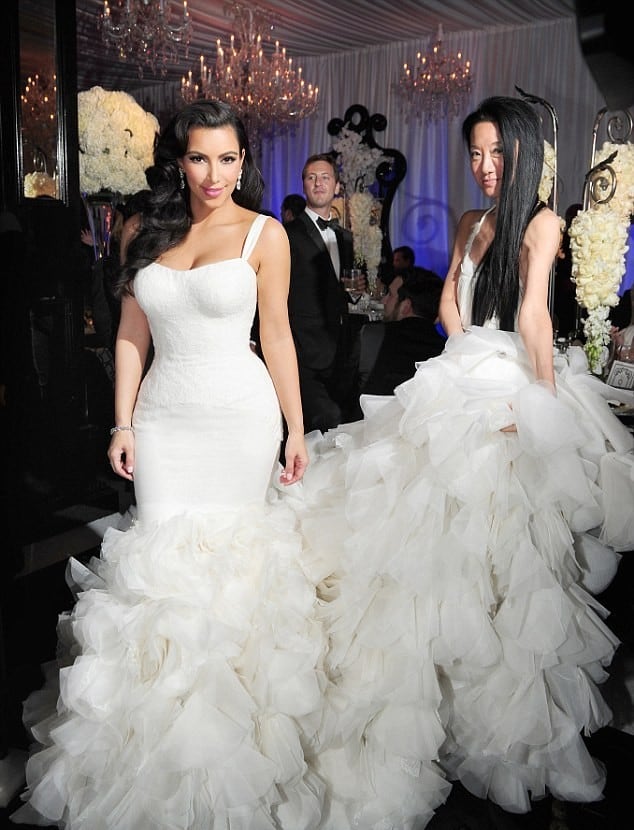 Source: www.flickr.com
Kim Kardashian wore three dresses in her wedding to Kris Humphries and we all know how that went. In her wedding to Kanye, she stuck with one. Kim chose a Givenchy dress designed by her close friend Ricardo Tisci. The figure-hugging, mermaid-dress featured lace sleeves with a picture-perfect train.
6. Kiera Knightley
Source: www.flickr.com
For her big day, Kiera Knightley took a more grounded approach (although she did have a secret second wedding where she did wear a Valentino gown). Kiera was spotted in a mid-length Chanel wedding dress, perfect for a summer wedding. She actually ended up that wearing again on the red-carpet.
Not only did she wear the dress again, she also admitted that her dress had been ruined by red-wine spill. Not one to be affected by the mishap, she stated that she had no intentions of having the spill washed off because the memories it marks are more important.
7. Victoria Beckham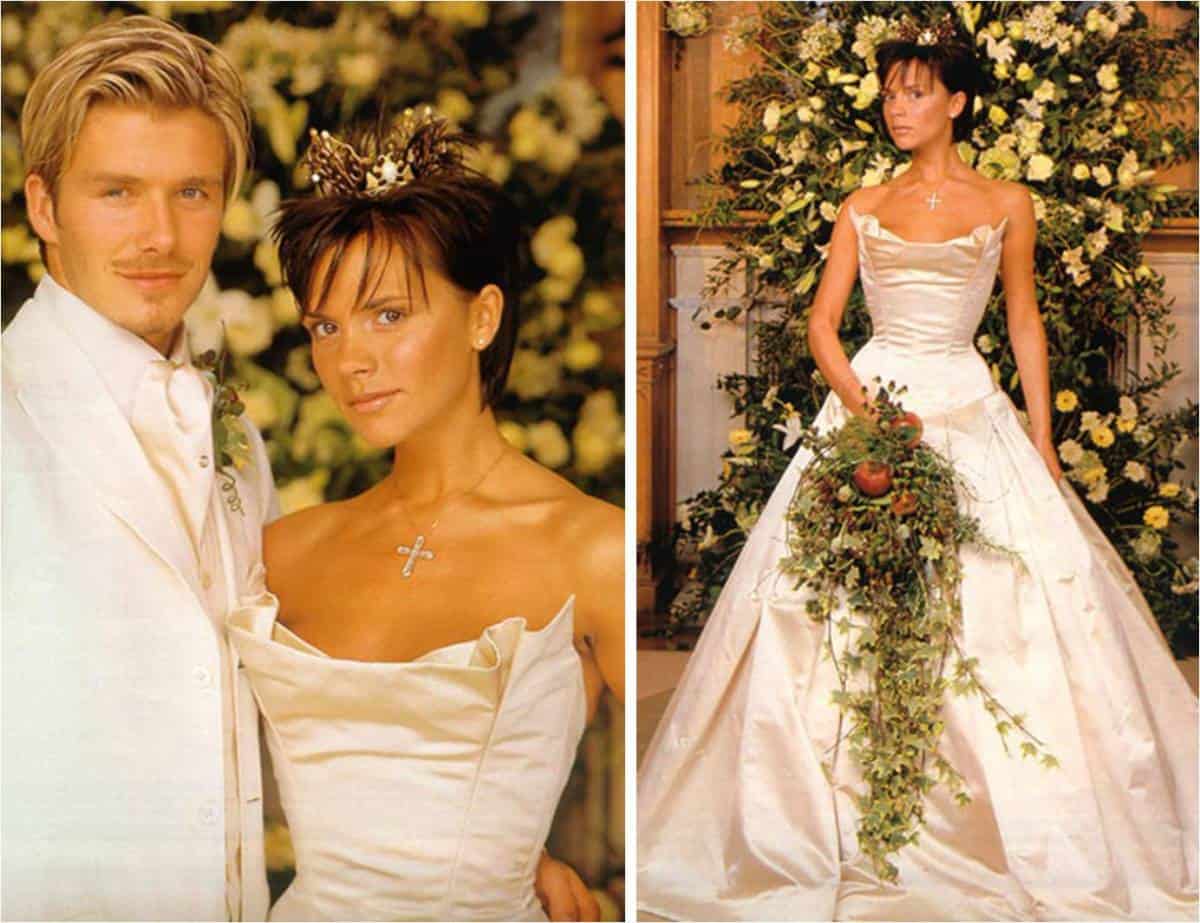 Source: www.flickr.com
Victoria is known for her high-end fashion choices that show-off her slender figure which is miles different from her wedding dress from many years ago. For her wedding, Victoria selected a satin, Vera Wang princess gown with a massive skirt. It didn't show off her skim figure but it definitely turned heads as she walked down the aisle.
8. Princess Diana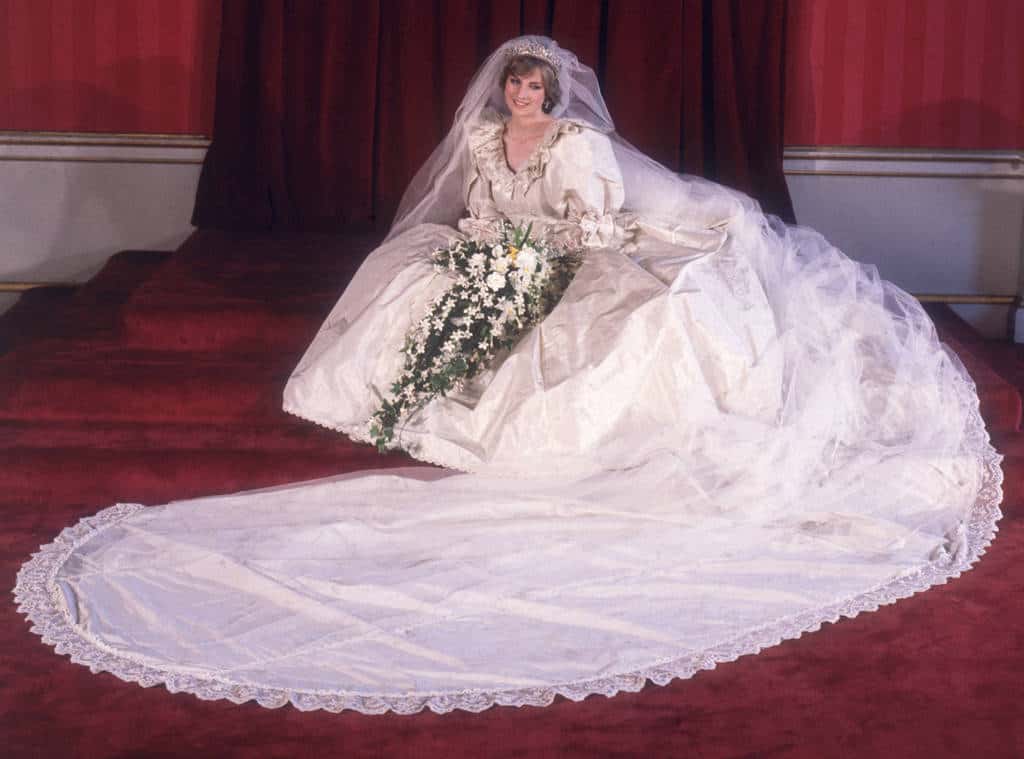 Source: www.eonline.com
Princess Diana's wedding dress and its huge train is one of the most spoken about wedding dresses in the last half-century. As was expected at the time, Diana's dress was conservative. It had the big, puffy, long sleeves (which could have inspired Kate Middleton's full-sleeved wedding dress). However, it was the dress' train that left everyone mesmerized – it was 25ft long for goodness sake!
9. Jackie Kennedy
Source: www.vogue.com
Jackie Kennedy and JFK tied the knot 8 years before he was sworn in as President but that wedding was still quite the social event. Jackie wore a traditional, white princess gown with portrait-neckline and a skirt that consisted of 50 yards worth of fabric. The beautiful gown was accompanied with a veil with lace detail.
10. Grace Kelly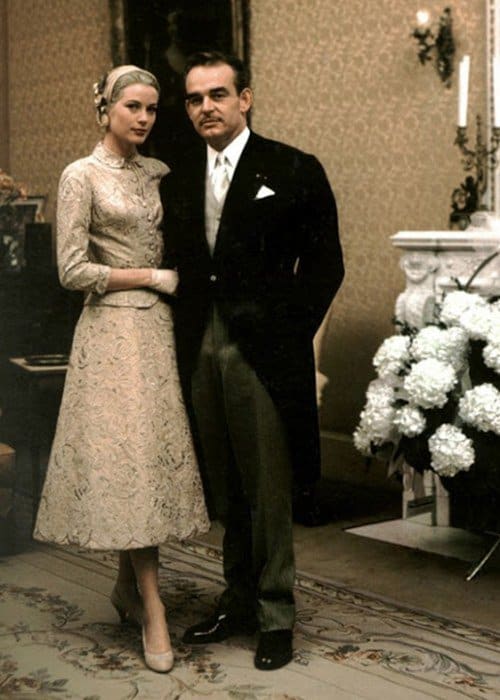 Source: www.brides.com
Hollywood actress Grace Kelly may have one of the most iconic wedding dresses of all time. Though she wore the dress back in the 1956, the dress remains stylish even to this day. Grace's conservative but gorgeous gown consisted of long-sleeves with a detailed floral print, accented with a regal veil.
So what are you wearing on your special day?