You've found the dress, now it's time to make it — and you — shine. The right jewelry will take your wedding ensemble to a whole other level. The key is finding pieces that complement your gown's silhouette. But with so many different necklines out there and an almost infinite choice of jewels, it can take a lot of time to figure out what will work best for you. If you're not sure if a pearl choker or diamond pendant is the thing to wear, use our cheat sheet to find the best jewelry for every bridal dress neckline.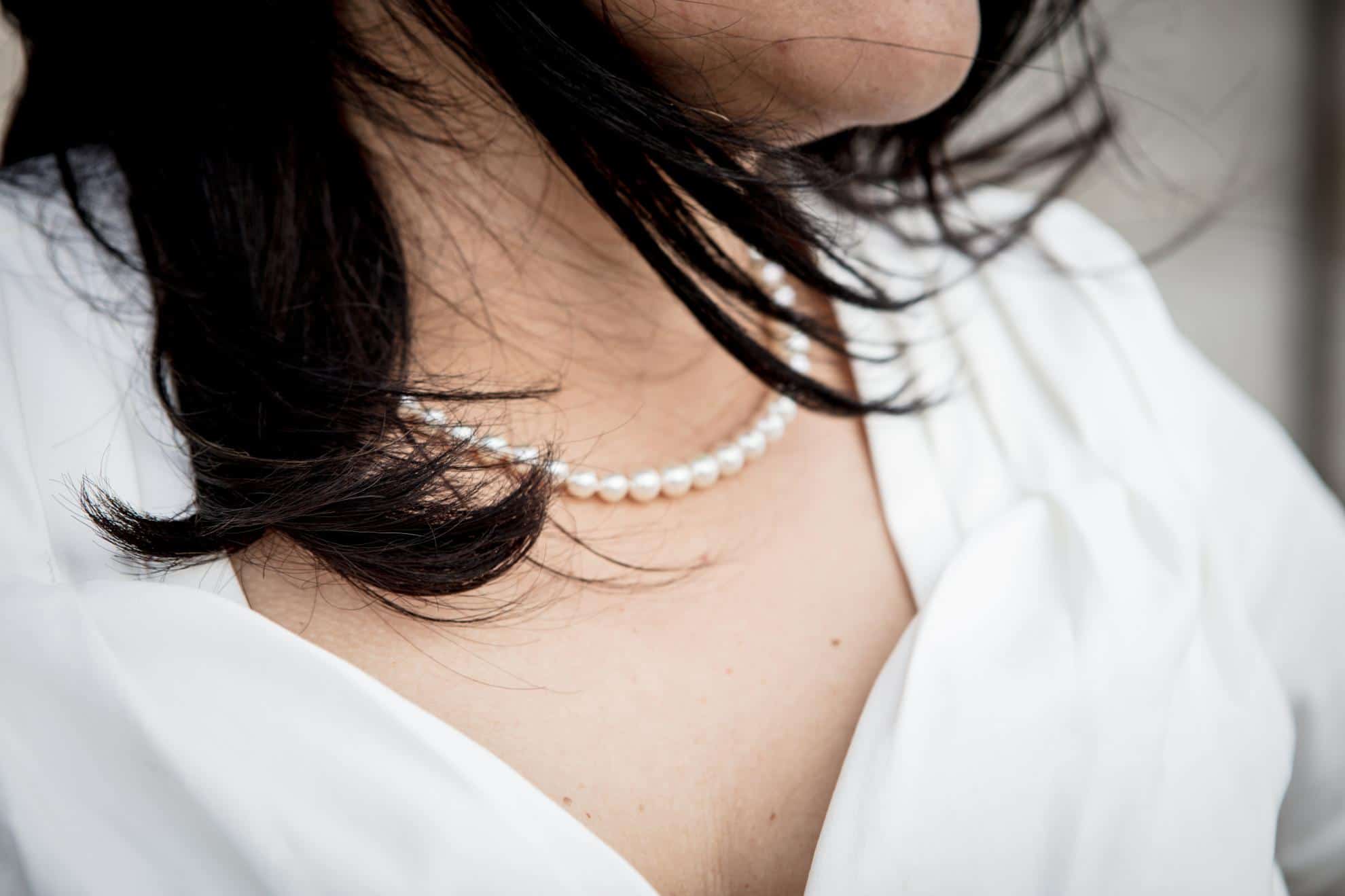 Sweetheart
The sweetheart is a classic. It's one of the most popular shapes for wedding dresses, making them the perfect candidate for another classic like white pearl sets. Because this neckline accentuates the bust, a shorter necklace that doesn't compete such as an elegant white pearl choker is another appropriate choice. Bare arms can be dressed up with a glossy bracelet.
Straight
The clean line of a strapless gown creates a perfect palette for a dramatic piece. Chokers look fab and frame the face without interfering with the neckline, but plenty of celebs have been spotted wearing longer necklaces that hit mid-chest or go even lower and also look fantastic. A black pearl necklace or bold cuff bracelet are perfect for unadorned satin, but if your dress is heavily embroidered or has other embellishments, you may prefer more delicate accents such as a simple chain and stud earrings.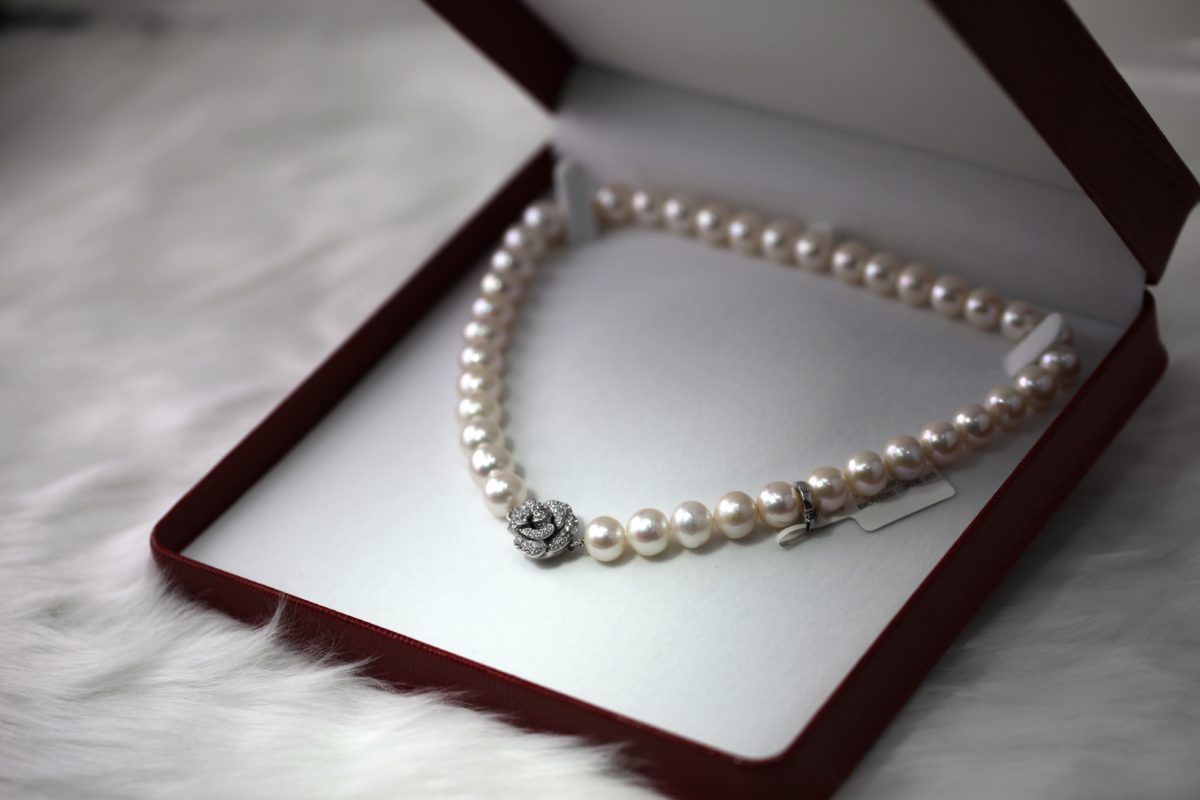 Illusion
The illusion neckline is another top pick for brides. Feminine and chic, it can be extremely daring at the same time. Because the sheer fabric is easily snagged, necklaces are not recommended with illusions. Statement earrings and a smooth bangle bracelet work best.
Halter
Halters are super popular with brides these days. They flatter a wide range of figures and offer extra support through the bust. Halter necklines can plunge deep, making a sexy, bold statement. Because of the shape of the halter, necklaces are best avoided. A dazzling pair of earrings and a statement bracelet are better options for halters.
V-Neck
The V-neck and sweetheart are often treated as one and the same, but they are different. The V is sportier than the sweetheart, and can be more flattering for the less-endowed. The trick is to fill the space without overcrowding. A triple strand of pearls like Audrey Hepburn wore in Breakfast at Tiffany's is the perfect complement to a V-neck.
Asymmetric
Super trendy asymmetrical necklines draw the eye up the body to the bust and away from the mid-section and hips. They also make the shoulders appear less broad. Long ropes à la Coco Chanel also create the illusion of leanness and length, and pair perfectly with an asymmetrical neckline. A collar or choker style are two more excellent choices for asymmetrics.
Off-Shoulder
Off-shoulder necklines can sit anywhere from just at the shoulder to far below. Flaunt your lovely collar and shoulder area with a stunning choker. Dangling earrings also draw attention to the daring and delightful cut of the off-shoulder gown.
Jewel
A jewel neckline is self-explanatory. This is the place to show off your bling and an artistic statement necklace is the perfect option. For the bride who prefers to keep things simple and classic, a necklace that hits right at the collar is another perfect match.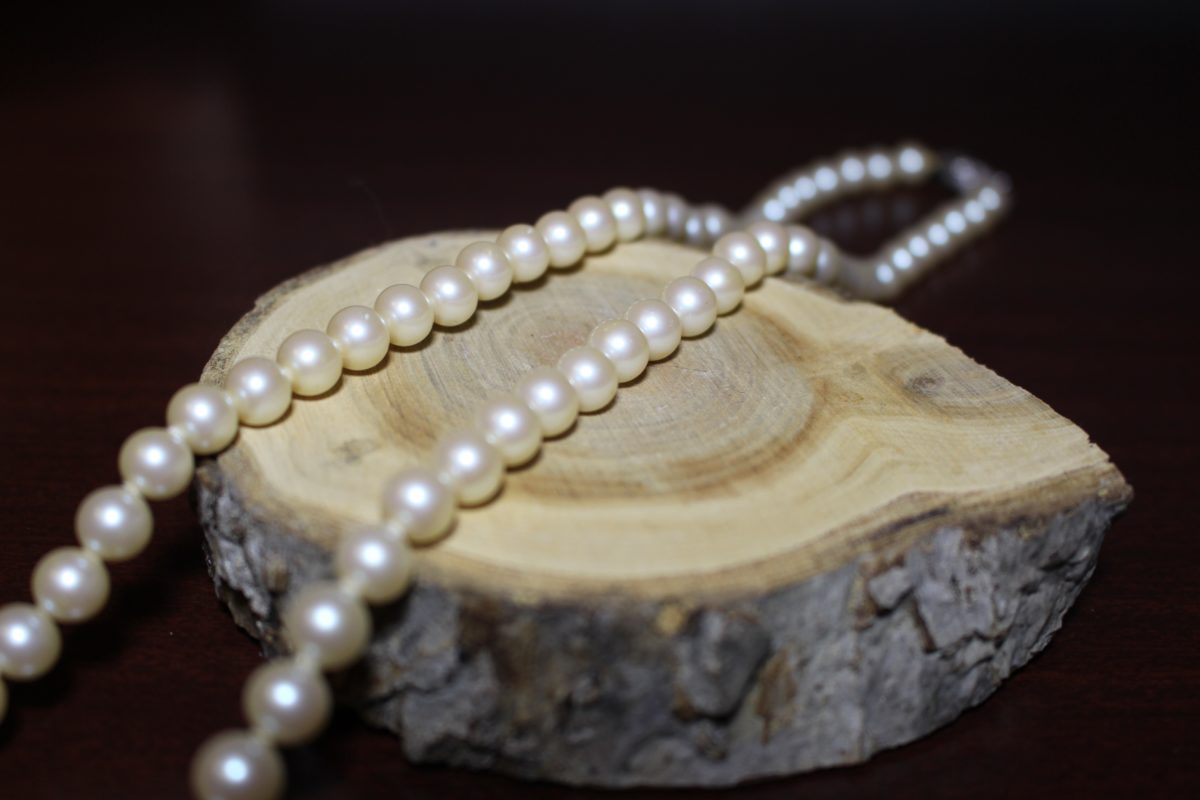 Bateau
A bateau or boatneck is wide but high, drawing the eye upward. Here, you want a necklace that doesn't compete with the neckline and so, a longer double strand of pearls is an excellent match. Once again, if your dress is embellished, you may opt for no necklace and go for showy earrings instead.
High
A high neckline is a statement unto itself and brides who aren't big on jewelry may opt to go this way. Still, a high neck doesn't mean you shouldn't add a little sparkle. It pairs well with bling-y earrings and bracelets. If your taste is edgier, you could also try a diamond ear cuff.
Square
Because of its strong shape, a square neckline can be the right choice for those who aren't comfortable wearing a lot of jewelry. A delicate chain works perfectly with a square. Alternatively, a square also provides a lovely frame for a round pendant. Chokers look amazing with square necks. In this case, it's really up to the personality of the bride.