Did you know that many couples prefer to elope rather than the traditional wedding?
According to a national survey in 2022, 62% of couples are considering a scaled-back elopement-style wedding.
The reasons boil down to three things: to avoid drama, high expenses, and stress from a traditional wedding.
Most wedding plans start as a simple, fun process. But, as the couple gets deep into the planning, they enter into an anxiety-fueled space with overwhelming burdens to carry, even with a professional wedding planner.
Many real couples suffer from the stress and drama of a traditional wedding ceremony without realizing that they can explore other marriage options.
Eloping may not be everyone's cup of tea, and not all traditional weddings are stressful. But if you and your better half have decided to elope, there is no fun and better place than Las Vegas.
Many people choose this Sin City for their destination wedding for various reasons. One of which is the cost.
If you want to know how much does it cost to elope in Vegas, then this article is your guide.
Key Takeaway
Many couples opt to elope rather than have a traditional wedding due to lower costs, less stress, and avoiding family drama.
The average cost of an elopement in Las Vegas ranges from $5,000-$15,000 compared to $30,000 for a traditional wedding.
Popular elopement locations in Las Vegas include Graceland Chapel, Red Rock Canyon, Valley of Fire, and hotels like Caesars Palace.
Key elopement expenses include venue, attire, marriage license, officiant, photographer, flowers, cake, and food.
Las Vegas offers diverse elopement packages like chapel ceremonies, luxury hotel elopements, outdoor elopements, and themed options.
Helpful steps when planning a Vegas elopement include choosing a date and location, obtaining a marriage license, considering packages, hiring vendors, and booking accommodations.
Benefits of a Vegas elopement include lower stress, cost savings, an intimate setting, and ease of planning compared to a traditional wedding.
How Much Does an Elopement Cost in Las Vegas?
The main advantage of choosing Las Vegas as your elopement location is that it is cost-saving.
Planning an elopement is straightforward as compared to the traditional wedding ceremony.
The elope expense is estimated to be in the range of $5,000-$15,000. In contrast, the traditional wedding cost is estimated at $30,000.
This means that an elopement in Las Vegas is much cheaper than holding a formal affair whether you choose to get married in a casino wedding chapel, Graceland wedding chapel, or any other place.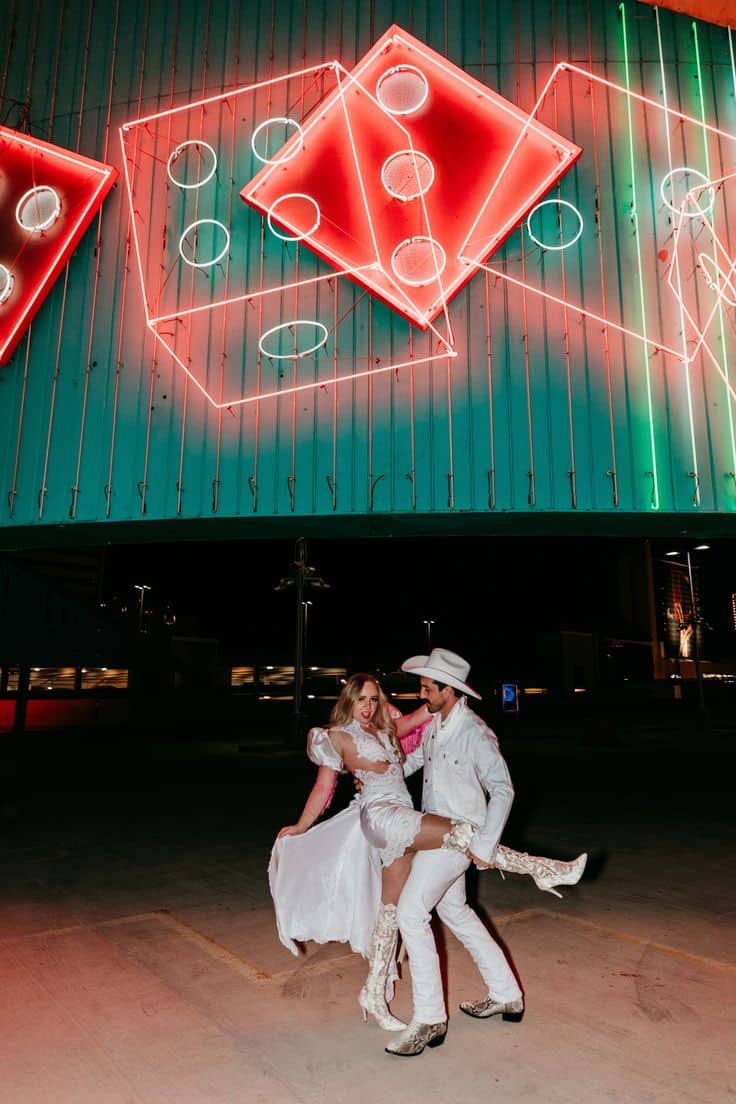 Credits: @erinvenablephotography / Pinterest
Here are the expenses you will incur:
A wedding license
Flowers
Hair and makeup
Gown and tux
Cake (optional)
Transportation
Dinner (optional)
Gift for your significant other (optional)
Entertainment
Photographer (optional)
The Las Vegas Strip is a popular place for weddings. That's because weddings cost a fraction of what you'd pay when choosing other places in Las Vegas, even if you opt for chapel ceremonies.
For this reason, couples planning an elopement flood Vegas.
Whether it is opulent resorts or suites, you are guaranteed a cheaper wedding ceremony on the Las Vegas Strip.
Venue
Las Vegas is a popular place for many bachelorette parties and elopements, as there are many spots to cater to everyone's needs and budgets.
It's perfect for destination elopement as it's home to many world-class venues, which vary wildly.
Whether you prefer a comfortable and luxurious indoor wedding venue or want to spend your big day outdoors, you are guaranteed to get a venue that suits your needs—some of the venues in the Las Vegas Strip or downtown Las Vegas charge from $24.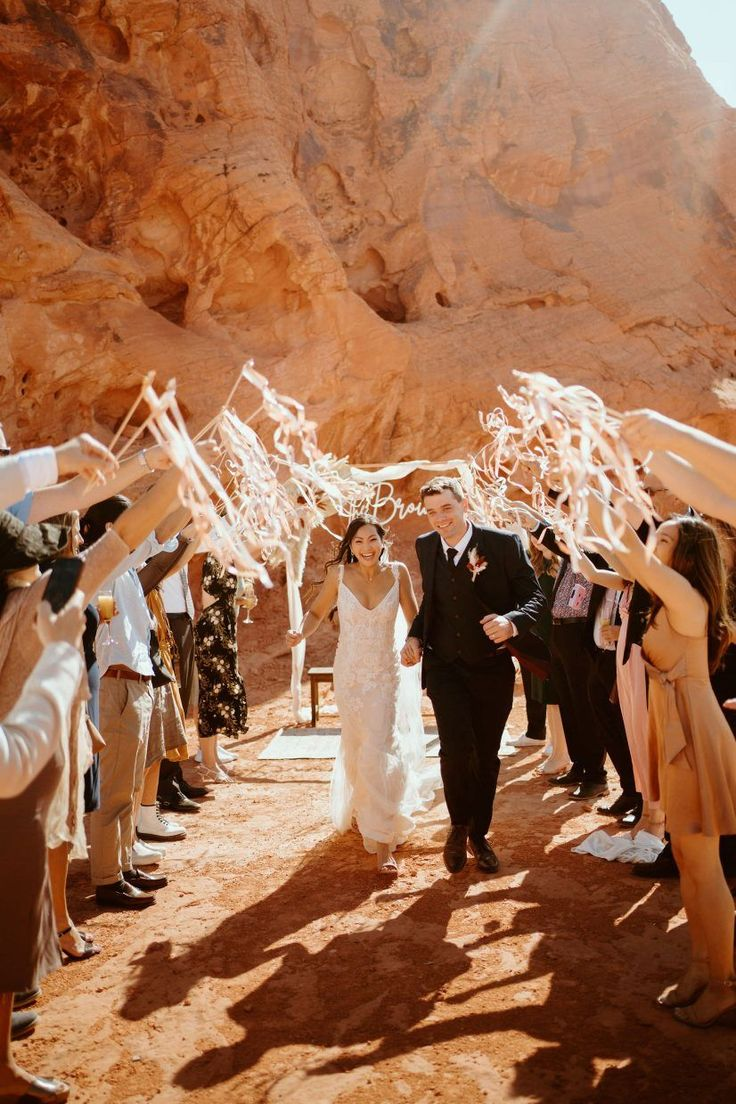 Credits: @feelandfocusphotography / Pinterest
The exact amount depends on the location of the wedding venue and the number of guests attending your Las Vegas elopement. Some parks, like Red Rock Canyon and Valley of Fire, need a venue permit.
Here is a breakdown of some venues and their charges:
Graceland Wedding Chapel
The oldest wedding chapel in Las Vegas offers a quaint venue for elopement and traditional weddings.
Estimated cost starts at $179
Red Rock Canyon
A private and remote location offering an eco-friendly venue to the scenic mountain.
Estimated cost starts at $3,899
Valley of Fire
It's a scenic venue surrounded by Mother Nature.
Cost starts at $2,399
Caesars Palace
The hotel is on the west side of the Las Vegas Strip, among landmarks Bellagio and The Mirage—a major Las Vegas icon.
Cost starts at $600
Chapel of the Flowers
Lotus Events and Weddings
A premium venue a few minutes off the Las Vegas Strip.
Cost starts at $3,500 to $7,500
Photography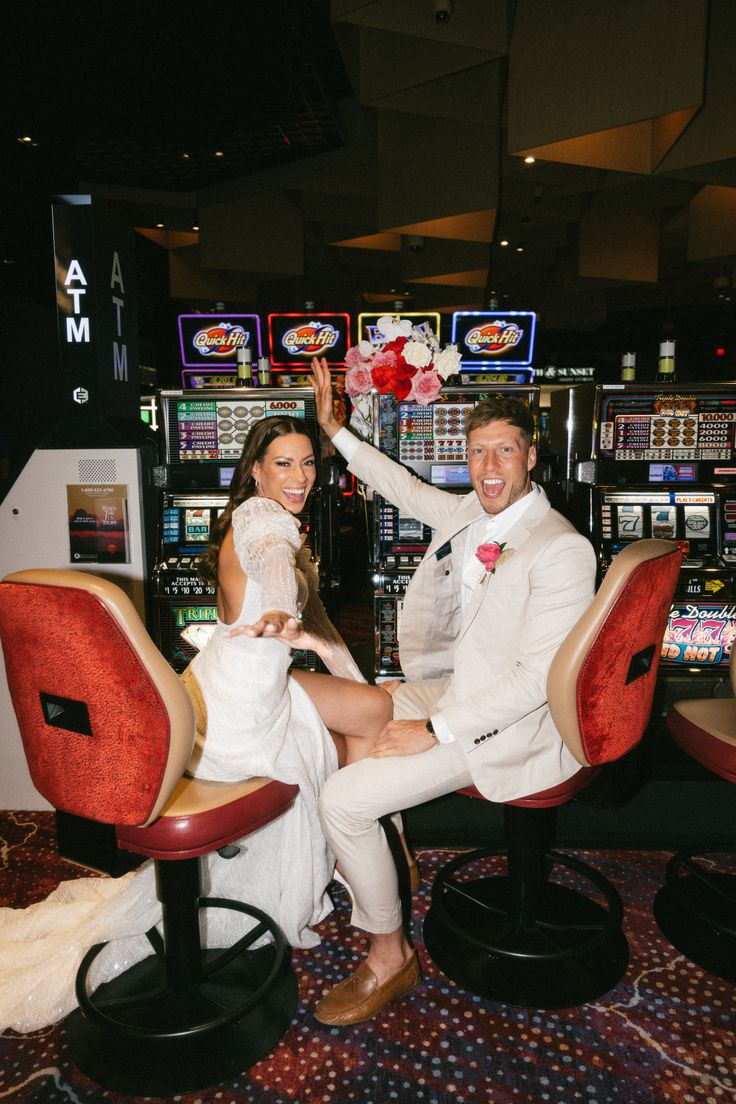 Credits: @ErinthePhotog / Pinterest
It's ideal to capture your Las Vegas elopement with professional photography. This lets you immortalize your day and make your absent loved ones feel included.
To do so, you can choose between hiring a photographer, costing $599-$1799, or opt for the chapel's basic package starting at $699.
Pro tip: Prioritize photographers experienced in elopements to ensure they capture the unique essence of your intimate ceremony.
Attire
Credits: @lapisdenoiva / Pinterest
Your wedding day is a once-in-a-lifetime event, and looking stunning is a must. To save, consider renting your gown or suit. Explore these budget-friendly options:
Borrow: Some may offer for free, depending on the agreement.
Rent: The average cost is around $100 – $250. You may also opt for a floor sample dress, which is typically 20 – 50% cheaper than the regular price.
Visit thrift or vintage stores: Discover affordable options, some as low as $5. Explore these hidden gems for unique finds, including designer dresses or gowns at a fraction of the original cost. Embrace the chance to wear a high-quality, stylish piece without breaking the bank.
Marriage License
A Las Vegas wedding, regardless of the type, is not complete without a marriage license.
It is the only proof, besides photos, that you are a couple. You can apply for the Las Vegas marriage license at Clark County Marriage License and pay a fee of $102.
Make sure both partners have valid identification and arrive together to streamline the process.
It's also best to plan ahead, as there is no waiting period. This makes it convenient for spontaneous ceremonies.
Additional Considerations
In addition to the essential elements of your elopement, there are a few extras to account for in your budget.
Hiring an officiant is crucial to guide you through the process and solemnize your union.
Credits: @feelandfocusphotography / Pinterest
Here's a breakdown of what to anticipate:
Officiant: $150-$200
Ensure a seamless ceremony by engaging the services of a qualified officiant who will not only officiate your elopement but also provide valuable guidance throughout the entire process.
Cake: from $60
Sweeten your celebration with a delightful cake, available at varying prices to suit your preferences and budget.
Food: $40 to $50 per person
Consider the culinary aspect of your elopement with an estimated cost per person. Whether you opt for a small reception or a more elaborate dining experience, this budget range offers flexibility.
Flowers: from $200
Enhance the beauty of your elopement with floral arrangements starting at $200. Flowers can add a touch of elegance and personalization to your special day.
While the total estimation for an elopement in Las Vegas starts at around $200, keep in mind that your final expenditure may vary.
The overall cost is influenced by the number of vendors you choose to engage in Las Vegas.
Additionally, if you desire services beyond those outlined in this breakdown, your budget may need adjustment.
For a stress-free experience, consider enlisting the expertise of a wedding planner or explore the available elopement packages.
These options can streamline the planning process, ensuring a memorable and well-coordinated elopement in Las Vegas.
How To Plan Your Vegas Elopement?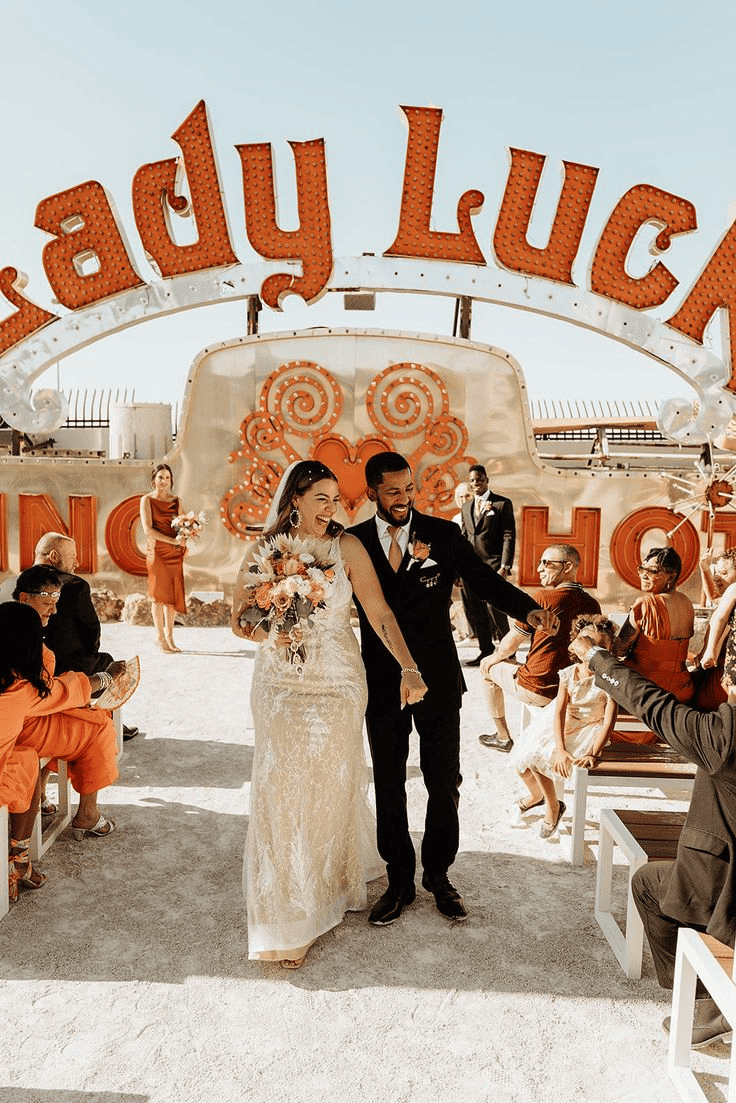 Credits: @desertelopementlasvegas / Pinterest
Now that you have a rough idea of how much an elopement will cost in Las Vegas, it's time to plan your ceremony. Here are some things to consider.
Choose a Date and Location
Getting married in Las Vegas doesn't require a lot of lead time.
After obtaining a license, you can pick up any day you wish. But you need to think about the elopement location of your wedding.
Usually, couples choose between an iconic Las Vegas chapel and an outdoor setting as their wedding venue.
Regardless of your choice, confirm with the venue whether there is a waiting period.
Las Vegas has beautiful venues. But this availability makes it overwhelming to choose the right place for your ceremony.
Do your research well, and choose a friendly place depending on the number of people coming to your wedding.
Obtain a Marriage License
Before exchanging vows in the vibrant city of Las Vegas, it's crucial to navigate the legal requirements seamlessly. Here's a comprehensive overview:
Eligibility Criteria:
Residency: You do not need to be a resident of Nevada to marry in Las Vegas.
Age: Both parties must be 18 years or older.
Marital Status: Neither party can be currently married.
Blood Relations: No closer than second cousins or cousins of half-blood.
Sobriety: Neither party can be under the influence of drugs or alcohol during the ceremony.
No Waiting Period:
Unlike some locations, Nevada does not impose a waiting period.
Once you obtain your marriage license, you can proceed with your ceremony immediately.
Credits: @theknot / Pinterest
How to Obtain a Marriage License:
Visit the County Clark Wedding Bureau: Head to 201 E. Clark Avenue, Las Vegas, NV 89101, to initiate the process.
Bring Valid Identification: Ensure both parties have proper identification, such as a driver's license or passport.
Application Fee: Pay the current application fee of $102.
Complete the Application Form: Fill out the marriage license application form thoroughly.
Review and Sign: Take time to review and sign the application form accurately.
Receive Your License: Once approved, you'll be issued your marriage license.
Validity and Presentation:
Your marriage license is valid for one year from the date of issuance.
On the day of your elopement ceremony, present the marriage license to your chosen officiant.
Ensuring compliance with these steps guarantees a smooth and legally sound path to your Las Vegas wedding.
Keep in mind that these requirements may be subject to change, so it's advisable to check for updates on the official Clark County Marriage License Bureau website or contact them directly for the latest information.
Consider Las Vegas Elopement Packages
Las Vegas offers diverse elopement packages catering to various preferences and styles. Here are some types of elopement packages available in Las Vegas: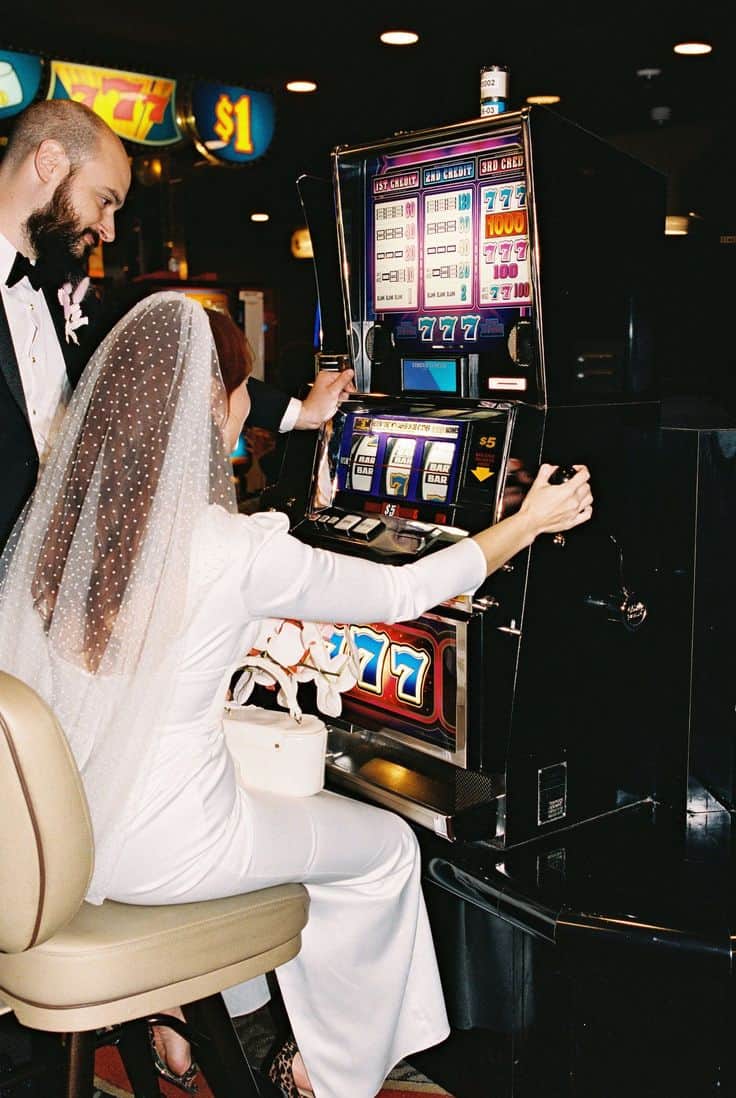 Credits: @aimleephotography / Pinterest
Classic Chapel Packages:
Many couples opt for the classic charm of Las Vegas chapels, known for their iconic settings and efficient services.
This elopement package often includes the officiant, a simple ceremony, and sometimes even photography services.
The Graceland Wedding Chapel and Little White Wedding Chapel are popular choices.
Luxury Hotel Packages:
For those seeking a more upscale experience, numerous luxury hotels in Las Vegas provide elopement packages.
These packages may include a suite for the ceremony, professional photography, a small reception, and even spa services.
The Bellagio and The Venetian are examples of hotels offering such packages.
Outdoor Elopements:
Las Vegas is surrounded by stunning natural landscapes, and many couples have their elopements outdoors.
Packages for scenic locations such as Red Rock Canyon or the Valley of Fire often include permits, transportation, and sometimes even a picnic setup. It's a great option for nature lovers.
Themed Elopements:
Embrace the unique Vegas spirit with themed elopement packages.
From Elvis-themed weddings to ceremonies inspired by movies or TV shows, couples can find a package that reflects their personalities.
The Viva Las Vegas Wedding Chapel is known for its wide range of themed options.
Helicopter Elopements:
Elevate your elopement experience with a helicopter package.
Some companies offer aerial weddings over the dazzling Las Vegas Strip or the picturesque Grand Canyon.
These packages typically include helicopter transport, a scenic ceremony, and sometimes even champagne toasts.
DIY Elopement Packages:
DIY elopement packages provide essential services for couples who prefer a more hands-on approach.
This lets you customize the experience. You can choose your officiant, photographer, and other elements to tailor the elopement to your liking.
Researching and choosing a package that aligns with your vision and budget is essential.
Reading reviews, checking testimonials, and contacting the providers directly can help ensure a smooth and memorable elopement experience.
Hire Vendors
Once you've set the stage with legalities and obtained your marriage license, the next crucial step is assembling a team of skilled vendors to bring your vision to life.
From the officiant who guides your wedding ceremony to the photographer capturing those cherished moments and the baker crafting your dream wedding cake, Las Vegas boasts an abundance of service providers.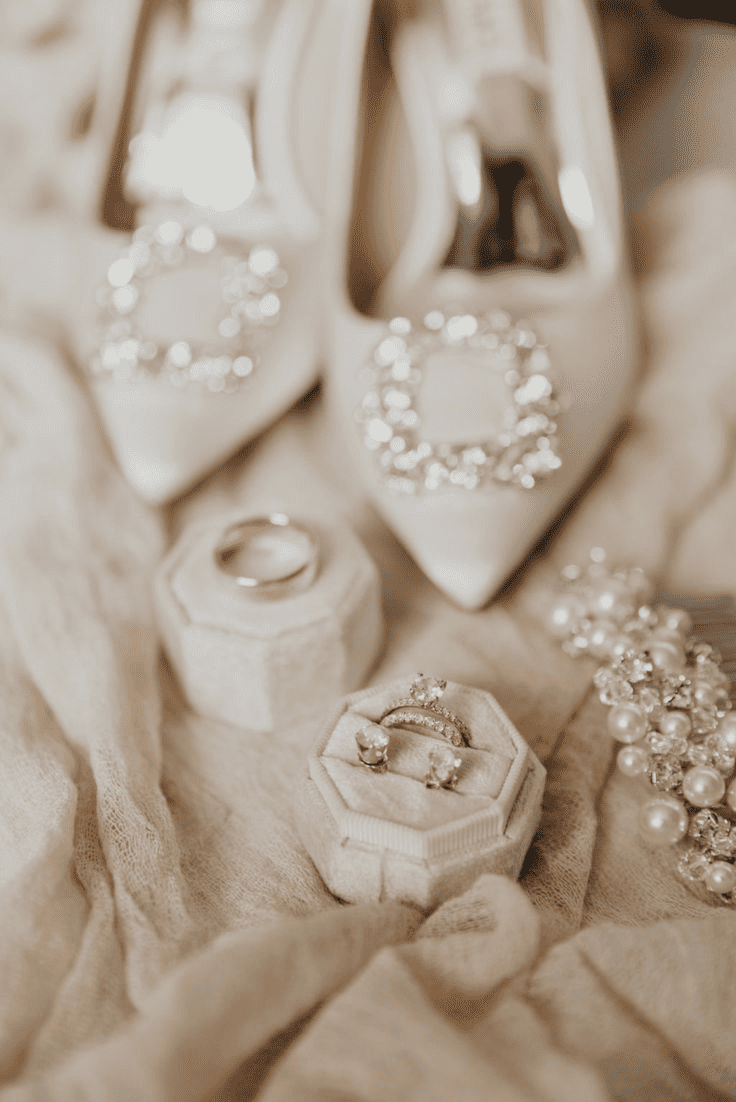 Credits: @marrymetampabay / Pinterest
Here are some invaluable tips to guide you through the hiring process:
Identify Your Must-Have Vendors: Prioritize which vendors are indispensable for your ceremony. Whether it's the officiant, photographer, or baker, understanding your non-negotiables is key to ensuring you have the essentials for your Las Vegas wedding.
Budget Considerations: While planning your dream wedding, it's essential to stay within your budget. Research vendors whose services align with your financial plan, ensuring you get the best value for your investment.
Seek Recommendations: Leverage the vast network of couples who have tied the knot in Las Vegas. Ask for referrals from friends, family, or even online communities to discover reputable vendors with proven track records in delivering exceptional services.
Get Everything in Writing: Solidify your agreements by documenting all arrangements with your chosen vendors. From services offered to pricing details, having everything in writing provides clarity and serves as a reference point throughout the planning process.
Personalized Touch: Tailor your choices to reflect your unique preferences and style. Las Vegas offers diverse vendors, allowing you to find professionals who resonate with your vision and can add that personal touch to your special day.
Meet and Greet: Whenever possible, schedule meetings or consultations with your potential vendors. This allows you to gauge their expertise, discuss your expectations, and ensure a comfortable working relationship.
Verify Credentials: Confirm that your selected vendors have the necessary licenses and certifications. This ensures professionalism and adherence to industry standards, contributing to a seamless and stress-free wedding experience.
With these considerations in mind, you're well-equipped to navigate the vibrant Las Vegas vendor scene and curate a team that transforms your wedding day into a truly unforgettable celebration.
Remember, meticulous planning and thoughtful vendor selection pave the way for a flawless Las Vegas wedding experience.
Book Accommodations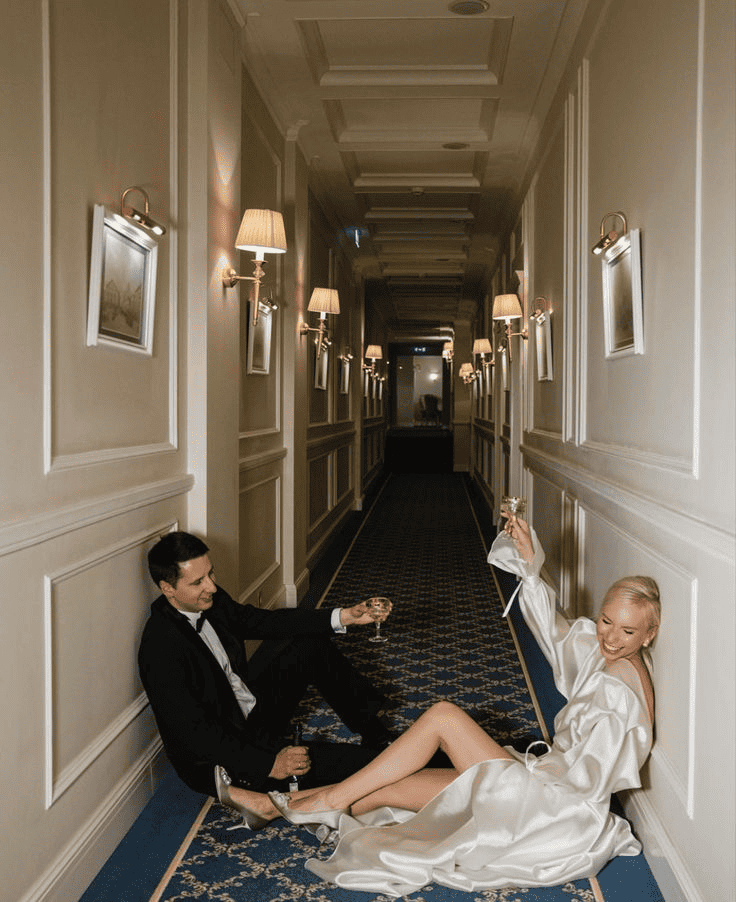 Credits: @marrymetampabay / Pinterest
Planning your Vegas elopement is exciting, but don't forget to arrange a place to stay before and after your wedding.
With many hotels in Sin City, find one close to your wedding venue that fits your style.
Some hotels offer wedding packages that include both a stay and a wedding ceremony for simplicity and savings.
Consider the amenities you want and read reviews from other couples for recommendations.
Book your stay early, especially since Vegas can be busy, and choose accommodations with flexible booking in case of changes.
These steps will ensure a comfortable and memorable stay, complementing your Vegas elopement experience
Why a Vegas Elopement is Worth It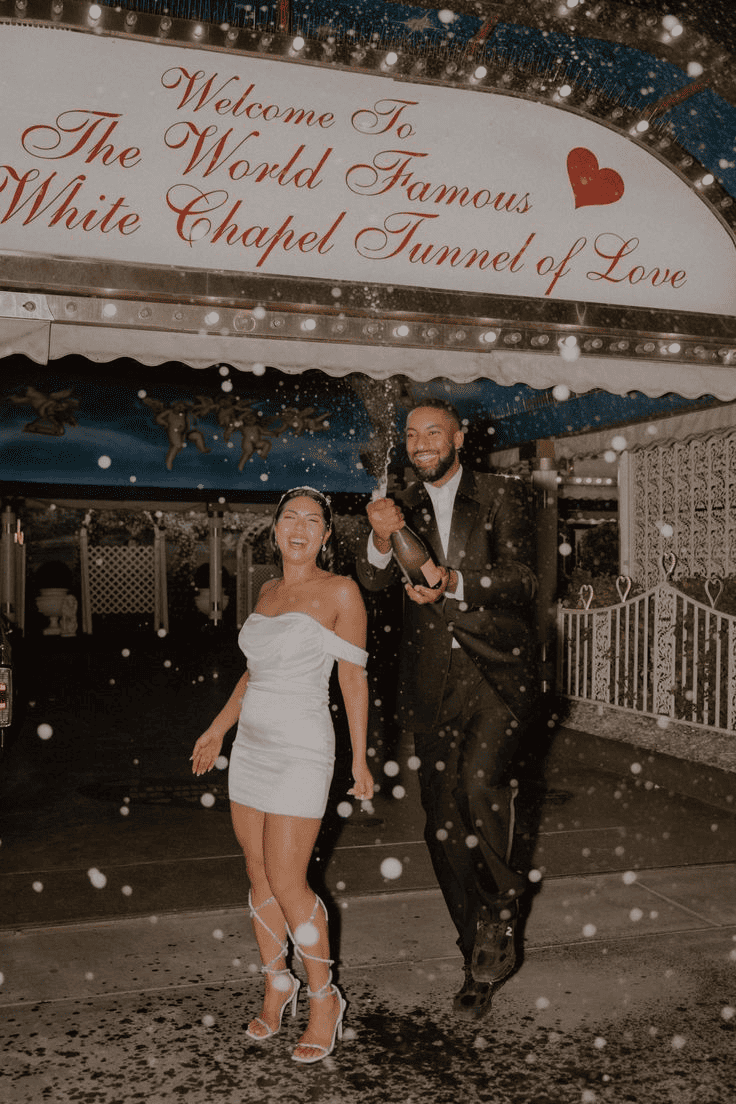 Credits: @cruzvalentinphoto / Pinterest
Las Vegas is a wedding capital, and eloping here is not as stressful as planning and executing a Las Vegas wedding.
It is also an intimate way of celebrating and cementing your love without the crowds.
A Las Vegas elopement creates unforgettable memories, and there are many wedding packages to choose from, ranging from $95 to $549, meaning it won't be hard to find something that suits your budget.