It doesn't happen often, but occasionally I'll come across something that I'm so impressed by it gets an audible reaction out of me the second it loads on my screen. In the case of Courtney of Design Work Life and Seamless Creative and her breathtaking save the dates, I believe the reaction was "get out of town!" Yeah, my years in the Midwest are showing.
Above all things, even awesome patterns, I'm a sucker for great typography. It's not easy to get two typefaces to play together harmoniously consistently, but when someone rocks it with multiple different faces, there should be a standing ovation for the piece. The design envy doesn't stop there for me – the piece is chock full of yummy, inspirational details that make it so unique and personal but are also simple to do yourself. I'm really attracted the map envelope liner (so, so cool!) and the address label (absolutely perfection!) in particular. Without further ado – check these lovelies out: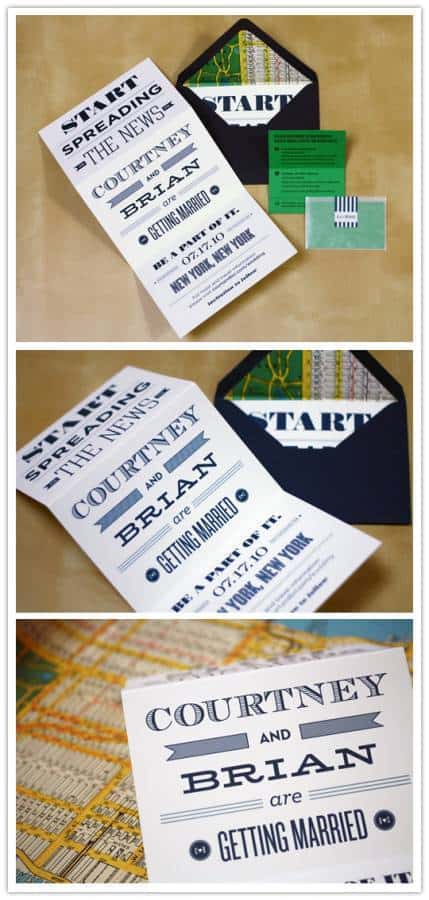 In Courtney's words:
The design process pretty much consisted of Brian and I brainstorming some ideas for the concept. We knew we wanted to have some sort of New York theme. Most of our guests are from out of town, some have never been here before, and we want the wedding to be a snapshot of our life together here. In addition, music is a huge part of our story, so the song lyrics plus New York theme fit perfectly, and came together pretty quickly. So once we came up with the idea and text, I got on the computer and started designing. From there we went back and forth working out the details, from the mailing labels to the liners, until we both felt we had a complete package.

Fawning over them as much as I am? Courtney has got a paper goods and invitation design company coming soon, but in the meanwhile, she is open for custom design if you e-mail her.
Thanks again for letting me share these, Courtney!
Images from Courtney of Design Work Life and Seamless Creative