It's becoming more and more of a trend now: digital invitations for weddings! And with the growing expanse of digital influence, everything's done through social media! There'll be a lot of ways to make your own invites, so of course, the main question would be "how and when to start your DIY stationery journey?" So we've rounded up this Ultimate Guide on DIY Wedding Invitations through a very comprehensive, step by step stationery roadmap that'll guide you from day one up until your big day!
Let's start this guide by busting a couple of DIY Wedding Stationery misconceptions that are often the reason why couples are repelled by the idea of going DIY. First of all, making your own wedding invites doesn't drain your creative juices! Couples who have not yet explored the power of online editing tools are often misled by wedding vendors who are more likely to lean towards entrusting these options to professionals. Don't get me wrong, professionals are pros for a reason! But if you are leaning towards a more personalized and budget-friendly approach in your stationery needs then going DIY with the help of online editing tools would surely be hands-down your best choice. And as the world of wedding invites begin to evolve towards the digital age, having your very own stationery designs would give you the best options for creating a buzz for your wedding.
Wedding Stationery Timeline
The best way to start making your designs would be through a wedding stationery timeline. This will not only help you determine what type of stationery you need to make but also help you track down when to send out your invites. Through this wedding stationery timeline, it would be easier for you to know what type of stationery you'll need to make and when it's due for delivery.

5 Modern Stationery Types
Save the Date Cards
While it's totally normal that wedding invites are the news bearers, that doesn't mean that Save the Date Cards are less special! Save the Date Cards are the first tease of your wedding. Letting your guests know the date would let them plan their schedules ahead and of course, make them a little bit more excited that your big day has finally been set. Not only will it bear the date of your wedding, but it can also showcase your wedding theme as well as your concept if you so choose. You can play with the details as to the amount of information that you so desire to uncover.
You can choose different design approaches for your Save the Date Cards. Some may go totally minimalistic and leave the rest of the detail in the actual wedding invite. Some may find it fun to reveal a little bit of your wedding theme or concept. Here are some of the templates to help your best one!
Wedding Invitations
You've probably heard of fancy wedding invites from famous wedding vendors but have you thought of making it on your own? Having the option of creating your very own design is overwhelming for some but with the right editing tools, anyone (even non-techie couples) can do it! So don't feel disheartened when going DIY with your wedding invites 'coz being creatively unique is non-negotiable.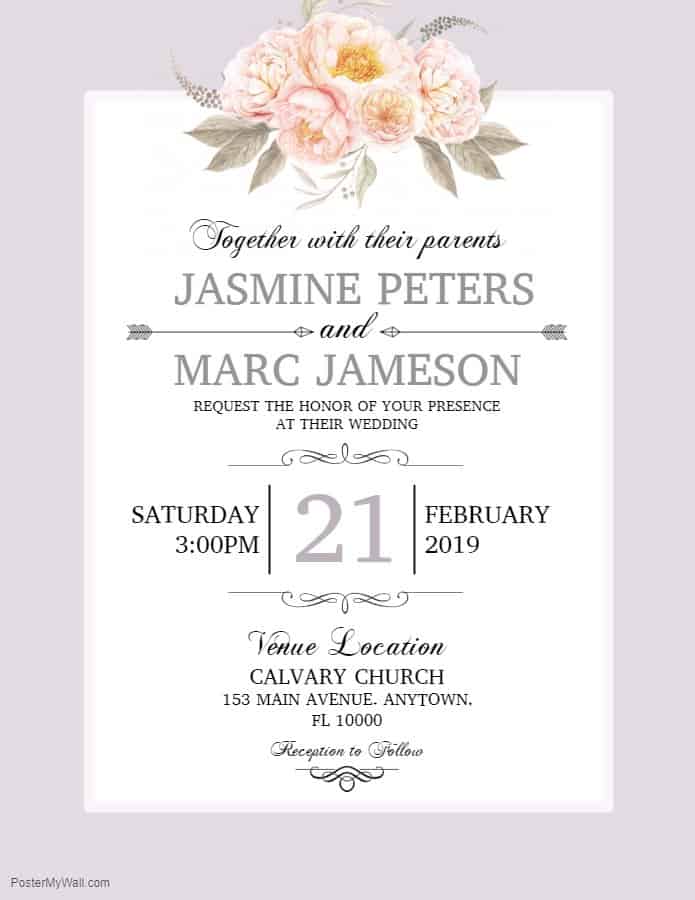 Welcome to our Wedding
I know that most of you have seen elegant weddings with grand receptions and stunning preparations and one of the stationery details that add to the glamour are these Welcome to our Wedding Cards. Yes! They serve that simple purpose but really stands out if designed well. Explore more about these stationery pieces through these samples.
Thank you Cards
Of course, who would forget about thank you cards? Waking up the day after your wedding, as the bliss slowly rests, you finally come to realize how blessed you are for having such a successful wedding. That is why Thank you Cards come in handy. By preparing Thank You Cards in advance, it is easier for couples to send their heartfelt gratitude towards their family and friends. With a simple design that just shows your sincerity, these cards are the true example of thanksgiving. Check out some designs below.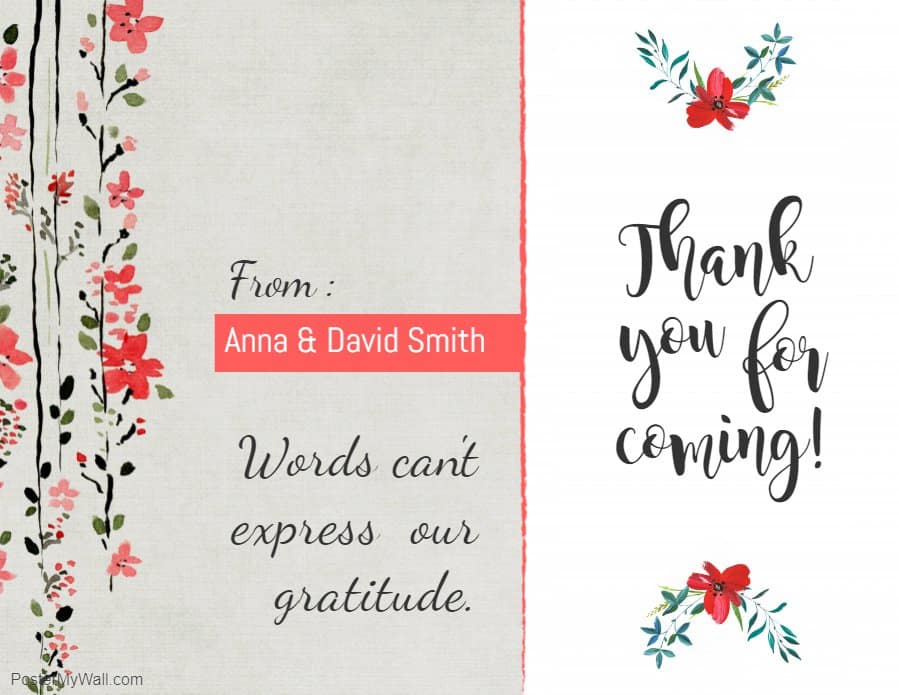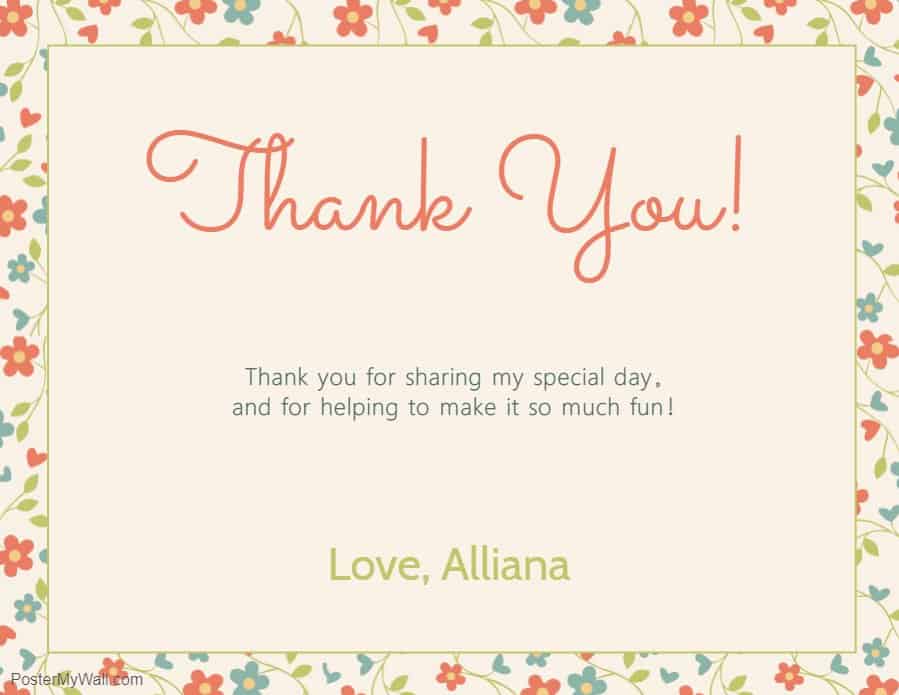 Romantic Collages/Anniversary
The fun of wedding stationery doesn't end after the wedding… in fact, this is when the true fun truly starts! Romantic Collages are imminent after gathering many memories with each other and of course who would forget about wedding anniversaries? Make sure you're on top of all your stationery needs by scrolling through these samples.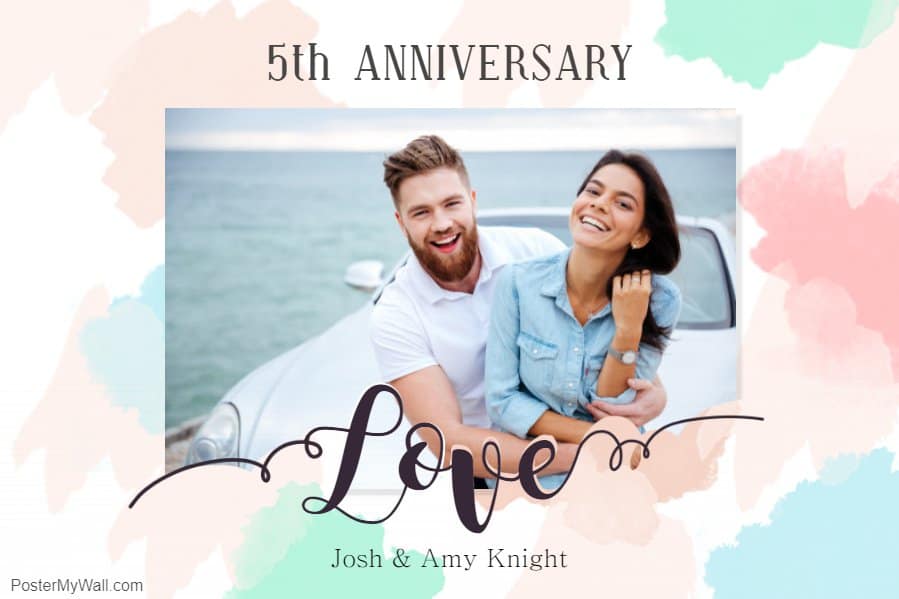 Step by Step Guide on making your Wedding Invites using an Online Editing Tool
Online Editing Tools such as PosterMyWall allows anyone (even beginners) to create their very own wedding stationery designs. With thousands of templates to choose from, it is so easy to customize and personalize every detail. From fonts, backgrounds and styles, your dream invite would be as easy as 7 easy steps.
1) Decide on a Wedding Theme or Concept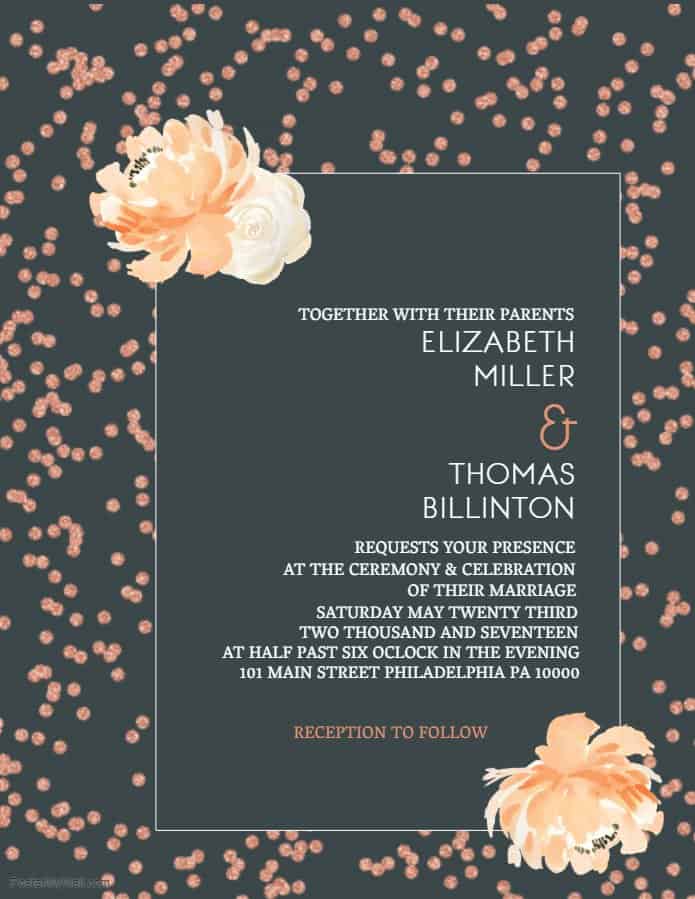 Before we go any further, you should already set a theme for your wedding. It may be a beach wedding with nautical elements or a garden styled outdoor wedding that matches perfectly with tropical designs. Having a particular theme in mind would unify all your stationery designs.
2) Choose what type of Wedding Stationery you'll use
Having a stationery design in mind would allow you to determine the size of your invites. Most invites are sized 5 5/8" x 4" folded, 5 1/8" x 13" open. But you could also have them customized to match your needs. Some may opt to unique card shapes, orientation and size, so determining these details would make it easier for you to make your design.
3) Start from a Blank Canvass or a Pre-designed Template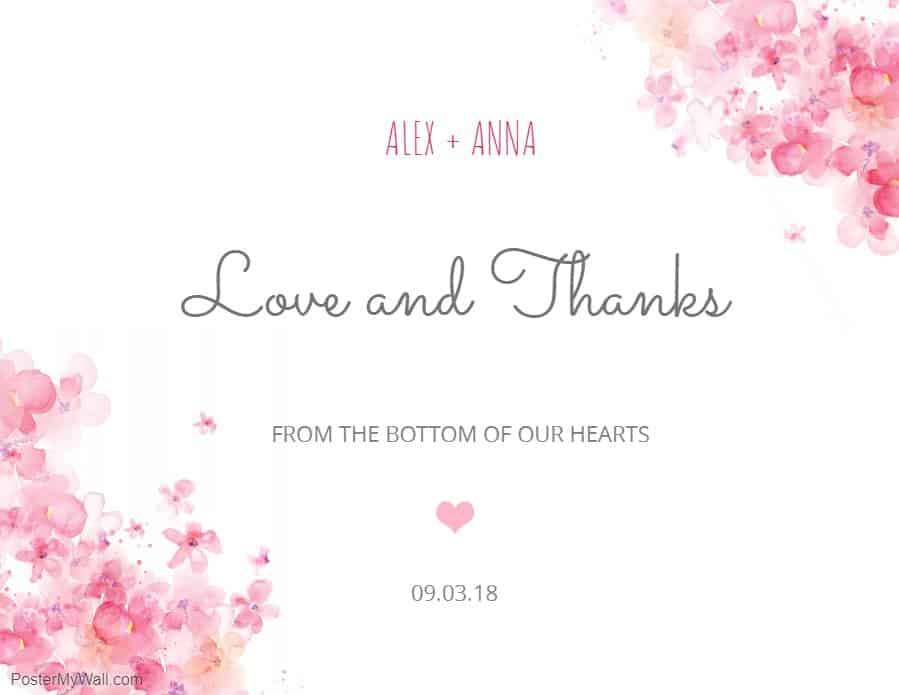 Starting from scratch would definitely show the unique/individuality aspect of your design but with an option to start from a predesigned template would make it easier to conceptualize your theme and save a ton of time.
4) Choose a Background
You can choose from stock photos, solid or gradient colors, or even upload an image to have as your background.
5) Decide on a Font
Modern invites are primarily designed around gorgeous wedding fonts such as Windsong, quicksand and stylish calligraphy font styles if you're looking for an elegant, hand-drawn font that mimics calligraphy.
6) Add Details
You can upload photos or add clip-arts to fully customize your invites. Don't overpopulate your design as it would clutter your design.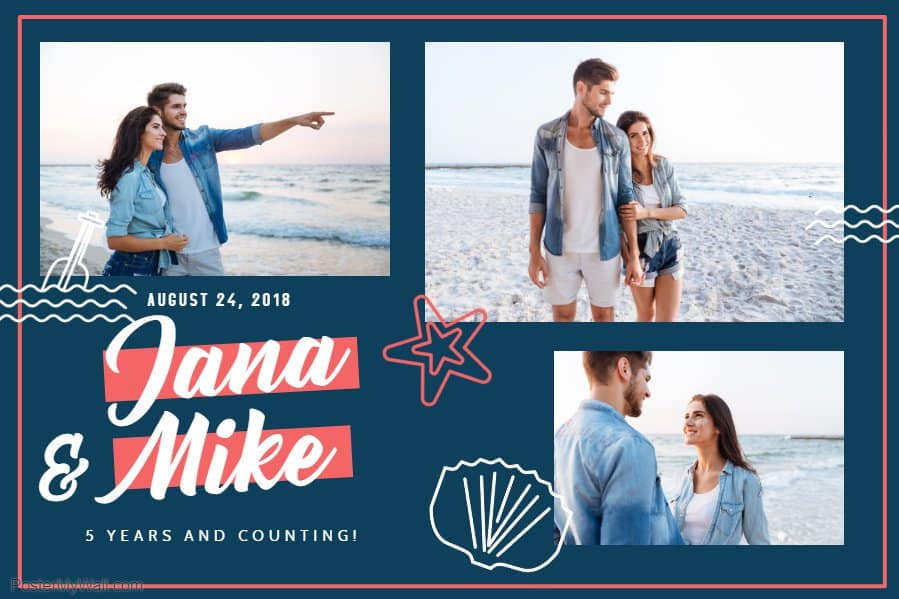 7) Save and Print
After you customize your template and placed your photos, you can now save your design and print it! Remember that by making your own wedding invites allows you to have the option to promote your wedding digitally.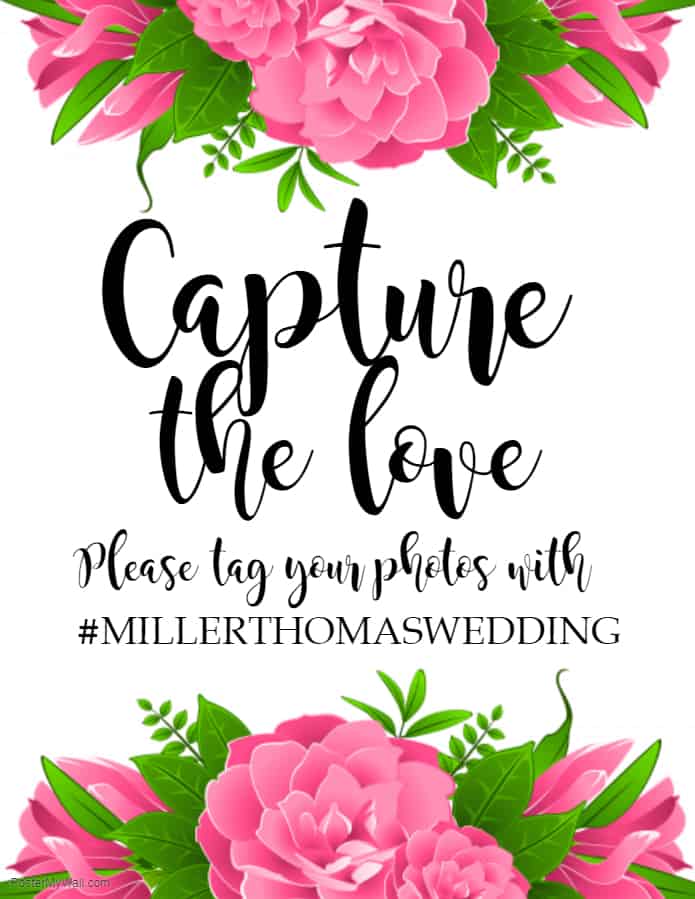 Go Digital!
By having digital designs and templates allows couples to easily promote their wedding through all platforms of social media. Creating personalized videos paired with wedding hastags can easily create a buzz using social media to invite all your friends and family. Going digital is really the best option today so what are you waiting for? Check out PosterMyWall and create your very own wedding designs.