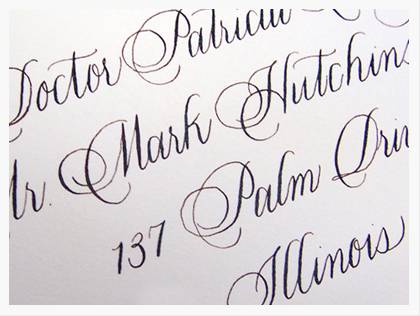 Like all aspects of a wedding, there's only one true way to address envelopes: your way. It's your day, and they should have the tone you feel is most appropriate. Before you break the rules of envelope etiquette, though, it's always good to know them first. We've posted a PDF (download it here) addressing basics to help you decide whether to follow the standards or opt for something more personally suited. They are formatted as a letter-sized document with space for hole punching if you would like to retain them for future reference a wedding organizer.
Also, please note this printable guide covers only the most common title formats – if you are inviting a diplomatic or religious leader (isn't that fancy?!) or a person of another rank not listed here, I suggest you check out the mother or all etiquette books in its online format, Crane's Blue Book.
Image from Laura Hooper, the calligrapher used for my wedding!