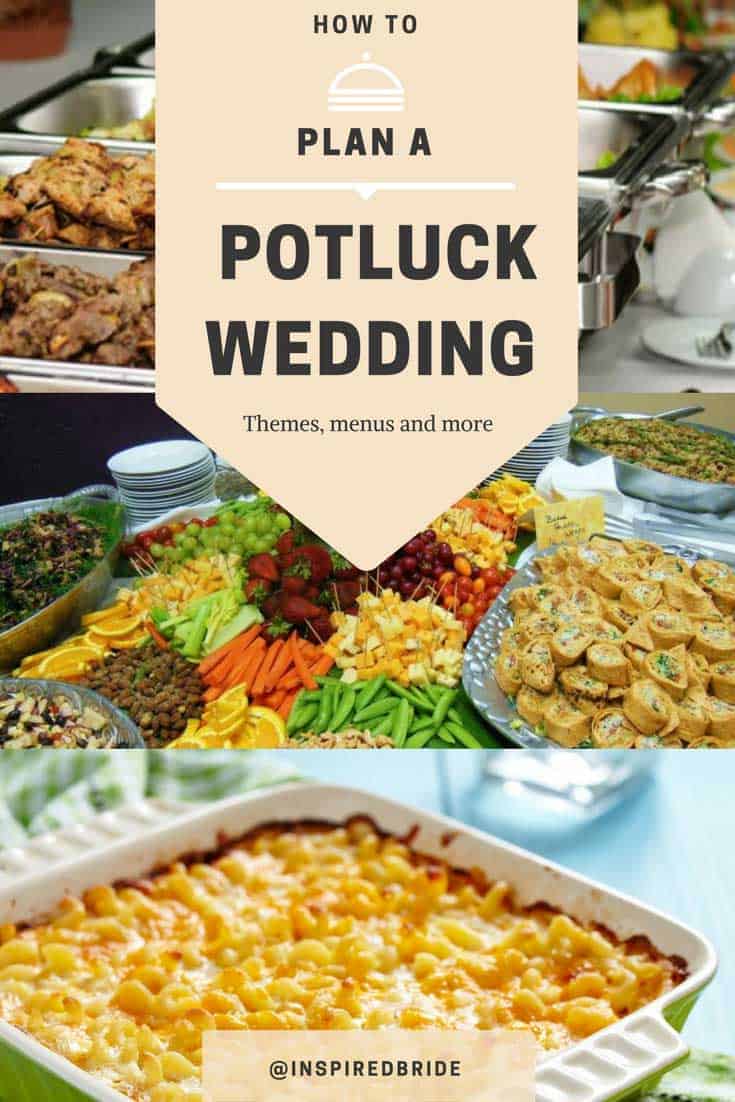 When I first stumbled upon the concept of potluck weddings, my mind instantly raced: Is this a brilliant idea or simply a breach of wedding etiquette? I imagined a beautifully adorned table with Aunt Clara's famous apple pie sitting next to cousin Lisa's hearty lasagna, all in the spirit of love and community.
Admittedly, the initial thought made me wonder if it was just a strategy for the budget-conscious. But as I delved deeper, I realized potluck weddings are less about money – and more about memories, bonds, and shared experiences.
But let me start from the very beginning..
What is a Potluck Wedding?
A potluck wedding is a creative twist on the traditional wedding reception. Instead of hiring a professional caterer to provide all the food, guests are invited to bring their own homemade dishes to share. It's like a big communal meal where everyone contributes something special.
This not only adds a personal touch but also makes the event more budget-friendly. So, imagine a wedding where the food is a collaboration of family and friends, each dish telling a unique story and adding to the celebration's charm. It's a way to make the wedding meal more meaningful and memorable.
Why Choose a Potluck Wedding?
In a world where lavish wedding feasts threaten to empty savings accounts, could a potluck wedding be a genuine, heartfelt alternative?
I've received so many responses to the original post. Responses ranged from things like, "that menu really sounds delicious – food that makes you feel good" to "I'm not going to lie – that is really tacky and I would talk about you behind your back".
So I'll try to be as neutral as possible to cover both the highs and lows of potluck-style weddings in my article.
Regardless of where you fall between the two opinions, by the end I hope your perspective on potluck weddings will be transformed!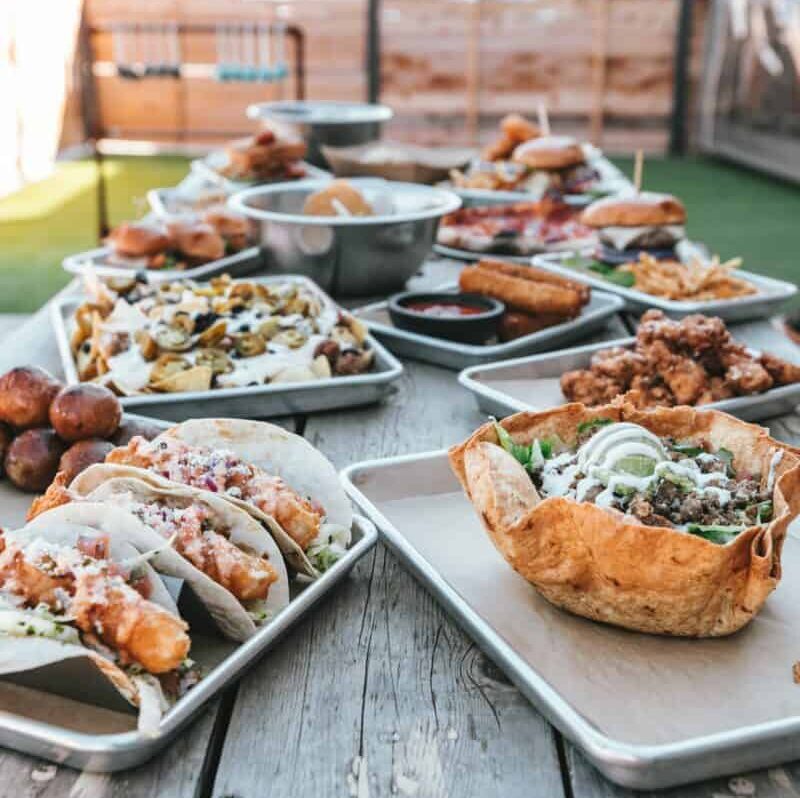 Cost Efficiency
Weddings can cost a pretty penny, and the catering bill is often a big chunk of that. Instead of the usual wedding food, you get a spread of homemade dishes with stories behind them. Think of your aunt's famous pasta salad or your friend's special appetizer. It's more meaningful and less expensive.
By going the potluck route, you can save a lot of money that would have gone to a professional caterer. You can use that money for other parts of the wedding or even a fancier honeymoon.
Plus, with potluck, you're not stuck with a standard catering menu. You'll have a buffet full of different flavors and dishes that reflect your community's tastes. It's a win-win for your budget and your taste buds.
This really made me think of all the fun and unique reception ideas I've seen on Pinterest and around the web lately. Are those only for the tackiest of brides, or are those who call potluck wedding receptions "tacky" simply stuck-up? As you'll quickly see, the answer boils down to much more than a simple "yes" or "no."
Planning a potluck wedding reception is for poor people!
I literally saw a statement very similar to this online, and I cringed at the obvious ignorance packed into those few words. There are a variety of different reasons why a couple would decide to have it. For instance, when my cousin's boyfriend proposed, it was quite difficult to spend months planning a wedding because he was deployed and they were never sure when he would be home for certain.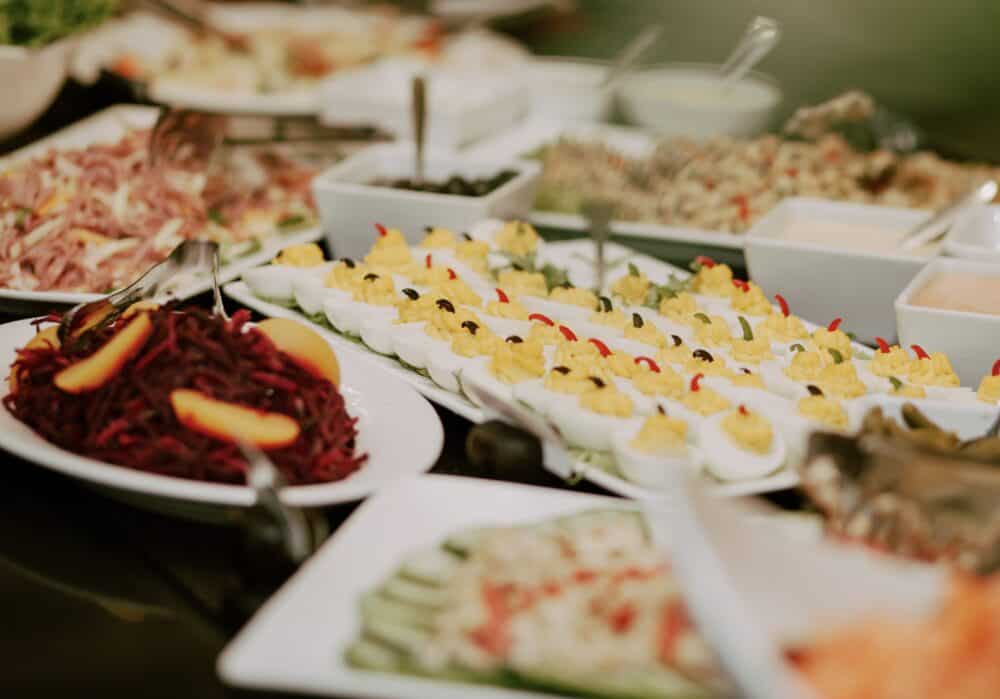 So, when they got news that he'd be home in a month, they both wanted to make sure they could get married during the time he was home. Hiring a caterer at that point was out of the question, so they decided to do a potluck reception. They informed family members that they would be cooking the main dishes – glazed honey ham, smoked brisket and lemon-pepper chicken.
They asked that in lieu of gifts, guests bring their signature dish to the reception to share. Everyone got incredibly excited about this idea; my aunts playfully talked about how their dishes would be the first to be eaten, and my mother pulled out my great grandmother's hand-written recipe book to choose a few of her absolute favorite dishes.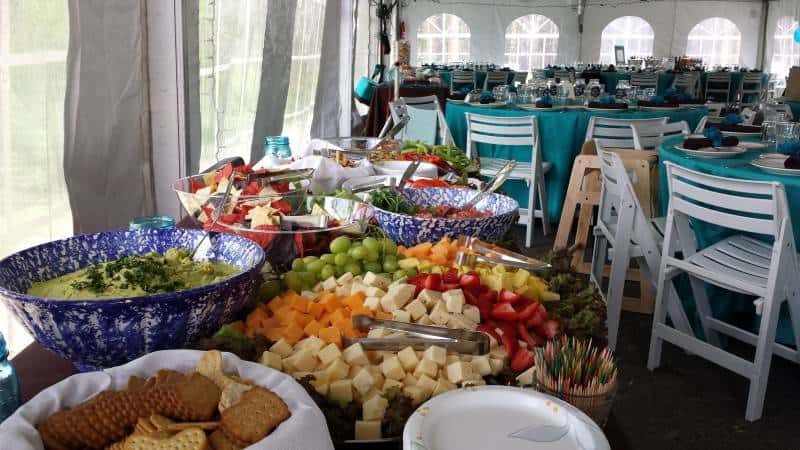 The spread was absolutely wonderful, as the ham, chicken and brisket were surrounded by things like homemade macaroni and cheese, twice baked potatoes, broccoli and rice casserole, honey-ginger vegetables, peach cobbler, Cajun corn on the cob, crab-stuffed zucchini and fruit salad. A potluck wedding reception is helpful for those on a budget, sure, but it's also a wonderful idea for a variety of other reasons.
Your Family's Style and Taste
One thing you might want to consider when determining whether to plan a potluck wedding reception is your own family's style and taste. With my family, it was a perfect fit because nearly everyone cooks (and has been cooking long enough to have developed at least a few signature dishes), and we often have get-togethers where every person will bring a dish. My best friend loved my cousin's wedding, but I remember her making a comment as we were eating about how everyone would starve if someone in her family planned a potluck wedding.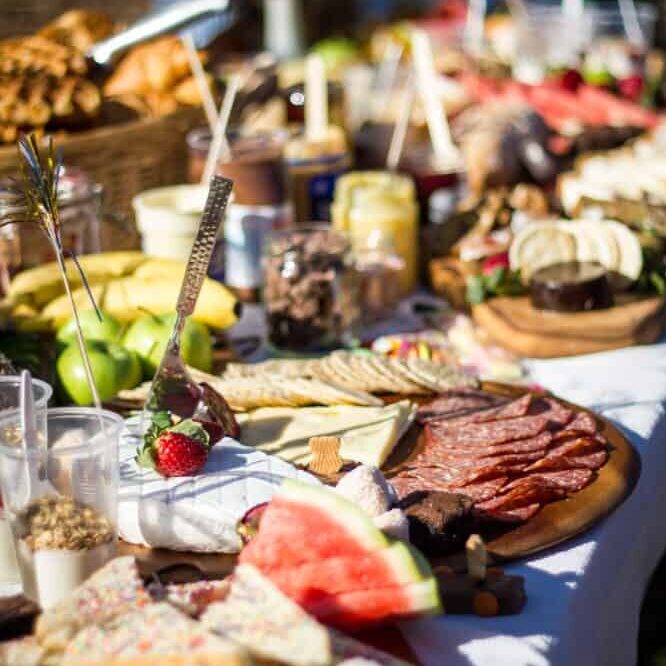 Growing up, my friend's parents rarely ever cooked at home. They almost always ate out and when they did eat around the dining room table, it was from takeout boxes. Her entire family was this way – aunts, uncles, grandparents. A potluck wedding reception in a family like this probably wouldn't go over so well. This is why it's important to gauge your own family and determine whether a potluck reception would work out or not.
Is it Practical?
Another important thing you want to think about is whether a potluck reception is practical. If all guests are coming from within a 50 mile radius, a potluck reception can be great, but if a huge number of guests are coming from out of state, it wouldn't be easy for them to bring a dish.
How Not to Be Tacky
I honestly believe that a potluck wedding reception is a wonderful way to bring a family together and celebrate with one of the most ancient traditions known to humanity – the sharing of a meal. However, there are some unique cases when a potluck wedding reception can be tacky. If you're planning a potluck reception, it's important to ask guests to bring a dish instead of a gift. This means no bridal registry, no expectation of gifts. The dish is the gift.
Would you honestly ask your guests to bring a gift after they've cooked a dish for you? Come on now, greedy pants. Didn't you learn the definition of gratitude? If you're going to ask guests to bring a dish, that's it – no dollar dances, no gifts, no honeymoon fund, etc. Also, "thank you" notes aren't just for wedding guests that bring gifts. If you have a potluck reception, you need to send thank you notes to everyone who shows up, including those who opt out of bringing a dish.
You Must Provide Something! Make sure you and your groom provide the basis for the meal. This will act as a theme-setter and help individuals determine what kinds of dishes to bring. For instance, if you'd like an Asian-themed potluck, you could provide a few different types of meat and fried rice and allow guests to bring the additional sides. If you don't provide anything, then it doesn't really seem like a potluck meal – it seems like you're trying to get a free meal. At that point, it could seem tacky.
Tips for Potluck Success
While many brides dream of a fancy, Cinderella-style wedding, others would prefer something much simpler. A potluck wedding is perfect for a small, intimate ceremony. Here are a few tips to help you plan a perfect potluck wedding get-together.
Seek Out the Chefs
You know the ladies or guys in your family and friends group that are always cooking up something new and delicious. Seek them out and ask them if they'd be willing to bring a signature dish instead of a wedding gift. Make sure you make notes of the dishes they've agreed to, so you can prepare a full meal.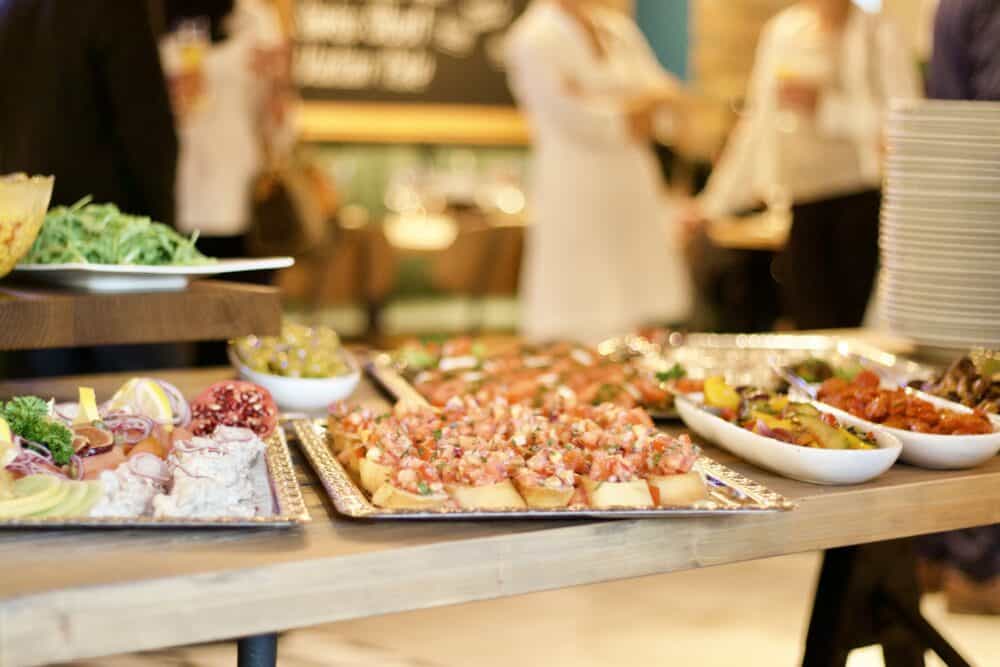 Ask a Volunteer for Drinks
Not everyone wields whisky like a pro. Plus, you don't it to turn into a fraternity party. For the friends who may not be so handy with the baking dishes, why not ask them to make drinks? Whether it's gallons of lemonade or fun mixed drinks, get a few different friends to make drinks so there's a variety of options.
Create a Theme
A theme adds direction and excitement to your potluck. So, share your chosen theme – be it a backyard barbecue, a Tuscan evening full of delicious Italian dishes, or even a gluten-free soiree. It will guide your guests in their dish selection, aligning everything to a central vision. Scroll below for some menu samples and ideas.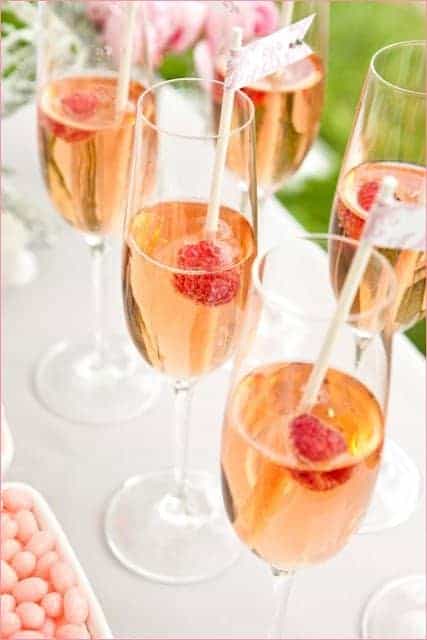 Communicate Clearly
At the heart of every memorable potluck wedding is a cornerstone – transparent communication. When you're inviting family members and friends to participate in your potluck wedding and bring a dish, being explicit about your expectations is vital. As for determining quantities, always consider how many guests are expected to attend to ensure you'll have enough food for everyone.
Say you envision a spread reminiscent of a traditional family-style cookout; communicate this theme early on. Perhaps the bride's side can bring meat dishes while the groom's side ventures into vegetarian territory. If you're leaning towards finger foods to facilitate mingling, make sure guests are aware to leave their potluck wedding lasagnas at home.
Furthermore, if you or any of your wedding guests have food allergies, it's paramount that this information is shared. A single oversight could transform a joyous occasion into an emergency.
Additionally, in this era where "potluck wedding tacky" is an all-too-common search term, it's essential to emphasize the charm and intimacy you're aiming for. By sharing stories of past potluck church lunches or reminiscing about family gatherings centered around sharing food, you can ease any apprehensions and remind your guests of the warmth and community a potluck reception brings.
Ensure Variety
Now, diving into the logistics. One of the common challenges with potluck receptions is the lack of dish diversity.
How do you ensure you're not left staring at an army of hot dogs with not a main dish in sight?
The fantastic idea is to initiate a digital registry, similar to how couples list out desired wedding gifts. Allow guests to mention the dish they'll be bringing, ensuring that everyone knows who's bringing what. For those unsure of their culinary contributions, perhaps set up food categories or even list down some favorite dishes of the bride and groom for inspiration.
While having the food catered can be convenient, the personal touch of a potluck often adds a unique charm to the occasion.
Another strategy? Assign. Based on the closeness of the guest to the couple, allocate different dish types to your guests. Immediate family members could be in charge of the main dishes, while your friends from college years can bring desserts. That guarantees a diverse spread, ensuring everyone gets a full meal – from appetizers down to desserts.
Lastly, to ensure there isn't significant leftover food, it's essential to discuss portion sizes, too.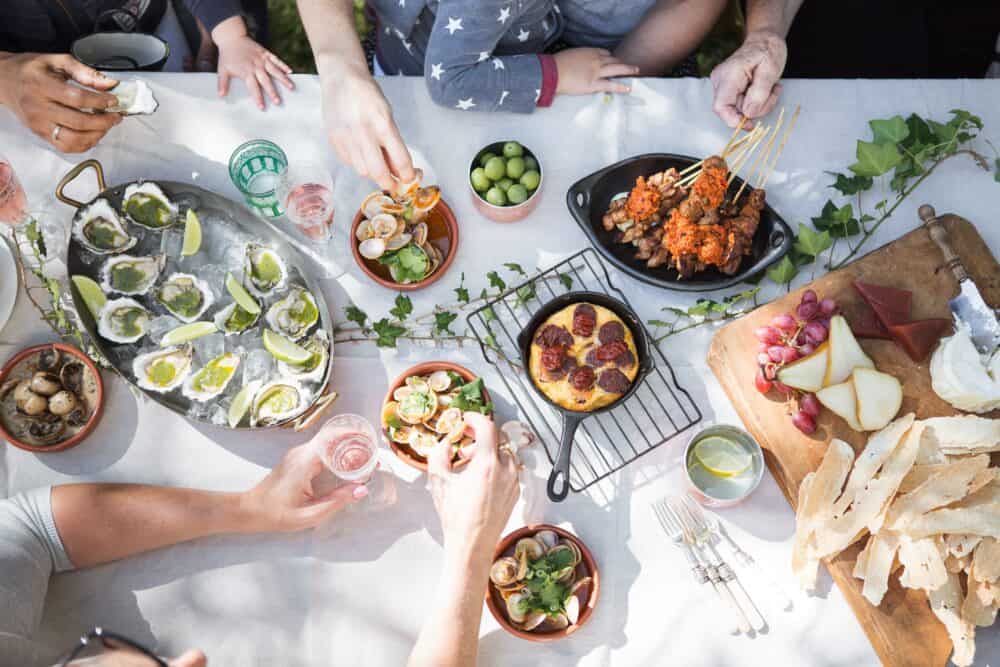 Think Logistics
The magic of a potluck wedding doesn't merely lie in having an array of dishes. There are some behind-the-scenes logistics of planning a potluck reception that ensure the event is seamless:
Space Allocation: A core consideration is the layout. The serving area should be expansive, accommodating everything from your cousin's spicy concoction requiring a chafing dish to room-temperature delights curated by a childhood buddy. Gauge your venue's potential and plan accordingly. Would it be more aesthetically pleasing to have one large central table or multiple smaller ones that are thematically organized?
Temperature Troubles: Not all dishes will arrive piping hot; some might be cooked ahead and necessitate reheating. Familiarizing oneself with the venue's kitchen capabilities is paramount. In the absence of adequate facilities, it's prudent to consider alternatives like portable burners or induction cooktops. The mantra? Avoid the catastrophe of a cold main dish. Having a meal prepared in advance can alleviate last-minute stress on the wedding day.
Storage Sensibilities: The geographical diversity of guests means some dishes might be traveling a considerable distance and may require immediate refrigeration. So, it's crucial to assess the available refrigeration space. If there's a shortfall, renting additional cooling units or refrigerated trucks might be the way to go.
Utensils & Dinnerware: While many dishes will be accompanied by their serving companions, it's always good to have backup serving utensils. It ensures that each culinary masterpiece is served with elegance and ease. Similarly, the availability of dinner plates, spoons, forks, and knives should match the expected guest count.
Potluck Menu Examples
The wedding potluck food ideas below can help you plan a delicious themed potluck meal and make sure all the bases are covered. It can be fun for family to suggest fitting dishes they can prepare as well!
A Texas BBQ Potluck Wedding Sample Menu
Grilled Slider Burgers on Garlic French Bread, provided by bride and groom.
Grilled Franks on Artisan Bread, provided by bride and groom.
Grilled Chicken, Bell Pepper, Onion and Squash Kebabs, provided by bride and groom.
Cajun Deviled Eggs, potluck dish.
Molasses and Brown Sugar Baked Beans, potluck dish.
Baked Macaroni and Cheese, potluck dish.
Southwestern Black Bean Salad, potluck dish.
Fresh Fruit Salad, potluck dish.
Choice of Beverages: Sweet Tea, Lemonade, Bottled Beer, potluck provided.
I don't know about you, but this sample Texas BBQ potluck wedding menu sounds absolutely delicious, and guests will love the tasty comfort food the menu provides.
A Night in Italy Potluck Wedding Sample Menu
Parmesan and Romano Spaghetti and Meatballs, provided by bride and groom.
Chicken Parmesan, provided by bride and groom.
Italian Sausage Served with Bell Peppers and Onions, provided by bride and groom.
Fresh Pepperoni Yeast Rolls, potluck dish.
Spinach and Cheese Cannelloni, potluck dish.
Steamed Zucchini, Carrots and Squash, potluck dish.
Baby Spinach Salad, potluck dish.
Canolis, potluck dish.
Choice of Beverages: Red Wine, Signature Cocktail, Coffee
This is another menu that sounds absolutely fantastic! While it's not considered a "fancy" menu, it is definitely not tacky and absolutely appropriate for a wedding menu.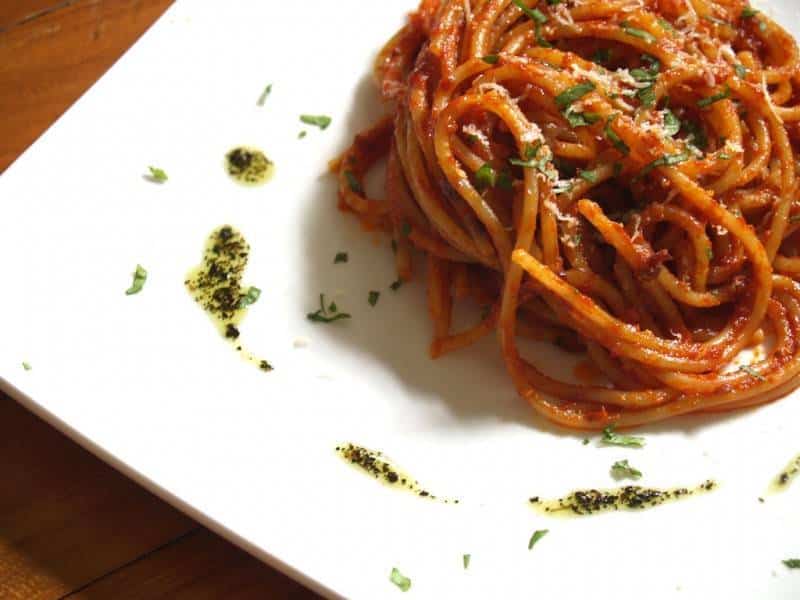 Country Cajun Wedding Sample Menu
Think Spicy Shrimp Etoufee paired with Louisiana Jambalaya and Cajun Cauliflower in garlic sauce. Beverages? Sweet tea and a daring Moonshine cocktail.
Spicy Shrimp Etoufee Served over Rice, provided by bride and groom.
Crab Cakes with Hollandaise Sauce, provided by bride and groom.
Blackened Catfish with Fresh Lemon and Turnip Greens, provided by bride and groom.
Red Beans and Rice with Spicy Sausage, potluck dish.
Louisiana Jambalaya, potluck dish.
Cajun Cauliflower in Garlic Sauce, potluck dish.
Fried Green Tomatoes with Cajun Remoulade Sauce, potluck dish.
Sauteed Cabbage, Mushrooms and Onions, potluck dish.
Choice of Beverage: Sweet Tea, Moonshine Cocktail, Bottled Beer
If this menu isn't enough to tingle your taste buds, I don't know what is!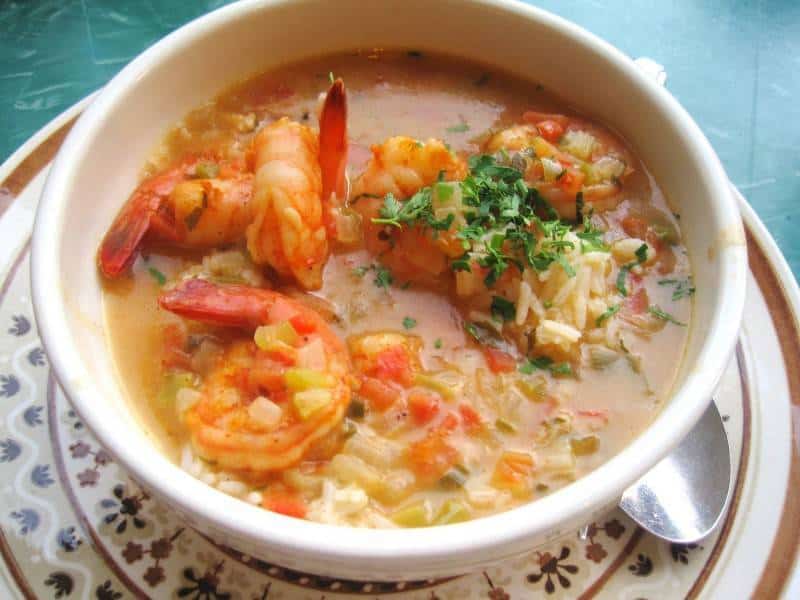 Delicious Vegetarian Wedding Sample Menu
Veggie Meat Loaf with Homemade Ketchup, provided by bride and groom.
Roasted Tomato Penne Salad with Goat Cheese and Asparagus, provided by bride and groom.
Eggplant and Smoked Mozzarella Tart, provided by bride and groom.
Organic Hummus with Gourmet Crackers, potluck dish.
Vegetable Curry, potluck dish.
Mushroom Risotto, potluck dish.
Cauliflower Mashed Potatoes, potluck dish.
Spaghetti Squash with Butter and Garlic, potluck dish.
Choice of Beverage: Sparkling Fruit Juice or Honey Meade.
This healthy and oh-so-yum menu caters to vegetarians and non-vegetarians alike – really anyone that just loves delicious dishes!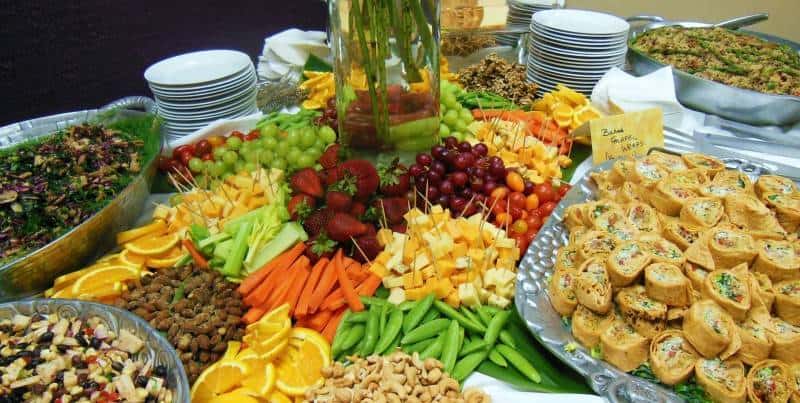 Gluten-Free, Whole Food Wedding Sample Menu
Lightly Steamed Vegetable Medley Wraps, provided by the bride and groom.
Roasted Garlic Brown Rice Quinoa Mix, provided by bride and groom.
Spaghetti Squash with Summer or Winter Veggies, provided by bride and groom.
Salt and Herb Kale Chips, potluck dish.
Fresh Berry Medley, potluck dish.
Butternut Squash Soup, potluck dish.
Gluten-Free Squash Casserole, potluck dish.
Beverage Choice: Berry Infused Water, Mango Smoothies
As you can see, with most of these menus, the bride and groom provide the "foundation" of the meal while guests bring along delicious side dishes that fill out the menu. The most important thing is to get the dishes people will bring in advance so you can provide guests with the menu at the reception, and so you can fill in any gaps that might occur (providing a vegetable dish if most guests want to bring meat dishes, etc). For more ideas and recipes check out Delish.com.
Real Stories with Successes and Lessons From Actual Potluck Weddings
Potluck wedding invitation wording can get trick if you're not careful. If you're still struggling on how to word your potluck wedding invitation then, one bride recommended a straightforward suggestion on how to approach your guests with this kind of request – just let your inhibitions go and make them feel that it's not an 'obligation'.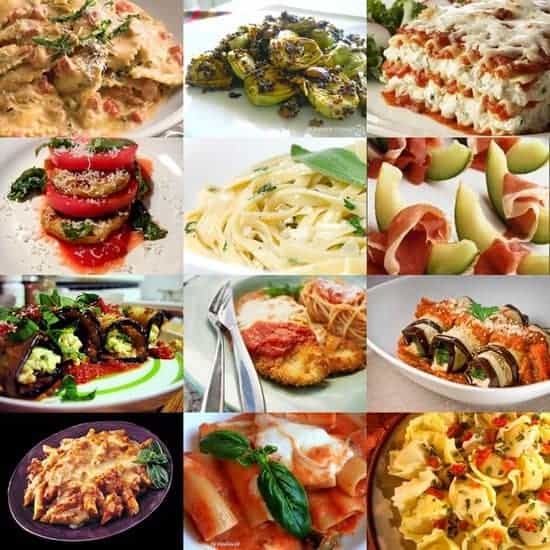 Here's a simple example:
You are invited to a wedding and potluck-style reception! Feel free to bring your favorite dish in lieu of a gift!
Another way to approach this is to know and have an idea who to include and exclude in this request. Heidi, who had just attended a wedding of this sort, shared that the couple only asked guests coming from the area and those who really enjoyed cooking to bring in food. Otherwise, they did not ask people who traveled from afar to burden themselves with bringing in dishes.
The thing is people look at potluck weddings just on one angle – the extra effort required for it. I love how another person emphasized that food connects people and having people share meals like gives a sense of community within the event. Guests are usually grouped together with regards to their affiliations with the couple. The interaction with people outside their group is very minimal, so having a potluck wedding gives them the chance to start a conversation with somebody else like.
Hey, can I try your dish?
or
You have to send me the recipe on this!"
The connection between the important people in your life can then become deeper! And who doesn't want that?!
Another bride shared the idea on making a cookbook afterwards by asking guests to include a recipe card with their dish and then compiling it and sending it to everyone. Who knows, your aunt from your mom's side might be dying to know how your groom's grandma made her casserole. What a fun & creative idea!
Potential Pitfalls (and how to avoid them)
The idea of guests bringing dishes to share is incredibly sweet. But sometimes, unexpected problems can pop up and spoil this wonderful scene.
From figuring out how to keep the food safe to making sure everyone's different diets are taken care of, there are lots of things to think about. Just like the old saying goes, knowing what might happen helps you get ready for it, turning possible troubles into things you can handle easily.
Food Safety
In the midst of all the excitement of a wedding, it's a bit sad to think that a dish of food could make someone feel bad or even sick. But if we plan things well, we can make sure that the food at a potluck wedding reception is safe to eat.
Temperature Zones: As you get ready for dishes prepared in different kitchens to come together at your event, controlling temperatures becomes really important. The food from various homes might have different temperature needs. Creating special "temperature zones" can make a big difference. Imagine this – one part of your event space set up with heated dishes to keep things like lasagnas and stews nice and warm. Right next to it, another area with salads and cold pasta kept cool with ice packs. These zones aren't just about keeping the food right; they also honor the people who made the delicious dishes.
The Dance of Arrivals: Usually, at regular weddings, caterers make sure the food is served in a planned way. But when it's a potluck reception, things need a bit more careful planning. Making a schedule for when guests and their dishes arrive is like creating a dance routine. This way, every dish – from the starters to the sweet treats – gets its moment to shine and be enjoyed just the way it's supposed to. It's like they arrive on stage at just the right time to be enjoyed when they smell the most delicious.
Labels and Tools: Food experts often say that we enjoy our meals with our eyes before anything else. This is especially true when it comes to potlucks. The way the food looks matters a lot. Encouraging guests to put labels on their dishes is really helpful. These labels should have the name of the dish and the main ingredients. This not only makes the meal feel special but also connects the cook and the eater. Also, having a specific serving tool for each dish doesn't just make serving smooth but also keeps the food safe from possibly mixing together and causing problems.
Addressing Dietary Restrictions
As our world becomes more connected and diverse, the tastes and needs of your guests reflect this variety. Some people choose their food for strong reasons, like their beliefs or their health. Making sure that everyone has delicious and safe options on their plates is really important.
At first, this might feel like a big challenge for a potluck event, but with some smart planning:
Early Surveys: Even before you finish sending out your fancy wedding invitations, think about sending out an online survey about diets. This tool can work like a gauge, helping you understand what kinds of diets your guests follow – and the information you get can be eye-opening. Maybe Aunt Jane, who's known for her meaty dishes, has become a vegan, or cousin Mike's cooking style has changed because he can't eat gluten anymore. Knowing these things helps make sure your potluck menu has something for everyone.
Clearer Communication with Labels: Those fancy labels that are so important for keeping food safe become even more important when it comes to different diets. When a dish is labeled as "Vegan" or "Gluten-Free," it's not just about the taste anymore; it's about being safe and welcoming to everyone. At a wedding reception, nobody should have to struggle with figuring out what they can eat.
Specialized Areas: To make the dining experience even better, create a buffet with sections specifically for different diets. This smart idea not only makes things easier for guests but also reduces the chances of different foods mixing together and causing problems. For example, having a separate section just for vegetarian food helps prevent accidental mixing with meat.
Leading the Food Adventure: Giving your guests some friendly suggestions can shape the food story of your potluck wedding. If a lot of your guests are vegetarian, encouraging them to bring vegetarian dishes can create a well-rounded menu. This doesn't mean other dishes aren't important, but it makes sure that every guest – no matter what they like to eat – goes home happy and satisfied.
Sign up Sheet / Guest Size List Planner
You want everyone to bring different things to share. The table helps you know how many people should bring each thing based on how many guests are coming. Below I included a downloadable sign up sheet that you can download and print to help keep you organized.
Handling Guest Participation
While planning your potluck wedding, it's important to anticipate that not every guest may be able to contribute a dish or item. To ensure a well-rounded and enjoyable dining experience for everyone, consider the following:
Plan for Variability: Understand that some guests might prefer not to bring a dish or may face limitations in doing so. This is perfectly okay and should be respected.
Have Extra Reserves: As the host, prepare a few extra dishes in each category to fill any potential gaps in the menu. This can include extra appetizers, side dishes, and desserts to provide a balanced spread.
Coordinate with Close Friends and Family: Reach out to close friends and family members who are enthusiastic about helping. They can be your backup plan to ensure essential items are covered if needed.
Communicate Openly: Include a friendly note in your invitations explaining the potluck nature of the event and encouraging guests to bring a dish if they can. Make sure to emphasize that their presence and well-wishes are what truly matter.
Share a List: If some guests are unsure about what to bring, you can create a shared document or list where they can sign up for specific dishes or items. This can help you keep track of what's being brought and avoid duplicates.
Offer Alternatives: For guests who might be unable to bring food, suggest alternative contributions such as providing beverages, helping with setup or cleanup, or contributing to decorations.
Flexibility and Gratitude: Remember that the essence of a potluck wedding is the sense of community and celebration. Express your gratitude to all guests, regardless of whether they bring an item or not.
Potluck Wedding for 50 Guests
| Category | # of Guests | |
| --- | --- | --- |
| Appetizers | 5 | 1 appetizer = 20-30 small servings |
| Main Dishes | 5 | 1 main dish = a 9×13 pan or 12 pieces (e.g. chicken) |
| Side Dishes | 10 | 1 side dish = approx. 5 cups |
| Bread | 5 | 1 bread = 1 loaf or 12 rolls |
| Dessert | 5 | 2 dozen cookies or 1 cake/pie or 1 half gallon ice cream |
| Beverages | 4 | 2 gallons or 3 two-liters |
| Tableware | 1 | 1 Person Bringing Cups, Plates & Napkins |
| Utensils | 1 | 1 Person Bringing Utensils |
Potluck Wedding for 100 Guests
| Category | # of Guests | |
| --- | --- | --- |
| Appetizers | 7 | 1 appetizer = 20-30 small servings |
| Main Dishes | 9 | 1 main dish = a 9×13 pan or 12 pieces (e.g. chicken) |
| Side Dishes | 20 | 1 side dish = approx. 5 cups |
| Bread | 9 | 1 bread = 1 loaf or 12 rolls |
| Dessert | 9 | 2 dozen cookies or 1 cake/pie or 1 half gallon ice cream |
| Beverages | 7 | 2 gallons or 3 two-liters |
| Tableware | 1 | 1 Person Bringing Cups, Plates & Napkins |
| Utensils | 1 | 1 Person Bringing Utensils |
Potluck Wedding for 200 Guests
| Category | # of Guests | |
| --- | --- | --- |
| Appetizers | 13 | 1 appetizer = 20-30 small servings |
| Main Dishes | 16 | 1 main dish = a 9×13 pan or 12 pieces (e.g. chicken) |
| Side Dishes | 30 | 1 side dish = approx. 5 cups |
| Bread | 16 | 1 bread = 1 loaf or 12 rolls |
| Dessert | 15 | 2 dozen cookies or 1 cake/pie or 1 half gallon ice cream |
| Beverages | 12 | 2 gallons or 3 two-liters |
| Tableware | 1 | 1 Person Bringing Cups, Plates & Napkins |
| Utensils | 1 | 1 Person Bringing Utensils |
Potluck Wedding for 400 Guests
| Category | # of Guests | |
| --- | --- | --- |
| Appetizers | 26 | 1 appetizer = 20-30 small servings |
| Main Dishes | 33 | 1 main dish = a 9×13 pan or 12 pieces (e.g. chicken) |
| Side Dishes | 60 | 1 side dish = approx. 5 cups |
| Bread | 33 | 1 bread = 1 loaf or 12 rolls |
| Dessert | 30 | 2 dozen cookies or 1 cake/pie or 1 half gallon ice cream |
| Beverages | 22 | 2 gallons or 3 two-liters |
| Tableware | 2 | 2 People Bringing Cups, Plates & Napkins |
| Utensils | 2 | 2 People Bringing Utensils |
This table should help brides plan potluck weddings for different guest sizes with ease, without any duplication of information. (Thanks to PerfectPotluck for helping me figuring some of the math!)
The Overall Verdict on Planning a Potluck Wedding
So after exploring the topic of a potluck wedding reception, we're still left with the question of whether or not it's tacky. I personally believe that going into massive debt for a fancy dinner you can't afford is tacky, whereas a wonderful sharing of different dishes made with love is… well, lovely. You certainly can't deny that those sample menus sound delicious. However, as with anything else, it's all in how it's done. We'd love to hear your thoughts on this topic in the comments below!