Destination weddings have become popular recently, especially among couples on the "hunt" for a unique and memorable way to exchange their heartfelt vows.
These weddings occur in locations away from the couple's hometown, so it requires travel for both the couple and their guests.
Whether it's a tropical beach destination, a historic European city, or a serene mountain retreat, couples can choose a destination that reflects their preferences for their special day – the one they'll remember for the rest of their lives.
But most importantly, couples get to choose the cheapest destination wedding – something that will fit their budget plans.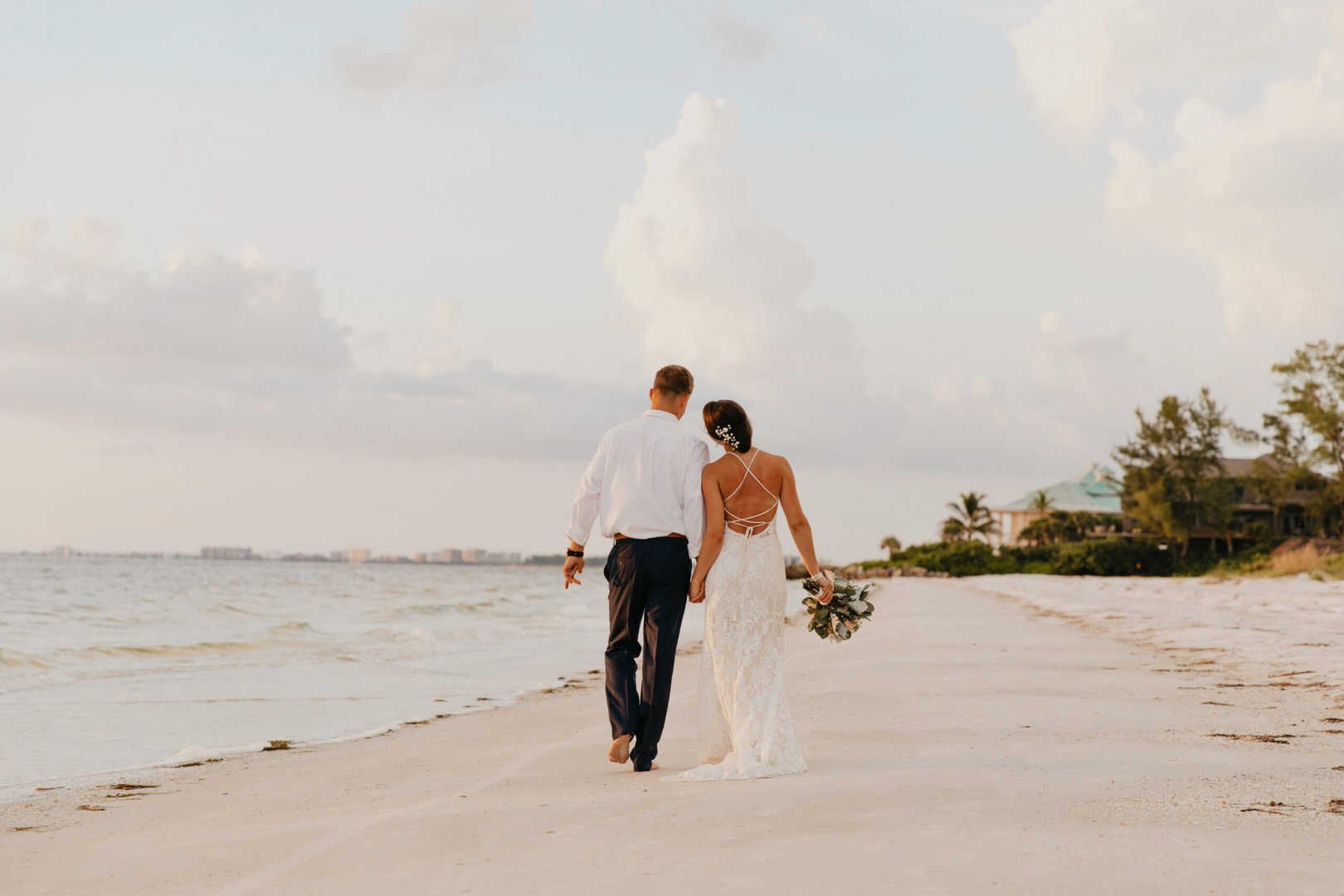 Here's a thought to begin with:
Did you know the average online cost of a destination wedding is around $35K? That's wild – but it doesn't have to be that way.
So, if you're a soon-to-be newlywed, sit back and enjoy. We have prepared some affordable destination wedding locations for you below!
Key Takeaway
Destination weddings allow couples to exchange vows in unique, memorable locations away from their hometowns. Resorts worldwide offer affordable, all-inclusive packages.
Choosing an off-peak season, weekday, and shorter ceremony can significantly reduce costs. Venues offer discounts during less popular times.
Credit card points, travel agents, and resort amenities like free wedding packages can provide savings on accommodations, flights, and ceremony expenses.
Getting creative with DIY décor, finding family/friends to officiate, and taking advantage of resort wedding packages allows for personalization within budget.
Planning a Cost-Effective Destination Wedding
Let's take it from here, shall we, love birds?
Planning your destination wedding can be a dream come true – it really can. In all honesty, it offers the couple a unique backdrop for their special day. However, it's crucial not to hit the breaks too hard on the planning process with budget considerations in mind.
We're all sticking to a certain budget, are we not?
As long as you and your partner strategically manage your finances and take advantage of affordable destination wedding packages, you can still have a beautiful wedding ceremony without taking an unwanted trip to the bank.
Now, that's a win-win situation right there.
But we're not here to give mere hints – we're here to spill the beans on budget-friendly wedding packages and help you have the time of your life.
So, here's how to plan an affordable wedding:
One key aspect of planning a cost-effective destination wedding is establishing a realistic budget from the outset – but we've already said that.
Next, you need to determine the total amount you are willing to spend (again, don't go overboard) and allocate funds to different aspects of the wedding – namely the ceremony, reception venues, and accommodations. That will help you prioritize expenses and make informed decisions to stay within your financial limits.
Many resorts have all-inclusive wedding packages that cover everything – from the ceremony venue to catering and decorations. These packages generally provide substantial cost savings compared to piecing together individual services. Of course, you'd have to spend some time behind the screen comparing destination wedding packages to find one that fits your budget – and your preferences.
Don't hesitate to negotiate and ask about customization options.
Timing is crucial when planning a budget-friendly destination wedding. Opting for the "off-peak" season and weekdays can significantly reduce costs for both the ceremony and accommodations. Many resorts offer lower rates during less popular times – allowing you to enjoy the same beautiful wedding venues at a fraction of the price.
Booking well in advance could help you secure better deals and discounts.
Selecting the right wedding destination is another key factor in a cost-effective wedding. Choose a location that not only offers stunning wedding venues but has affordable resorts and amenities, too. Moreover, look for destinations where local vendors may offer competitive prices for wedding services.
When it comes to the wedding day, consider hosting both your ceremony and reception at the same venue. Look for affordable venues with the right settings for a romantic ceremony and a reception; that way, you'll create a seamless and memorable experience for you and your guests.
Some resorts may also provide additional perks, like complimentary wedding coordination services – which can further ease the planning process and reduce the overall cost.
The lesson here is:
You CAN have a memorable wedding without breaking the bank. Be mindful of your budget, take advantage of inclusive packages, and select the right time and location. Simple, right?
5 Affordable Destination Wedding Locations
Are you looking for affordable wedding packages?
We've got you.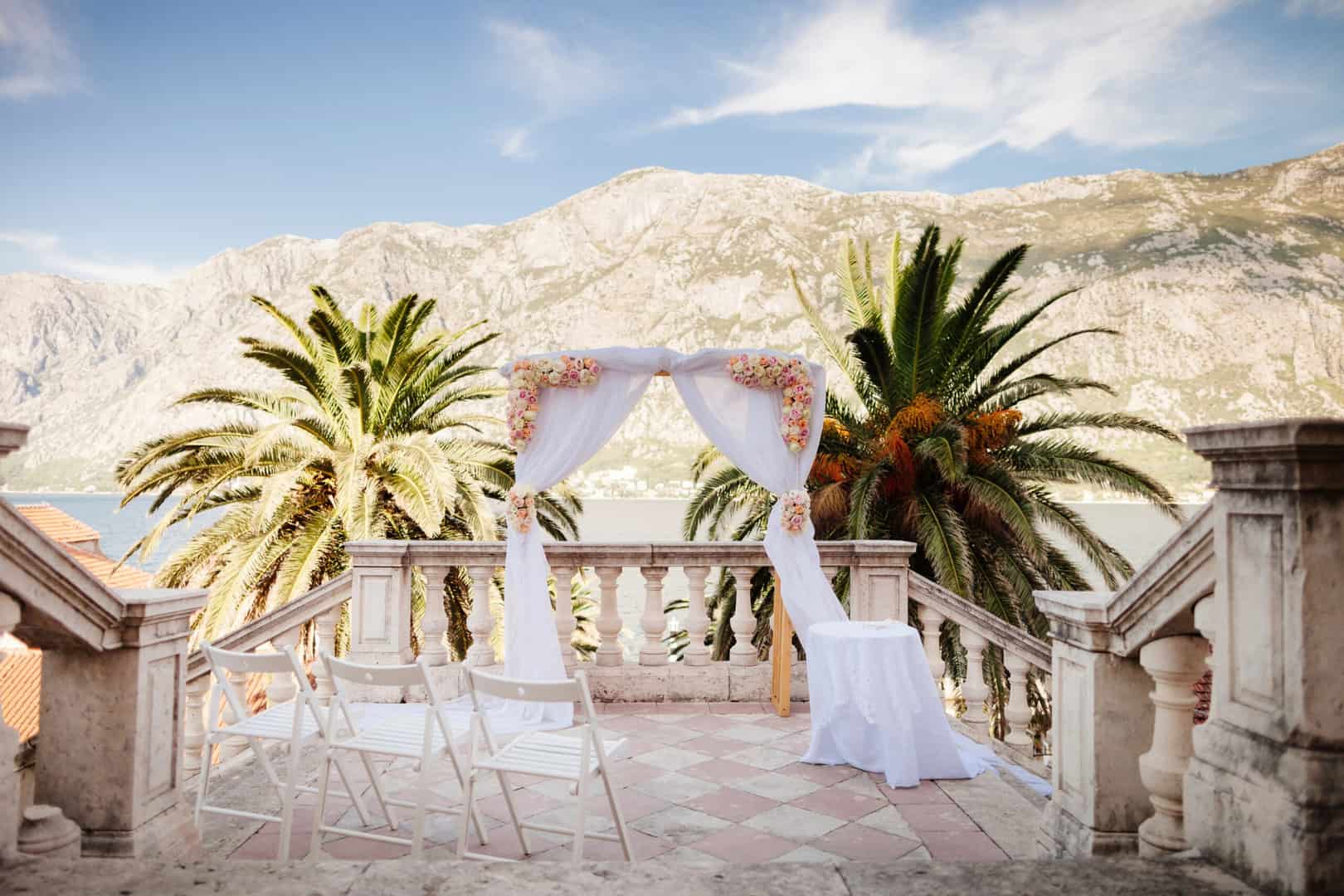 Looking for affordable wedding venues doesn't have to be synonymous with financial strain. The key to a dreamy yet budget-friendly celebration is choosing the right destination.
And if you stick around, we'll share our top five affordable destination wedding locations that boast breathtaking scenery for your wedding ceremony and cost-effective wedding packages, too.
From ensuring your wedding guests have a great time to finding the perfect wedding planner and the most delectable wedding cake, these destinations have it all without breaking the bank.
That said, let's explore the charm and affordability these destination wedding locations bring to your special day!
Jamaica: An Enchanting Paradise for Couples
First on the list is Jamaica, an enchanting paradise for couples planning a destination wedding.
From the lush landscapes to the pristine beaches, Jamaican resorts provide a range of packages that include everything from the ceremony venue to catering and decorations.
What sets Jamaica apart is not only the affordability – but the vibrancy of its culture as well.
Jamaican culture is a fusion of influences and an energetic atmosphere perfect for those looking to infuse their wedding with excitement.
The rhythmic beats of reggae music and the pulsating energy of dancehall create a backdrop that is, at the same time, festive and full of life.
But beyond the music, Jamaica's warm hospitality is a defining characteristic that ensures couples and their guests feel welcome and truly embraced by the local community.
The Jamaican people's genuine friendliness is often called the "Jamaican warmth."
As couples explore the possibilities of a Jamaican destination wedding, they will discover that the island caters to various preferences – from intimate ceremonies to grand celebrations.
Resorts in Jamaica typically offer inclusive packages that cover not only the essentials but also provide opportunities for customization for your special day!
Puerto Vallarta, Mexico: Affordable Elegance by the Pacific Ocean
Puerto Vallarta is a hidden gem for couples seeking an affordable yet elegant destination wedding!
The city's charming blend of traditional Mexican architecture and modern amenities creates a beautiful and affordable place for tying the knot.
The stunning beaches of Puerto Vallarta offer an ideal backdrop for your dream wedding, with the Pacific Ocean providing a breathtaking panorama.
Numerous all-inclusive resorts in Puerto Vallarta offer affordable wedding packages – so it's easy for couples to plan their ideal wedding without overspending.
These resorts often have event planners who can assist with every detail and ensure that your wedding cake is a culinary masterpiece that complements the picturesque surroundings.
The overall affordability of destination wedding packages – coupled with the rich culture and numerous options for wedding festivities – makes Puerto Vallarta a popular choice for couples looking to celebrate their love in a beautiful and cost-effective setting.
Costa Rica: A Tropical Paradise for Affordable Destination Weddings
Costa Rica has become a tropical paradise for couples seeking an affordable destination wedding. The country's stunning beaches, rainforests, and mountains are the perfect backdrop for your ceremony.
Costa Rica's all-inclusive resorts provide comprehensive wedding packages, covering everything from the ceremony venue to catering – and, of course, a sparkling wine toast.
The country's commitment to sustainability and ecotourism adds a unique touch to weddings, creating an unforgettable experience for couples and guests alike.
Plus, event planners in Costa Rica have experience with organizing both intimate ceremonies and grand celebrations.
With its affordability, natural beauty, and commitment to environmental consciousness, Costa Rica really stands out as an ideal destination wedding location for those looking to celebrate love in a stunning and eco-friendly setting.
Punta Cana, Dominican Republic: Affordable Luxury on Stunning White Sand Beaches
Punta Cana, on the easternmost end of the Dominican Republic, is a paradise that seamlessly blends affordability with luxury, making it an irresistible destination for dream weddings.
Renowned for white sandy beaches and clear waters, Punta Cana offers a stunning setting for couples looking to exchange vows in a breathtaking locale.
The abundance of all-inclusive wedding resorts in Punta Cana is another plus.
This destination provides couples affordable wedding packages covering every detail, from the ceremony venue and reception packages to the wedding cake.
If you're not interested in having a beach wedding, know that the allure of Punta Cana extends beyond its beautiful beaches.
The wedding resorts in this tropical haven often boast picturesque gardens and event spaces, creating a beautiful backdrop for wedding festivities.
Whether you hope for an intimate ceremony or a grand celebration, Punta Cana's wedding planners are well-equipped to bring your dreams to life.
With affordable wedding packages, stunning venues, and a vibrant atmosphere, Punta Cana stands out as an ideal destination for couples seeking an unforgettable and budget-friendly wedding experience.
Puerto Rico: A Beautiful Blend of Culture and Affordability
Puerto Rico, a Caribbean gem, draws couples with its unique blend of culture, history, and affordability – making it an increasingly popular destination for dream weddings.
The island's beautiful beaches offer a picturesque backdrop for wedding ceremonies – while its vibrant culture infuses every celebration with a lively spirit.
Puerto Rico offers a variety of all-inclusive resorts that provide affordable wedding packages, ensuring that couples can have their dream wedding without compromising on quality.
Old San Juan's historic charm and the El Yunque Rainforest's beauty offer couples plenty of options for wedding festivities, too.
Oh, and don't worry:
Event planners in Puerto Rico are skilled at orchestrating intimate ceremonies and grand celebrations – allowing couples to relax and enjoy their special day.
Puerto Rico's affordability, rich cultural tapestry, and stunning wedding venues make it a perfect destination for any couple seeking a beautiful and budget-friendly place to say "I do."
Estimated Costs of Affordable Wedding Packages
Planning your dream wedding often involves careful consideration of not only the ceremony details but also the wedding costs associated with it.
For couples seeking an affordable yet exquisite wedding experience, the option of wedding packages can be a game-changer.
So, in this section, we'll explore the estimated costs of affordable wedding packages. This ensures you can spend your special day in a stunning backdrop – an island's natural beauty, pristine beaches, or historical sites.
From the spa services of luxurious resorts to the scuba diving adventures in the Caribbean Sea, opting for affordable destination wedding packages can offer more than just a ceremony:
They provide an unforgettable experience beyond the traditional, making your wedding extraordinary.
Let's explore a world of affordable wedding packages that weave together luxury and budget-conscious choices, allowing you to create lasting memories against the backdrop of paradise.
10 Guests
Location: Punta Cana, Dominican Republic
Resort: Affordable all-inclusive resort like Caribe Club Princess Beach Resort
Wedding package: Basic wedding package included with resort booking. Includes beach ceremony setup, bouquet, and boutonniere.
Food and drinks: Included in resort all-inclusive package
Extras like wedding cake and decor: $500
Wedding attire: Casual beachwear already owned
Rings: $500
Wedding planner: Not needed for small wedding
Photography: 2 hours with a photographer included in the wedding package
Guest accommodations: 2 rooms in resort for 3 nights, $2500 total
Total cost: ~$9000
25 Guests
Location: Puerto Vallarta, Mexico
Resort: Moderately priced all-inclusive like Occidental Grand Vallarta
Wedding package: $1500 package with flowers, wedding cake, setup
Food and drinks: Included in resort all-inclusive package
Extras like decor: $800
Wedding attire: New outfits purchased, $300
Rings: $500
Wedding planner: Hire day-of coordinator, $500
Photography: 4 hours with a destination wedding photographer, $1000
Guest accommodations: 7 rooms in resort for 3 nights, $6000 total
Total cost: ~$10,000
50 Guests
Location: Montego Bay, Jamaica
Resort: Affordable all-inclusive like Holiday Inn Resort Montego Bay
Wedding package: $2000 package with floral, wedding cake, setup
Food and drinks: Included in the resort all inclusive
Extras like live music: $1200
Wedding attire: New outfits purchased, $500
Rings: $500
Wedding planner: Full-service planner, $1500
Photography: 8 hours with a wedding photographer, $2000
Guest rooms: 15 rooms for 3 nights, $12,000
Total cost: ~$20,000
Tips for Saving on Your Destination Wedding
As we've established by now, with strategic choices – emphasis on strategy – and a bit of creativity, you can still tie the knot in a beautiful place without spending the extra dollar.
We're well-invested, so here are the tips for saving your destination wedding.
Choose the Right Time
One of the first and most impactful decisions is choosing the right time for your celebration.
Going for an off-season wedding can significantly reduce costs on your card, as venues and vendors often offer lower prices during periods of lower demand.
When it comes to travel expenses, though, consider relying on your credit card points to cover hotel stays and flights – at least.
Here's the deal:
Some credit card companies may offer rewards programs that accumulate points with every purchase.
This can make a substantial difference, particularly if you plan well in advance and strategically use your points for peak travel times.
Additionally, some credit cards offer travel insurance – write that down!
Weekdays Over Weekends
Moving on with our cost-effective tips, choosing a weekday wedding over a weekend affair is another savvy move to save money.
Weekdays are generally less popular for weddings, and venues often offer discounted rates for events held on these days. This can also extend to other services, such as catering and photography.
While it might require some flexibility from your guests, those who can attend will likely appreciate the unique mid-week celebration, making it a win-win situation.
Collaborate With a Travel Agent
Collaborating with a travel agent can be a game-changer for securing group discounts.
Hear us out – travel agents often have access to exclusive deals and can negotiate discounted rates for accommodations at world-class resorts, flights, and other travel-related expenses.
Awesome for your wallet and wedding packages!
Duration of Your Wedding Ceremony
Also, consider the duration of your wedding ceremony. It doesn't have to last a lifetime – like your love – to be memorable.
A shorter celebration could also provide more affordable venue options – allowing you to allocate your budget more efficiently.
Incorporate DIY
Also, let's not skimp on the DIY – everybody loves to see it!
Choosing a do-it-yourself (DIY) approach for wedding invitations and decorations is a budget-friendly alternative to hiring professionals.
There are numerous online resources and tutorials that can guide you through creating personalized and stylish invitations.
You can recruit friends and family to help with these DIY projects, making the preparation process fun and collaborative.
Family Members Officiating Your Ceremony
Consider asking a family member or best friend to officiate your ceremony.
Make sure that your chosen officiant is comfortable with public speaking and understands the legal requirements for conducting a wedding ceremony in your chosen destination.
Taking Advantage of Existing Packages
Some resorts offer free wedding packages as part of their amenities.
So, why not use these packages to save on ceremony and venue costs?
While these packages might have certain limitations, they often include essential elements – ceremony space, basic floral arrangements, and coordination services.
So, research various resorts and their offerings to find a package that aligns with your vision for the big day – while minimizing expenses.
From choosing an off-season date to leveraging credit card points, each decision plays a crucial role in ensuring that your destination wedding is beautiful and financially sensible.
Remember that personalization and creativity can go a long way in making your wedding day special – even on a budget.
The Final Comment on Affordable Destination Weddings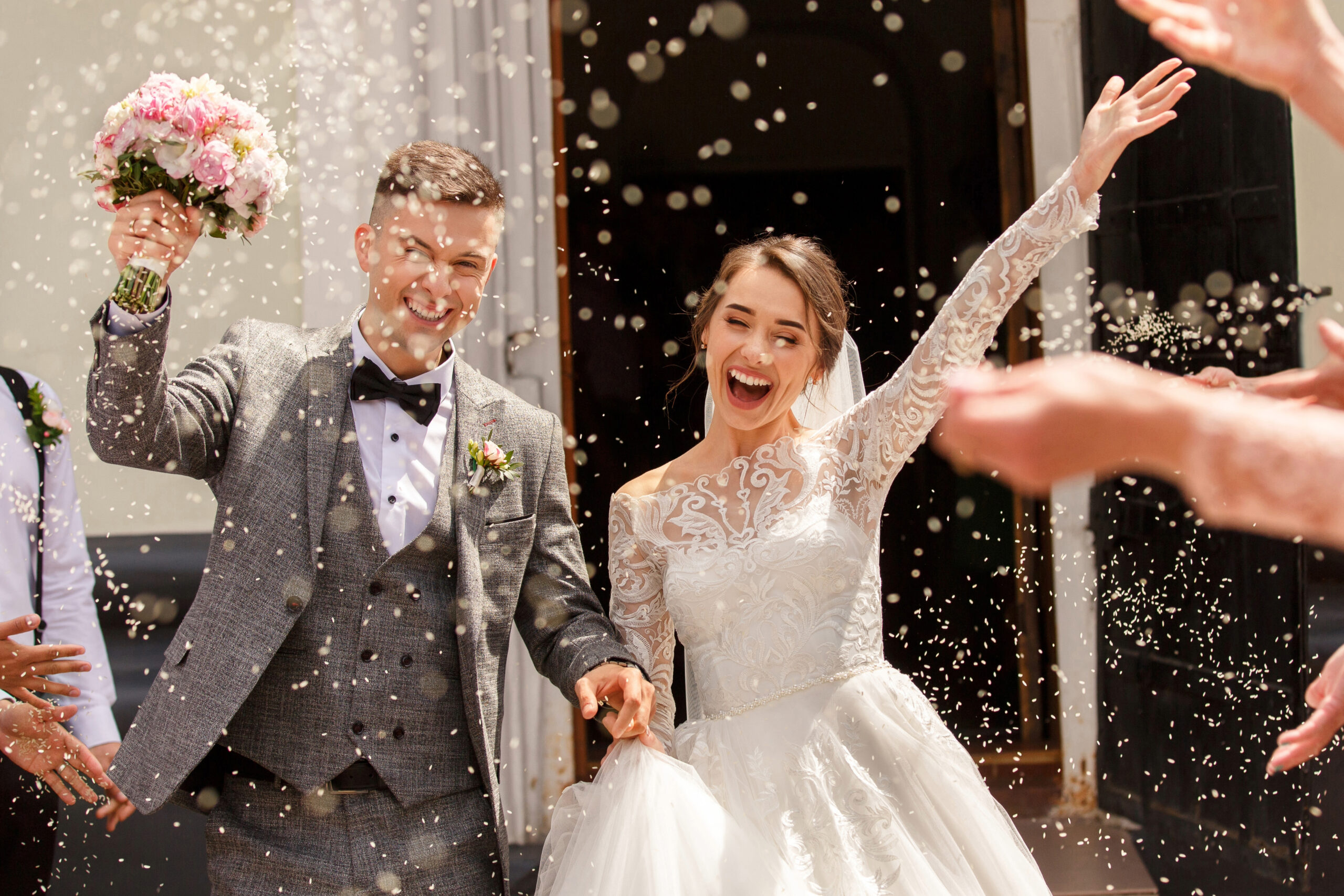 All in all, arranging the cheapest destination wedding is an adventure.
With careful planning and strategic choices, couples can create a dream wedding in stunning locations without breaking the bank.
From choosing off-peak seasons to leveraging credit card points, the key is to be savvy and creative in budget management.
The provided tips and affordable destination suggestions offer a blueprint for couples seeking a memorable and cost-effective celebration.
So, the world becomes a canvas for love stories on a budget, whether it's the pristine beaches of Punta Cana or the charming streets of Puerto Vallarta.
Embrace these tips, explore the suggested destinations, and plan a destination wedding that captures hearts and keeps your wallet smiling.
Your dream wedding awaits – seize it without compromise!