Brendan and Danielle are definitely meant for each other after all they went through together. After all the trials, they stuck beside each other and proved to everyone that their love is bigger than any obstacle life will throw their way. They genuinely deserved this beautiful fall wedding. The gorgeous fall colors (plum and orange) added a some story to their theme. My favorite part of their big day was of Brendan and Danielle being photographed while showered with autumn leaves. It symbolized a lot of things — the season, the beauty, and their immeasurable love.
Click image to enlarge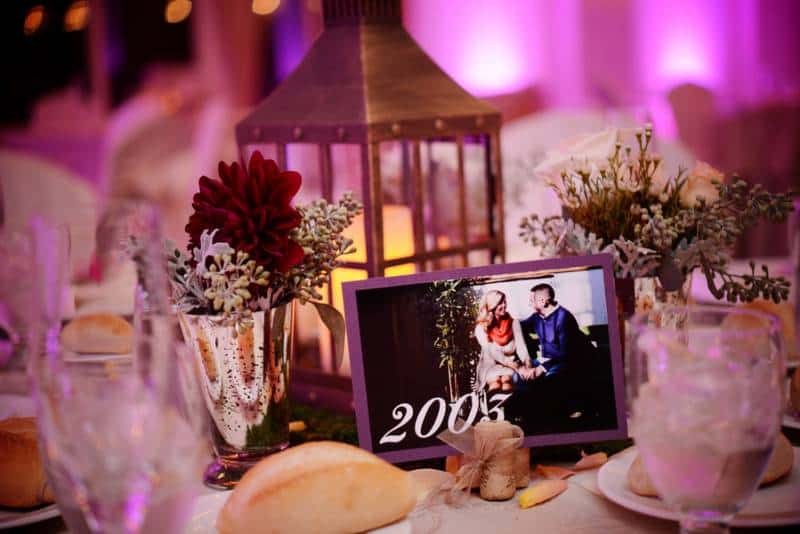 Like. Click to Vote
>
Our Story:
We met at a New Year's Eve party in 2002 ringing in 2003 at the ages of 16 and 17. My friend invited me to a house party of one of her new friends she met at her new high school and Brendan was in attendance. Our meeting was not loved at first sight! As our group of new friends continued to hang out, our interest in one another grew. After months of dates and casual group outings, we officially started dating in August of 2003. Very shortly after in September, our relationship was tested as my father passed away. Brendan stayed by my side, and I knew he was a man who would be there for my family and me through thick and thin.
We dated for ten years before getting engaged. We supported each other in graduating colleges, masters degrees and the beginnings of our careers before moving into a place to call our own. Through these ten years, we had bumps in the road, separated for a brief two weeks, but quickly realized the right heavily outweighed whatever difficulties we may have been experiencing. We learned to grow together and how to always work at our relationship. With the birth of four nephews, the conjoined love we felt for the growing extended family solidified we were both in it for the long haul.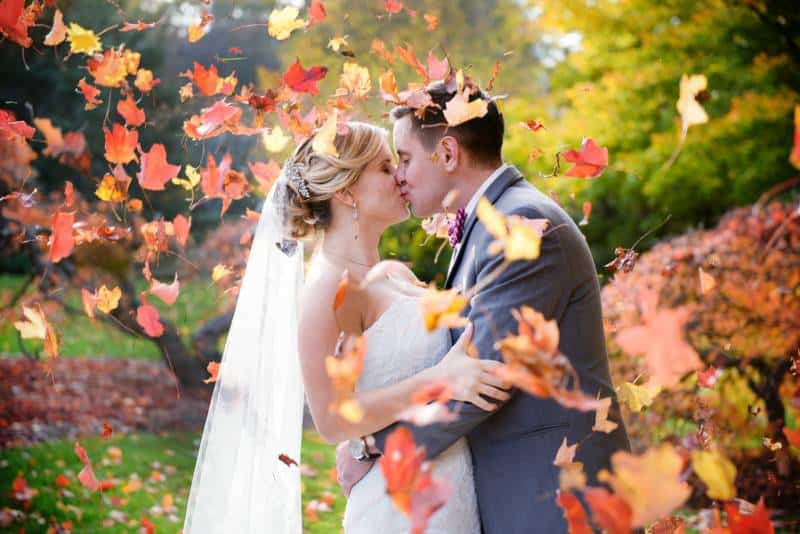 The Proposal:
Our engagement honored who we are as a couple. Brendan surprised me on a Sunday afternoon in June of 2013 with a card and a wrapped present. The card was enclosed with pictures of priceless and memorable moments in our relationship. He gave me this card as a post birthday present because, as Brendan described to me, he wanted me to have something to open as her gift for my birthday, which was in April and was ticketed to a concert that occurred the night before this proposal. As I was reading the card and smiling at the pictures pouring out, there was Brendan on one knee. Of course, the answer was an ecstatic and tearful yes! The day continued with an impromptu open door champagne celebration with family and close friends.
The Challenges We Faced:
Our relationship would later be tested again at the beginning of 2014 when Brendan's farther unexpectedly passed away. We bonded together to get through this difficult time, be there for each other and everyone mourning in this tragedy. It was so very important to continue the wedding planning in a way that would commemorate our beloved family while also creating a celebration of happiness we so desperately needed especially after another family tragedy hit with another unexpected passing of a loved one.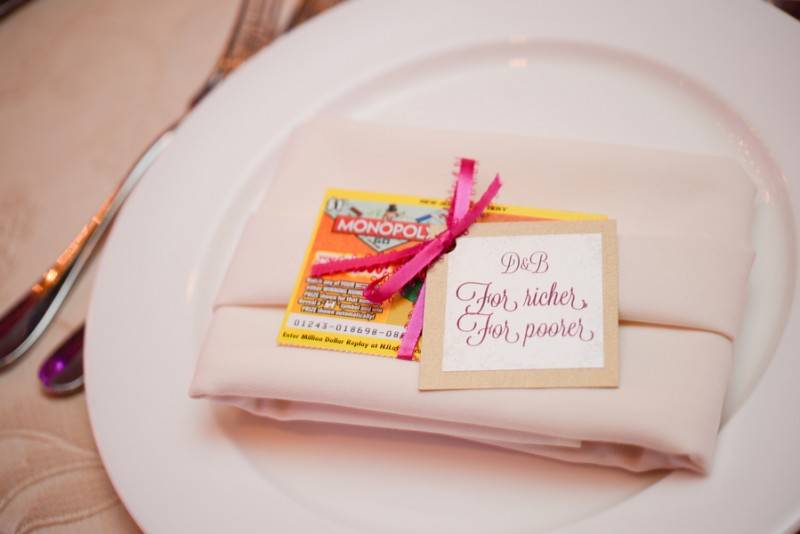 Favorite Part of the Day:
Our wedding occurred on a beautiful sunny November 8th of 2014. There was nothing to complain about. The day went without a hitch! Our favorite part, aside from being married, was sharing the day with our closest family and friends. We added many special touches to make the day as personal as possible. Every detail was true to "us". It was imperative to find as many ways to honor and remember our heavenly loved ones in a way that brought happiness and peace rather than a saddened reminder of their absence.
I wore my father's last gift to me, a cross, on my grandmother's chain around my neck and an anklet with my dad's picture so he could still walk me down the aisle. My brother had his first look, just like I would have wanted my dad too, and he walked me down the aisle to give me away to my love. Brendan's mother handed down his father's wedding ring to be used as his wedding band. We placed baby pictures of us respectively on our mother's bouquets. Our table numbers were counted to pay homage to every year we dated. The friend who handled our meeting was my maid of honor and family slideshows played as we had our dances at the beginning of the night.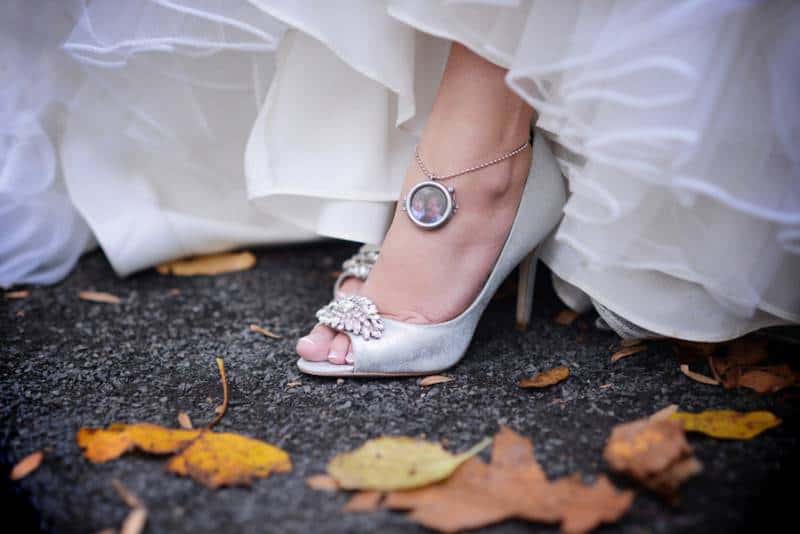 The night was filled with emotion. The emotion of nostalgia and celebration. Every vendor we chose, we felt, heard our vision and went above and beyond any expectation we could have had.
Our wedding day will truly be a day that will not be forgotten. It has created so many warm memories for both our families and we so ready to see what life has in store for us. We have proven that no matter what we will walk it through whatever life has in store; the good, the bad and the in between. Our wedding was a true celebration of love with some wonderful memories that were created in the process! We learned a valuable lesson: live and love for today and we did just that on our special day!
Our Wedding Video:
VENDORS
Photographer: VeroLuce Photography
Floral Designer: Skip's Florist
DJ: A Touch of Class
Bridesmaid Dresses: Bill Levkoff
Tuxedo and Mens Attire: Dante Zeller Tuxedo and Menswear
Jewelry: Kleinfeld's
Dress Store: Kleinfeld's
Dress Designer: Mark Zunino
Reception Venue: Mayfair Farms
Hair Stylist: Michael Joseph Hair Studio
Transportation: NJ Limo Bus
Cake Designer: Palermo Bakery
Ceremony Location: Saint James Church
Invitation Designer: Thinking Paper LLC