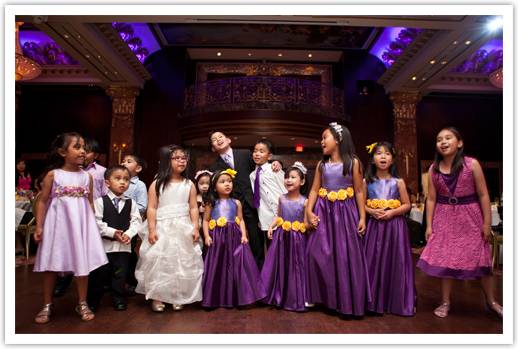 It's been a while since we had a hot topic and today we'll talk about something that most couples struggle with early on in the planning – whether or not to invite kids at the wedding.
I have to admit, even I thought about this when we were planning our wedding. Having been to weddings where children were invited, I've seen how distracting it can be when a child cries in the middle of an intimate ceremony or when a child decides to throw a tantrum in the middle of the dance floor during dinner. With all those scenarios in mind, I originally thought I didn't want kids at the wedding for fear that something similar will happen. But, with nephews and nieces whom I love dearly as part of our bridal party and with close friends whose kids my husband and I can't imagine not seeing on our special day, we decided to set a limit on the number of kids we would invite. We decided on just having our family and close friends' children at our wedding instead. Occasionally, we were asked by some of our guests if they could bring their kids, and we had to unfortunately say no and if your guests are true friends, then they would understand. Looking back, I know that if I had to think about it again, I would no doubt make the same decision. Thankfully, our ceremony went by without any child crying (but then again, I probably wouldn't have heard it anyway) and our reception was a blast especially during our cake cutting when our DJ played the song, Just the Way You Are by Bruno Mars in the background and we started hearing all the kids towards the back of the room singing along. It was so cute that we even asked them to come to the front and had our DJ play it over again. Talk about an impromptu entertainment at your wedding.
At the end of the day, you and your fiance will have to make the decision on whether or not you will invite kids to your wedding. Whatever you decide, Inspired Bride would like to share some tips on this topic.
* Decide Early – If you decide not to have kids at your wedding, this is out of consideration to your guests with kids who needs to make necessary arrangements for the day. If you do decide to have kids at your wedding, then you can include kids entertainment ideas in your wedding to do list.
* Special Menu – If you are inviting kids to the wedding, ask your venue about their kids menu and rates. Most venues have this option.
* Kids Table – We had a separate kids table at our wedding with activity books and markers for all ages to entertain the kids. (Just a tip: I bought about 3 boxes of activity packs for both boys and girls that came with coloring sheets and markers that are made specifically to work ONLY on the coloring sheets it came with. You don't want your venue to call you days after your wedding about marker stains on some of their tablecloths.)
Inspired Bride would love to hear your thoughts on whether on not to invite kids at a wedding.
Image from: