Baseball has a significant meaning to Eric and Alexandra, hence this adorable engagement session at the baseball field. The two had fun as they posed and tossed balls together. Another thing to do when you don't have any idea of what to do for your engagement session – just do something you both love.  It could be a hobby, or a favorite movie, or just a casual walk in the park.
Click image to enlarge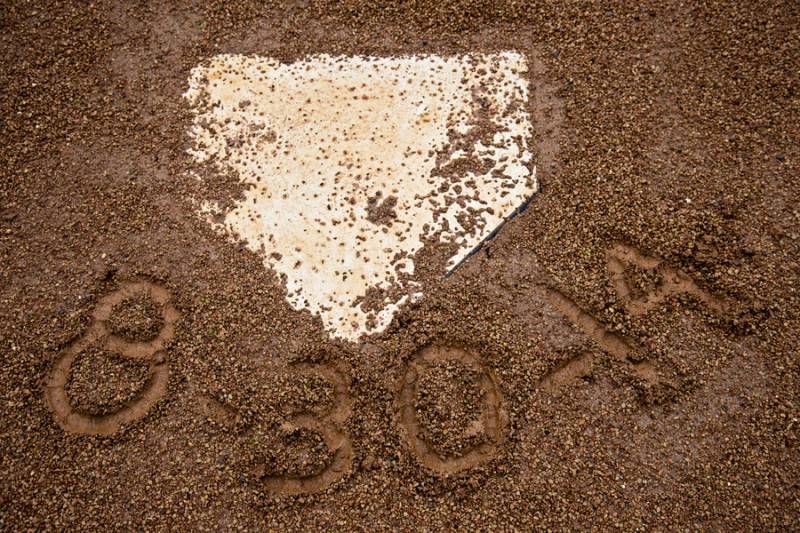 1

Like. Click to Vote
>
The Concept:
My now husband love the Atlanta Braves (Chipper Jones especially). We dated for 7 years before we got married and he played Division 1 baseball for 4 of those years, as well as on a national travel team before high school. Our entire relationship involved baseball so I wanted to portray how much we love the sport!
The Location:
The field we shot at was where my husband played when he was younger. One of the photos is taken in the exact spot where he hit his first home run out of the park when he was 12 years old. He also played at this set of fields in high school when his team won regionals and went to the state championship.
Engagement Session Outfit Inspiration:
We kept it casual and wore what we would to a baseball game. Blue jeans, white tees, and baseball jerseys.
Engagement Session Experience:
Eric and I are very comfortable around each other and in front of the camera. This wasn't our first photo shoot together. That being said the "poses" didn't really feel posed. The whole experience felt very natural. Tips: Don't really think about it being a photo shoot. Just be yourselves! The pictures turn out much better that way. Also, even if what the photographer is asking you to do with your hands or the tilt of your head, trust me…just listen!! Those "posed" photos will be some of your favorites!
Something About Our Wedding:
Our wedding happened on August 30, 2014. It was the best day ever! We started out with a very relaxed morning. The girls got ready in a hotel suite and the guys got ready at Eric & I's house. My wedding planner, Christine Rice with RSVP Consultants, was absolutely amazing and orchestrated the entire day perfectly. No mishaps happened. We had a huge wedding party 8 bridesmaids, 2 Junior bridesmaids, 4 flower girls, and 8 groomsmen.
We had a Catholic ceremony in a beautiful Catholic church in Richmond, VA where over 200 people attended. The reception was at the John Marshall Ballrooms. Everything about the decor at the reception was very romantic, with lots white and light pink rose petals, baby's breath, and lots of candle light! The reception was buffet style with lots of dancing. It was the perfect night and everyone in attendance is still telling me how it was the best wedding they have ever been to.
VENDORS
Photographer: Neilson-Hall Photography