If you're a shoe-lover and you're getting married, there's no doubt you've been browsing pictures of beautiful wedding shoes. You have to check out these 5 drool-worthy wedding shoes. Use them as inspiration when picking out your shoes, or just enjoy the beauty of these shoes!
Pearl Encrusted Heels
These heels are absolutely covered in beautiful pearls. The toe and heel are covered with sparkling rhinestones to create an absolutely drool-worthy pair of shoes.
Blush Floral Shoes
These soft blush-colored shoes are sleek and elegant, and feature fantastic flowers at the ankle for a soft and feminine look.
Nude with Bows
These nude shoes are very simple, but the rhinestone bow really sets them off. The overall look is elegant and beautiful.
Taupe Bling Heels
A soft taupe, these beautiful satin shoes are elegant and feature a sling back. However, the beauty of these shoes is in the heel. Gold and silver rhinestones coat the heel for a beautiful, sparkling look.
Lace Heels
These wedding shoes are great for a black and white wedding. They feature black lace stencils across the sides and a lace-style bow in the back. They're gorgeous and perfect for a more non-traditional bride.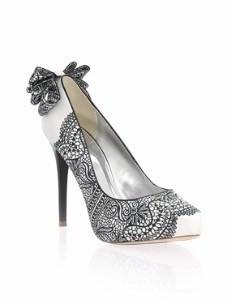 Let these shoes inspire your wedding day look!