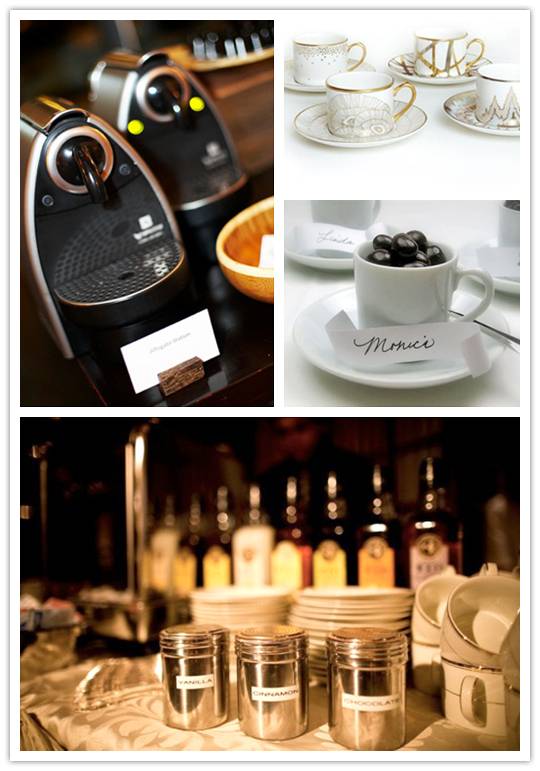 I'm all about coffee. I have my own little espresso machine (which I worship) and since I am SO not a morning person, my little machine makes it just a smidgen easier to face the day. I also love a late night cup. Typically decaf so I am not staring at stars into the wee hours of the morn, but there is something about a warm cup that tops off the night. As I was designing a wedding for one of my sweet couples who adore coffee as much as I do, I thought why not a late night espresso bar! How much fun would that be with cinnamon sticks and cocoa powder and flavored syrups?! Guests would have a blast! In my research I came across some great photo finds – I loved the idea of adding in some espresso sweet treats as well as mixing up cup designs. Another thought is to have some drinks already prepared for guests to grab so the line won't get too long, as well as have the custom shot bar so guests would have the option of DIY. I adored the idea of the favor that doubles as an escort card – mini coffee cups filled to the brim with chocolate covered espresso beans! That just might be my favorite!

Images from Geoff White Photography, Kurstin Roe Photography via Elizabeth Anne Designs, Sacha Blue, Cocoa and Fig, Main Event Productions, Beau-Coup, and Canadian House and Home.
• • ♥ • •
Trisha Dean is a wedding and event planner in the San Francisco Bay Area. A background in graphic design and corporate event planning led to her love of designing and planning weddings. She is the author of Adore and a contributing blogger to Bay Area Bride Guide in addition to the Inspired Bride. She lives in Walnut Creek, California with her husband, daughter, and two cats.