If you're getting hitched, one of your significant expenses includes not only food for your reception, but adult beverages. Assuming most of your guests do not suffer issues with alcohol, many of them enjoy having a glass or two with their meal. And what's a wedding without a traditional champagne toast to the bride and groom?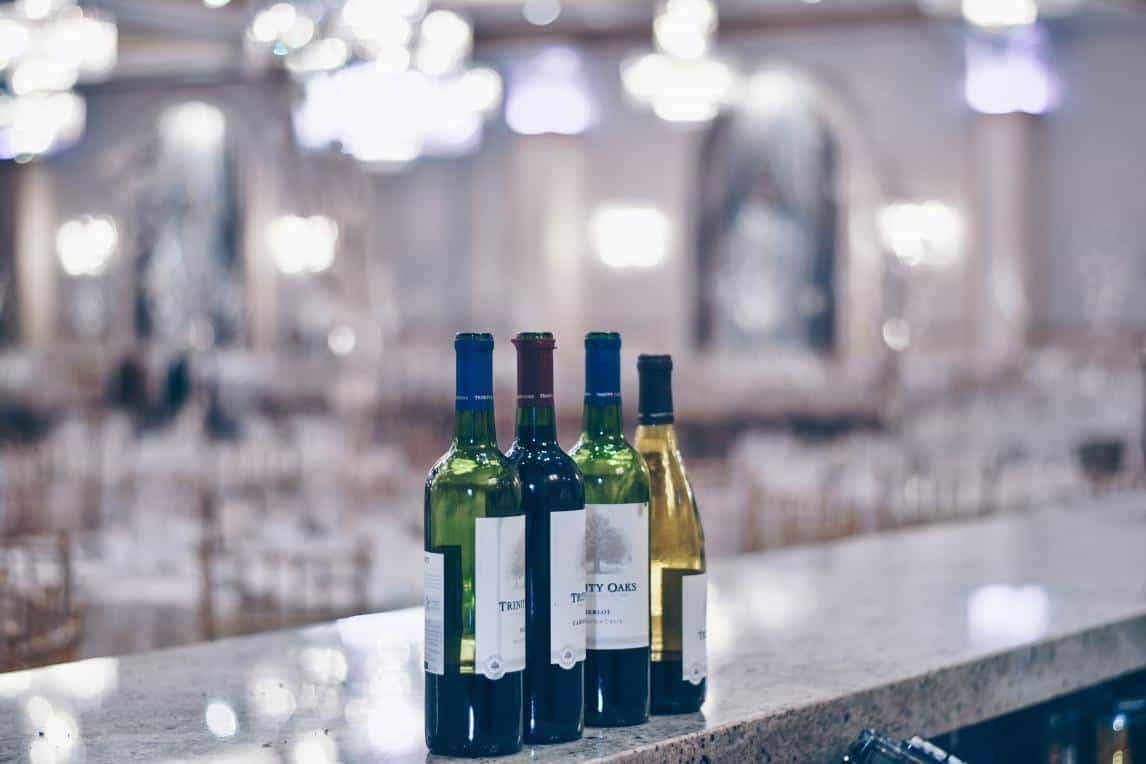 In order to pull off the perfect event, you'll need to offer ample wine to please the different palates of your guests. You also don't want to run out of wine by 9 p.m. if your reception goes until midnight. Here's what to know about what types of wine to serve and how much to get to make sure your guests feel like celebrating.
1. Let Your Menu Rule
Your menu should be your guide when it comes to paring, especially if you're only serving wine with the meal. Keep the following rules in mind:
For meat dishes. Red meats pair best with tannic reds like Cabernet and Syrah.
For light meats. Pair the wine with the sauce. For spicier dishes like those with a south-of-the-border influence, think lower alcohol wines.
For vegetarian dishes. White wines like Pinot Grigio pair well or go with a light Riesling if you have a sweeter tooth.
2. But Keep Time of Year in Mind
When you're determining how much wine you need, keep the time of year in mind. Anecdotal evidence long suggested people drink more during the winter months and research now shows shorter days and cooler temperatures lead to an increase in imbibing. While scientists do not yet know why, to be on the safe side, order more vino if you're planning a January wedding in the northern hemisphere.
Also, keep in mind people tend to drink more during evening soirees than daytime weddings. If budget is a concern, hosting your nuptials at noon can save cash.
3. Decide How Long Wine Service Lasts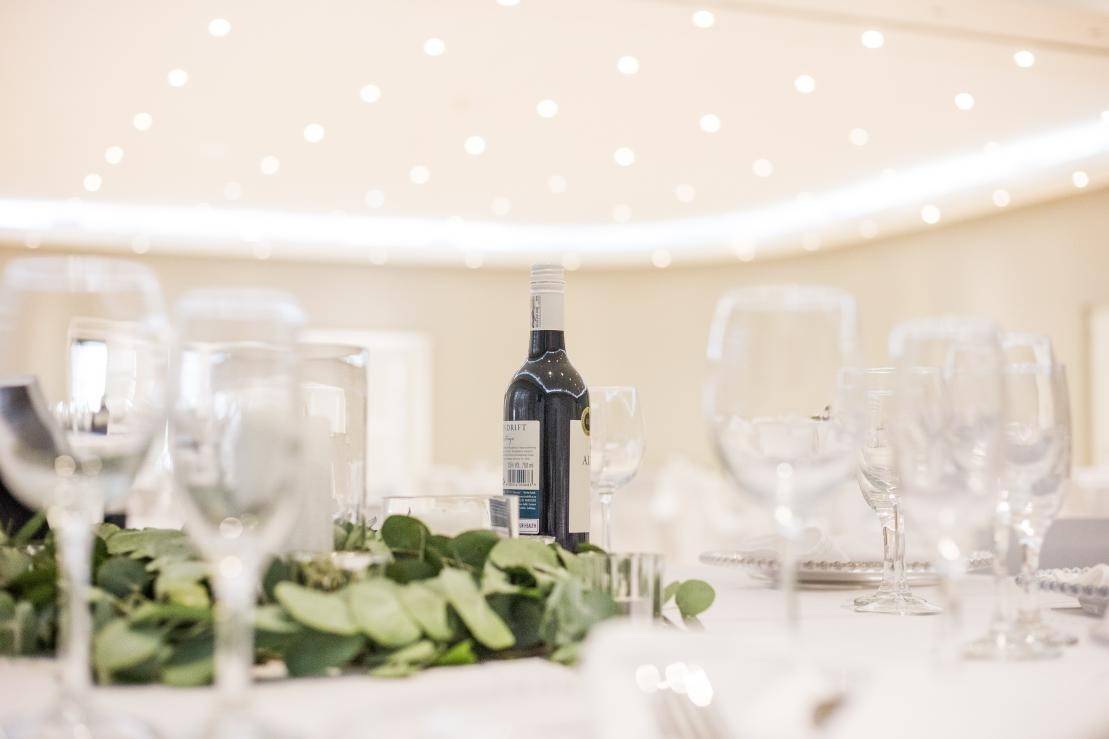 One way you can control costs is by limiting the amount of time you serve wine at your wedding. Some brides prefer to keep libations flowing all night while others serve only during the dinner service and allow guests to buy drinks on a cash basis afterward. If your invite list consists of teetotalers, divide the number of guests by 2.15; however, if you're list contains heavy drinkers, one bottle per person ensures you don't run out.
Also, keep your venue in mind. If you're hosting a reception at a hotel, guests who are staying overnight may drink more than they would if they had to drive. Finally, if you're having an open bar with other alcoholic beverages available, you may need fewer bottles.
4. Offer Guests a Variety
Sure, you wouldn't dream of sipping a white wine with a filet, but your guests may possess different palates. You don't need to offer a full wine list at your reception, but do offer a red, white and rosé option if budget allows.
If you're hosting your reception at a restaurant, inquire about their wine selection. Most have well wines in each color, and if money is no object, you can select a few more elite favorites to share with guests.
5. Rock Your Champagne Toast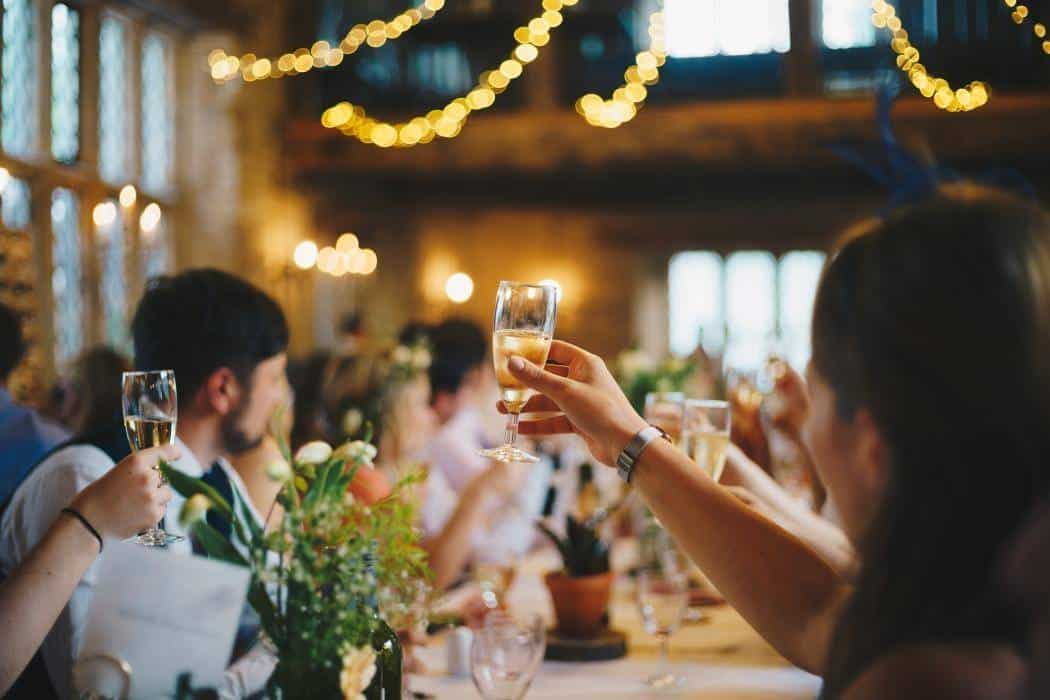 Hopefully, your best man or other toast maker hasn't overindulged before giving his speech, so he keeps things short and inoffensive. But you must have a champagne toast. To make sure all guests get half a glass to raise, divide the number of guests by seven. Technically, only wine from the Champagne region of France gets the label designation, but most guests won't mind substituting sparkling wine if you're on a budget.
6. Plan for Contingencies
Running out of wine? Talk about a wedding day disaster story! What can you do if, despite your best efforts, what you've bought isn't enough?
Plan for contingencies. If you're having an outdoor wedding, recruit an abstinent guest in advance who expresses willingness to run to the store for supplies if need be. If you're hosting an indoor event, make sure your facility has some beverages available as alternatives if you're bringing your own bottles.
The Perfect Wedding Means Wine
Can you have a wedding reception without wine? Sure, but many would argue it isn't as much fun without a few libations. By following the tips above, you can ensure your guests enjoy your nuptials with a glass of vino in hand.