Sweet lilacs for a memorable celebration like weddings is such a dreamy and romantic sight. Stefan and Felicia's wedding last December is an example of that. In addition to the soft motif, they had candle lights all over their reception that amped up the romance vibe. Their wedding is a real inspiration to those brides-to-be who are in the planning stage. Just like Felicia's bridesmaids who wore alternating lilac and purple dresses, you can have a lilac-purple wedding in December too! It was a lovely twist made for a unique contrast. To get more inspiration out of their dreamy wedding scroll down below and tell us what you think!
Click image to enlarge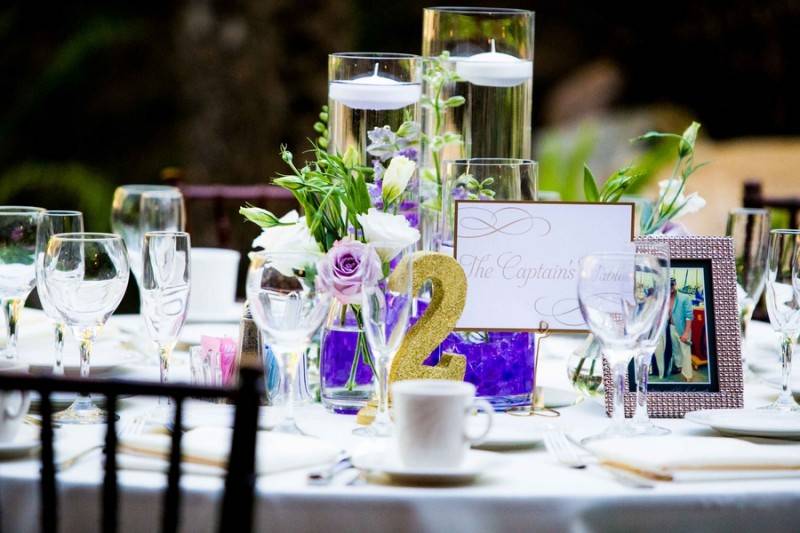 4

Like. Click to Vote
>
Our Sory:
We both grew up in Southern California, but Stefan moved away in elementary school. After spending high school and college in South Florida, he decided to get back "home." Stefan accepted a position working for Automatic Data Processing (ADP) in San Diego as a sales rep, having just moved back to San Diego a few months prior. Felicia was working for a third-party Recruitment Process Outsourcing company, where ADP was her only client. She frequently worked from home, but would go into the San Diego office to interview in-person occasionally. During her second visit to the office, she met Stefan for the first time. Stefan asked one of his coworkers who the "new exotic girl" was.
The next time Felicia was in the office she sat in a cubical right behind Stefan. He told her he had a referral for the company, which is how email addresses were initially exchanged. Felicia played hard to get for a while. Stefan had asked her out several times with no luck. After four months of exchanging emails, Stefan requested to take her to Carl's Jr. (sarcastically), and she finally said yes. If it weren't for his day job, Stefan would be a comedian, so being his smooth self, he made her believe the date was going to be at Carls Jr. It ended up being a night of a 5-star restaurant (Croce's in downtown San Diego), ordering off the menu with Stefan's friend–the head chef, a jazz band, and night they will never forget. July 1st, 2010.
We Are A Perfect Match:
Our easy going personalities. We laugh with each other all the time. Stefan is the funniest person I've ever met, so living life with him is easy because I love to laugh. It took us a few months to finally hang out, but when we started, we were pretty much inseparable. Still to this day we are crazy about each other. We have a lot in common and enjoy almost all of the same things: the beach, great music, get-a-ways in Southern California to Lake Arrowhead, Catalina, Palm Springs, etc., football, our dog, Sasha, themed events and trips to Mexico. Our moms both raised us with very similar values, so our families and friends are vital to us. Our nickname for each other is "boo" and even after five years of being together, we always make sure to set aside time for date night and quality time, or what we like to call "Boo time."
The Proposal:
I will preface this with we had a 3 and a half year relationship and had an incredible day the day before he proposed in beautiful Coronado, CA. We rode bikes around the island, had an excellent dinner and watched the ice skaters at the Del Coronado. So if I was expecting it to happen, Sunday was not the day. It was a typical Sunday. We went to a casual breakfast at one of our favorite spots in Cardiff-by-the-Sea, CA. We had excellent breakfast and a couple of mimosas. When we were done, Stefan suggested we walk on the beach, which wasn't out of the ordinary, so Felicia didn't suspect anything.
In Cardiff, there is a famous surfer statue, that locals frequently dress up for events, a cap and gown for graduation, a jersey for the Charger game, etc. As we walked toward the ocean, Felicia noticed the statue was dressed up as a bride. She said, "Oh, someone must have just gotten married!" To which Stefan replied, "Actually that's for you." He got down on one knee and proposed. The rest is a complete blur for Felicia, but one thing she will never forget that Stefan said is, "I want nothing more than for you to be my wife." After some screaming, "Are you serious?!", "Is this real life?!" and the happiest of tears, she said "YES." They went back to their house, and Stefan surprised her again when some of their closest friends and family jumped out to celebrate. Stefan also had his brother and Best Man and a close friend, capture the exact proposal moment. It was perfect.
The Theme:
Romantic, candlelight, up-lighted tent, themed tables.
The Outfit Inspiration:
I chose my bridesmaid dresses color based on having a life-long obsession with the color purple. I had fabric swatches sent to me and couldn't decide between the final two. I thought it would be fun to have two different colors and have my girls pick their styles! Stefan is very fashionable and loves wearing suits. I let him take complete control of the groomsman suits. We both wanted a more elegant wedding, so black was fitting.
The Planning Process:
The planning process took almost exactly a year. He proposed on 12/15/2013, and our wedding was on 12/6/2014. I thought this was enough time. We got lucky and found our ideal venue– Grand Tradition Estate and Garden, less than two months after we got engaged. They had a few openings at the end of the year, and we picked our date based on what they had available. We knew we wanted our wedding to be in 2014.
The Best Advice We Received:
There were two pieces of advice I received that I will never forget. The first was during the planning process. As I'm sure every bride does, I wanted everything to be perfect. I was concerned about the final production, how everything would look and come together the day of. My cousin and one of my bridesmaids who had just gotten married one year prior, told me, "No matter how things come together, you are the only one who will know how things look in your head. If something doesn't go exactly as planned, none of your guests will even realize it. At the end of the day, all that matters is that you are marrying the love of your life. Everything will fall into place." My favorite advice I received was from my boss. She told me during the reception; your guests will be pulling you in a million directions. She said, "Don't let go of Stefan." If he is talking to a relative and so are you, always try and stay within arms length of each other. That way you have the same memories of your wedding day. I LOVED that advice, and it was exactly what we did.
The Do-It-Yourself (DIY) Projects:
Other than the table names and signs, Stefan and I made the trays that held the guest cards. I got the idea on Pinterest and loved it! We got wood trays from Michael's and spray painted them a shimmery ivory color. Then we bought black glass rocks to put in the trays. The guest cards were ivory and gold, so they contrasted very well on the black glass rocks.
Wedding Decor Inspiration:
I chose the color palette of champagne and gold with pops of lavender, my favorite color since childhood. I wanted touches of sparkle in the table numbers, frames, gorgeous candle lighting everywhere, my gold heels, romantic marketing lighting throughout the tent and metallic vases. I'm obsessed with fireworks, and since a firework show was out of our budget, sparklers were a must!
Tips & Tricks For Future Brides:
Make your wedding all about YOU as a couple. I received the best feedback from our guests after our wedding because people knew how crazy we are about each other. I used framed pictures and fun "table names", from 13 different themed events we had been to together over the course of our four and a half years together. "The 70's table" and coordinating picture from a Neil Diamond cover band concert. "The Captain's Table" and a picture of Stefan and I from his yacht-themed birthday a couple years back and several more. My garter was a University of Miami garter. Stefan is an obnoxiously huge University of Miami fan, having spent 15 years of his life in South Florida.
I grew up in a football-loving family, so football is a huge part of our relationship. I wanted to surprise him in a fun way to show him my love for his team. Incorporating our siblings talents was a must. Stefan's brother, a very thoughtful and great speaker, the best man, gave the most heartfelt speech. My brother, whose charisma can capture an audience, was our officiant. My youngest brother, who is in Mamma Mia On Broadway in New York, serenaded us during the ceremony singing "Stay With You" by John Legend and also sang as we danced to our first song as husband and wife. Stefan and I both have shared the love for market lighting and candle light– it's all over our home, so we knew the lighting at the venue had to reflect that.
The Challenges We Faced:
Staying as close to our budget as possible! We knew probably going to go over a little, but planning a wedding for the first time, I had no idea how expensive they could be. DIY projects come in handy! I even had Stefan help me with a couple and if was something fun we could do together. Also- use the talent of your friends and family. Do you have a friend that has a great eye for planning events? Have her help with the overall vision and decor. Has an aunt that is a photographer? Use her expertise! Reach out to people that will be happy to assist you in!
Money Matters:
$25,000 was the budget
We saved the most money by using our talented friends and family. My brother was our officiant, my other brother and two family friends sang at the ceremony- so we didn't have to hire live talent. A close family friend has a floral and wedding coordinator company, and she did all of the flowers. I had the wedding signs made for the table and put together all the decor for the tables and sign-in tables myself. I highly recommend DIY where you can! Read blogs and join Pinterest to get your ideas and then watch YouTube videos if you don't know how to make things yourself! We also chose to do a dessert table, instead of cake, which drastically cut down on the amount we spent.
The biggest expense was the actual venue that included the ceremony site, reception tent, all of our tables, chairs, linens, flatware and stemware. It also included a wedding coordinator for the day of, all of the food at the reception and a live pianist for our ceremony!
The Guest List:
We invited 160 and 130 were our final guest count.
When we started our list, we didn't put everyone. We made sure that it was only our nearest and dearest. So we didn't have to narrow it down.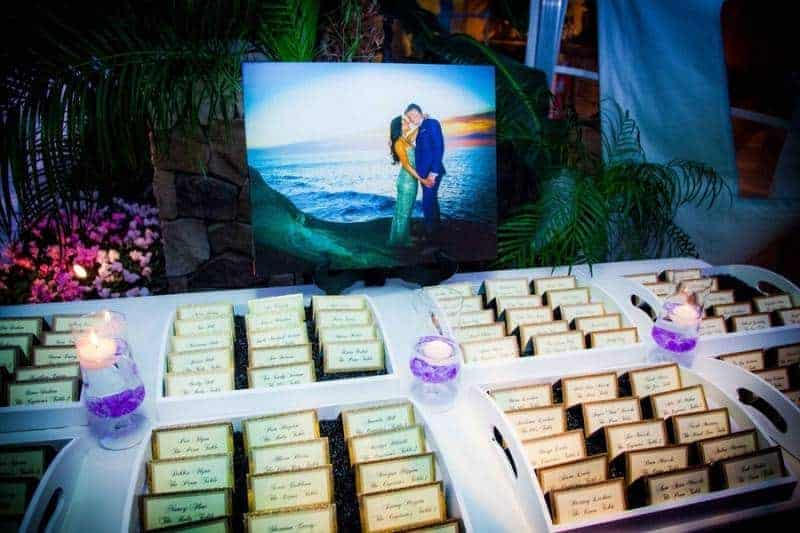 The Songs:
Seating of Grandparents: Here and Now- Luther Vandross
Seating of Parents: More Than Words- Extreme
Entrance of Wedding Party: Canon in D- Pachelbel
Bride's Entrance: Bless the Broken Road- Hummon Rose
Presentations to Mothers: If- Gates
Unity Ceremony (sung by Bride's brother): Stay with You- John Legend
Recessional: Signed Sealed Delivered (I'm Yours)- Stevie Wonder
Our Honeymoon:
Riviera Maya, Mexico! We went there on our first vacation together, after only being together for four months! So we decided to go back for our honeymoon because we loved it so much!
Planning Advice For Couples:
Have fun! Don't get too overwhelmed, planning should be a fun time for you and your fiance. Do projects together, go food and cake tasting together, do as much of the planning as you can together. I even had Stefan do all the research for our venue and book the appointments, and he picked the perfect one!
Favorite Part Of The Day:
The first moment I saw Stefan, as my mom walked me down the aisle. We chose not to do a first look because our fabulous photographer said there is nothing quite like capturing the moment of you two seeing each other for the first time in front of your friends and family. Oh, boy was he right! Stefan is NOT a crier. Right, when he saw me, he started crying, and I'll never forget how I felt. It was like it was just the two of us at that moment and we didn't take our eyes off of each other.
The Highlights From The Ceremony & Reception:
Our first dance- I felt like we were in a dream and were floating above everyone. It was extra special because my SUPER talented brother sang our first dance– All of Me by John Legend. Our bridal party entrance. We have the best friends and family in the world, and they are so fun. They all had choreographed dance routines to walk into. The PARTY – I love to dance and so do most people that came to our wedding. We had a phenomenal DJ, and he kept the party going the whole time. I don't think there was one point where the dance floor wasn't full.
Most Memorable Moment:
Our vows- Stefan and I chose to write our vows to each other, and it just made it so personal and gave us the chance to express our love, in our words, in front of everyone. The most memorable part of the guests I would have to say was the candle lighting ceremony. We had my brother sing, with two backup singers and they will blow you away with their talent! I would also say our flower girls and ring bearer. Our ring bearer (my best friend from high school's son) was only 2 and sprinted down the aisle with the pillow when he saw his mom. It was so cute! We had two flower girls (Stefan's cousin and my best friend from college daughter). Stefan's cousin Paris, 6, pulled Harper, nine months in a handmade wagon.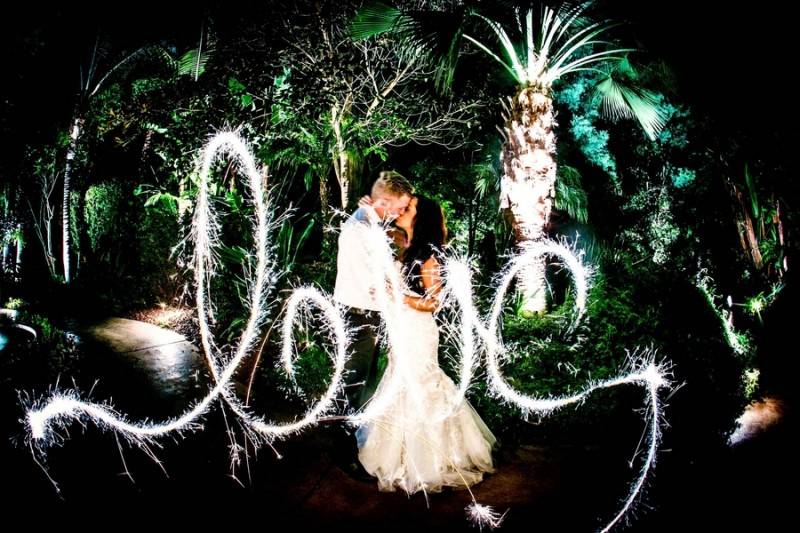 VENDORS
Photographer: Brett Charles Rose Photo
Floral Designer: Elements of Style
Event Venue: Grand Tradition Estate & Gardens
Bridesmaid Dresses: Prevue
Cake Designer: The Cupcake Crush