For every single bride, wedding photos are the most important part of their wedding day. So, make a list of photos that are necessary to take and keep them as your important priority. These are the photos that will make you remember of your most important day of your life – your wedding day. Make double sure that your photographer clicks every single photo the best anyone could. Capture almost every single moment from getting ready to taking your exit.
Your prime move towards this must be hiring a professional photographer and keep a trust on that professional. Even though your professional photographer will surely have the complete knowledge but even you must have some knowledge about photography. So, here is a list of wedding moments that you must capture – from your invitation suite to table settings and your jwellery and even more.
It's not necessary to have all the photos that are listed below but think about them and try to capture as many as you could remember. Have a look to all ideas listed below, if needes make a checklist then talk to your photographer about about these and then finally you can leave it all to your photographer.
After leaving it all to your photographer the only thing your have to do is stay happy and have fun because the best photos are of the happiest one's.
The Invitation Suite
Talk to your photographer directly weather you want to add some decor to this moment or not, weather you want them to click these pictures on your wedding day or afterwards.
The Beauty Moment
Bring your photographer inside your bridal suite to click some pictures of you getting ready, have some photos of your hairstyle or your dress or your make up or whatever you like.
The Accessories
Don't forget your wedding day accessories, they are special too. If you are wearing something that is old, some that are new, some that you have borrowed or any such material, arrange them all together and get a picture of all of them.
The Getting-Ready Moments
Getting ready moments are also special. Even if the photo is great sometimes location destroys the complete photo. Try getting ready in a picture perfect location.
The Wedding Shoes
This photo is what everyone would try to skip, but the suggestion is if your are wearing shoes like the one in the above picture you must keep a photo.
The Bridal Portrait
Make your photographer to set some time specifically for your bridal portrait. This is the time when you must not shy anymore and show off your dress for some cool and beautiful pictures.
The Veil
If your veil is this pretty make sure to have some pictures from here too. Tell your photographer to try taking pictures from all angles to get the perfect one.
The Bridal Bouquet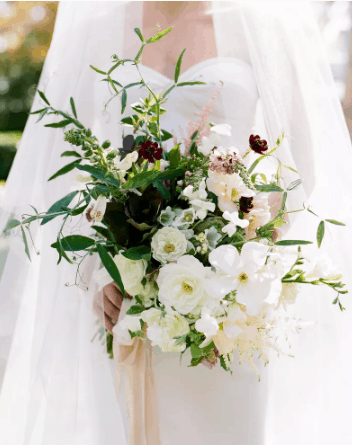 Source – https://josevilla.com/
Get some pictures with some good poses while holding a really beautiful bouquet.
The Girl Gang
This picture from bridal party is perfect as it looks very natural. Try it with your squad and try getting some laughing pics because that's what make it feel natural and beautiful.
The Boutonnieres
Arrange these superb looking calligraphed name tags that tells who will get which flower together and have some snaps here also.
The Groom
Now it's the groom's turn to be the model. Tell me how smart he his before he faces the camera.
The First Look
Some couples want the first look moment while some want the aisle moment. If you think to see your groom before the ceremony, surely you can record his reactions in the video forever.
The Candid Moments
Wedding candid moments are always the best moments. Try to stay natural as you are while your photographer clicks both of you. Like in the picture above, bride reading a love note to the groom before they walk down the aisle. This all looks so pretty plus natural.
The Portraits
As both of you complete saying "I do", get some personal time with your photographer. It will be really special for you two to spend some time alone and get some lovely pictures.
The Wedding Party
Get all guys and girls together for dance that could lead to some great fun photos of your wedding.
The Littlest Ones
If you a little adorable flower girl then you must have some photos with her too. Take a few pictures looking down at her and some pictures as you give her a tahnk you hug.
The Ceremony Site
Make sure to tell your photographer to have a landscape picture of the location where your all celebrations takes place.
The Walk Down the Aisle
This is also one of the most important moments of your celebration. No matter, Whether you are walking on the arm of your mother, father, or both, you'll surely treasure this moment forever.
The Vows
This is a also a very important stuff that no one wanna miss. Be double sure that your photographer clicks ceremony pictures all good as much as he can.
The Laughs
Everyone surely loves this moment as it seems completely natural and is a fun moment picture.
The First Kiss!
Make double sure that your photographer may not miss this moment no matter what conditions are. This is the moment that will let you bring in romance when you look back to this picture in the future.
The (Confetti-Filled) Exit
Have a exit full of confetti and make sure to capture this moment. Make it say like yay, you are finally married.
The Cocktail Hour
Finally your party has started so get some pictures of your guests also, guests in action, guests mingling around and guests sipping their drinks.
The Tables
After you have made so many arrangements, arranged chargers, linens, etc. Make sure your photographer captures almost all details from your wedding day. The one in the above picture is completely unexpected but a stunning photo.
The Place Setting
Like always details are very important and beautiful too.
The Cake
Before your cake splits up and some of it goes on faces, some of it goes in stomach, before you cut the cake, make sure to have some clicks of your event cake.
The First Dance
If you want the best photo while you are at dance all you of to do is just have fun and this is what your photographer seeks most of the time. Look the picture above how the groom sings for his bride and that's the fun moment captured.
The Cutting/Eating of the Cake!
It's completely on you weather you are comfortable getting messy or not but make sure you avoid your face getting messy. That what you will regret most other than these it is perfect for some fun photos.
The Dance Party
Get loose on the dance floor in your dance party and don't miss these fun shots.
The Last Kiss
Go for another smooch while walking down the aisle and show people the perfect ending for your most important day.