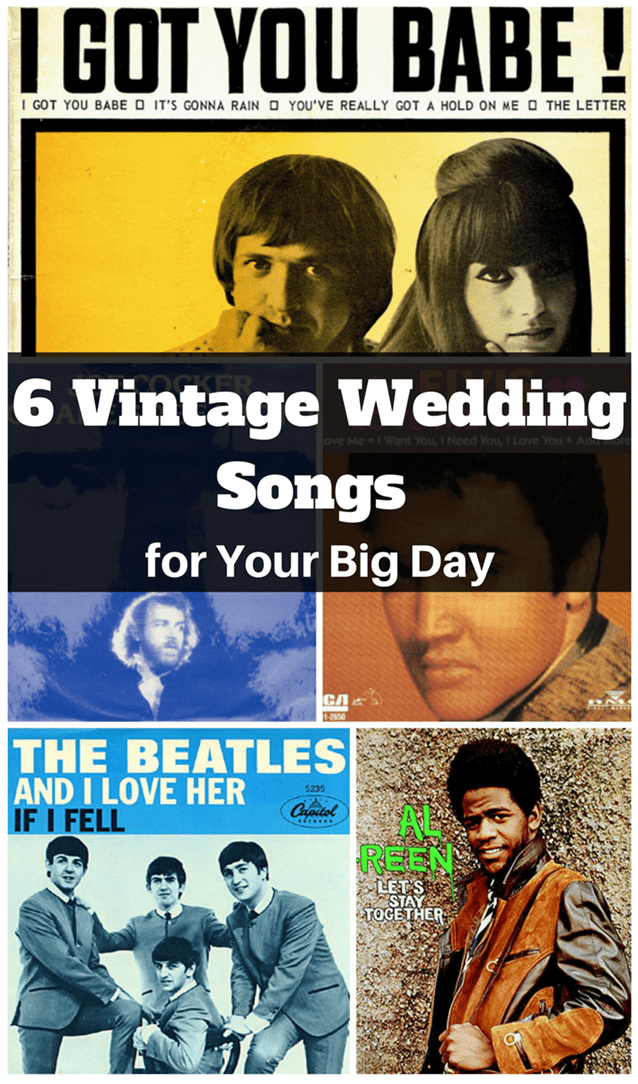 As if planning a vintage wedding isn't enough stress as it is, finding the perfect vintage wedding songs also poses a great challenges especially if you and your significant other are big music fans.
But don't fret, vintage brides. We have the best songs from days past compiled to help you choose the ultimate vintage wedding songs soundtrack. We suggest you snuggle close to your honey as we take a trip down to memory lane.

1950s Vintage Wedding Songs
I Got You Babe – Sonny and Cher (1965)
Who doesn't know this song? It can serve as a sweet or even funny moment between the husband and wife. Use it for the first dance or another wow moment during the reception.

Love Me Tender – Elvis Presley (1956)
The king, Elvis Presley, really croons this one out and it's a song most people know. It's super sweet and great for a tender moment between the bride and groom. It is a great vintage wedding song to walk down the aisle to. It also works well if you've hired a band or singer, because it's an easy song to cover.

1960s Vintage Wedding Song
 (1964)
This beautiful song is upbeat and classic Beatles style. It's a fantastic option for a vintage wedding reception song and is sure to strike a chord with most wedding guests.
1970s Vintage Wedding Songs​
You Are So Beautiful – Joe Cocker (1975)
This is a sweet song that would serve well for the first dance or even the father/daughter dance. It's touching and beautiful and is a song most people will know by heart, so it will go over well.

Let's Stay Together – Al Green (1972)
Another magic crooner, Al Green really belts this beautiful song out. It's a wonderful dance song for the reception and older guests will be taken back to a simpler time.

TIP: You can use these songs as ideas for more vintage music or choose one of these for a fantastic addition to your wedding playlist. Whatever you decide, we are sure that these songs will be a sure way to set your wedding guests hearts a-flutter.
We hope you have a blast blasting the hits of years ago at your wedding. We wish you and your sweetheart the best of luck in your marriage! For more tricks and tips on planning the perfect vintage wedding, you can go to inspiration at these links:
Tips for Purchasing Vintage Wedding Items
Beautiful Vintage Wedding Dresses
Color Palettes for a Vintage Wedding
Incorporating Vintage Touches into Your Wedding
Vintage Incandescent Banquet