When my partner and I got engaged, we decided we didn't want to have to wait on forever. We decided to plan a unique wedding that we'd never seen anything like. After several late nights spent on Etsy with a glass of wine, we managed to pull it off – the ultimate budget wedding under $10k.
I'll be honest with you – having a budget wedding is not an easy feat. The planning process can be extra stressful when you're trying to stay within certain limits. Our goal was to be able to have an amazing wedding on a budget; not a cheap wedding.
The difference between an affordable wedding and a cheap wedding is figuring out your priorities. As opposed to looking for the lowest possible cost on everything, we wanted to prioritize which budget items we were going to spend more money on. Working without a wedding planner, we set out into the world of spreadsheets and scribbled notebooks.
Choose an Off-Peak Season for Your Wedding
We chose a winter wedding date for our affordable wedding. As people who don't love warm weather, this wasn't a huge issue for us. We had a late February wedding in hopes that it would either snow (yay, magical!) or warm up a little. Unsurprisingly, as weddings go, it did neither – and that was okay!
Many venues and event spaces have different pricing for off-peak seasons. Whatever that off-peak season is totally dependent on where you plan to get married. Some locations have major wedding seasons in the fall, while others have busy calendars in the spring and summer. Check in on when people aren't typically getting married in your area.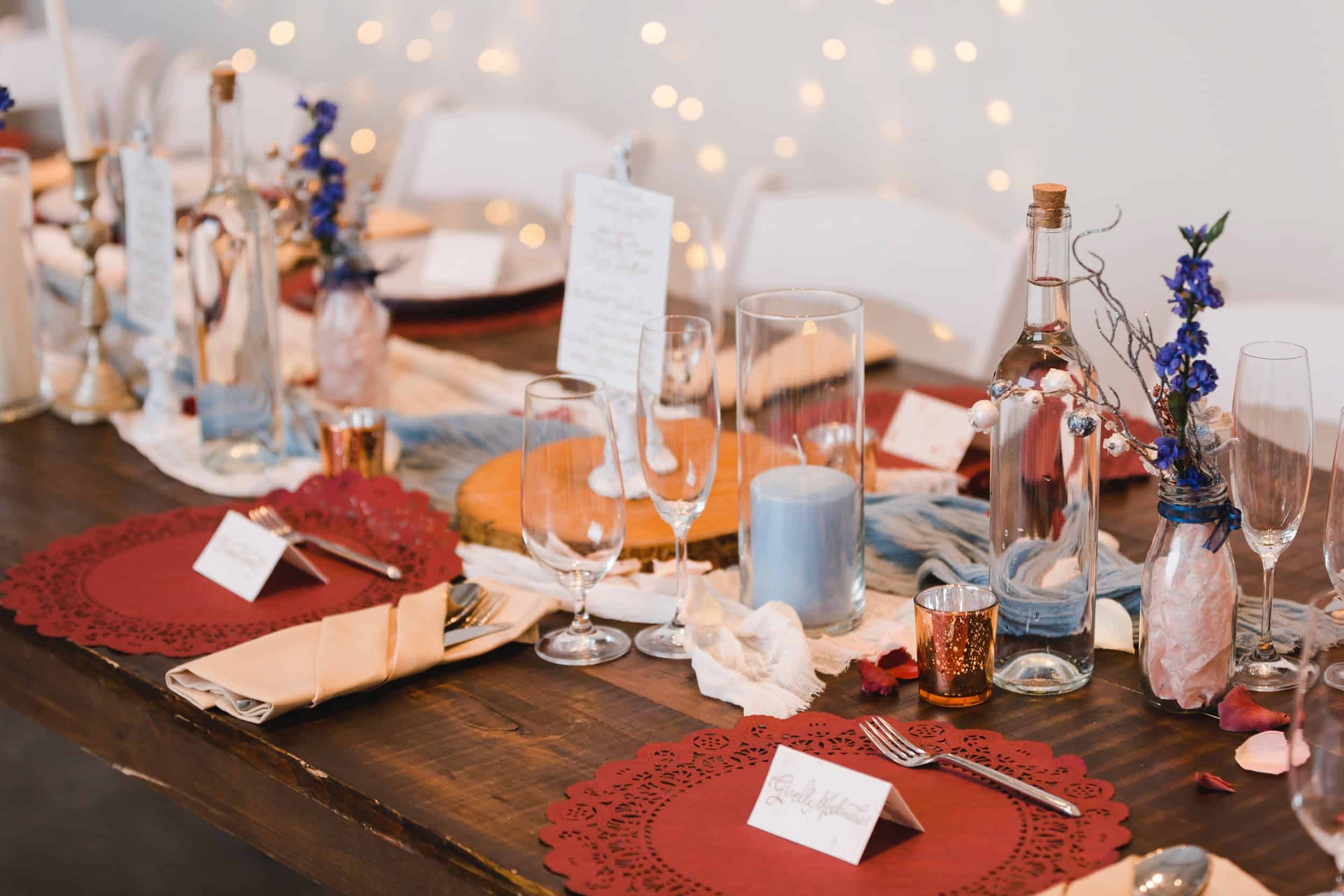 © April and Joseph Photography 2019
Look into Off-Peak Days
Who says that weddings need to be on Saturdays? We hosted our wedding on a Sunday morning. This gave our guests the opportunity to have the rest of the afternoon and evening to "recover", so to speak. Friday weddings can also be a ton of fun – it gives you the opportunity to keep the celebration going through the weekend if you'd like!
If you choose a unique wedding venue, it's also way more likely that they'll have availability on an off-peak day. In the wake of COVID-19, we've also seen couples opt into Thursday and Monday weddings. Don't forget that when it comes to your wedding, you make the rules. If you want an off-peak wedding date, go for it.
Choose a Unique Venue for Your Affordable Wedding
Wedding venues don't always need to be grand ballrooms or major event spaces. We chose to have our wedding at a photography studio. This gave us a large, gorgeous raw space to work with. Many photography studios also come equipped with kitchens for larger photo shoots, which was perfect for our catering.
We chose a photo studio because we're both photographers. As photographers, we met in a photo studio, fell in love in another, and decided to have our wedding ceremony in one too. The ceremony and reception were both held in the same space. This is also a great way to save money on wedding expenses – only having one location to deal with.
By hosting your ceremony and reception in the same space, you can make more room in your affordable wedding budget. You'll save money on transportation costs between locations, plus you don't have to pay two rental fees.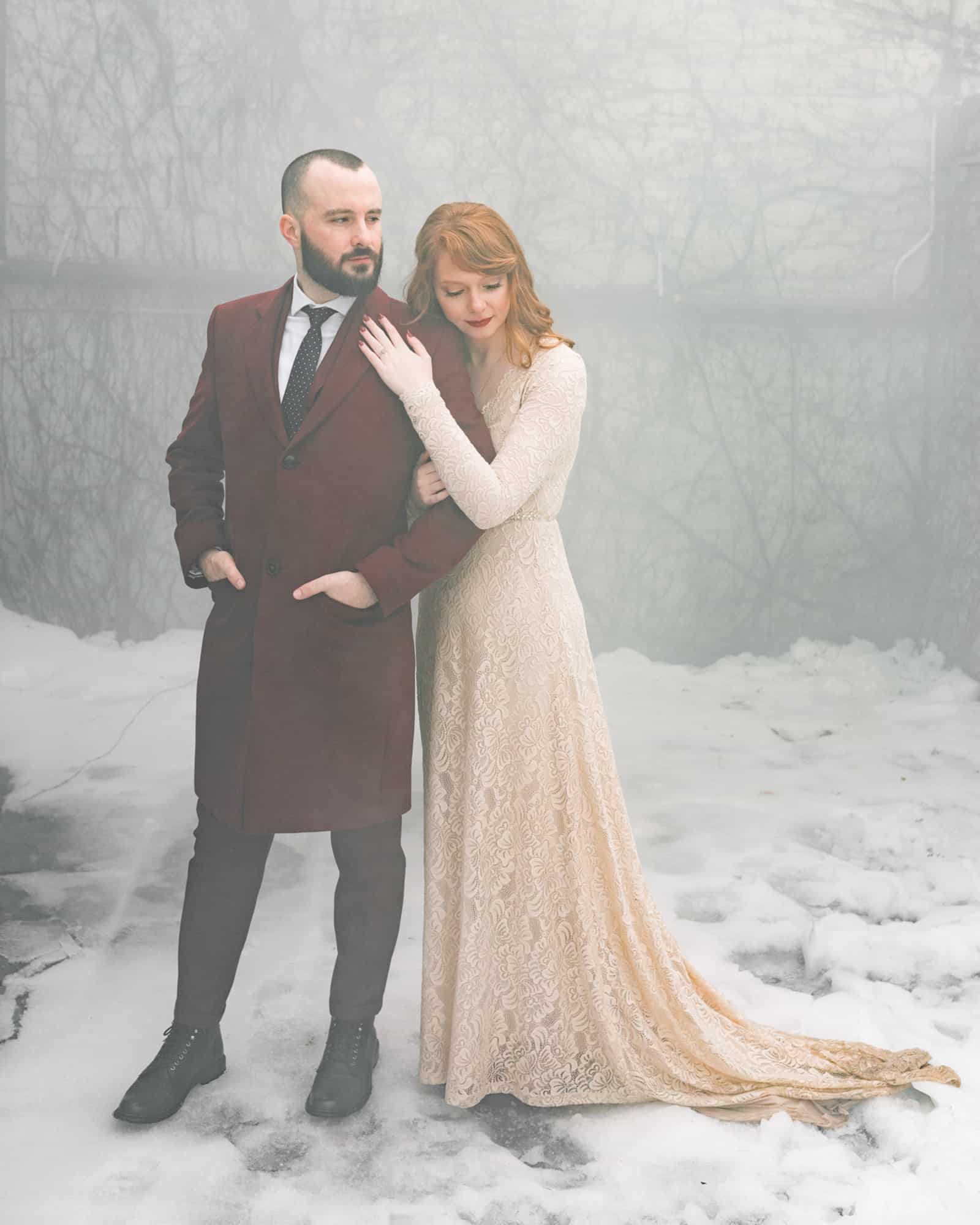 © April and Joseph Photography 2019
Consider Hosting a Brunch Wedding
Our wedding took place at 10:00 AM on a Sunday. We had a fantastic brunch wedding, which not only suited us because we love brunch, but kept catering affordable. Breakfast foods can be more affordable when it comes to your catering service. Chat with your caterers to see what brunch options they may have.
The alcohol budget was also significantly cut because it was a brunch affair. Instead of having a ton of hard liquor, the main alcoholic drinks were mimosas and Bellinis. We also had beer as an alternative option. Alcohol can be a major part of your wedding budget, so having a brunch wedding can help you save money.
After our brunch wedding, we got to go back to our hotel and take a nap. The most relaxing part of our wedding day was heading home and having a rest after our big social occasion. When we were recharged, we spent the evening at a quiet after-party with our close friends. This allowed us to spend even more time with our loved ones in an intimate setting, and cut costs on a late night open bar and dance floor scenario.
© April and Joseph Photography 2019
Prioritize Your Budget Items
When we planned our affordable wedding, we prioritized our budget items early in the process. You must figure out what the most important items are to you. Our main spending priorities were the photography and the decorations. When you have a raw space venue, there's often a lot of decorating and rentals that are needed.
This is also something to keep in mind for wedding planning on a budget. All-inclusive wedding venues can sometimes be more affordable options if you don't want to buy or rent decorations and furniture. Having everything included in one package from an event venue can save you money depending on how much decor is necessary for your special day.
We prioritized photography in our budget because it's what we value most. Having a wedding is a ton of fun, but being able to look back on the memories of that day is extremely valuable. Without quality photography, we wouldn't have been able to hold on to those memories of the amazing day we had. Your wedding goes by in such a blur – capturing visuals to remind you of happy moments can mean everything.
Find Ways to Get Creative with Your Outfits
If you prioritize your outfits as a main part of your wedding budget, that's wonderful. If you care a little less about prioritizing those costs, find ways to get creative. We managed to snag our outfits for $200-$300 each at the end of the day. I chose to have an affordable wedding dress because I was only going to wear it the one time, then planned to have a photo shoot trashing the dress later on.
Sample sales are a great place to look for wedding dresses and suits. There are plenty of opportunities with bridal boutiques to find affordable options that way. You can also consider renting and returning your outfits. Just be careful and avoid dark liquids when you're wearing a rental outfit.
Getting By with a Little Help from Friends
We couldn't have pulled off our affordable wedding without a little help from our friends. A close friend designed our wedding invitations, menus, and name cards. Other friends worked hard to make sure the space was decorated on the wedding day. We had a family member help with our catering needs who was certified and equipped to do so.
If your friends and family can help you out with your DIY wedding strategy, there's no harm in asking. Make sure to always thank your close friends for their help in pulling off your beautiful wedding on a budget.
© April and Joseph Photography 2019
Keep Your Guest List Small
One of the biggest factors in our budget wedding was keeping the guest list small. We had an intimate ceremony with just thirty people. This allowed us to spend quality time with our closest friends and family on our special day. If you're nervous about culling your wedding guest list, remember one thing: if they truly care, they'll understand.
When having a larger wedding celebration, it can be difficult to spend time with every guest. With intimate weddings, you can focus on giving each hand-picked guest attention. Keeping your big day to a small day will mean a lot to your close friends whom you've invited to attend.
Plan Your Wedding Day Your Way
At the end of the day, what matters most is that you're both happy with your wedding day. Just because some people do things differently than you doesn't make your wedding any less amazing. There are plenty of ways to have a unique and affordable wedding that will be memorable for years to come.
When it comes to budget wedding planning, remember to sort out what matters most to you. Your affordable wedding doesn't have to feel cheap – it can be a stunning occasion full of personality. Think outside the box when it comes to planning your big day. It will be worth it for wonderful lifelong memories.