Gift giving can present quite a conundrum sometimes, especially when you don't want to give something ordinary or plebeian. For a couple moving or relocating abroad, this could even present an even more complex question to anyone interested in getting them gifts. If you are one of such wondering what type of wedding gifts to send overseas, then know that you are not alone. You are also in luck as we have curated a list of some of the best items, from luxurious bride to be subscription boxes, to even more interesting experiences.
So, here is a list of 10 of the best wedding gift suggestions for a couple moving abroad. These gifts are practical and relevant whether they are planning a destination wedding checklist, or completely relocating to a new country.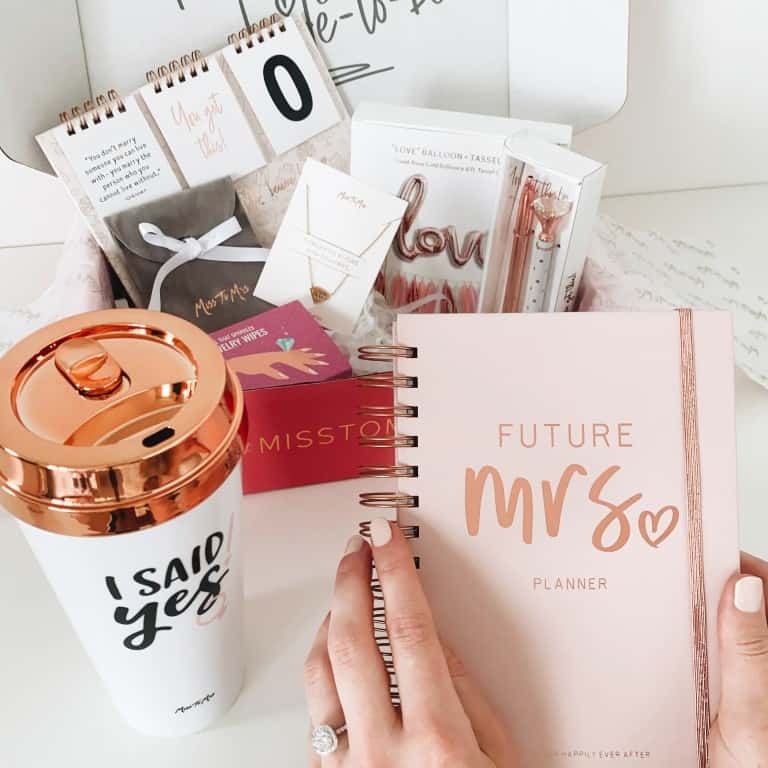 1. Bridal Boxes
It is hard to fall short with a bridal subscription box where weddings are concerned. This is because the bride box can be customized by you. And the miss to mrs bridal box, in particular, provides a range of lavish and luxurious items that are relevant before and after the wedding day of your couple. Options that make great gifts for someone moving across the country or not. Bridal box subscriptions are not only fun, they are unique and can be personalized to synchronize with the milestone dates of your couple, to receive each gift relevant to every point in their wedding and afterward. The miss to mrs wedding subscription box is not only a perfect choice; it is one that you do not want to miss for your adventurous couple.
2. Local Experiences
Booking a local tour is one of the best gifts for someone moving overseas. It is never easy to relocate and an initial tour of a new location is always helpful. Vouchers or gift cards for a chance to explore their new environment on a cruise, road trip or other, is one of the most thoughtful gifts ever.
3. Gadgets
In today's world of technology, there are numerous gadgets that can make life much easier. Providing your couple with a travel-related gadget, or something that would help in their new abode is definitely a beautiful choice for a gift.
4. Household items
A common wedding gift suggestion is household goods. Since this would be gifts for people moving abroad, something nifty that wouldn't take up space, and easy to transport would be good. It would be even more thoughtful if it is especially relevant to their new destination.
5. Travel accessories
Relocation can be difficult and expensive, so anything that can help make the transition easier will be welcome. From packing cubes to miniature luggage scales, vacuum bags or stylish suitcases. Any thoughtful and travel-related would make good gift ideas for someone moving to another country.
6. Travel vouchers
You can never have too many, and if this couple is one that enjoys traveling, then they would appreciate a travel voucher or two. This could give them the opportunity for a second honeymoon, or just a short holiday to a special location.
7. Gift Card
When searching for gifts for friends moving abroad, gift cards are never a bad idea. Choose cards from all-purpose retailers that they can get absolutely anything that they want and from any location. This will make your gift invaluable, and something that the couple will definitely appreciate.
8. Cash
Cash is always a great option when thinking of gifts for friends moving overseas. It is not only a versatile option, it is the most liquid one. You don't have to put much thought into it, and it is always appreciated. It will also give the couple the freedom to get whatever they want, whenever.
9. Personalized items
It could be towels, cutlery, tee shirts, passport covers or luggage tags. Whatever gifts you decide on for someone moving abroad, personalizing them makes them more valuable to the couple. Personalized wedding gift emphasizes thoughtfulness and this is what makes them a great option for wedding gifts to send overseas.
10. Soft Furnishing
Soft furnishings are always good wedding gifts for young couples. You never have too many pillowcases, throws, bed sheets, or covers for your home. If you are close enough to the couple to know their styles and favorite colors, these could be great gift options.
Finding the right wedding gifts to send overseas may not be as easy as first imagined. However, with a little bit of thought and help from our guide, you should be able to decide on the item or experience that will best fit your couple as they move overseas and onto their next adventure.