Hey wedding enthusiasts! Ever considered turning your wedding day videos into a fun and vibrant GIF? Trust me, it's a game-changer!
In this article, I'll show you why making a Wedding Day GIF is a must. It captures the joy, celebration, and candid moments, adding a whole new level of excitement to your wedding memories.
Get ready to relive your special day in a unique and endlessly replayable way. Let's dive into the enchanting world of Wedding Day GIFs and make your wedding memories come alive. Join me on this exciting journey!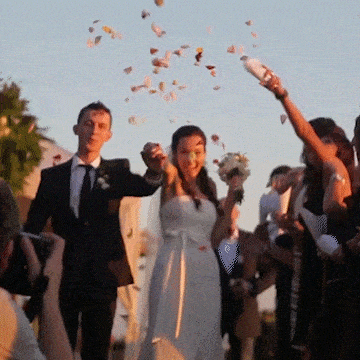 Why Consider Making a Wedding Day GIF?
A wedding GIF isn't just a snippet of your big day, it's a capsule of time, preserving that one magical moment for eternity. Be it your first dance, the cutting of the cake, or even the throwing of the bouquet, when you create a GIF it brings a unique touch, capturing and replaying the emotion, the action, the joy.
GIFs have become a language of their own on the internet. They're interactive, engaging, and downright fun! A wedding day GIF is a fantastic way to share your joy with friends and family on social media in an appealing and digestible format.
The Tools Needed
When it comes to creating GIFs, Adobe Express Video to GIF gif maker tool is your go-to resource. With its easy-to-use interface and robust features, anyone can transform a beautiful wedding video into a mesmerizing GIF. It stands out for its simplicity and efficiency. It allows for precise trimming, frame-rate selection, and even lets you add text to your GIF, making it uniquely yours.
Step-by-Step Guide on How to Make a GIF of Your Wedding Day
Selecting the Perfect Wedding Clip The first step is to choose the video clip you want to transform into a GIF. Remember, the perfect moment is one that encapsulates the joy and beauty of your big day in just a few seconds.
Converting Video to GIF Using Adobe Express' Tool Next, head over to Adobe Express' Video to GIF tool and upload your video. The intuitive interface will guide you through the conversion process seamlessly.
Fine-tuning Your GIF After your GIF is created, take the time to fine-tune it. You can adjust the speed, select the start and end points, or even add a caption.
Here are Some Tips to Make Your Wedding GIF Stand Out
Choosing the Right Moment: A stunning GIF starts with the right moment. Look for a clip that's emotional, dynamic, and truly represents the happiness of your day.
Experimenting with Speed and Size: Don't be afraid to play with the GIF's speed and size. A slow-motion dance or a sped-up bouquet throw can add a unique and engaging element.
Adding Text or Other Effects: You can add a touch of personality to your GIF with a caption, stickers, or filters. It's all about creativity!
Sharing Your Wedding Day GIF
Once you're satisfied with your GIF, it's time to share it. Post it on social media, send it in a thank-you email to your guests, or even incorporate it into your wedding website.
Creating a wedding day GIF is an innovative way to capture the essence of your special day. With Adobe Express' to GIF tool, the process of turning a video into a GIF is straightforward and fun, leaving you with a memento that not only reminds you of your wedding day but allows you to relive those magical moments time and time again.