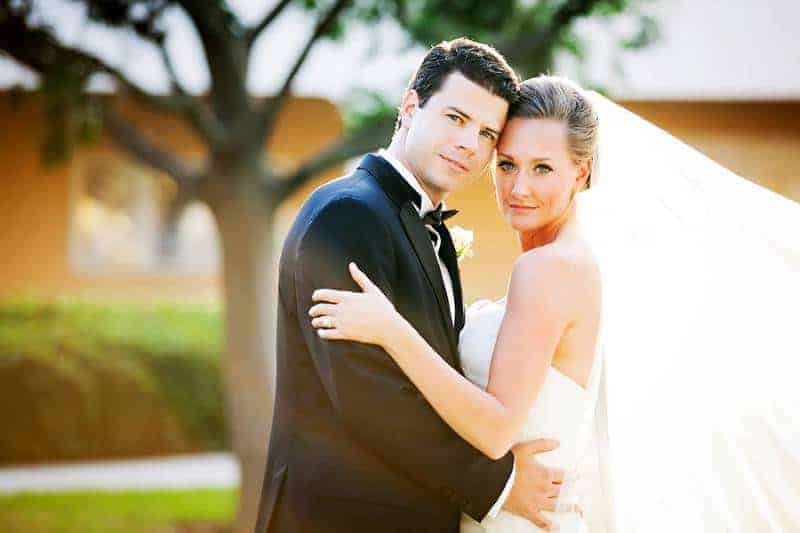 Jennifer & Harry planned their wedding to have a very traditional feel to it. It had that simple & classical elegance to it with a distinct 1920s vibe to the entire event. They believed that when you are planning your wedding, you should both think about what you would both enjoy & creatively include it in your wedding. These two generally knew what they wanted for their wedding. Jennifer said that they went on a trip to Scotland before their wedding & they enjoyed all the great tasting scotch they experienced during the trip. So they wanted their guests to have the same enjoyment by including a scotch & whiskey bar in the reception. Everyone had a terrific time! We loved how the colors of ivory, gold, & blush tied everything up to give it that extra romantic feel. Cheers again to the newly weds — Jennifer & Harry!
What was the best advice you received when you were planning your wedding?
I think the best advice we received was to always take time for ourselves and not get too caught up in the wedding planning. Sometimes it seems as all your conversations are centered around details around the wedding and it's important to spend time with each other without focusing on the stress of wedding planning!
What inspired your wedding decor? Why did you choose the things that you did?
We had a distinct feel we wanted at the ceremony, cocktail hour, and reception. We kept things very simple and classic for the wedding ceremony as we wanted the focus to be on the ceremony and us as a couple, rather than decor. The cocktail hour, was held on the bottom floor of Italian Club, which has a distinct 1920's feel due to the historic nature of the room. We embraced the history of this location and themed our cocktail hour as a speakeasy. We used dim lighting and amber uplights, candles, and our florist made custom floral centerpieces with cigar boxes to create a vintage feel. We also chose a vintage "his and hers" signature drink to enhance the theme and hired a four piece jazz band who dressed the part and played authentic music. For our reception, we wanted the party to feel elegant and classic. We chose a palette of ivories and golds with hints of blush to tie into the wedding party colors. To continue with the vintage elegance, we chose gold candelabra stands for the high arrangements. We chose to alternate between high and low arrangements to creat depth. We went with a lot of candlelight and amber uplighting to create a romantic atmosphere. We wanted to have an interactive receptionso everything we chose for food and drink encouraged that: action stations for dinner, open bar with premium options, and finally, our favorite touch, a scotch and whiskey tasting bar with some of our favorite spirits.
Do you have advice for couples still in the planning process?
I would encourage couples to really think about something that they enjoy together and try to incorporate this into their wedding. These are always the things that stand out and its nice to share your personality with your guests to make it memorable. We went on a trip to Scotland and really enjoyed all of the scotches we tasted. The wedding seemed like the perfect opporunity to share this new found interest with our guests!
What was the wedding budget?
The intial wedding budget was revised many times! Sometimes you do not know true costs of items until you meet with vendors. Our final budget for the wedding itself landed around $40,000.
Where did you save the most money?
We saved the most money in doing the paper details for the day-of ourselves. We had beautiful invitations that we invested in with a vendor to set the tone prior to the wedding, but for placecards, table numbers, menus, etc we designed and printed these ourselves. These can really add up if you use a professional stationary company, and if you have a high guest count, it can eat into your budget. We also purchased our cake pops from Starbucks which were a huge savings versus going through a traditional cake shop. And they were delicious!
Can you share some tips or tricks that you learned along the way leading up to the wedding or after?
I think organization is key. Keeping track of all your vendor details is so important. Also, having a good system to track guests, RSVPS, gifts will save a lot of stress later on. Keeping your budget up to date is also something I would stress to brides currently planning. Make sure you leave a buffer for unexpected costs and fluctuations in guest count.
Where did you go on your honeymoon?
I actually did not find out our honeymoon location until the morning of our flight! My now-husband planned the whole thing and wanted it to be a surprise- this was honestly a relief since I had so many other things to worry about planning-wise. We went to Aruba for a week which was beautiful and relaxing. We also rented a condo on the beach in our home area where we could ease back into work and enjoy some more downtime.
What are you most excited about for the future?
I think the natural thing to start thinking about is settling into a home! Wedding planning takes a lot of time so that free time has been channeled into house hunting and we are very excited to find our perfect home!
How many guests were invited in your wedding and what was the final guest count?
We had a high amount of out-of-town invitees so our guest count was lower than the average. We invited 200 (including plus ones) and had a final count of 107.
What inspired the wedding day outfits?
We wanted to go with a traditional and elegant style for the day. The guys wore tuxedos to create the traditional look. My wedding dress was ivory and I absolutely loved the unique detailing- there was actually a bit of blush in the embellishment. It took me trying on nearly 100 dresses to decide on this gown, including a trip to New York, but I am glad that I made such a careful decision! I wanted the bridesmaids to select the cut of dress that they preferred and I selected the color, fabric, and designer for the dresses- the color of their dresses tied in well with the embellishment on my dress.
What were the highlights from the ceremony & reception?
I think our favorite highlight for the reception would be the scotch and whiskey tasting bar. We rented a bar made of barrels which was a perfect fit for serving these spirits. We both love scotch and had gone on a trip to Scotland in the prior year. This was the perfect way to share our love of scotch and whiskey with our guests. The Italian Club even had a Scottish bartender serving the drinks which made it feel all the more authentic.

Vendors
Photographer:  Limelight Photography
DJ: Grant Hemmond and Associates
Event Planner: It's A Date, Wedding & Event Planner
Reception Venue: The Italian Club of Tampa
Invitation Designer: Whimsy B. Paperie
Floral Designer: Iza's Flowers
Caterer: Olympia Catering & Events