I love how the colors and venue of this wedding came together; it is cute but not childish in a way. The orange bouquets popped from the sky blue dresses and tablecloths. Everything there contrasted well with Megan and Joel's rustic backyard setting. Just like their wedding, this couple was the opposite of one another yet they found a way to complement each other. Sometimes you ought to find the other half that will make you whole as a person. To give you something to look forward to each and every day you wake up. Megan and Joel have that, they make each other laugh, they couldn't wait to spend the rest of their lives hanging out together, and the love they both equally reciprocate. Maybe that is why they came up with their lovely motif; it represented the love that they have.
Click image to enlarge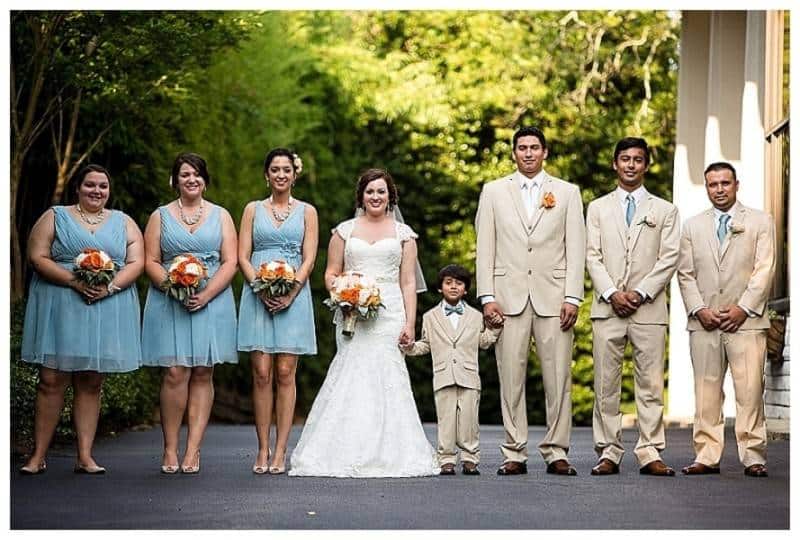 Like. Click to Vote
>

Megan (The Bride):
What is your story as a couple, how did you meet & fall in love?
We met at work! We both worked at a restaurant in Buckhead. Joel remembers what I was wearing my first day on the job! We got to know each other while working together, and I had to ask him out first! We went to the movies and tried (and failed) to keep our relationship secret at work. Everyone could tell! We spent tons of time together, and I would "kidnap" him after work for a date. He always let himself get kidnaped. After a while, he introduced me to his then year and a half old son, and the three of us started to become a family.
What makes the two of you a perfect match?
We are very different people! We come from different cultures and different backgrounds, but we both love each other the same. We complement each other; what one is missing, the other has. But even though we come from different places we have the same ideas about the big things in life, like love and family. We make each other laugh, and we just enjoy each others company and wish for nothing more than to hang out with each other for the rest of our lives.
How did he (or you) propose?
Joel and Jael (his son, now 3) made signs that they tied around their necks that read "Would you marry" and "us?" They surprised me outside of the Atlanta airport. Joel had told me he would pick me up in a certain spot, but he had secretly come from the other side, so I didn't realize they were behind me until I heard people in the crowd say "awwww!" When I turned around, they were walking towards me. Joel got on his knee, opened a box with a ring, and asked if I would marry him and be Jael's mom. I, of course, said yes!
How long was the planning process? Did you think it was enough time?
We were engaged for exactly a year. It was slightly stressful, especially towards the end. I wouldn't have wanted to be engaged longer, but I am glad we had the full year to prepare. Financially, it's nice to have as long as possible to save up for the wedding, but most of the planning and choosing and detailing come at the last few months regardless of how long you've been engaged!
What was the best advice you received when you were planning your wedding?
Stay organized! Use a binder or register on a free website online. There are so many details can't remember or would even think of, and wedding binders or websites have step by step suggestions and timelines that are so
helpful.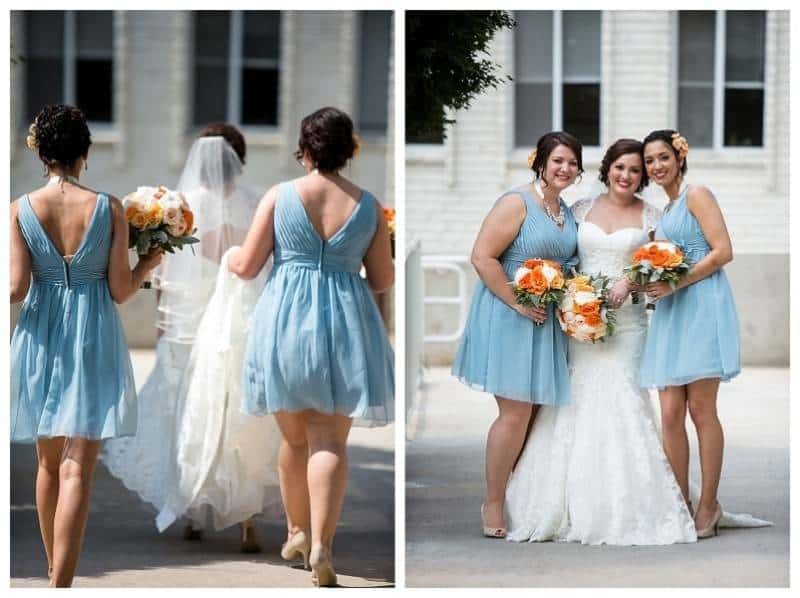 What tips & tricks (can we use "hacks"?) can you share future brides that you yourself have learned during and after your wedding?
Make sure you can sit in your dress! Every time I tried mine on I was standing. So when it came time for me to get in the car to go to the ceremony, it was a struggle to bend to get inside. Eat something while you are getting ready, because the reception will be a blur, you will be trying to talk to each guest, and you won't eat as much as you normally would if you weren't in a gorgeous white dress!
What were some challenges you faced while planning your wedding & what did you do to address them?
Money was our biggest challenge. We had help from family to accomplish everything, which was very generous of them. Time for planning was a significant issue. We both work full time and had to balance parenting obligations and work schedules in order to have enough free time to plan together, and meet with vendors. It was stressful, but we just worked through it and reminded ourselves that our lives would not be this hectic forever.
What inspired your wedding décor? Why did you choose the things that you did?
I love anything vintage, so I knew from the start that my wedding style would reflect that. The outdoor theme came solely from Joel. He is a native of El Salvador and loves the outdoors. Since our ceremony was in my church at the Greek Orthodox Cathedral, we compromised and looked for an outdoor reception venue and loved the garden feel of The Atrium, and the glass walls, so even being inside you felt as if you were outside. Both of our favorite colors are blue, and we chose orange as an accent color because we felt it was summery and also gave off the vintage feel. It was also Joel's idea to have long rectangular family style tables at the reception, because traditional weddings in El Salvador are very much a family affair, with everyone mingling and eating and drinking together.
What was the wedding budget?
Our budget was originally $10,000 but reality quickly caused us to change that to $15,000. We did receive help from family when we had exhausted our budget.
Where did you save the most money?
We saved a lot by having Magic Moments take care of many things for the reception. Their company did the food, beverages, decor, flowers, cake, wedding coordinator, chairs, and tables, and set up at our church and transported everything to the reception. They offered us discounts, and we avoided transportation fees that come with hiring outside companies to bring everything in.
What was the biggest expense?
The biggest expense was the food and drink. We both wanted everyone to have amazing food and an open bar. That was important to us to have, so everyone had a good time!
How many guests were invited in your wedding and what was the final guest count?
We invited around 100 guests. About 80 rsvp yes, but not all of them showed up! I would say that the final guest count was around 70. People do not know how to rsvp anymore! You will be calling people asking for their response. It's slightly awkward. In the end, the people who came are the people who matter to us and who we needed there.
How did you narrow down your list?
Do we actually hang out with these people? If the answer was no, we tossed them. Have I spoken to this person in the last year? Would I be upset if I weren't invited to their wedding?
What songs did you use during the ceremony?
The processional and bride's entrance songs were Greek Orthodox hymns sung by a choir. At the reception, Frank Sinatra, and another big band music playing during cocktail hour. The bridal party intro song was "Love Never Felt So Good" by Michael Jackson and Justin Timberlake. Our first dance was "Amor del Bueno" by Reyli. Other songs for the cake, garter toss, and bouquet toss included "At Last" by Etta James, "Bad to the Bone" by George Thorogood, and "Jump (for my love)" by the pointer sisters. The last song was, of course "The Last Song" by Frank Sinatra.
Where did you go on your honeymoon?
After all the wedding expenses, our honeymoon was more of a relaxed family trip on the beach! Joel, Jael, and I spent 4 days at Destin, Florida. It was actually one the best vacations we had ever taken. Destin has a lot of things to do that are fun for adults and children. The beaches were nice, the restaurants good, and the people were friendly. It was very relaxing!
What are you most excited about for the future?
We are most excited about continuing our life together! A month after the wedding, we got a puppy named
Diego! Jael loves him! We are hoping to add to our little family soon! We'd like to go on more vacations together, get our dream house, and help each other achieve all the things we want in life.
Do you have advice for couples still in the planning process?
Don't stress too much! This phase does not last forever and it will be over soon! Enjoy yourself on your wedding day! By then, there's nothing else that can be done, and you will wish that you had savored that food, or sampled the cocktails, or danced a little longer.
What inspired the wedding day outfits?
We wanted a casual, summer, outdoors, vintagy flowy feel. So we went with short blue chiffon dresses for the girls, and light khaki suits for the boys.
What was your favorite part of the day?
My favorite part was at the reception when all the pictures were done and the intros done and it was more relaxed, with everyone dancing and talking and having a good time. Joel's favorite part of the day was the ceremony. He says you can go out and have fun everyday, but the ceremony was a once in a lifetime event that he enjoyed and will remember forever.
Was there any Do it Yourself (DIY) projects? If so, can you describe them in detail?
My sister designed my save the dates and invitations, and I had them printed online at CatPrint.com. She is a graphic designer so that was a lucky plus. I made all our ribbon wands for our grand exit with dowel rods, ribbon,and bells from Michael's. I printed pictures of parents and grandparents on their wedding days and bought frames to be displayed. Joel and Jael's proposal signs were incorporated. I made mason jar lanterns with tea lights and extra twine that were added outside. I also made a card box for everyone to place cards in. I got a medium sized decorative suicase and strung letters and lace across the top. That was actually the DIY I was most proud of. One of our favors were traditional Greek Koufeta (candied almonds) that i stuffed into canvas bags and clipped flowers to. My sister also hand drew a chalkboard design that explained the meaning of the Koufeta in a poem. I also ordered a big map of the world, had it framed, and displayed with a mason jar full of permanent markers so our guests could sign the map instead of a guest book. It now hangs above our fireplace!
What were the highlights from the ceremony & reception?
The night before, my youngest sister and bridesmaid missed the rehearsal dinner because she wasn't feeling well. The next morning, she was so ill she could not get out of bed, and she and my mom missed their hair and makeup appointments because they went to the emergency room! Turns out she had a bad case of undiagnosed pneumonia. She was on an IV for most of the morning, then was rushed into my bridal dressing room at the church about 30 minutes before the ceremony was to begin. Two of my cousins came in and quickly whipped her into her dress, and did her hair and makeup. She walked down the aisle, gave a speech, and danced at the reception like nothing had happened! Also, during the reception, Joel made a surprise toast, which I did not expect at all, because he dislikes speaking in public. His toast was so sweet, as he told all our guests how much he loves me. He said that we are like a special type of engine that needs both gas and oil in order to work, and that his life was missing that ingredient to make it work perfectly until I came into it. Best speech of the night!
Was there a theme for the ceremony and reception?
The theme for the ceremony was a traditional Greek Orthodox ceremony. My family is Greek Orthodox and it was important for me to follow tradition. The reception was much more a reflection of our combined personalities, outdoors for Joel and vintage touches for me.
What part of the ceremonies do you think was the most memorable for you? (& your guests?)
Not many of our guests had seen a Greek Orthodox ceremony, so the priest did take the time to explain to the guests what each portion meant. My favorite part was walking down the aisle and seeing Joel beaming, waiting for me. Jael did such a good job staying up front for so long! Our crowns for the ceremony were beautiful, and our walk around the altar three times, which were our first steps as husband and wife, was very memorable and
exciting.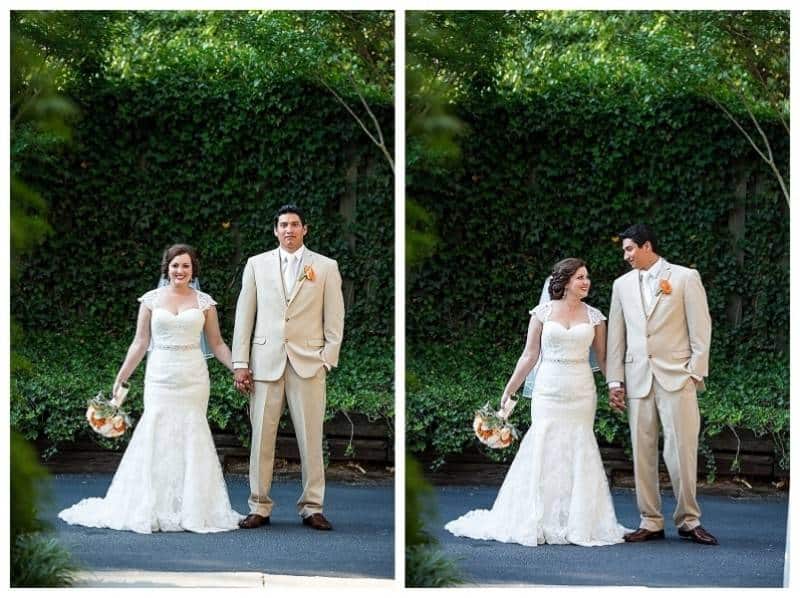 VENDORS
Photographer:  Harper Noel Photography
Reception Venue: The Atrium – Norcross