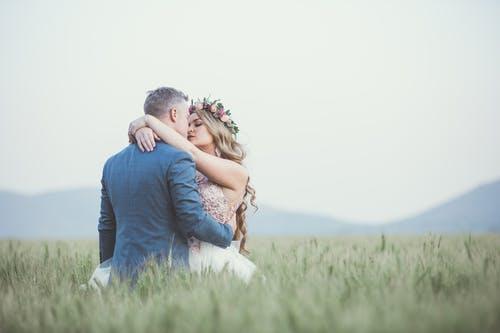 Bohemian or "boho" brides usually opt for a more relaxed and unique wedding style. The wedding details take form in outdoor venues, candles, fairy lights, flower crowns, and unique gown elements.
When it comes to a boho-style wedding, the bride should get creative—as nothing is off-limits. The wedding dress and venue details should match for everything to flow seamlessly and achieve the full bohemian vision.
The Dress
There are many different styles and unique details common in boho wedding dresses that brides can choose from.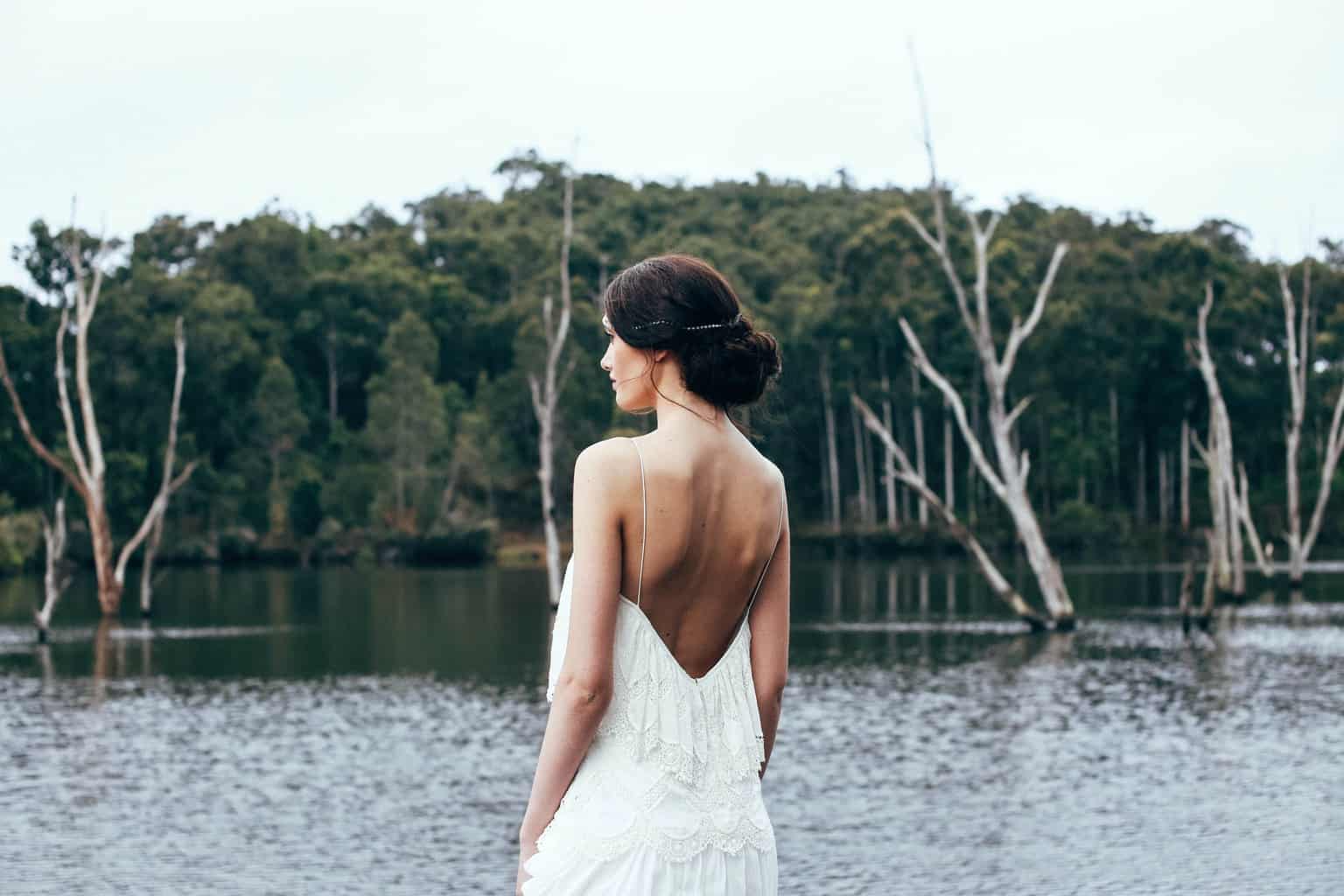 Unique sleeves
Sleeves are a staple to boho dresses and there are plenty of styles to match a bride's exact style.
Bell sleeves– These sleeves are the ultimate boho look, as the fabric flares out from the elbow, creating a beautiful triangle 'bell' shape that's also flowy.
Long sleeves– These sleeves reach down to the wrist and are perfect for outdoor weddings.
Lace detailing– Boho style dresses are all about lace, as it's a more unique and intricate choice. Sleeves could be all lace or a mixture with illusion lace.
Three-fourths style sleeves– Just like long sleeves, these are perfect for outdoor venues, especially in the warmer months. This sleeve length falls somewhere below the elbow.
Flutter sleeves– Not all sleeves need to cover the entire arm. Flutter sleeves are another great option for warmer weather as they are a flowy short sleeve.
The 60s or 70s Style
Bohemian wedding gowns pull from a lot of 60s and 70s styles. Along with bell sleeves mentioned above, beaded attributes add to the vintage look. Illusion backs or necklines, layers of flowy tulle, eyelet lace, and floral motifs are also featured in dresses inspired by this era. Overall, this type of boho dress is flowy and whimsical.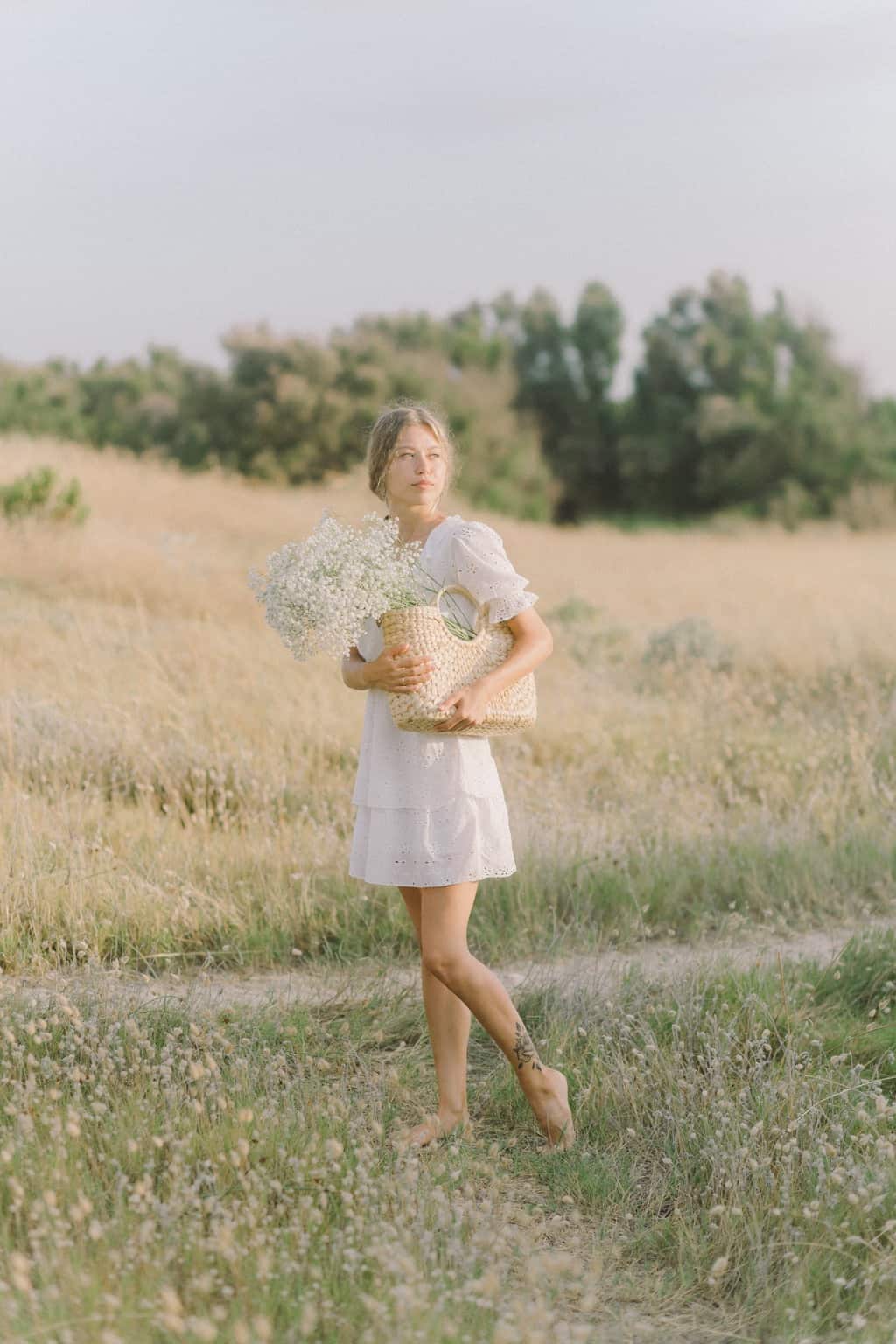 Lace Details
When thinking of wedding dresses, white lace is sure to come to mind first. Like other styles, boho dresses may feature lace cutouts or accents, train, sleeves, necklines, or all over the entire gown.
However, some types of lace offer a more bohemian feel than others. When searching for the perfect boho dress, look for the following lace styles: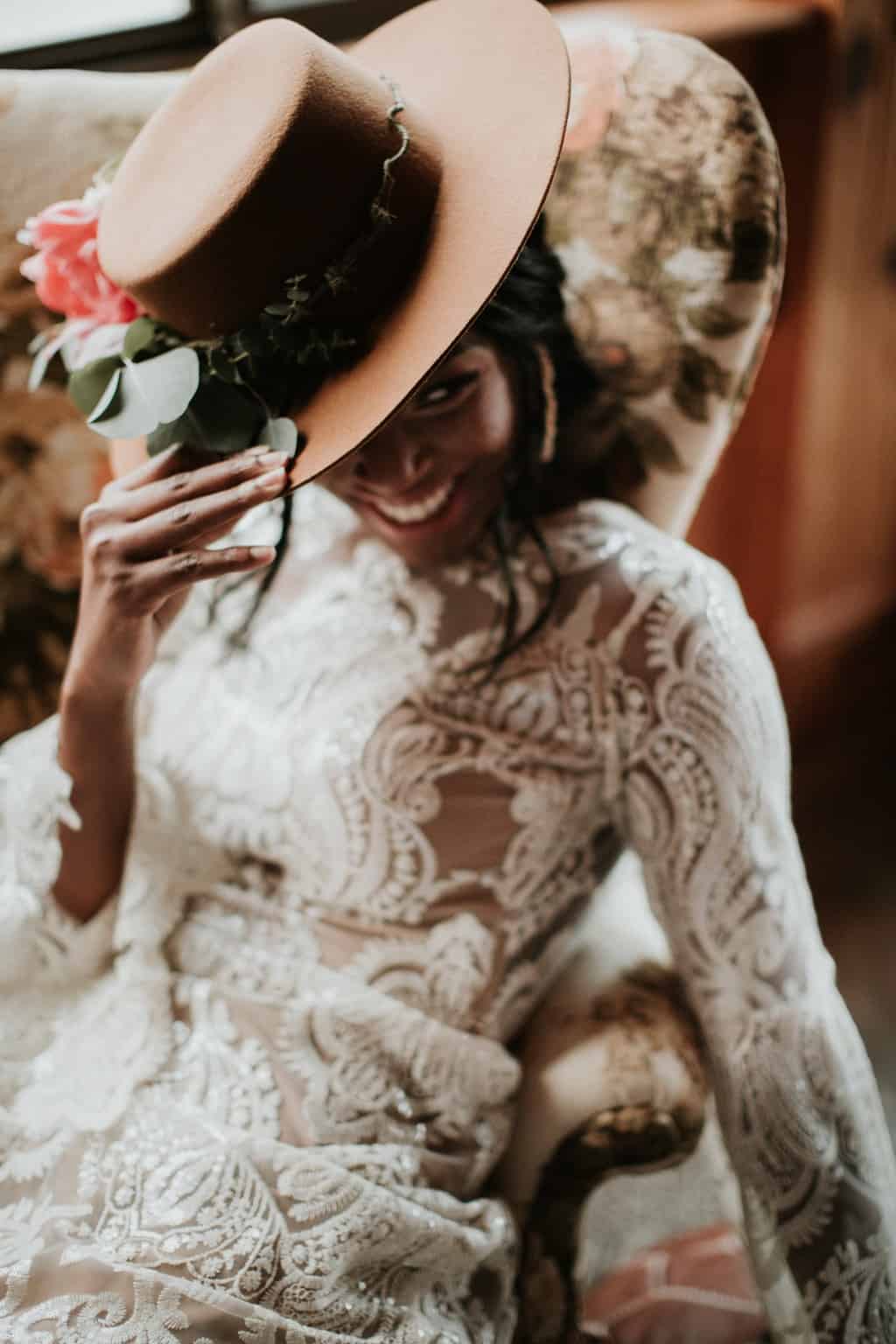 Additional Dress Details
In combination with sleeves, shape, and materials, the following attributes can pull a boho gown together:
Long trains,
Sweep trains,
Corset back,
V-neckline,
Romantic a-line silhouette, and
Off-the-shoulder style neckline.
Accessories
There are many accessories to take into consideration when it comes to boho-style weddings. Brides should match their accessories to their dress, venue, and overall style. Here are some quick ideas to spark some inspiration:
Shoes
Lace-up block heels,
Ankle boots,
Flat sandals,
Comfortable flats,
Barefoot for a more free-spirited bride, and
Anything with unique patterns or pastel and white colors and shades.
Veil
Floral details– Brides can incorporate different kinds of flowers into the veil for added effect.
Flower crown– Brides can choose small or large flower crowns to accentuate their hairstyle instead of wearing a plain veil.
Ditch the veil and do a boho hairstyle– Some boho hairstyles include braided buns, wavy half up and half down styles, or a chunky side braid.
Jewelry
Vintage pieces handed down from family,
Statement pieces,
Arm cuffs,
Ear cuffs with updo hairstyles,
Any gold pieces,
Any neutral-colored pieces or shell styles, and
Layered necklaces.
Bouquet
Natural bouquet with an informal arrangement
More earthy tones, like leaves and shrub amongst the pop of color
A more unruly bouquet with foraged arrangements
Add fun elements like ribbon or lace to a bunch of wildflowers.
Bridesmaids' flowers don't need to match; add unique touches based on personalities.
Add leaves and wild-shaped florals.
Bohemian Vision
Once the bride chooses a wedding dress and appropriate accessories to match, it's time to think about the venue and the overall vision and tone of the wedding and reception. Because bohemian weddings are a much more relaxed and fun event, brides should think about incorporating lots of greenery, flowers, and nature to add to this relaxed feel.
Brides can also include more rustic details like wood arches and wood tables and chairs. There's the option to hand-make some decor for a more personalized touch, like buntings or table decor.
For a unique outdoor reception experience, brides can create a 'chill out' tent with pillows, rugs, and a drinking station. The best part about this is the bride can be as creative as possible and decorate the tent how they see fit.
Another tip for the bride is to bring another dress for the reception, a simple flowy dress to dance and move in. Speaking of dancing, hiring an old folk band or creating a setlist with indie music or new renditions of old songs is the perfect touch to maximize the bohemian feel.
The Boho Style Wedding is Flexible
When it comes to creating the bohemian ceremony and reception of the bride's dreams, anything is possible. Luckily, boho weddings are one of the most flexible and creative events to pull off. With just enough support and creativity, the bride and groom can transform a traditional wedding into a boho dream with vintage pieces, floral arrangements, and unique styles.