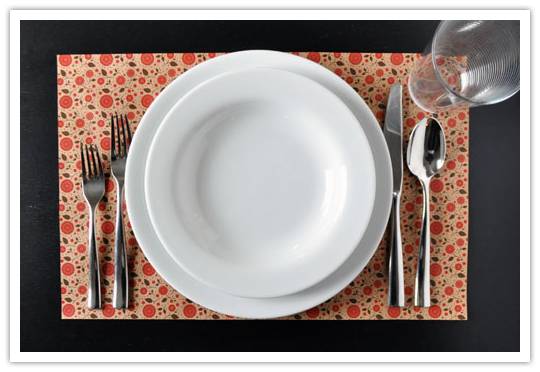 Now I normally don't write about what other people did on their blogs outside of the week in review to let IB's original content shine, but when I saw Twig & Thistle's post today, I had to make an exception. If you take a closer look at the above photo, I think you'll quickly see why it fits the loophole!
I love the place mat Kathleen did with our Floral Flutter pattern! When I saw it in my Google Reader this morning I think I nearly fell out of my seat – I love seeing what everyone does with our printables, but this was so simple and easy to make. I have to say, it never dawned on me before to make place mats out of the patterns, but I'm so glad Kathleen did because look how it can take a plain place setting from "drab to fab" (as one of my photo stylists I work with would say) without too much work! I ditto her here – it's great for any party, but I particularly love this for bridal showers!
Thanks, Kathleen! Go check out the full post here.
Images from Twig & Thistle.