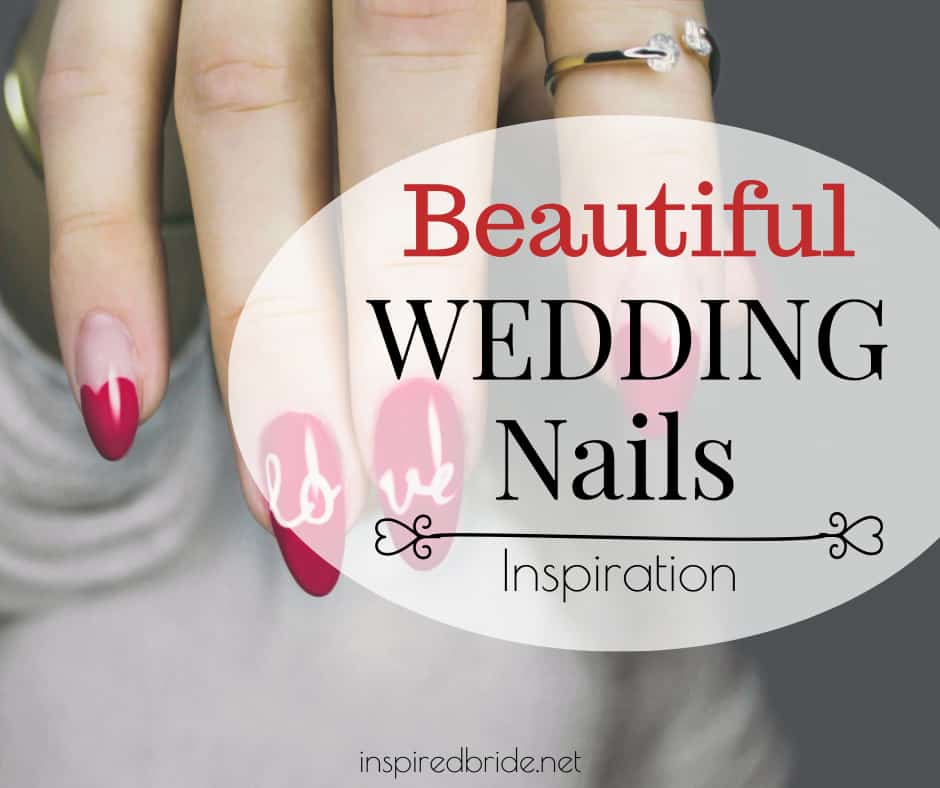 As a bride, there are a billion and one things to plan for your wedding day, including the venue, invitations, dresses, decor, and the list goes on. But there is one thing you may forget to plan that will be in almost every single picture of you – your nails.
We've compiled a list of some of our favorite wedding day nail inspiration pics to help you make at least one decision for your wedding planning a bit easier.
A matte-take on classic reds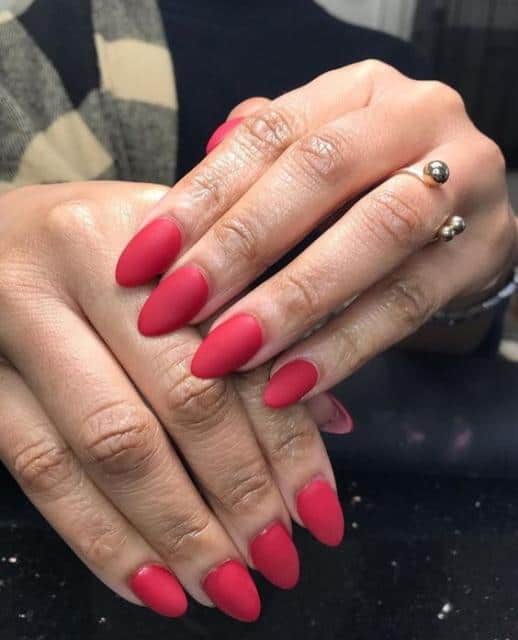 Is there anything more classic, elegant, sexy, and bold than red nails? Red nails have become such an iconic nail style and can be a great statement accessory on your wedding day. If a bright cherry red seems too bold, you can go for a more sultry, deep red, or even maroon.
Try out marble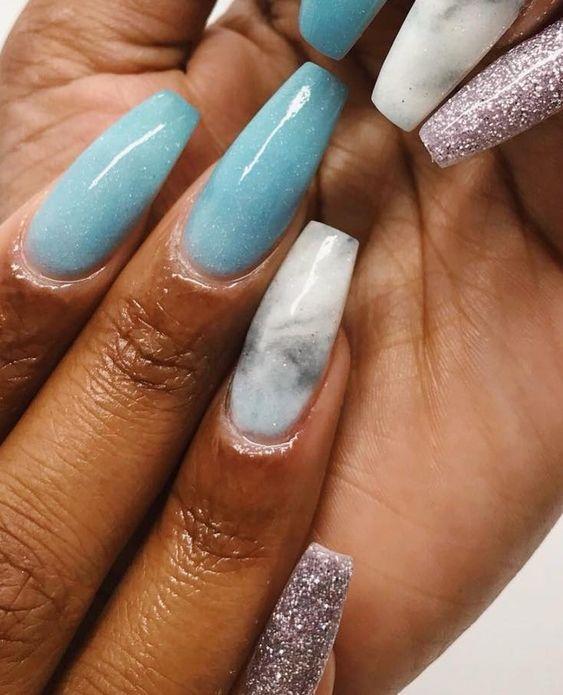 Marble embodies elegance and sophistication, so it's a perfect design option for your wedding day nails. A classic white and black or grey marble blends with your white dress nicely. You can also experiment with different marbling colors.
Embrace rose quartz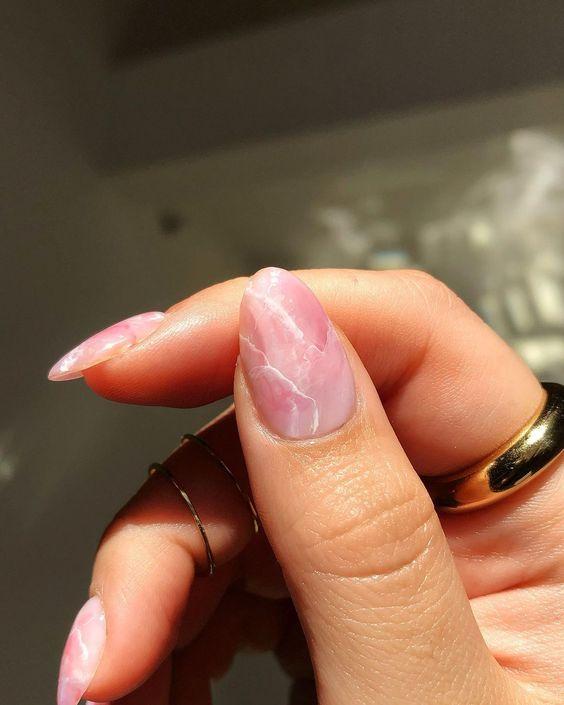 A bride can achieve a rose quartz effect on her nails by marbling light pink and white nail polish. Rose quartz is the crystal of love, purifying the heart and opening it up to inner healing, self-love, and romance. SNS has a marble nail kit to achieve this result which you can request in your salon or DIY at home.
Match your bouquet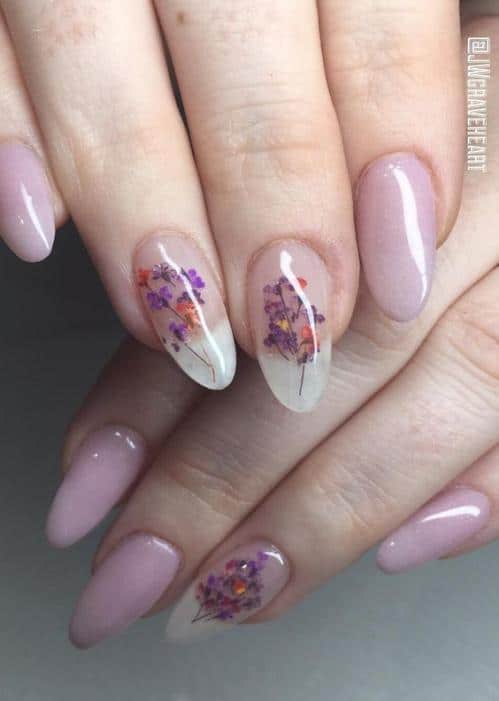 Sweet floral accents are often incorporated throughout wedding decorations and in the bridal party. Getting delicate flower designs painted onto the nail is a unique way to add florals to your wedding look. The options are limitless when it comes to deciding on a flower design to get painted onto your nails from daisies, sunflowers, and roses.
Instead of getting flowers painted on, your manicurist may even be able to seal an actual flower onto your nail. This trick would usually require a gel polish that will harden under UV lighting to hold the flowers in place and dry quickly.
Experiment with your wedding colors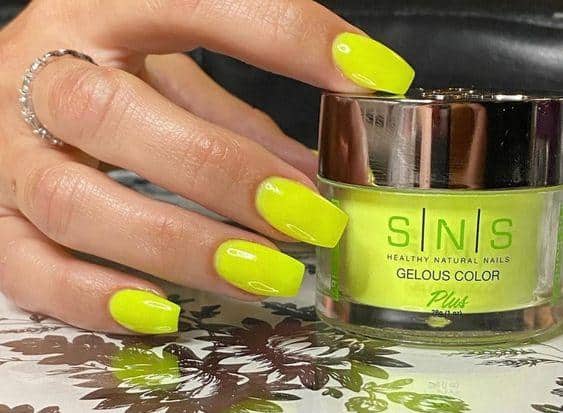 Brides do not have many opportunities to incorporate their wedding's color palette into their attire, but their nails are the perfect place to do so!
Picking any of your colors and incorporating them into a fun design on your nails will look amazing in pictures where the rest of your decorations are matching. There is no need to shy away from vibrant, bold colors or designs.
Go with nude tones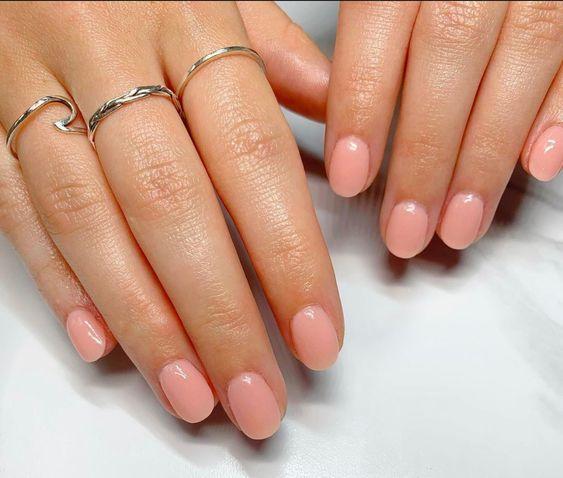 If you want a sleek, polished nail look that doesn't steal the show, then a beautiful nude polish will do just the trick.
While choosing a nude polish, remember that the color won't need to match your skin perfectly. Instead, carefully consider how the color compliments your skin's undertones – cool, neutral, or warm.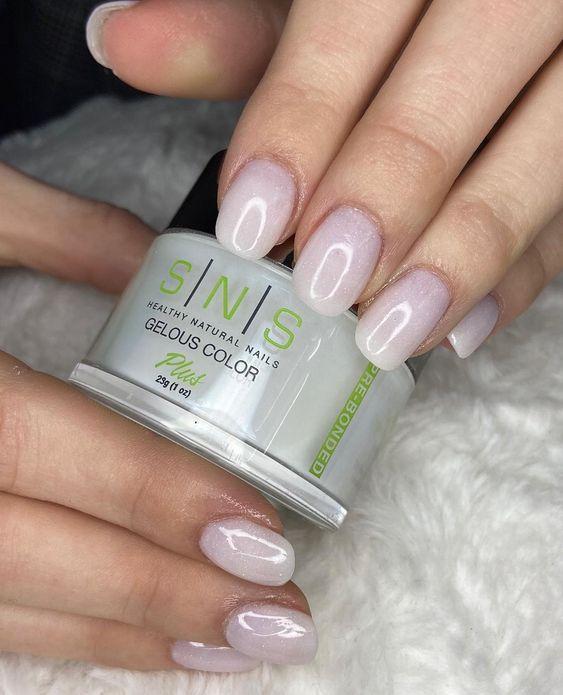 These nails are a nude color with a slight pink hue and a white pearlescent effect. Nude nails are all about completing your skin color and the other elements of your wedding, like your dress and bouquet.
Do something blue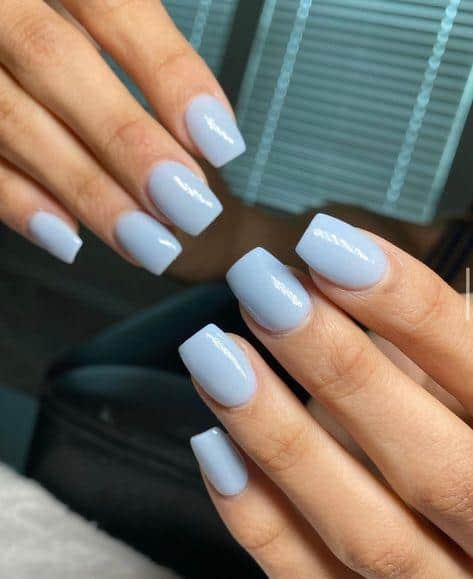 Looking for a creative way to incorporate "something blue" into your wedding? Look no further than your very own hands. While a bright blue may not precisely match the decor or style of many weddings, a gorgeous, muted blue, baby blues, or even a rich navy blue would look incredible in contrast to a white wedding dress.
Experiment with the classic French manicure
A French manicure is by far the most popular and traditional choice for wedding nails, but did you know there are several different styles to choose from that add a twist to a classic style?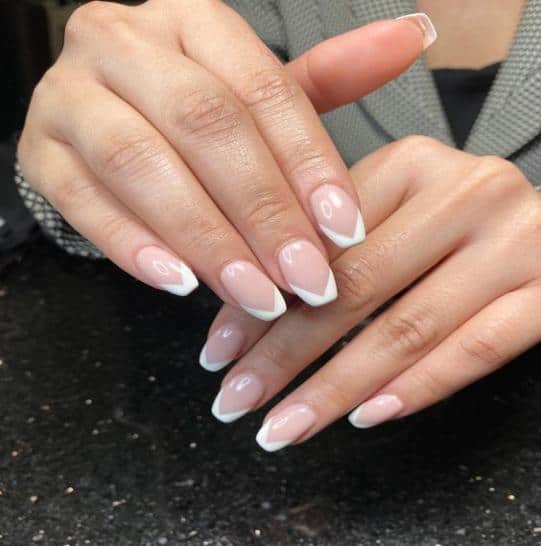 These geometric French tip nails, for example, look stunning and add a modern element to your nails while still maintaining that timeless look French tips provide.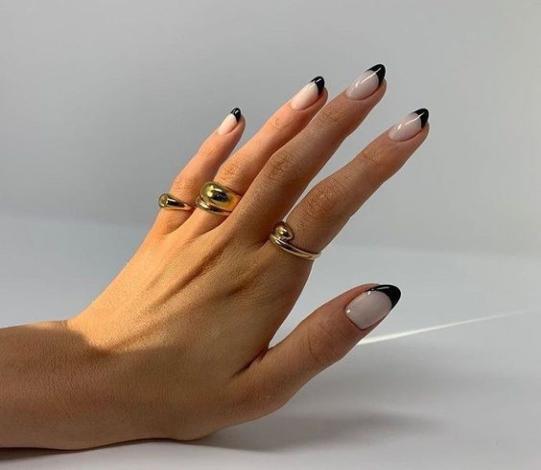 If you are looking for an edgy look with a nod to tradition, opt for a black french manicure instead of white.
White and Pink Ombre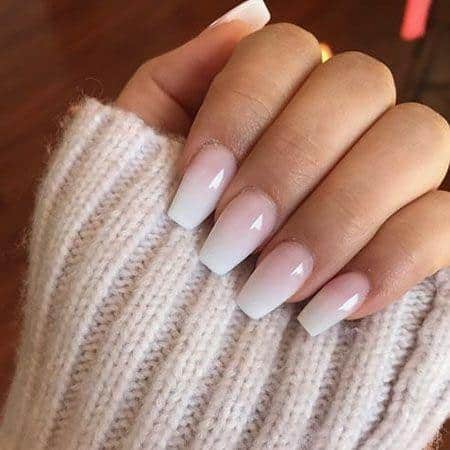 One thing about your wedding day nails to keep in mind is timelessness. Looking back at your wedding day photos years and years after and seeing a long gone trend on your nails in every single picture may not be the best way to remember your special day. Ombre nails are a great way to do something special with your nails that will always be considered timeless and fashionable.
Modern, Elegant Designs
If you don't want a solid color on your nails but still do not want an extravagant design on them, a simple, modern, and elegant design may be the perfect choice for you.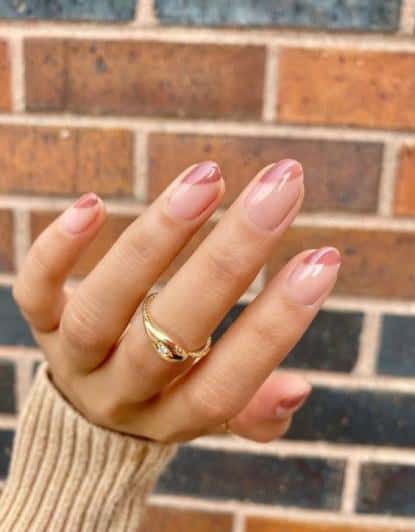 This playful design has a nude polish as the base and an eye-catching shape on the top corner in a darker nude shade. This style offers fun asymmetry to each nail and a unique detail that will look great in pictures. You can find more ways to shape your nails in this article from Cote.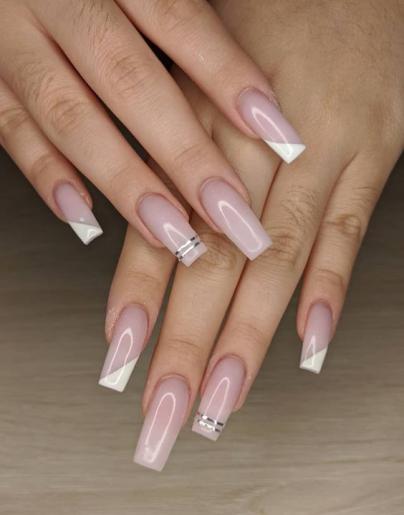 These nails are simple and minimalist but are still the epitome of elegance and beauty.
Glitter to Rival Your Ring
Your ring doesn't have to be the only thing sparkling brightly on your wedding day.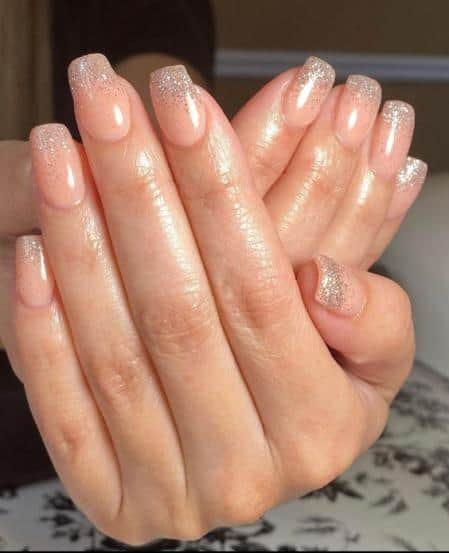 There are so many options for ways to add some glitter and shine to your manicure, like this ombre glitter French tip. It is the perfect combination of classic French tip wedding nails, but with glitter making it a bit more fabulous.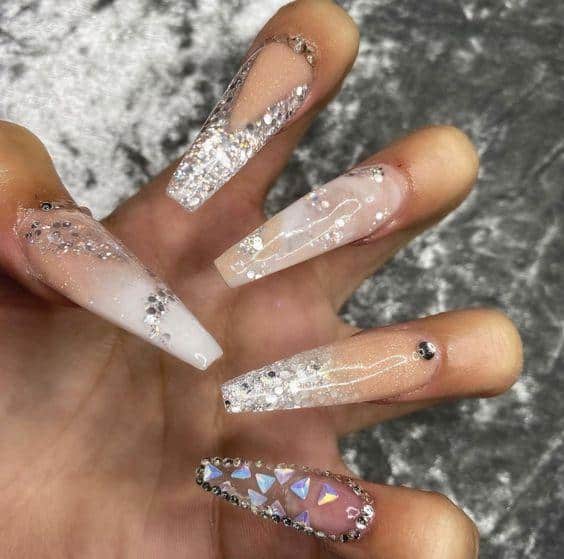 You could also use nail glue to add gems onto your nails to create intricate designs or some serious bling. This idea is very fun because the only limit is your imagination and the space on your nails! Every nail can be different, or you can accentuate your ring finger to draw even more attention to your wedding ring.
If you're interested in some more wedding day nail ideas, never hesitate to consult with your favorite nail salon, the experts from SNS Nails, or your favorite beauty/wedding bloggers.
The most important thing is that your style is on display on your wedding day and that your nails are just another accessory that makes you feel incredibly confident and excited for your big day.