A very special moment of your wedding ceremony is walking down the aisle like a queen. You make that moment twice when exiting with your newlywed. Therefore, you must surely think about wedding aisle decoration too. And if u think to something with that wedding aisle, its never necessary that it has to be big, expensive and out surprising. You can decor your wedding aisle just by basic or simple set-ups. You could think of bundles of greenery, rustic lanterns, romantic candles and many more.
Anything would work over your wedding aisle but just remember few basic that will help you stay with the theme. Firstly this wedding aisle decoration must match your wedding setting that is it must not just go away from your wedding look.
For next, it must complement your wedding day look because you will be photographed all day long, surely when you go up and down on the wedding aisle and even when you exchange vows at the end.
Other than these points, the wedding aisle decoration is completely up to you as how you want it to be and what you want it to be. And if your are still confused on what to do and what looks best with what, you need not to worry, here are a few ideas just for you. If you need something trendy, we got an idea that tell you to create a statement at the entrance of the aisle with cactus plants in pots. If you need something more classy we got that too.
Down below you can find many statement display ideas such as, a flower-petal lined aisle with ghost chairs, a romantic ceremony setting created with white blooms planted in the ground, and a gorgeous white runner, we've got something for all.
So just keep reading until you find few ideas for your wedding aisle decoration.
Make Custom Benches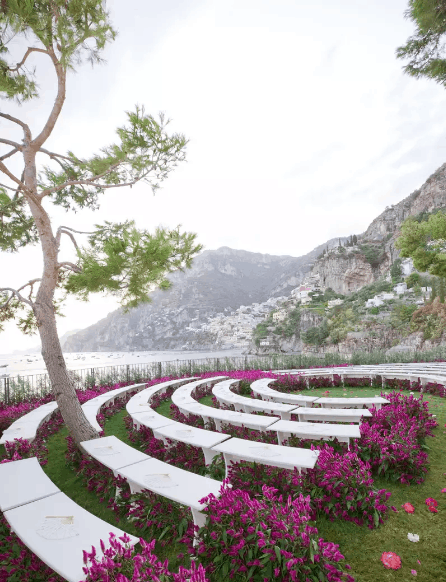 A bride and groom made custom benches and arranged them in a curved formation, so that every single person could see the couple and no one is missed out.
Decorate the Entrance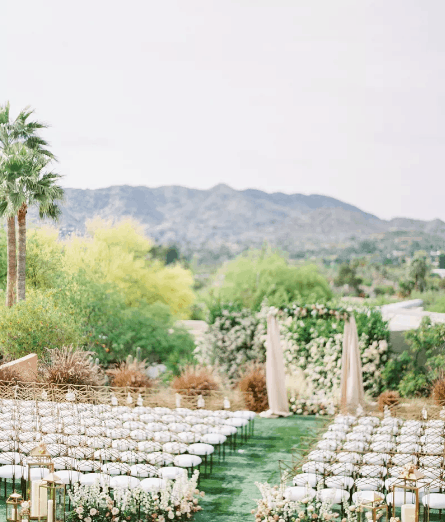 Decorating the complete aisle? Instead you could just decorate the entrance. Decorate your wedding aisle entrance with blooms and candles, arrangements can be made of white delphiniums, blush roses, and candles in gold lanterns.
Paint the Floor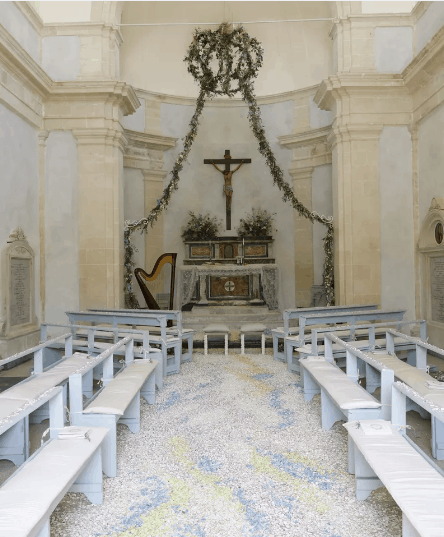 Decorating your wedding aisle with a out of the box idea could be really impressive. Have your ceremony floor painted with pastel-colored carnations and scabious, and this will leave everyone stunned. Unique and impressive too.
Line with Ferns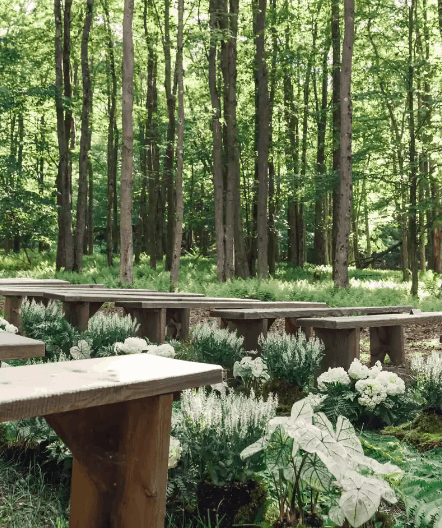 Make your aisle lined with ferns or surrounded by white flowers. You could even decoration your wedding aisle by surrounding or arranging blooms such as white delphinium, larkspur, snapdragons or wild ferns.
Mark with Trees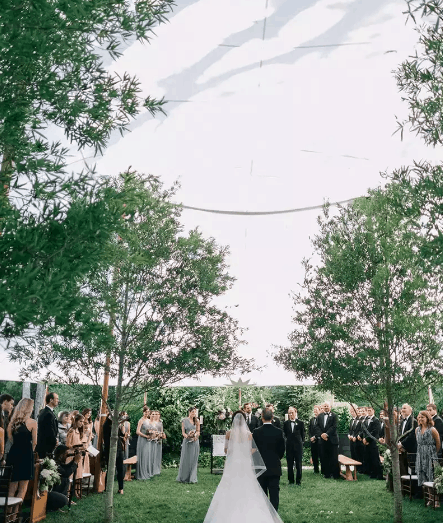 Make yourself a great moment by having a tree lined aisle, like the one in the picture above.
Use Wooden Planks
Wooden planks are just another great decoration for a destination beach wedding.
Greenery and Lanterns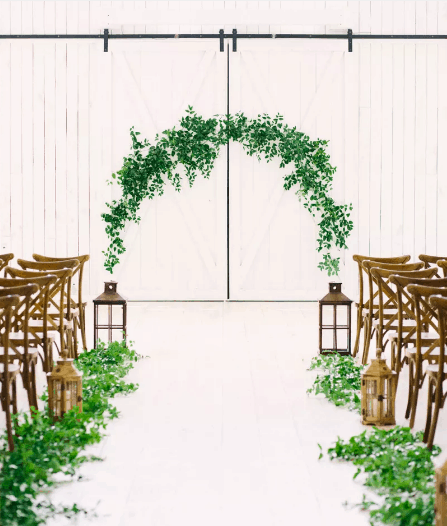 You can easily create a barn setting decoration just by adding up greenery with lanterns and lining up them with aisle.
Lay a Seagrass Runner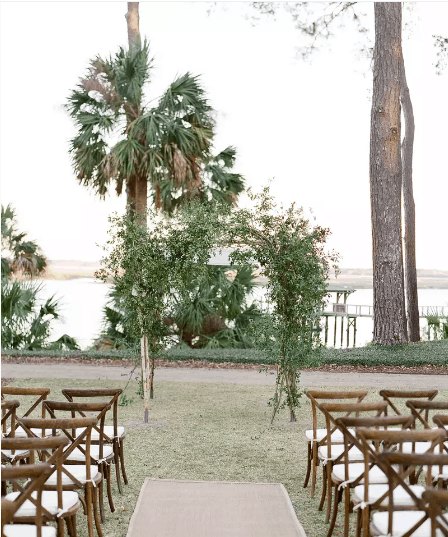 A sea grass runner is the best you can think for an outdoor ceremony. Just match it with your wedding theme.
Keep it Simple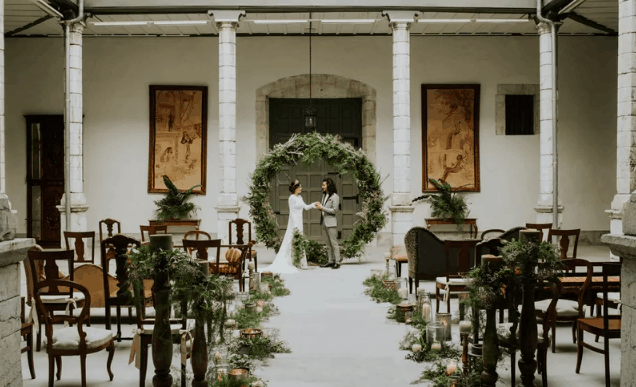 Its not always necessary to be too much decorative. You can keep it simple just by adding greenery and lighting up some lanterns.
Place Some Cacti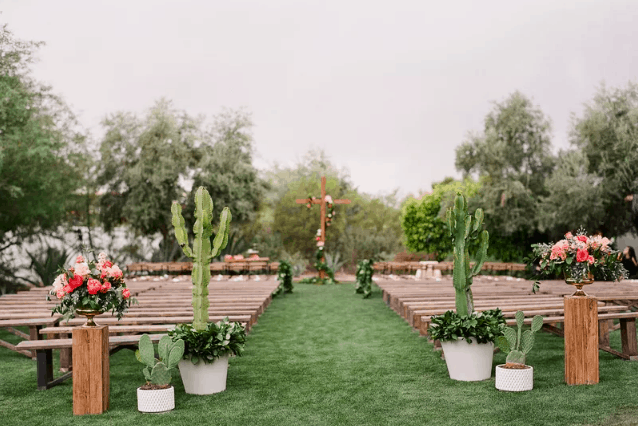 Cacti are the most trending decor at the moment. These are more effective and you must use them if you are having a wedding in the South west.
Line with White Rose Petals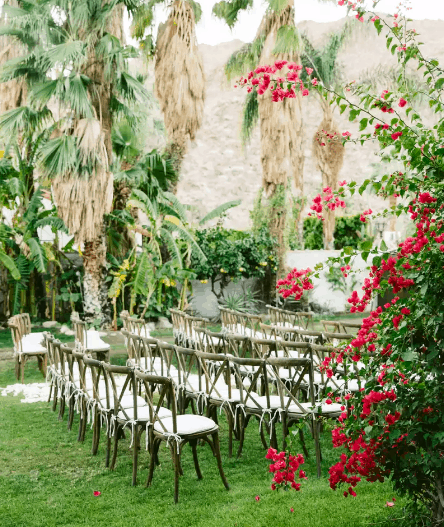 Sometimes keeping you decoration simple is a smarter move. You must do it by laying white rose petals with the aisle and for a more effective look, match your seating cushions withe these white petals. You can also copy white tie-in with the chairs from the picture above.
Garlands of Greenery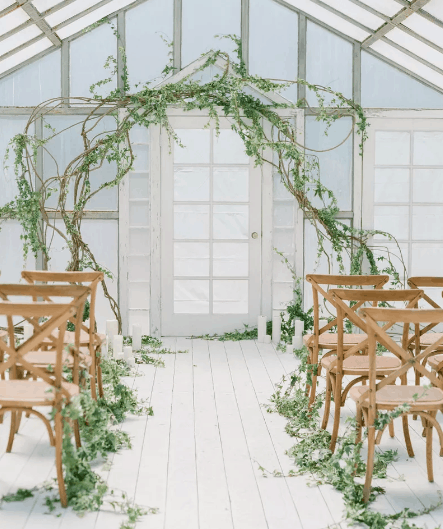 If you could do garlands of Greenery up the aisle then bundles of greenery are nothing. All you need are garlands of greenery and your decoration for aisle is all complete.
Mix Persian Rugs
Persian rugs are another trendy wedding aisle decoration that will do it all at once.
Focus on the Chairs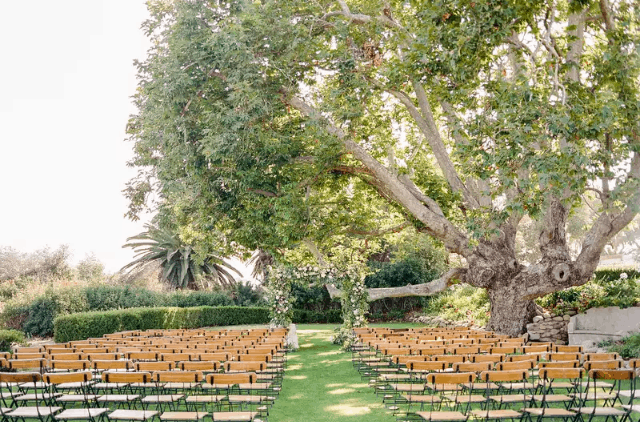 Aisle doesn't looks when decorated. Aisle with no decorations can also be very beautiful if you surround it with elevated chairs and flower petals filled chuppah.
Pair Copper with Clear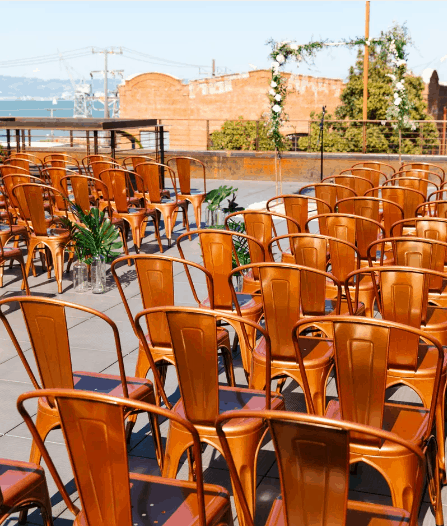 For a classy, amazing and attractive look you must pair copper chairs with crystal clear vases that could be filled with monstera leaves.
March Above a Pool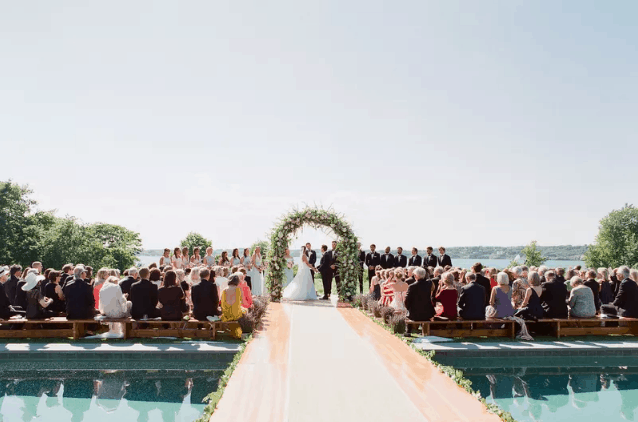 If something could be said truly the best, this is it. This bride built up a stage over the pool for marching down the aisle above the pool.
Plant Your Flowers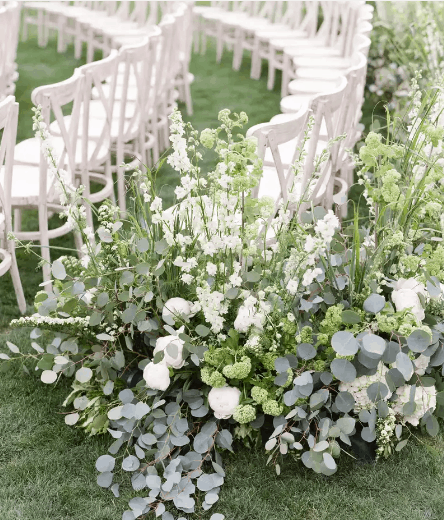 Want an arrangement that says natural-meets-romantic, then tell your florist to plant flowers or blooms along with the aisle. A great look overcomes as flowers surrounds these pale pink chairs in the picture above.
Use Area Rugs
If you think to have a dessert wedding, use area rugs to create sone casual vibe for this. You can also use white pillar candles, cacti and fresh blooms to your aisle decoration that will add a touch to your dessert Wedding.
Wrap Trees in Flowers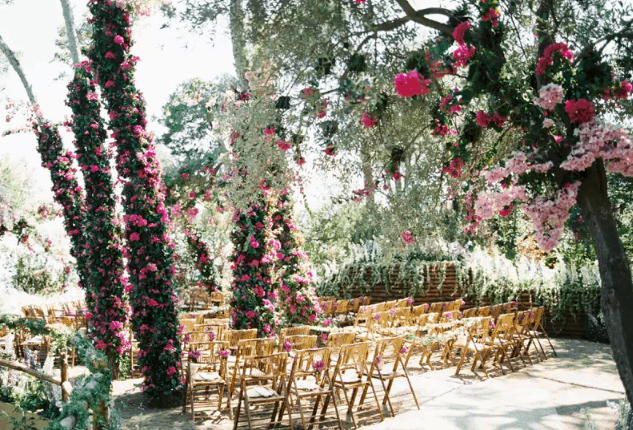 If you think to have a destination wedding, then you must surely create your own ceremony setting. Wrapping trees with flowers and a rug lined aisle are a great custom combination perfect for your destination wedding.
Throw Petals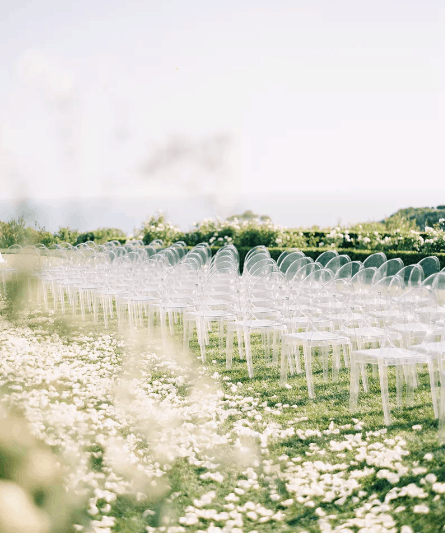 You must be at least a little smart if you want a decoration to be loved by all. A petal lined aisle will surely look great if you use ghost chairs.
Hang Chandeliers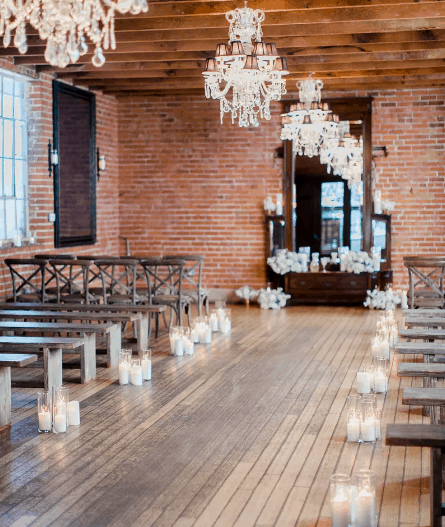 Give the lighting it's perfection and glam just by hanging up chandeliers above.
Keep it Fresh
You can keep it all fresh by using a white runner. It will give a fresh, clean, cool and tropical look to your wedding.
Mark Your Territory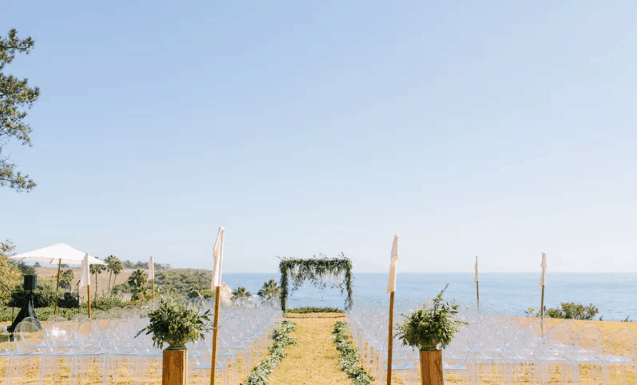 A modern and cool look comes to your wedding when you decorate your ceremony ground with flags in it. This could stand out to be most effective when paired with ghost chairs or an Ocean view.
Add Some Warmth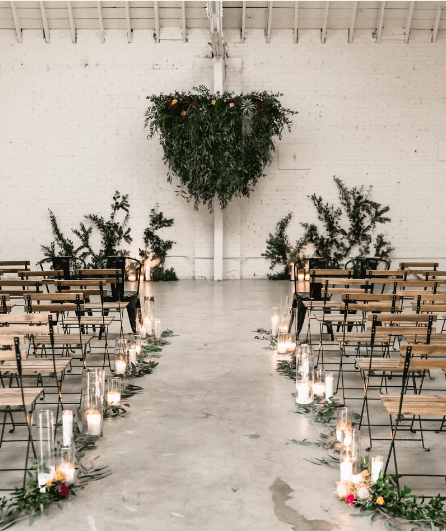 If you wanna add some warmth when you walk down your aisle, add some candles, green and blooms and they will do it all.
Stick to One Color
Whatever arrangements you make, whatever decorations you add, try sticking to one specific color that will help you to reflect your wedding theme in an easy manner.
Create a Woodsy Wedding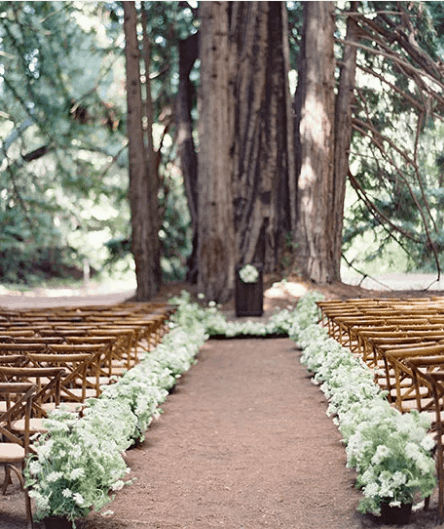 You can create a classic woodsy wedding aisle added with plenty of lush greenery, verbena and sedums.
Decorate Your Chairs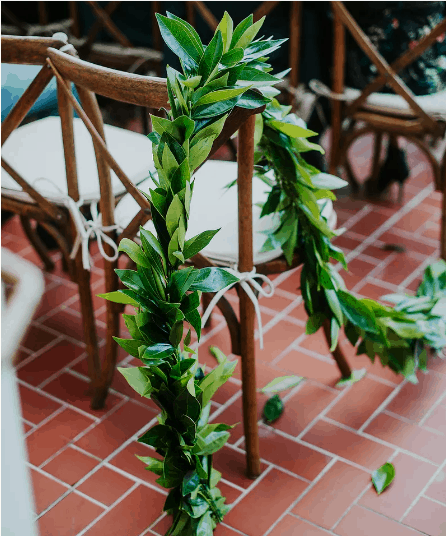 You must have surely heard of garland lining over the floor but you can even do it over chairs just to decorate them and line them up. Just make sure you make such a arrangement that your guests can get in and out without destroying the garland lining.
Bundle Flowers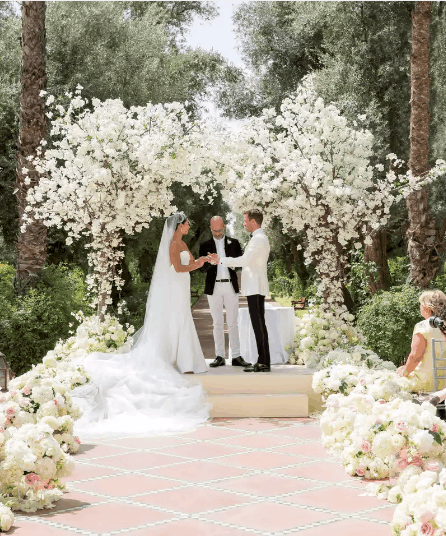 This one is for those who love white blooms. Arrange mega bundled lines of white blooms at end of each line of flowers.
Scatter Lanterns
As you can see, the complete overall looks perfect as potted plants fits perfectly with the setting in the above picture.