Mike and Michelle are huge concert goers. This gave them the idea of making the escort cards VIP Ticket-like. And the guestbooks were posters from the concerts that they've attended – so wise to spend less. Aside from that theme, the couple wanted to get that mountain chic style and incorporated bright colors to brighten up the whole look. Plus the wood pieces scattered around the reception area, with a classy setting, brought a bit of the mountain inside.
Click image to enlarge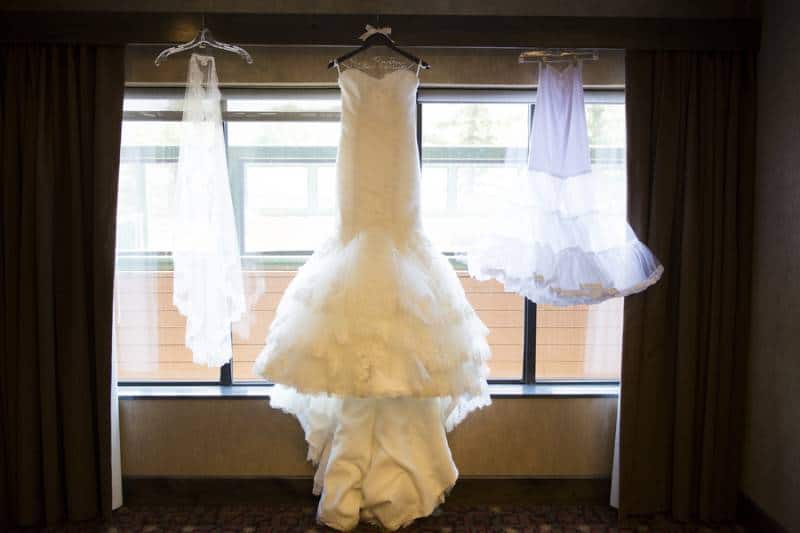 Like. Click to Vote
>
What is your story as a couple, how did you meet & fall in love?
Our story was a long time in the making. We met at a blink 182 concert in August of 2001, had a high school romance which included going to the homecoming dance my junior year and Mike's senior year; from there we went our separate ways for college. It wasn't until almost ten years later that, both of us single and living in different cities, decided to give this dating thing a serious try. After a month of dating (and after a number of Irish Car Bombs) on St. Patrick's Day, Mike spilled the beans that he planned on making me his fiancée. We both knew from the minute we had our first date listening to John Mayer in Mike's car until the late hours of the morning that we wanted to be together. A series of events brought me to Houston from San Antonio for good, where our relationship continued to grow as we went through some very challenging events in our lives.
What makes the two of you a perfect match?
Our vows included the promise that "only one of us could be crazy at a time" – and with both of us being Aries and oldest children in our families, it's one we have to keep. We are both very passionate people, deeply loving, always laughing, and each other is strong enough to pick the other one up when they are struggling. It is an incredible feeling to have the person by your side that loves you unconditionally and grows with you every day, always striving to be the best versions of ourselves for each other.
How did he (or you) propose?
Mike took me out to Breckenridge as our first "just the two of us" vacation over New Years. When we got to our lodge, Mike asked me to go out on the balcony to check out the view of Main Street Breckenridge. After a few minutes of being outside in 10-degree weather, I was ready to go inside and sit by the fire. Mike was warming me up by the fire when he said "You know, I'm tired of this boyfriend title. I'm ready to be your fiancee". At that moment, he said the most beautiful and romantic speech in which it ended with "Will you marry me?" I immediately said "yes" and hugged him without looking at the ring! He then asked me if I would like to see it, I excitedly swung my arm around and flung the box out of his hand – not according to plan. At that moment he opened the box; it was the perfect ring! The rest of the night was all champagne, congratulations from our families and friends, and the excitement that we were both going to marry our best friend.
How long was the planning process? Did you think it was enough time?
We had a year and a half to plan. That was the perfect amount of time for us but by the end, we couldn't wait for our big day!
What was the best advice you received when you were planning your wedding?
The two pieces of advice that we took to heart were, 1) it was going to be our wedding day and 2) not to sweat the small stuff.
What tips & tricks (can we use "hacks"?) can you share future brides that you yourself have learned during and after your wedding?
No matter how much control you exercise in the planning process, be ready to give it up on your wedding day so you can enjoy every minute of it.
What were some challenges you faced while planning your wedding & what did you do to address them?
Our biggest problem was that we were planning a destination wedding where we had to choose all of our vendors. Luckily, we had a rock star wedding planner that got our vibes and narrowed down our potentials to manageable lists.
What inspired your wedding décor?Why did you choose the things that you did?
Since we were having a summer wedding, I wanted to have bright, fun colors. With these bright colors, we were able to incorporate a mountain chic theme.
What was the wedding budget?
Like all wedding budgets, there was a number, and we went over it!
Where did you save the most money?
I have to give it up to JA Special Events again. She nailed it!
What was the biggest expense?
Our reception.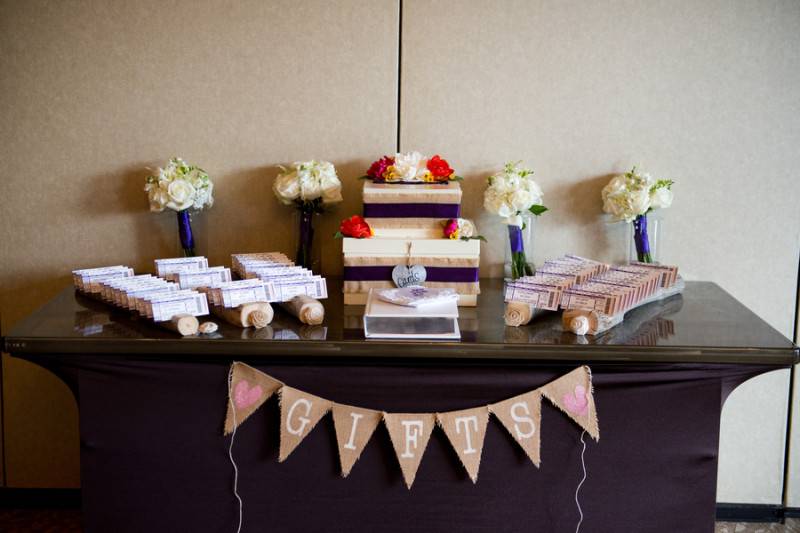 How many guests were invited in your wedding and what was the final guest count?
About 100 people were invited, and we had about 70 people there. How did you narrow down your list? This was definitely a difficult decision. We wanted to be sure that our family and closest friends would be part of our special day.
What songs did you use during the ceremony?
Processional: Bridal Party-Jesu, Joy of Man's Desiring; Bride-Canon in D
Recessional: Trumpet Voluntary (Purcell)
Where did you go on your honeymoon?
Oahu, Hawaii, and Maui
What are you most excited about for the future?
I am excited about every part of our lives together. From the everyday occurrences to the big adventures that we will share together. He just takes my breath away!
Do you have advice for couples still in the planning process?
Chances are if you have any family involved whatsoever, you're already getting more advice than you need anyway. Ours would be to remember one simple fact – this is your day. In the end, this is the day that you two are most invested in and are going to remember for the rest of your lives.
What inspired the wedding day outfits?
The vision I had for my dress was romantic, dramatic and lacy. My train did just that with a little touch of tradition that included my lace veil.
What was your favorite part of the day?
Seeing Mike for the first time that day, waiting for me at the altar as I walked with my dad and stepdad.
Was there any Do it Yourself (DIY) projects? If so, can you describe them in detail?
Since we were flying from Houston to Denver, we were limited on any DIY projects. Thankfully my brother and his girlfriend volunteered to make us our gift card box.
Was there a theme for the ceremony and reception?
Our theme was Mountain Chic – plenty of mountain influence with a classy look. We used a number of votive candles, pieces of wood and beautiful, colorful flowers to accent the reception area. We had a two-tier white and purple accented cake with intricate detail of mountains lightly etched on the sides.
What part of the ceremonies do you think was the most memorable for you? (& your guests?)
All who arrived early met us at the Rockies / Dodgers game at Coors Field, where we were treated to a spectacular fireworks show to kick off the weekend. My mom gave me a handkerchief that was made from her wedding dress- this brought me to tears -Mike's Dad gave me the first piece of jewellery that he gave Mike's mother. It was a beautiful gold cross that I had wrapped around my bouquet. Our escort cards were concert tickets, in honor of where we met. In lieu of a guest book, we had concert posters of shows we have been to in our relationship for people to sign. This included the poster of the blink 182 tour in 2001! My garter for the "something blue" was a New York Giants garter, in honor of our favorite football team. My bridesmaids and family had to start getting ready at 8AM and christened this blessed day with a rousing game of Cards Against Humanity, with my high school sisters playing the most devastating cards.
VENDORS
Photographer: Brinton Studios
Location: DoubleTree by Hilton Hotel Breckenridge
Linens and Coverings: Linen Hero by Chair Covers & Linens – Colorado
Dress Designer: Maggie Sottero
Tuxedo and Men's Attire: Men's Wearhouse
Cake Designer: Shamane's Bake Shoppe
Ceremony Location: St Mary's Church
Tuxedo and Men's Attire: Vera Wang
Event Planner: JA Special Events
Floral Designer: statice floral