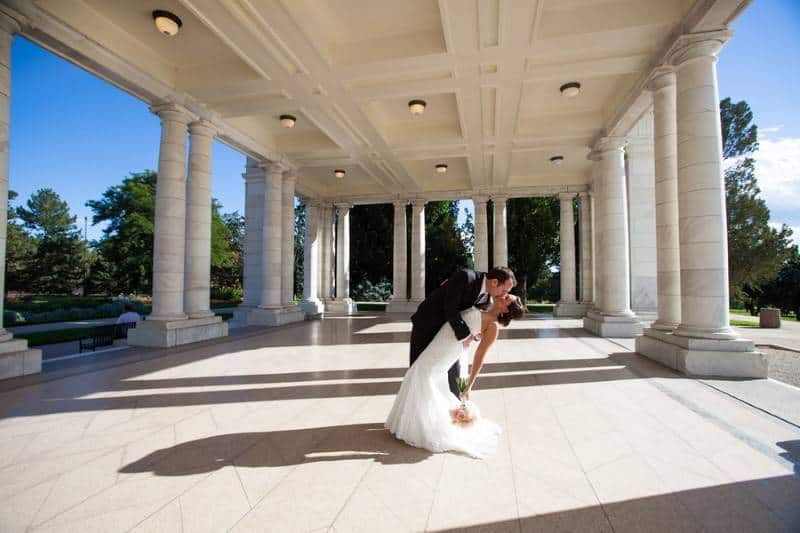 Tiffany knew exactly what she wanted when she was planning their wedding.  She recalls:
When I pictured our wedding, I would see a rooftop patio of a restaurant near Denver with strings of twinkly lights. I wanted good food, open bar and a fun urban atmosphere. I also wanted it very personal, and DIY'd everything that I could! I wanted romantic colors, blush, but also something masculine, black and white stripes.
I always feel a hint of excitement whenever we receive wedding features that have a lot of DIY details on them. And I definitely enjoyed Tiffany's personal touches to her dream wedding. Everything was basically DIY'd! She had baked the cupcakes days before the big event. She had a little help from her sister in making everything possible. They had spray painted wine bottles with chalk board paint & wrote the table numbers on them. She copied the seating plan idea from Martha Stewart & even used it as a backdrop for their photobooth. She bought black & white striped fabric from Ikea to use as table runners & her sister stayed up all night hemming them together. They had also printed a Thank You note to place on each guest's table & placed them inside beautiful white frames. Later on, the frames were used as Christmas gifts with their wedding photos in it. It was like a DIY wedding dream come true! Congratulations again Tiffany & Matt!
What was the best advice you received when you were planning your wedding?
I'm not sure if anyone gave me this advice, or if I just learned it along the way. Do what you want and don't worry about what others thing. If you want to wear blue shoes, but you're worried they don't go with your wedding colors, wear them! It's your wedding, and it will make you the happiest that day.
What is your story as a couple, how did you meet & fall in love?
Matt and I met through mutual friends. He saw me at a racetrack and thought I was hot 🙂 His friends started to feed off of that and tell him that I liked him, and I had no part in that. It did give him the confidence to pursue me and ask me out. We started talking in group emails, then on the phone. Our first date was September 11, 2002.
What makes the two of you a perfect match?
We always want the best for each other and strive to make each other proud of our actions. We don't like conflict or confrontation. We might argue a little but never fight. We just know that the other would never intentionally hurt one another. We also have the same views on parenting our now 15 year old!
What inspired your wedding decor? Why did you choose the things that you did?
When I pictured our wedding, I would see a rooftop patio of a restaurant near Denver with strings of twinkly lights. I wanted good food, open bar and a fun urban atmosphere. I also wanted it very personal, and DIY'd everything that I could! I wanted romantic colors, blush, but also something masculine, black and white stripes.
Do you have advice for couples still in the planning process?
Start early, and use Pinterest and Google Docs to stay organized!
What were some challenges you faced planning your wedding & what would you have done differently to avoid them?
I had a little meltdown the day before the wedding. With my sister in tow, we set out for a long day of baking. This did not go without a hitch. The strawberry cupcakes sank and had to be remade. Matt's cake fell apart and was cleverly pieced back together. The cakes took twice as long to bake and cool as I wanted them to, and I was about an hour or two late to my own rehearsal dinner party. I'm not sure I could have avoided any of it, but recovered gracefully with a margarita or 2!
What was the wedding budget?
$10k. I think we spent closer to $15k.
Where did you save the most money?
DIY. All of the decorations and desserts were made by  me, and a little help from my sister the days before. We also didn't rent any special chair covers or tablecloths. I contemplated for days what kind of edible favors I could make, and in the end, the photobooth strips were the perfect favor.
Can you share some tips or tricks that you learned along the way leading up to the wedding or after?
If someone offers to help, take them up on it!
Where did you go on your honeymoon?
We went on a cruise in the Mediterranean. We saw Spain, France and Italy. It was perfect.
What are you most excited about for the future?
Since we have lived together for 5 years now, and already have a family, the most exciting part is just being "official".
How many guests were invited in your wedding and what was the final guest count?
We invited 173 and we had 119 including us attending.
What songs did you use during the ceremony?
Processional:
Somebody (Piano) – Depeche Mode
Where is my Mind (Piano) – Pixies
Glasgow Love Theme – Craig Armstrong
Best Song Ever (Piano) – One Direction
Brides Entrance:
I Love NYE – Badly Drawn Boy
Recessional:
M79 – Vampire Weekend
First Dance:
Hallelujah (live at Sine) – Jeff Buckley
Cake Cutting (daughters pick)
Icing – Charity Vance
What inspired the wedding day outfits?
Classy, comfortable and fun. I wasn't expecting to pick my dress. I definitely did not like lace! When I put it on, I felt gorgeous. I knew it was perfect. For Matt, we picked a nice suit at Macy's and had a little tailoring done. Isabelle found him a nice black and white striped tie to match. For Isabelle, we found the cutest Vera Wang dress at David's Bridal. It was the perfect color, it was fun, and it went so well with everything! She also did not have to alter it (because you don't alter Very Wang to fit you). Ha!
What was your favorite part of the day?
My favorite part of the day was by far the ceremony, when we presented Isabelle with a ring. She had no idea it was coming, and we had no idea she would react the way she did. I thought she would be shy and humble and all smiles and giggles, but she instantly started to cry. It was so emotional and sweet and there was not a dry eye in sight. I tear up immediately just thinking about it!
Was there any Do it Yourself (DIY) projects? If so, can you describe them in detail?
I really wanted that personalized handmade feel. We spray painted wine bottles with chalkboard paint and wrote a table number on each one. We stained little wooden boxes black for our centerpieces. We put a personalized "thank you" print in white frames for each table, and later those frames became Christmas gifts with our wedding photos! I got the idea of our seating plan on Martha Stewart's website. I punched out circles during three of Isabelle's cheer practices. They were also used for the photobooth backdrop. My sister helped a ton!  She stayed up all night hemming striped table runners and gluing those little circles together.  I sewed frilly flowers to my shoes to make them prettier. We also printed and cut and glued all of the Photo Booth props to wooden dowels that our daughter painted gold. I bought black and white striped fabric from Ikea which was used as table runners, backing on the seating chart, and we covered various mailing boxes to give some height to the cake stands, and covered a generic card box and added fabric flowers. I spray painted a couple of trays black to use for cupcakes as well. Isabelle and her cousin took old pictures of Matt and I, and hung them on some black and white string with tiny black clothes pins.
What were the highlights from the ceremony & reception?
We have a couple of special moments from our wedding. Matt mentioned his grandma in his vows and she stood up and waved and blew kisses. When she went to bed that night, she came out onto her balcony above us, and started waving again. All the men started throwing flowers up to her! We have coined her the "Queen of our Wedding". We also had a fun moment after the wedding, after the after party, where we asked our friend to sign our marriage license as a witness. It was a really cool moment, with the three of us, which Matt considers a little blurry. 🙂
Was there a theme for the ceremony and reception?
"Classy and casual" is what I was going for. Our guests would say it was "personal and fun".
Vendors
Photographer:  Urban Safari Photography, Ltd.
Bridesmaid Dresses: David's Bridal
Cake Designer: Gigi's Cupcakes
DJ: JM Hyatt Entertainment
Photo Booth Equipment: ShutterBooth Denver
Floral Designer: statice floral