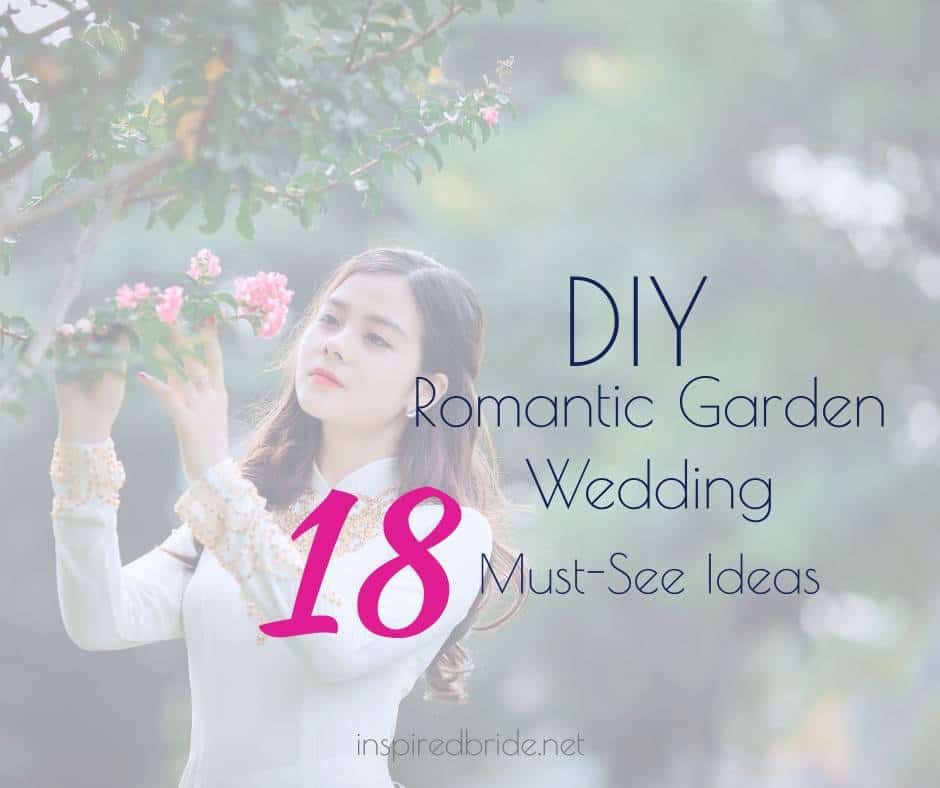 Are you in the process of planning a romantic garden wedding? If you're feeling stuck, here are 18 ideas that are sure to get your creativity flowing again. Every little DIY detail can help you create a beautiful, picturesque setting for your special day.
1. Seeds for Your Seating Chart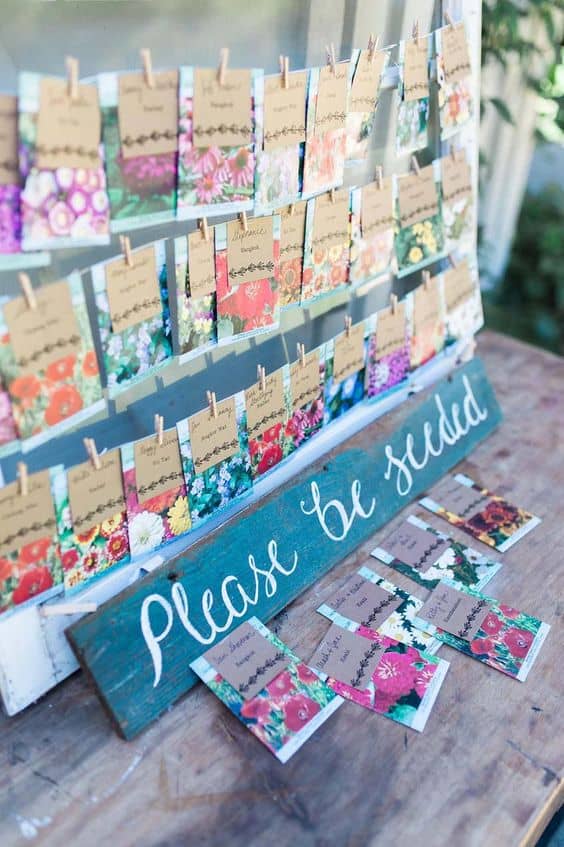 Simply staple small labels to seedpacks for a unique, garden themed seating chart! Your guests will get to take their seeds home, and remember your special day as the plant the flowers withing! Choose visually pleasing packets in a variety of colors, so the chart as a whole looks like a pretty bouquet.
2. Bowl Full of Flowers
Place ceramic bowls filled with flowers near your guest book, or on the dessert bar. Flowers with complex blossoms will work really well for this. Choose blooms that have petals with ruffled edges, like roses, chrysanthemums, or peonies, instead of flowers with clean lines, like tulips. That being said, you could try multiheaded tulips which are just as complex as peonies but much more unique.
3. Pretty Ice-Cube
This pretty touch will make your guests feel like they've stepped into a fairy tale! To complete this DIY project you will need edible flower petals and ice-cube trays (silicone ones work best). You can use these colorful cubes in champagne buckets, or place them by the bar so that guests can enjoy them in cocktails and other beverages.
4. Baby's Breath and White-Washed Vintage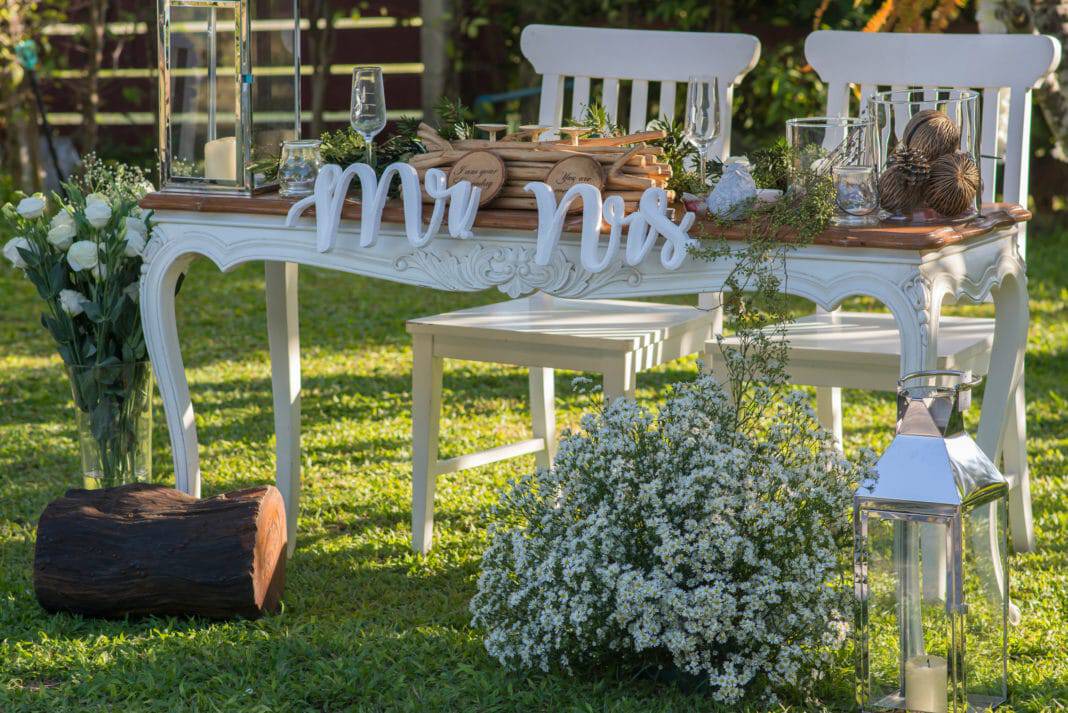 Baby's breath is often a filler flower for bouquets, but you can also use it as a focal piece in your garden wedding decor. Place a bouquet of baby's breath near a small whitewashed table and wooden chairs for a charming bride-groom table at your reception.
5. Wheel Burrow for Drinks
What could be more garden-esque than filling a wheel burrow with your party beverages? This is a great way to bring rustic garden charm to your reception setting. If you don't have a wheel burrow, pick one up on the cheap at your local second-hand shop… the more rustic looking, the better! Be sure to give it a thorough clean before putting it on display.
6. Floating Votive Candles and Blooms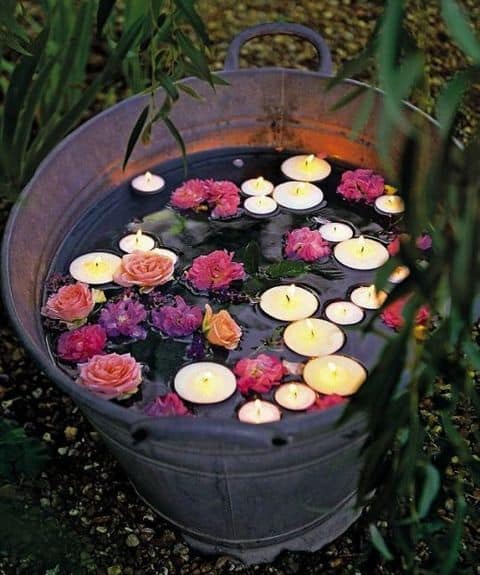 Tape bubble wrap around the base of flower blossoms, and float them in a tub of water and votive candles. Little white votive candles go perfectly with a garden theme. They make us think of a time before electricity… very romantic!
7. Mix-and-Match Floral China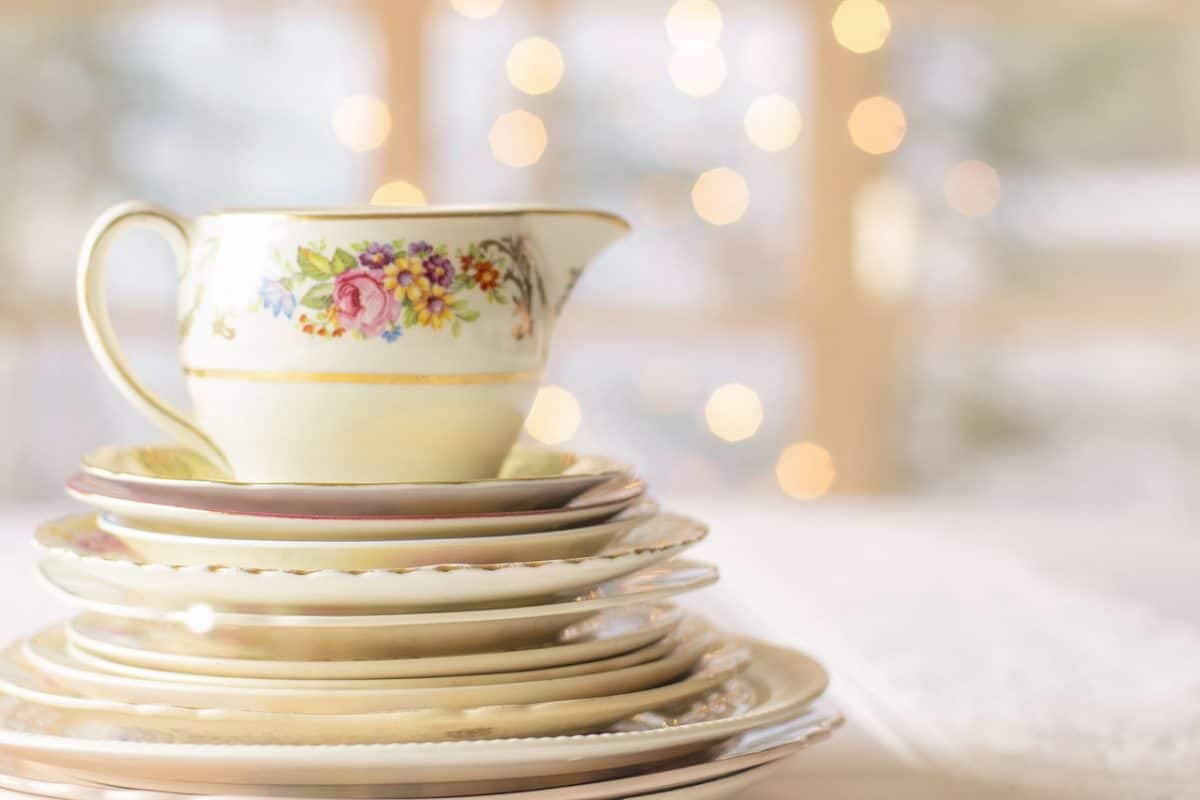 Shop around for some pretty China plates, saucers and tea cups. If you're having an intimate backyard garden wedding, this could be the perfect dishware to serve cake and coffee with, after the main meal. The dishes don't need to match. In fact, a variety of shapes and sizes can be quite charming!
8. Potted Plant Wedding Favors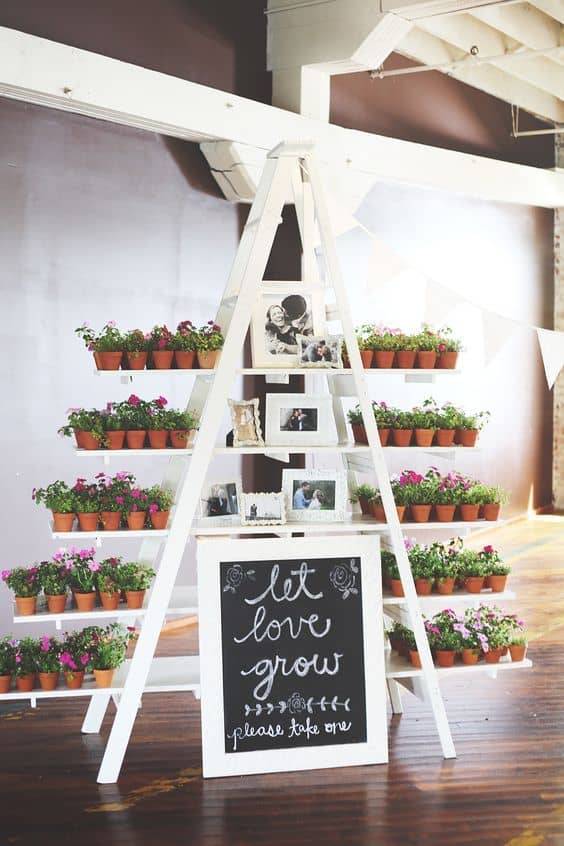 How about giving potted plants to your wedding guests? Consider displaying them on a modified ladder, or a picnic table. This is a wedding favor that will keep on giving. Plus, there's the added bonus of having more flowers on display while these little pots wait to be picked up.
9. Simple Lace and Satin Ribbon Vases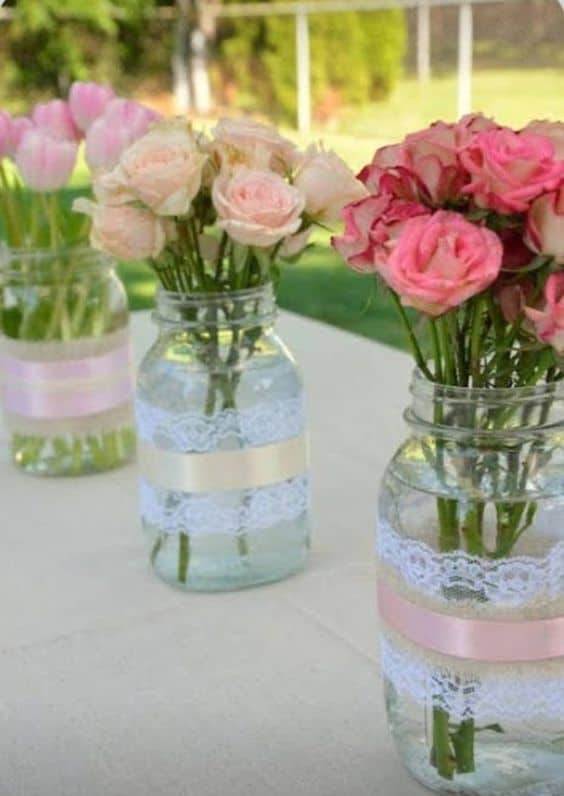 A romantic DIY wedding can be filled with pretty little personal touches. These touches don't have to be complicated. Even just wrapping some lace and a wide satin ribbon around a Mason jar can make a big difference. This is a simple and cost-effective way decor idea that adds a romantic, feminine touch to your table settings.
10. Fairy-Lighting for a Charming Glow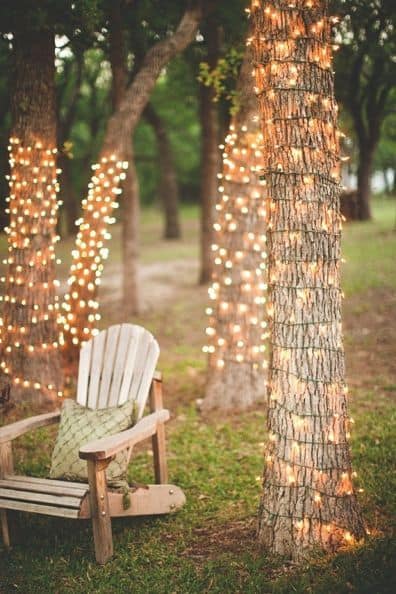 Will your outdoor garden wedding stretch into the evening hours? Wrap little off-white or gold LED lights around the trunks of trees in the area. Avoid bright white or silver. Warmer colors will create a fire-like glow that's magical and inviting.
11. Comfortable Outdoor Lounge Seating
If your wedding reception will take place in an outdoor venue, make sure that there are comfortable areas for guests to sit in. If you're working with a setting that already has seating in it, think about ways to add a little bit of extra-special feel to it. It's an extra-special day, after all! Put table cloths over picnic tables, add throw pillows to garden benches.
12. Good Old-Fashioned Lawn Games
Will you have lawn games available for guests? If you're planning on offering some games, how about some old fashioned ones. Croquet, bocce and badmitten are very sweet, nostalgic choices that will go well with your idylic garden setting.
13. Golden Highlights for a Warm Feel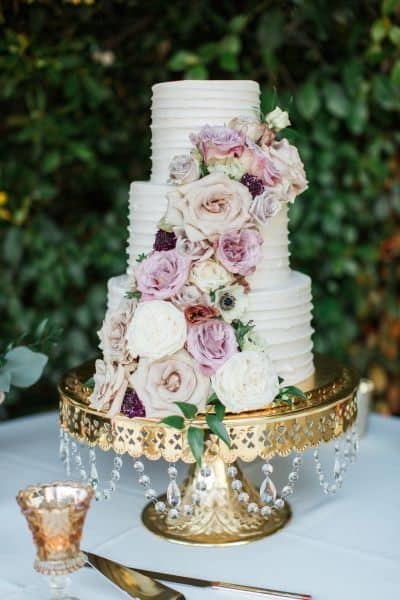 Gold is often associated with romance and passion. This warm color can add to the romantic vibe of your ceremony or reception. How can you bring in little touches of gold to your DIY decor? Pick up some metallic gold spray paint, and cover vintage second-hand items such as picture frames, candle holders, and figurines (how about a cupid, or a heart?). Use these items strategically in your design scheme… a little bit will go a long way.
14. Lovey-Dovey Love Bird Decor
A garden wedding can include the animals that dwell in gardens, like birds, butterflies, fairies or garden gnomes. The above pictures shows how a simple stencil-cut out can make a sweet love-bird table number.
15. Greenery Galore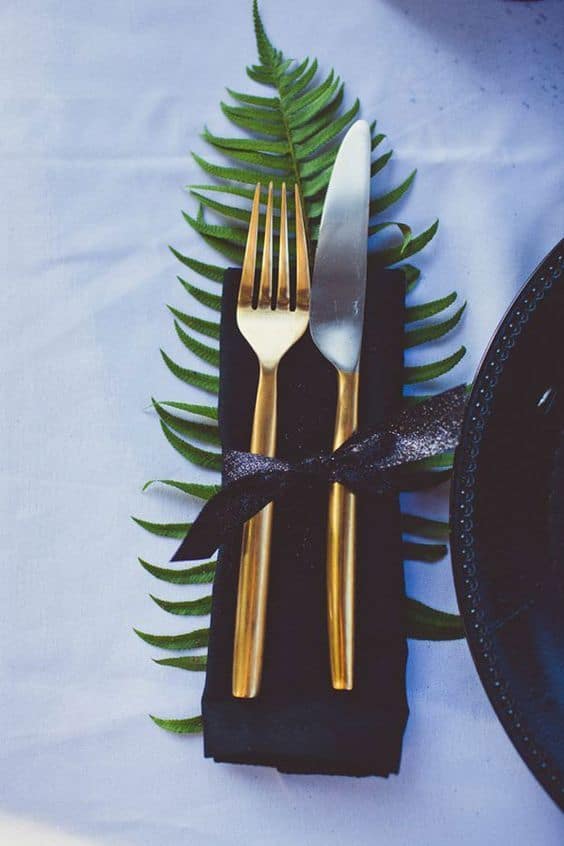 If you live in a part of the world where ferns grow, you know how abundant and beautiful they are. Set a triangular fern frond beneath your napkins for an added boost of greenery. This can be a great way to bring a natural element into your table settings.
16. Long Banquet Table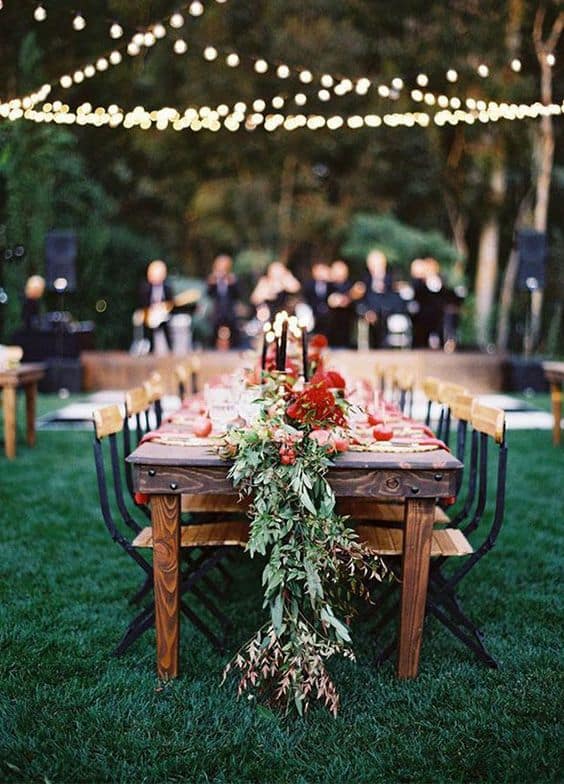 Create a picturesque dinner ambiance by going with long, banquet style tables for your wedding feast. You could even use bench seating, to make this feel even more like a banquet hall.
17. Plant-Based Rainbow of Edibles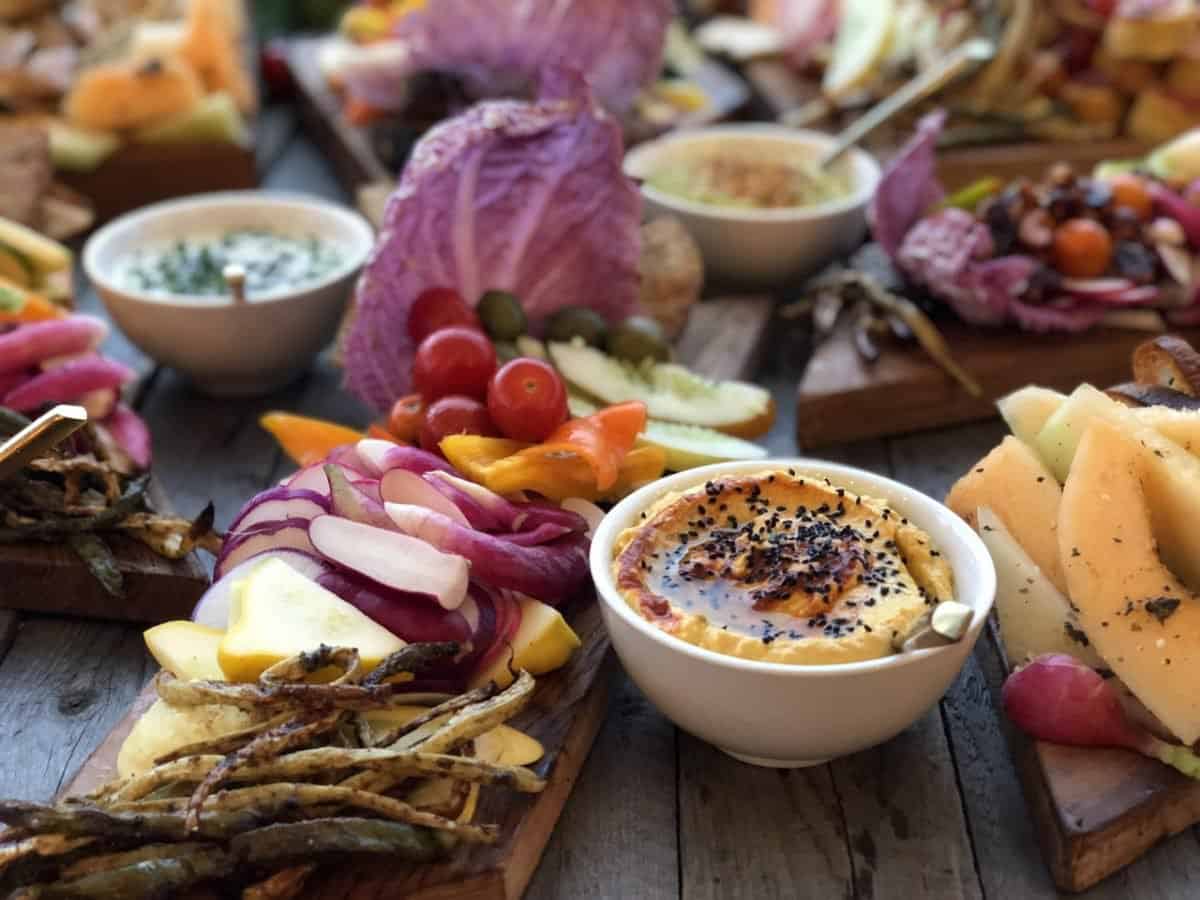 Stick to your garden theme, even when it comes to your menu. Put plenty of plant based appetizers on display, in a rainbow of colors.
18. Paper Butterflies Drink Labels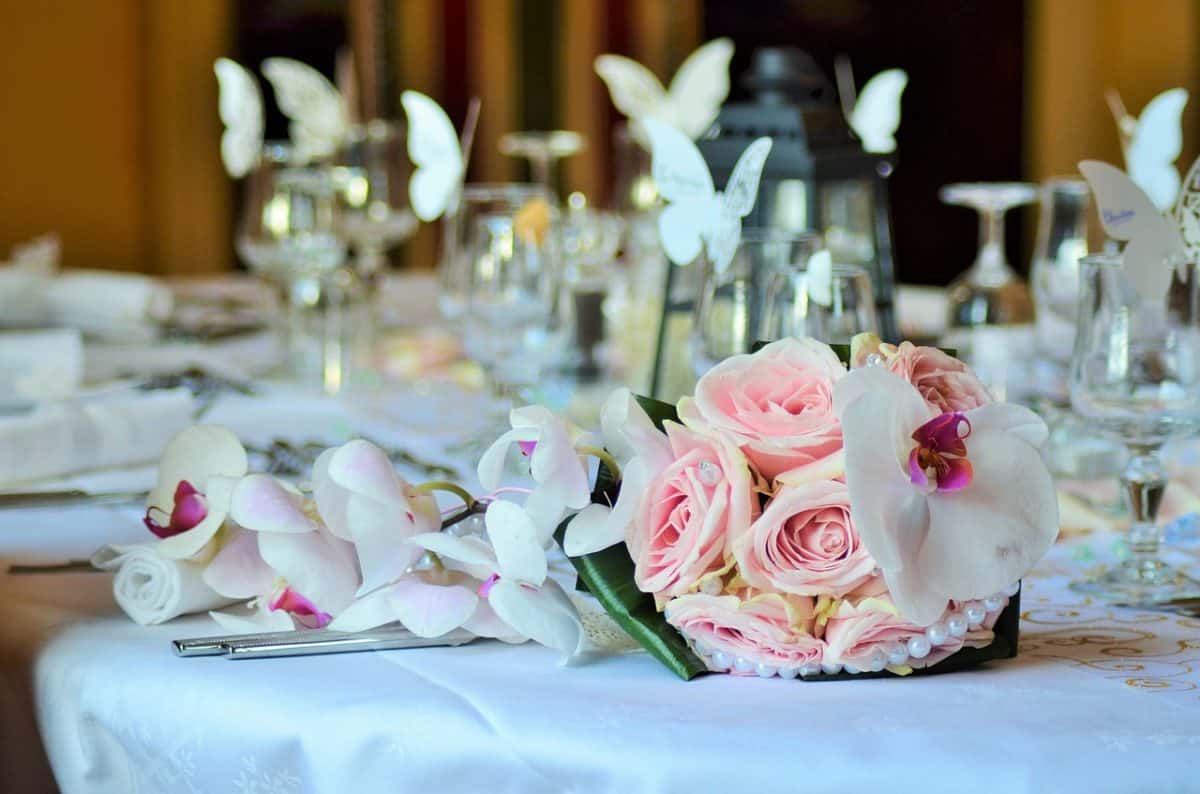 Looking for ways to encoorporate butterflies into your garden wedding decor? How about as wine glass labels? You can set up a station by the bar with paper butterflies that are attached to little clips. Guests can put their name on the butterfly, for an easy way to keep track of their drink all night long. From afar, a table filled with these glasses will look a-flutter with pretty butterflies!
What do you think? Did this list of ideas spark your creativity? We'd love to hear about it! Leave a comment below to tell us which ideas excited you the most.