Click image to enlarge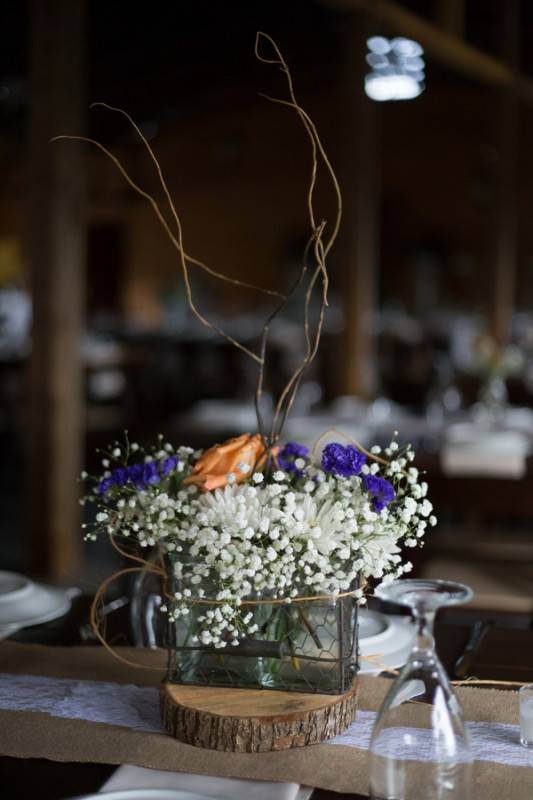 Like. Click to Vote
>
Rustic and farm weddings usually connote a casual vibe but not this one. Despite it being true to the title, it still exhibited elegance. The rustic side brought upon by the venue just added the charm and character to it. The colors were lovely too. Our bride loved fall colors and decided to make this the subject of some decors and outfits. The bridesmaids wore a strapless floor length plum dress carrying a bouquet made up of fall flowers. The rest followed the countryside rustic theme – the food, the galvanized containers, the arrangement of the reception area. It was such a beautiful day for this beautiful couple. Congratulations Susan & Chase!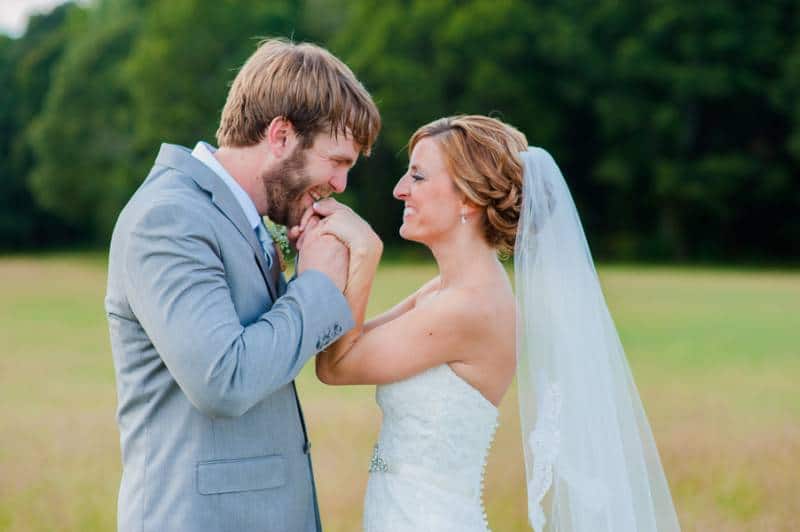 Bride
What is your story as a couple, how did you meet & fall in love?
Chase and I met in 2011 when we both began teaching at Haralson County Middle School. We grew up about 10 minutes from each other and went to rival high schools, but we never met until we both had gone to college and come back to work. To start off with, we would randomly go to dinner or to see a movie as friends, but then wouldn't go anywhere together for a few months. Then as the summer of 2013 began, we went to dinner a few times and spent the rest of the summer together floating the river, going to concerts, and he even planned a whole surprise day for me of horseback riding and going antique shopping in Elijay and Blue Ridge. After we had been dating for about 6 months Chase told me that "when you know it's right, you just know" and he proposed.
What makes the two of you a perfect match?
I think the main thing that makes us perfect for each other is our personalities. We are both very easy going people and enjoy the little things in life. Chase and I like to spend most of our time outdoors, traveling, or just simply cooking out and sitting by the fire. Chase is an extremely thoughtful person, and I try to do the same. The little things in life mean the most to us, whether it is a post-it note on my car dash telling me to have a good day, or my picking up one of his favorite movies to have a movie night.
How did he (or you) propose?
During January of 2014, Georgia was hit with an unusual snow. Apparently Chase had ordered my ring, but it had been delayed by the icey conditions on the road and was unable to be delivered on time. On January 31st, when the roads were starting to clear, he asked me if I wanted to go ride on some back roads and look at what was left of the snow. He took me to an old metal bridge right at the Alabama line called Siverado Bridge and he took a knee in the snow. I of course said yes with tears in my eyes!! I came to find out later that the ring had come in only earlier that day and he had met my Daddy to ask his permission before he came to pick me up.
How long was the planning process? Did you think it was enough time?
We got engaged on January 31, 2014 and the wedding took place on September 6, 2014. We had roughly 7 months to plan everything, and honestly I felt like we had plenty of time. There is a lot of "hurry up and wait" that gets done during wedding planning. I felt like we got most of the major planning knocked out in the first month or so, then we had to sit and wait until it was time to move forward closer to the date.
What was the best advice you received when you were planning your wedding?
Enjoy it!! I feel like so many brides get wrapped up in every little detail of the day that they lose sight of the real reason the wedding is taking place. There were times that I would get stressed- and one particular day I came in to find a Bible that Chase had left me as an early wedding gift. This was an instant reminder that we were blessed to have been brought together and that the reason for the wedding was the marriage itself. Chase told me that day that no matter how stressed I got, if I wasn't enjoying the planning, then the details wouldn't mean anything the day of.
What tips & tricks (can we use "hacks"?) can you share future brides that you yourself have learned during and after your wedding?
Don't try to be the bride that does everything herself. Delegate out some things. I had a wonderful bridal party and an amazing Matron of Honor who were constantly offering to help me in any way possible. Take them up on it!! They are truly wanting to help and I wouldn't have been able to plan our wedding and keep my sanity without them. We made homemade honey jar favors and we turned it into a fun day of lunch and crafting. It was a nice summertime get-together.
Samples- so many websites will send you free samples! I got invitation samples from Bed Bath & Beyond and Minted.com, also I got samples of fan programs from magnetstreet.com. It definitely helped me to make my decisions to have the actual product in my hands.
What were some challenges you faced while planning your wedding & what did you do to address them?
The challenges that we faced were mostly financial concerns due to the expense of a wedding, and the size of our guest list. With Chase and I both working in a school, our guest list grew very quickly. To save money, and because the people we work with are fabulous, we hung one invitation for display in the work room and placed only an RSVP card in each of their boxes. That way we saved on invitation costs and postage.
What inspired your wedding décor? Why did you choose the things that you did?
Our wedding venue was Wrigth Farm in Roopville, GA. The ceremony took place under an oak tree that overlooked some rolling pastures. The setting fit us perfectly for our southern simplicity. My wedding decor is what my best friend and I called "rustic elegant chic". I wanted something simple, yet something that still have a elegance about it. I didn't want just an outdoor wedding with the ceremony in a barn, I still wanted it to be magical when people walked in. Chase and I are both very family oriented and wanted to include decorations that would showcase that. Most all of the decorations on the tables were things that came from mine and my parent's house. Also, the decorations for the ceremony were minimal, only a table with pictures of our grandparents who have passed on, a family kerosene lamp, and my great grandmother's Bible. The decorations on the inside of the reception were kept simple too. We used lots of baby's breath with hints of color to make everything pop and tie together, and we stuck to the rustic galvanized containers mixed with some classic vases. We kept to tradition with food and cake, serving chicken and pork for dinner with the southern style side dishes such as green beans, macaroni and cheese, and Morgan County white BBQ sauce. The bride's cake was a white cake with buttercream frosting, and Chase opted for cupcakes decorated with a baseball decor to fit our baseball themed engagement pictures we took since he is a baseball coach at work.
What was the wedding budget?
After sitting down with my parents and researching the average wedding costs, we decided that our absolute maximum wedding budget would be $20,000. We came to this conclusion after looking at the major components of wedding planning such as the cost of a venue, photographer, invitations, dress, and an estimate for flowers and food. Thankfully after shopping around and being logical about our wedding planning, we were able to stay well under the budget we had set.
Where did you save the most money?
We saved money in our budget mostly by comparing one product to another before ordering. I compared everything from shoes, to napkins, to invitations before ordering. You would be surprised how much cheaper you can get the exact same inviation if you check different websites. Also, we chose to do a sit down dinner which actually came out to be cheaper that doing hors d'oeuvres due to the fact that you can give a head count and estimate more accurately how much to fix. With h'orderves you don't know exactly what people will choose. Also, I think we saved money through our venue. We chose Wright Farm due to the fact that not only was their venue gorgeous and they were a breeze to work with, but also because they included in their price the use of their beautiful farm tables, chairs, and handmade benches. Chase took on the responsibility of finding us an older model car to leave in and we saved money there by borrowing from a family friend rather than renting. Also with flowers, since we chose to use baby's breath as our main decorative flower we saved money there as well. I chose to use mainly fall flowers instead of roses for the bouquets too.

What was the biggest expense?
I think the biggest expenses would be the 4 main parts of a wedding: venue, florist, caterer, and photographer. These may be the 4 most expensive parts of a wedding, but I also think they are the most important as well. Every couple wants to get married at a place they both love. Wright Farm was the venue we fell in love with, the only venue we visited actually. It was perfect for us. The flowers and the food are also of great importance due to the fact that this is what people see and remember of your wedding day once the ceremony is over. Last, but certainly not least, the photographer. A good photographer may cost a little extra, but in my opinion it was the best decision we have made. At the end of your wedding "journey" the pictures are the only thing you have left. As a recent bride, I can say that Chase and I still enjoy looking through our wedding pictures to relive the day. There is so much going on that day that even if you talk to every single person who is in attendance, you won't remember it. There are so many wonderful images that I can't imagine not having captured in a picture…from the look on his face when he saw me at the top of the aisle, us saying our vows to each other, to the pure joy on our face as we entered the reception as Mr. and Mrs. Chase Davis. After the flowers have wilted, the music has stopped, and the sparklers have died the pictures are all you have. These images can not have a price tag put on them in my opinion.
How many guests were invited in your wedding and what was the final guest count?
At our final count, we sent out roughly 170 invitations which did not count the RSVPs that were given to our coworkers. Our final count on the RSVPs was 304.
How did you narrow down your list?
We narrowed down the list using the question of "who would you be willing to take out to dinner?". Through this process we debated and culled our list based on who we had recently talked to and who we hadn't. Even thoughthis helped some, we both come from big families in small towns. With coworkers and family friends also being tied in, we came to the realization that we were going to have a big wedding.
What songs did you use during the ceremony?
We stayed with the traditional wedding music for our wedding day. All of our music for the ceremony was acoustic. Before the ceremony began, " I Will Be Here" by Steven Curtis Chapman was sang. For the entrance of the bridal party we used "Canon in D", the "Bridal Chorus" for me to come down the aisle, and the "Wedding March" for the recessional. Also, for the mothers to be seated we had "There is Love" played. We chose to do a Covenant of Salt rather than a Unity Candle, so no music was played during the ceremony.
Where did you go on your honeymoon?
For our honeymoon, we chose to go to Jamaica. We stayed at the Sandals Royal Caribbean and had a wonderful experience!
What are you most excited about for the future?
I think Chase and I both are very excited to see what the future holds for us. We are excited about enjoying our life together and the new experiences that married life brings. We enjoy our carefree relationship and the time we get to spend together. The possibility of starting a family of our own one day and watching them grow up and hopefully find someone as perfect for them as we feel we are for each other. Like I stated earlier, we both enjoy the little things in life and it is nice to be able to share them daily now!
Do you have advice for couples still in the planning process?
Enjoy your engagement! This is a very special and exciting time in your lives. He has chosen you and you have chosen him back. Do not stress over the little details- remember that at the end of the day you will be married and that is what really counts. If something doesn't work out like you planned, remember, you are the only one who knows how it was supposed to go. Plan ahead, be logical (you aren't going to be able to have every little detail you want), and enjoy!!
What inspired the wedding day outfits?
I love fall colors! I knew I wanted my bridesmaids in a purple color dress so I could also tie in the beautiful colors of fall in their bouquets. After booking our venue I knew the dresses would pop perfectly against all the green in the background. As far as my wedding dress, I wanted something fitted but still simple. Lace is something I have always loved and felt like it fit the wedding I wanted perfectly. Of course Chase wasn't picky about the groomsmen as long as he got to wear boots! I loved the look of the lighter grey suits and have always loved the simplicity of vests instead of jackets for the groomsmen. The colors looked wonderful to me, especially once we coordinated the groomsmen's ties with the bridesmaids dresses!
What was your favorite part of the day?
My favorite part of the day was definitely the vow itself. It was such a special day from beginning to end and I wouldn't change a minute, but the exchanging of vows was so special. Hearing us vow to always love and take care of each other in front of all the people we love was a very special moment. We say the words "I love you" each day, but hand in hand knowing it is forever was a different feeling with the words.
Was there any Do it Yourself (DIY) projects? If so, can you describe them in detail?
Besides collecting most of the decorations for the reception tables, the only other things we did ourselves was setting up the day before. One project that I did complete was making our own wedding favors. I fell in love with the idea of mini honey jars and immediately went to work on how to make them myself to save money. I bought little 2 ounce jars and filled them with honey that my sister bought for me at Costco. I ordered cute little "Meant to Bee" tags from Etsy and tied them on for a finishing touch! They turned out to be very easy to make and really cute for a little gift on the way out the door!
What were the highlights from the ceremony & reception?
The highlights from the ceremony for me would be seeing Chase's face waiting for me and then being pronounced husband and wife. The pictures definitely show our excitement as we headed back up the aisle together. The major highlight from the reception would be our first dance. Not only was it special to us because it was our first dance, but our sweet little niece and nephew, who were our flower girl and ring bearer came out and danced with us. It was completely unplanned and the cutest thing ever!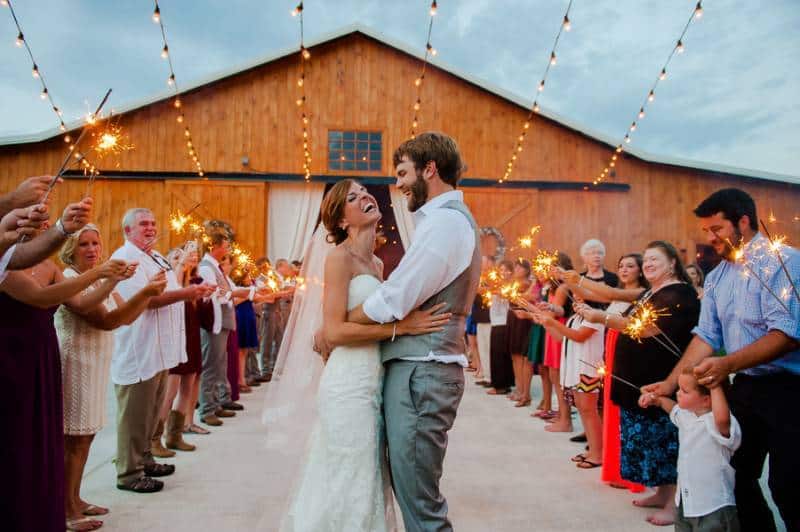 Vendors
Photographer:  Aislinn Rain Photography
Dress Store:  J. Andrews Bridal
Beauty:  RaJe Salon
Event Venue:  The Wright Farm
Band:  West Ga DJ
Bridesmaid's dresses:  David's Bridal  Groom
Groomsmen: Macy's 
Florist:  Allen's Florist
Caterer:  Alice Fincher