Hello, everyone! Devon and I are testing out a new article for the Inspired Bride, and we'd love your feedback, regardless of whether you love or hate it. Every now and then (not regularly) we'll test out items for your registry and give real reviews of them. Sometimes samples may be provided to us, but we'll never be influenced by whether or not it was provided to us. This will never be a financially compensated article; we just want to help you guys out in a more practical (as well as inspirational) way. We'll also never review any items we wouldn't personally want to try out ourselves.

Again, we're just testing this out – if you don't like it, we'll drop it. Let us know – drop me a line at hello (at) inspiredbride.net.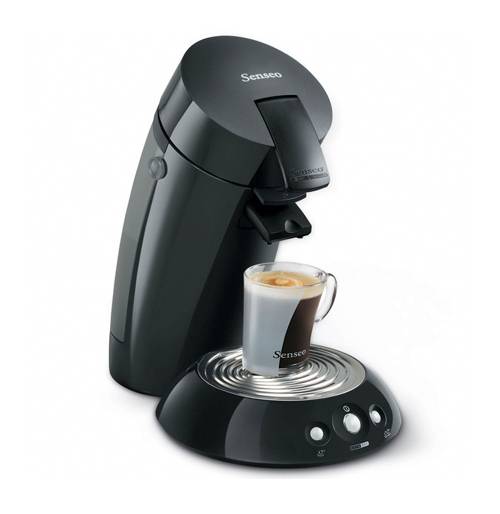 Devon and I were provided with a Senseo SL7810/65 Coffee Machine to test out. I'll be honest and say I'm not a huge coffee drinker. In fact, I don't drink coffee at all. In theory, this is really an ideal machine for us because Devon is a coffee addict and I'm not in the least. Rather than spend $5 an pop on a Starbucks coffee in the morning, I'd love to be able to have him brew up a cup without having to waste a whole batch. With that, I bring you to the point.
I opened up the Senseo. It's pretty easy to unpack, and I always appreciate something that comes without any assembly, particularly when I've just moved to a new house and just want things to be easy. When you first unpack it, you need to flush the system out first before starting your first cup. If you're a big morning coffee drinker, I'd take note of that because the last thing you want is to be craving some caffeine and have to wait for it (I'd recommend setting it up the night before and flushing it then). I had a little bit of an issue with the instructions on flushing the Senseo – I went by the instructions on a peel off sticker that was affixed to the machine, and it didn't mention locking down the lever on the lid of the machine. The sticker was almost like "instructions lite" – and unfortunately as I result I ended up with water all over my counter when it began flushing (woops).
Seeing how well not reading the instruction book worked out for me, I decided to test how intuitive the system was and tried it without reading them again. Totally smart. Can you sense the sarcasm there? I ended up pressing the single cup button, not realizing that meant you only got four fluid ounces of coffee out of the machine. I don't know anyone who's ever want four ounces of coffee, but I suppose it's handy for someone who is having a small cup at night and needs a little push to keep them up later (but not enough so that they'll never get to sleep). Lesson of the Day: just read the book. And that's what I did. Subsequent cups went a lot more successfully, although to be honest I'm still having a little bit of an issue closing the lid latch when I start brewing, but I think I'm just still getting adjusted to it.
Since I'm not a coffee drinker, I had Devon taste test the coffees. He tried out the Kona and Dark Roast, both which came with the unit. His preference was the Kona blend, which to him was more flavorful and rich. The coffees were overall on the weaker side, which isn't Devon's preference, but it's a matter of taste (my parents, for example, would be happy with that).
Here's the bottom line:
PROS: one cup settings are great; you're not wasting a whole pot if it's just one or two people drinking coffee. Generally pretty easy to use. Coffee is naturally frothy, which you don't get with instant coffees. Better quality than Keurig pod coffees (in Devon's opinion), and the machine is more affordable than Keurig. No metallic or plastic aftertaste. Clean up is easy. Pod refills are easily accessible at your local Target or through Amazon.
CONS: instructions for flushing machine on machine sticker do not match up with instruction booklet, causing confusion. Slightly deceptive that for a standard cup of coffee, two pods are needed (one pod makes four ounces). Not a huge price difference between a cup of coffee made with a Senseo and a cup of Starbucks Via (which has better flavor, though it lacks the frothiness of the Senseo).
WHO SHOULD REGISTER: couples who only have one coffee drinker in the house or tend to drink their coffee at different times – avoiding a sitting pot or wasting coffee would be a huge perk. Coffee drinkers with preference for coffees that aren't too strong and are on the frothier side. Coffee drinkers who want their drinks quickly, but don't want to pay coffeehouse prices and don't trust instant varieties' quality.
• • ♥ • •
WANT TO WIN A SENSEO?
We've been given the opportunity to give one away to one lucky reader. To enter, tell us about the sweetest thing your significant other has ever done for you. For an additional entry, tweet about this contest on Twitter (make sure to mention @inspiredbride!) and leave your user name here. The contest will end at 5PM Central Time next Friday, October 1st. I'll announce a winner the following Monday. Good luck!