Vivian ♥ Yussef
Today's feature is a wedding so unique and adorable! Vivian and Yussef wanted their wedding to be a reflection of the kind of things they love to do together as a couple, that being: watch tons of movies. Let's start galleryin' and share in their joy!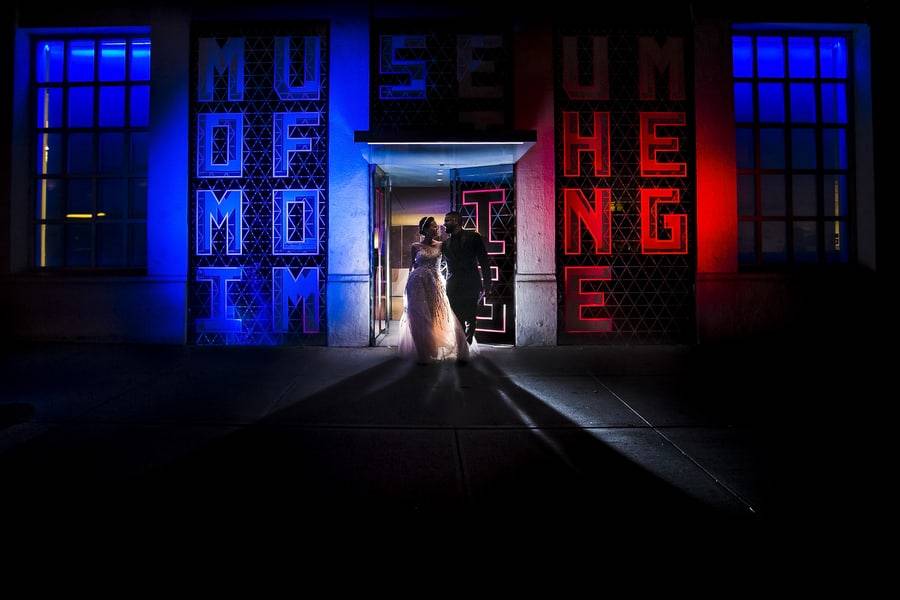 A bit about the wedding from the groom
(yes, the groom *wink*):
We chose to get married at the Museum of Moving Images, NYC because we both love film and media of all kinds and always have a great time when we go there. MOMI allowed us to meet that theme without going overboard in the cinema themed wedding direction, since it's also a beautiful, elegant and modernist space.I modeled the invite from the box art for In The Mood for Love. We're huge fans of Wong Kar Wai and so his aesthetic influenced our invite and other wedding media design significantly. Probably the biggest customization was getting married in front of a projected image. This was owed to MOMI's event manager, B.G. Hacker, letting us know that it was an option. Knowing this, we just had to make use of such a cool background for our vows!
The Happily Ever After
Click image to enlarge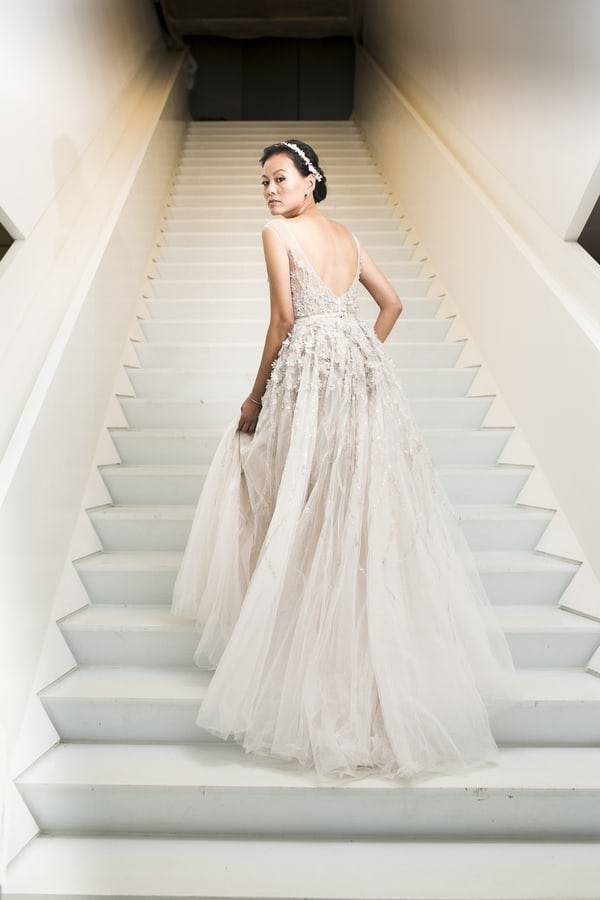 3

Like. Click to Vote
>
Extra Special Details
Handmade by the groom. The printed stationery designed by Yussef Cole (the groom) was unique and special. The modern graphics from the wedding invites had a colorful fairytale aspect to it. The same storyline with the graphics were projected as a backdrop on the movie screen at the theater where the ceremony took place.
The movie screening theme. Keeping in line with their one-of-a-kind theme, each seat at the theater had a bag of popcorn with custom made program. Before the ceremony began, there was a movie screen of an 'Office style' interview of Yussef and Vivan's friends, where they chatted about how this awesome couple met and some of their best stories together.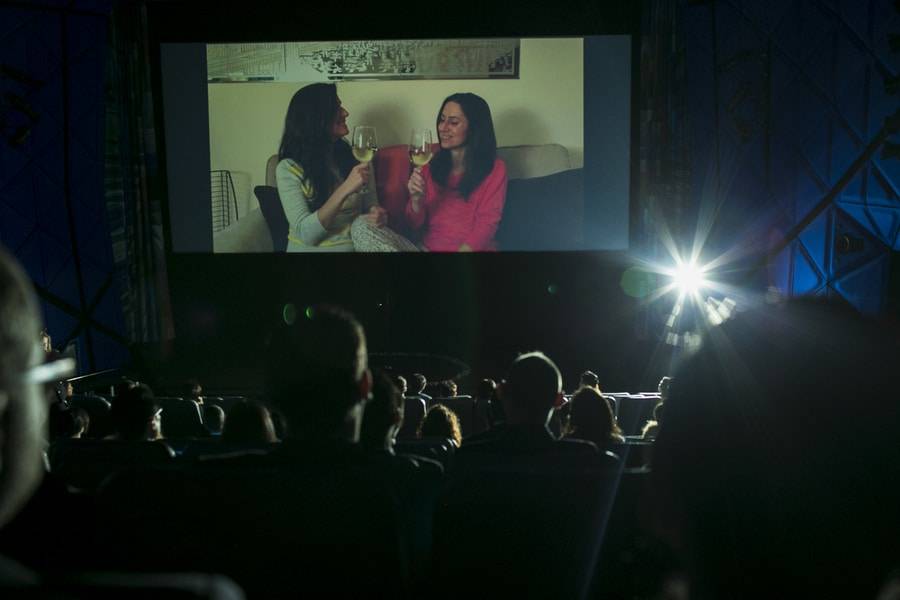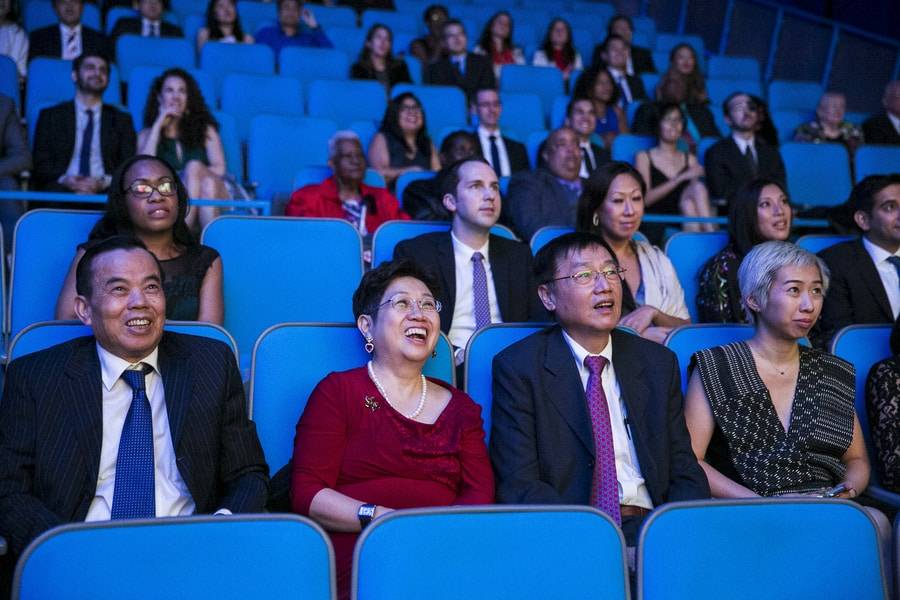 The cake toppers. were fun and witty incorporating Vivian's Chinese heritage – a pair of black and gold Chinese Feng Shui waving cats.
The wedding favors. Those were a hit, Chinese paper fans with delicate floral prints. Guests used them to fan themselves as they blew off steam on the dance floor!
The first dance. Yussef and Vivian's first dance was a total surprise. They started with a traditional slow dance and broke into a really funky Gangam style action dance to a Chinese pop song!

Guests' wishes. The red guest signing scroll was spread across a really long table and guests gathered to leave good wishes on the parchment.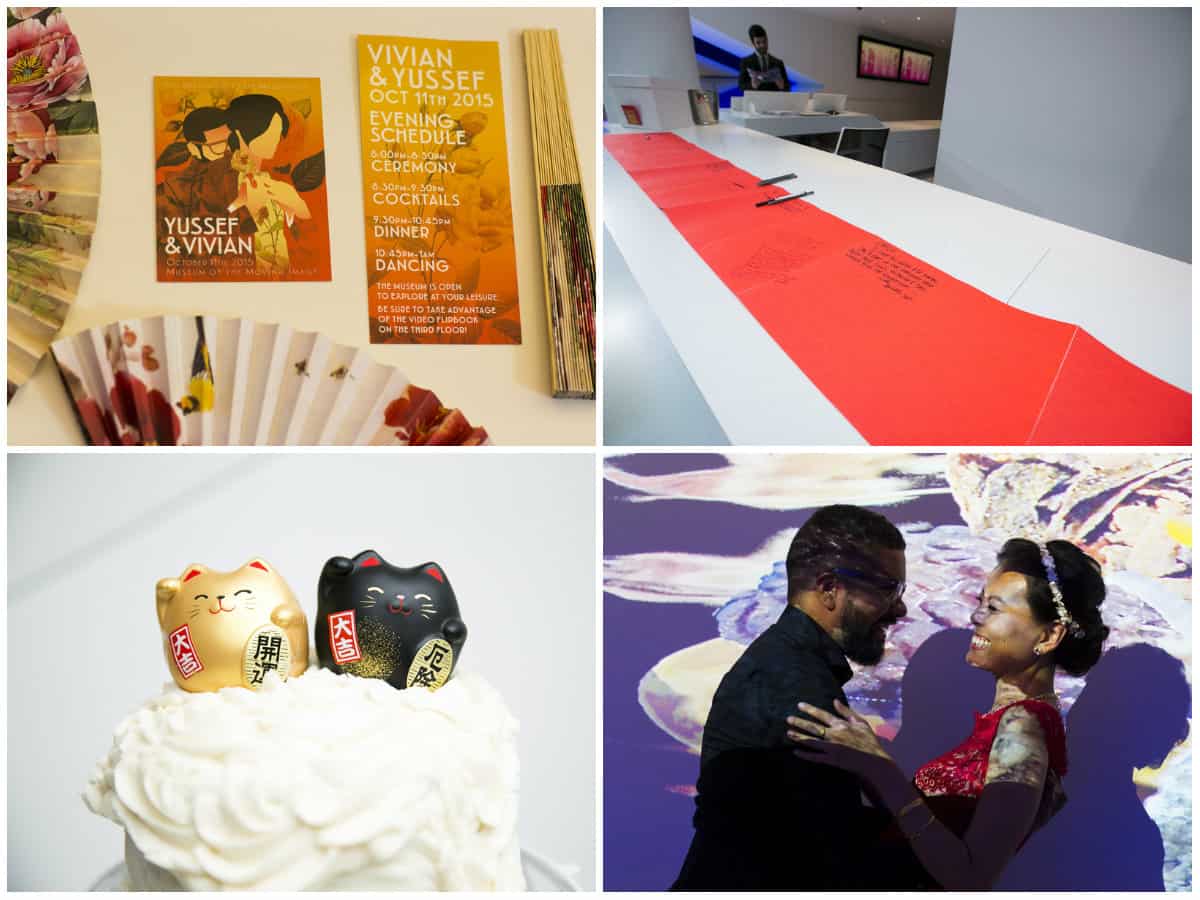 The Wedding Video
The Photographer's Advice
♥ Customize your wedding to show your personality. Choose a venue that is personal to you. Youssef and Vivian's media backgrounds were a perfect match to the Museum of Moving Images.

♥ Get your family and friends involved. Making the movie that was screened before the ceremony was not only loads of fun but got people really excited for the wedding.
Money Matters
$20,000 – $45,000
VENDORS
Photographer: Priyanca Rao Photography
Makeup Artist: BeGlammed
Dress Designer: BHLDN
DJ: BOK-Music
Equipment Rentals: Broadway Party Rentals
Event Venue: Museum Of Moving Images
Caterer: Red Table Catering
Apparel: The Tailory NYC
Invitation Designer: Yussef Cole