Wedding bells ring even in the fall, and where there are ceremonies, drinks abound. Picking the signature wedding cocktail depends on both your taste in alcohol and on the spirit of the season. You want a cocktail that will complement the comforting atmosphere of autumn — cold weather and warm sweaters — while appealing to your palate. Whether you achieve this feeling with an oaky bourbon or a warm cider, a nearly never-ending list of options can suit any taste.
Read on for eight signature fall-inspired cocktails. Who knows? You may enjoy them so much that they become yearly staples.
1. Boozy Pumpkin White Chocolate
This cocktail serves as the perfect two-in-one — enjoy it as a drink or dessert. It features white chocolate chips, pumpkin purée and pumpkin pie spice. Make it with your choice of coffee liqueur or bourbon, though you may consider the bourbon if you want to pack a punch. Top it off with a light dollop of whipped cream and a drizzle of caramel for extra flavor. Substitute plant milk and non-dairy chocolate for a vegan twist.
2. Spiced Pear Gin
This cocktail is sure to get you in the mood for all the festivities a fall wedding offers. A unique alternative to the ever-famous apple, pears complement many dishes and drinks due to their various flavors. They all share one delicious characteristic, though — their sweet and juicy quality. Whip up this cocktail with gin, pear liqueur, lemon juice and cardamom bitters. Garnish it with some fresh thyme for a kick of spice.
3. Lady Apple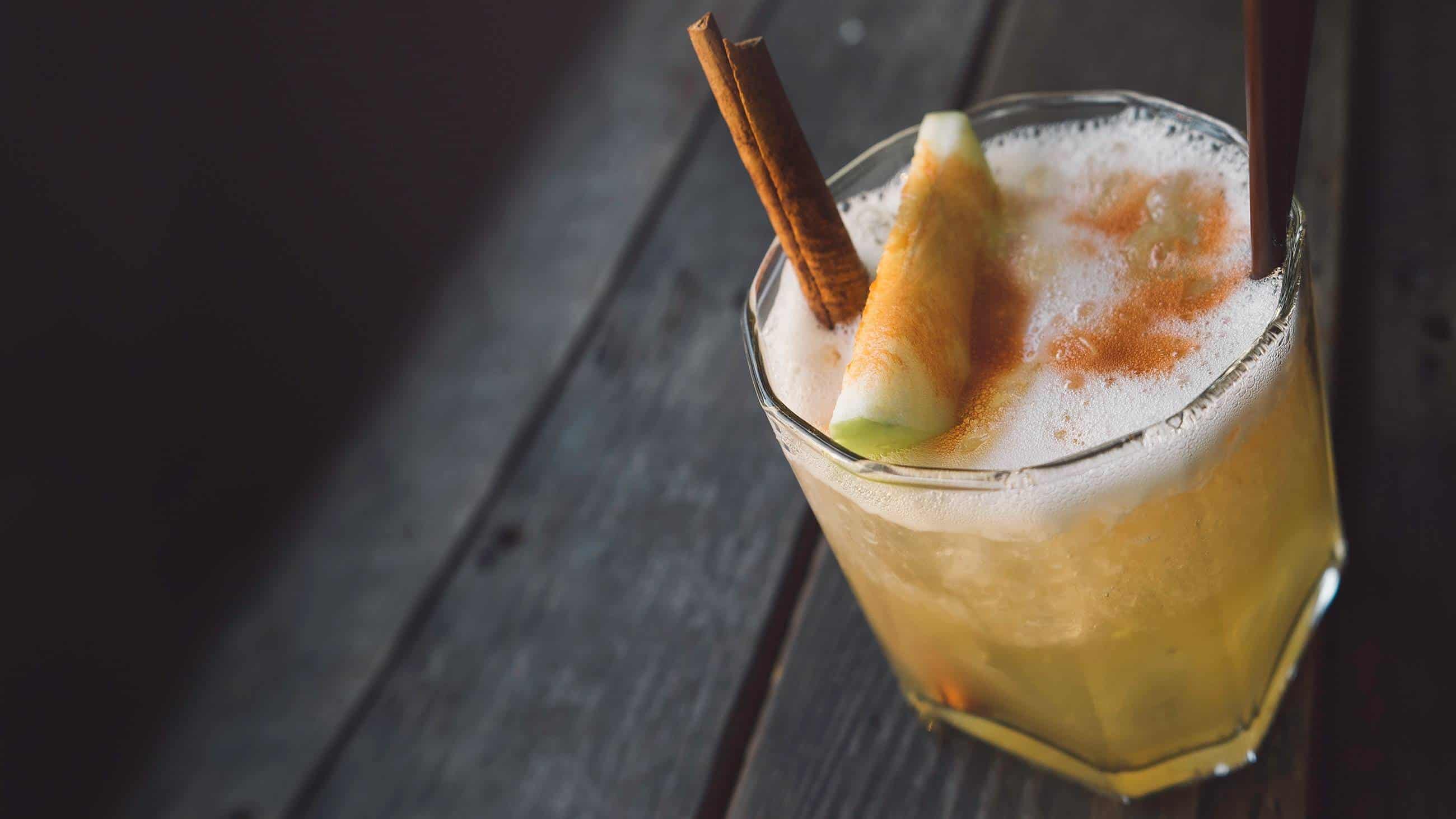 Sip on the Lady Apple cocktail, mixed with lime juice, HANA Fuji Apple, and Sho Chiku Bai Nigori Silky Mild. A garnish of apple and lime peel adds a pop of color to this flavorful cocktail, and a lining of syrup on the rim enhances the sweetness. The Lady Apple combines the smooth, tart flavor of HANA Fuji Apple sake with the sweet and creamy taste of Nigori Silky Mild. Whether you love sweet or sour drinks, this cocktail gives you the best of both worlds.
4. Mulled Wine
Mulled wine remains an enduring fall favorite, and what better occasion to serve it for than your wedding? Break out the slow cooker and simmer some red or white wine, cinnamon and maple syrup until warm, then serve it up with your preferred garnish. Some ideas for garnish include cinnamon sticks, citrus slices or star anise. A cup of this will warm you and your wedding party up from the inside-out, providing a fun way to combat the autumnal chill.
5. Spiked Apple Cider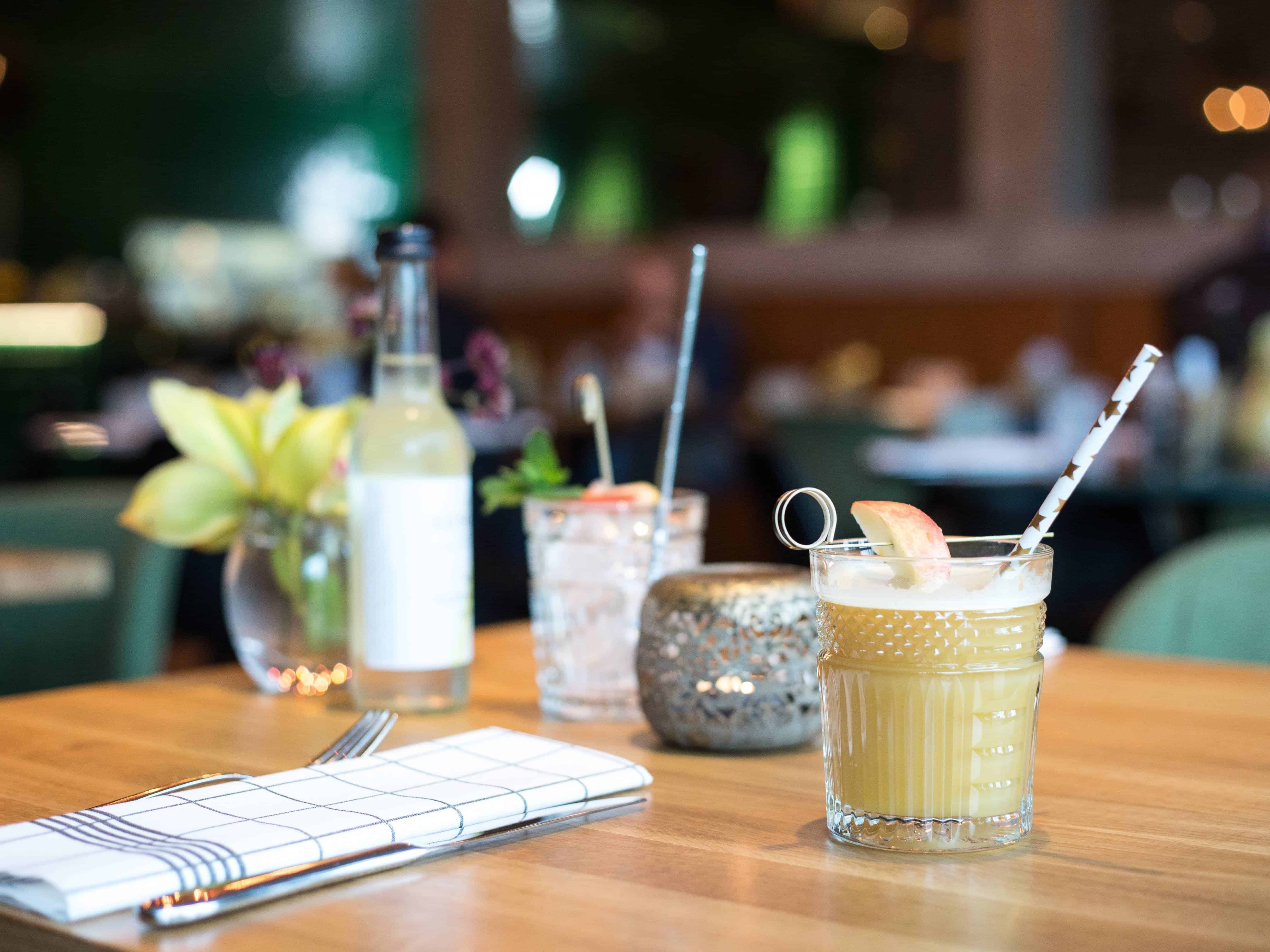 Incorporate a brandy or aged rum in your spiked apple cider to bring out a spicy and sweet flavor. Combine fresh apple cider, ginger and cloves in a slow cooker to let the flavors merge, and splash in some spirits when you're ready to serve it up. Pour this cider into cored apples and sip it through a cinnamon stick for creativity. You'll wow your guests with the presentation and the taste of this drink.
6. Pumpkin Spice White Russian
Adore any and everything pumpkin flavored? Create a Pumpkin Spice White Russian for your signature cocktail by combining maple syrup, heavy cream, coffee liqueur and pumpkin purée. Add whipped cream and a dusting of pumpkin spice on top to complete the look. Reimagine the classic White Russian cocktail with this pumpkin-infused twist and make a lasting impression at your reception.
7. Washington Apple
Mix whiskey, sour apple schnapps and cranberry juice to create the Washington Apple. This cocktail offers a tart taste with underlying sweet notes, and it's easy to prepare if you follow the ratio. Serve it with a slice of apple on the rim for a refreshing and colorful garnish.
8. Apple Pie Moscow Mule
Create a unique spin on a familiar drink by mixing apple-flavored vodka, ginger beer and cider for an Apple Pie Moscow Mule. You can make a mocktail version for those who prefer not to partake by leaving out the vodka and letting the ginger beer speak for itself. This drink is a wonderfully chilly addition to any fall celebration.
Say Cheers to a Flavorful Reception
Choosing your favorite cocktail gives you one more thing to check off your wedding to-do list. Sit back, relax and enjoy your reception with a drink your guests will rave about for weeks to come.