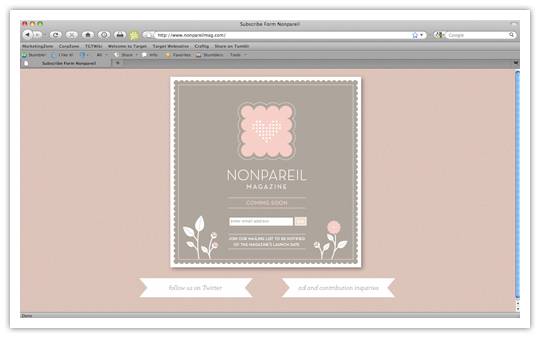 It's with great pleasure that I finally publicly announce the special project I've been working on with Kristen of Papercrave. Through an incredible collaborative effort, we've developed a new, hip e-zine called Nonpareil Magazine. While the magazine is overall wedding-centric, the content within it could easily be adapted for multiple occasions or for everyday use.
Nonpareil is not just another wedding magazine with pretty imagery. We're a trusted advisor and friend aiding the everyday bride plan a beautiful wedding in a more accessible way. Pairing an excellent taste level with a heavier emphasis on do it yourself projects and tips and tricks, we seek to inspire our readers to create their own perfectly crafted wedding regardless of budget or skill level. From the perfect little detail to make something feel more custom made to designing (and glue gunning!) her way through the entire reception, our magazine is here to help.
Our first issue will be debuting very soon – and in the meantime, as we prepare, I hope you'll excuse any light posting here on the Inspired Bride. In the meantime, please visit the site and bookmark it or sign up for our mailing list to be notified when the first issue goes live. We're also pre-selling ad space, so if you are interested in our rates and media kit, please visit the site and click the appropriate button.