If the "new normal" still has you stressing about large gatherings, a virtual wedding may be the perfect way to tie the knot. Of course, we know that in an ideal world, having all of your closest family and friends attend your wedding is what you want. But unfortunately, our world has gone and gotten itself into a huge mess, so having everyone at your wedding may be a near-impossibility. But that doesn't mean you can't have a spectacular wedding day filled with speeches, photos, vows, and the ability to watch everyone's responses. It'll just have a more… virtual appearance. And luckily, modern-day technology has provided us with some pretty cool gadgets to make virtual weddings easy.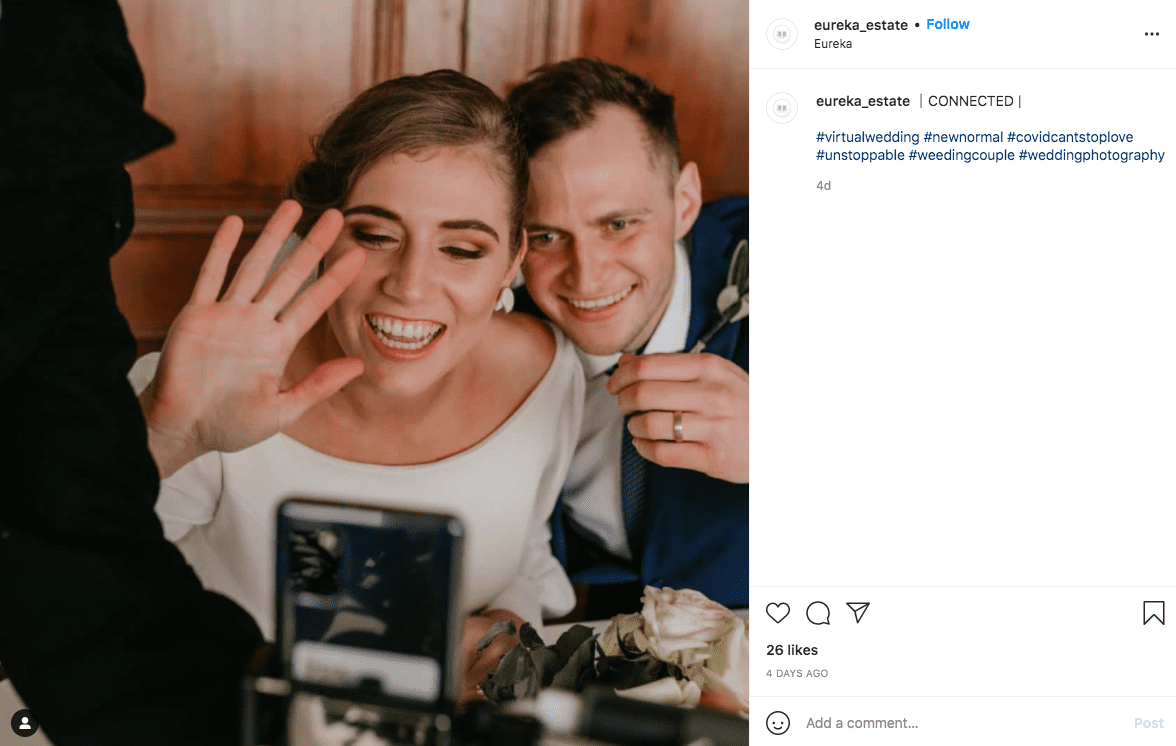 7 Easy Steps For The Perfect Virtual Wedding
If hosting a traditional wedding with a big guest list has your stomach in knots, you're going to love these 7 easy steps for the perfect virtual wedding. Follow this guide, and you'll be whipping together an unforgettable virtual wedding in no time. After all, your wedding is an extraordinary event. And just because people can't travel or don't feel comfortable gathering in large groups doesn't mean it shouldn't be magical. A virtual wedding may not be the same, but when done right, it can create some unforgettable memories filled with the same laughs and emotions as the old-school, traditional soirées.
1. Find A Virtual Vendor
First things first. You have to decide what type of virtual vendor or platform you'll use to stream your wedding. Making your wedding a personal and unforgettable experience begins with the tools that you use. Here are the most popular online tools that couples are using for their virtual wedding experiences.
Popular Live Streaming Wedding Tools
There are many different live streaming wedding tools that you can use for your event. It's essential to do your research to ensure that you select a service that will allow you to get an enjoyable and easy experience to facilitate and attend. Using a service that makes it difficult for your guests can be frustrating, so a bit of research will help.
Zoom
By now, we're sure that you've heard of Zoom, as it quickly became a household name after the pandemic arrived on the scene. People around the globe are using Zoom for everything from catching up with friends and family to meetings and, yes, weddings and events. It's definitely a video conferencing platform that you should check out.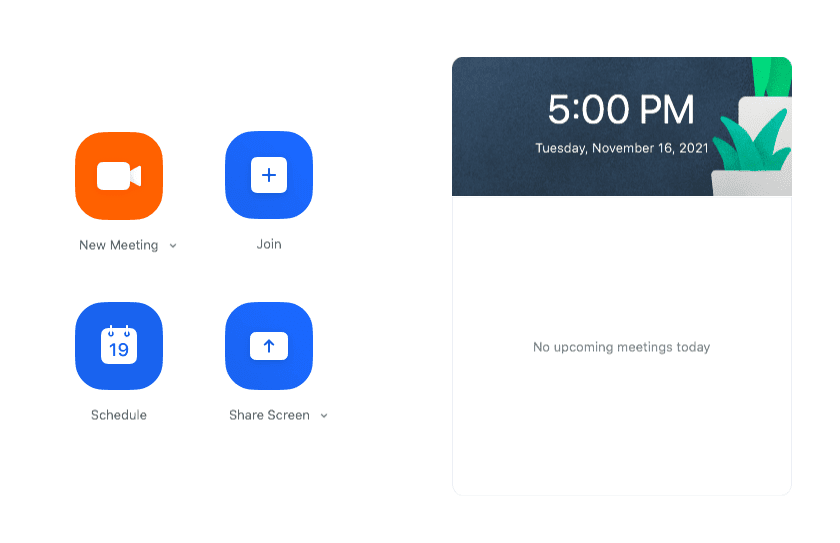 The sheer popularity of this service means your guests will likely be familiar with it, which will make the process easier and more enjoyable. But make sure to upgrade to the Pro account, because the free version cuts off after 40 minutes.
Event Live
Eventlive may not be a household name, but it's a streaming service that has excellent quality video, your guests won't have to create an account or download an app (Zoom requires this); it includes a guestbook, and it's private. And you can also download the video and watch a replay for up to a year.

Joy
Joy (withjoy.com) isn't just a streaming platform, they're a company that helps couples plan their wedding. From wedding websites to registries, invites, and Yes! Streaming services. But once you sign up, you'll realize that you won't actually be streaming your wedding from Joy. Instead, when you set up the details of your virtual wedding, you will have to choose where the guests will see it live. Then, choose to stream your wedding live via YouTube (which is free) or through Vimeo (which requires a premium account).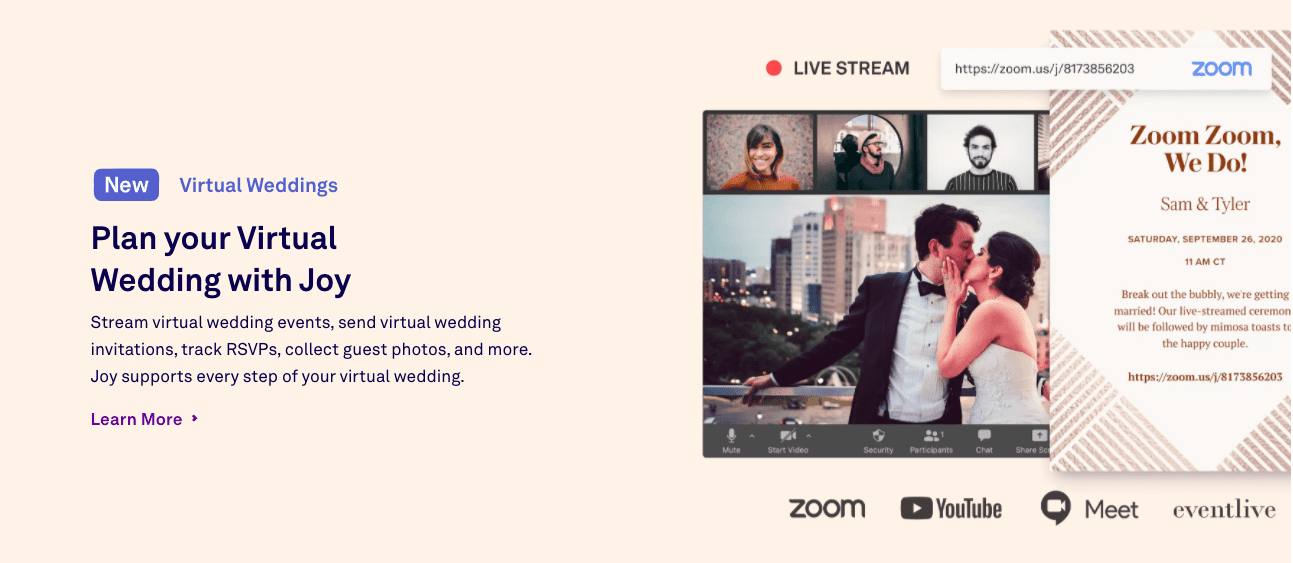 2. Send Out Your Digital Invites
Just because guests aren't attending your wedding in person doesn't mean invitations are not required. Sending digital wedding invitations is a great way to provide your guests with wedding details, including the time, date, and dress code. And since there's nothing to be printed and mailed, digital wedding invitations are eco-friendly.
3. Require Top-Notch Technology
You only get to do your virtual wedding once, so you'll want to make sure that you have top-notch technology on hand. You'll need a great microphone, high-speed wi-fi, a tripod to avoid shaky hands, and a laptop, smartphone, or computer. Just make sure to choose the one with the highest quality camera. You may also want to invest in a ring light.
Technology is key to having a virtual wedding. So, spend a little extra, upgrade your wi-fi, invest in some new equipment, and be prepared for an unbelievable virtual wedding experience.
We also recommend investing in an AV screen. This will make your experience much more enjoyable as you'll be able to see your guests on a much larger screen, making it seem like they're really there. Seeing them on a phone or laptop screen may feel a little weird. The extra expense of an AV screen will be worth every penny.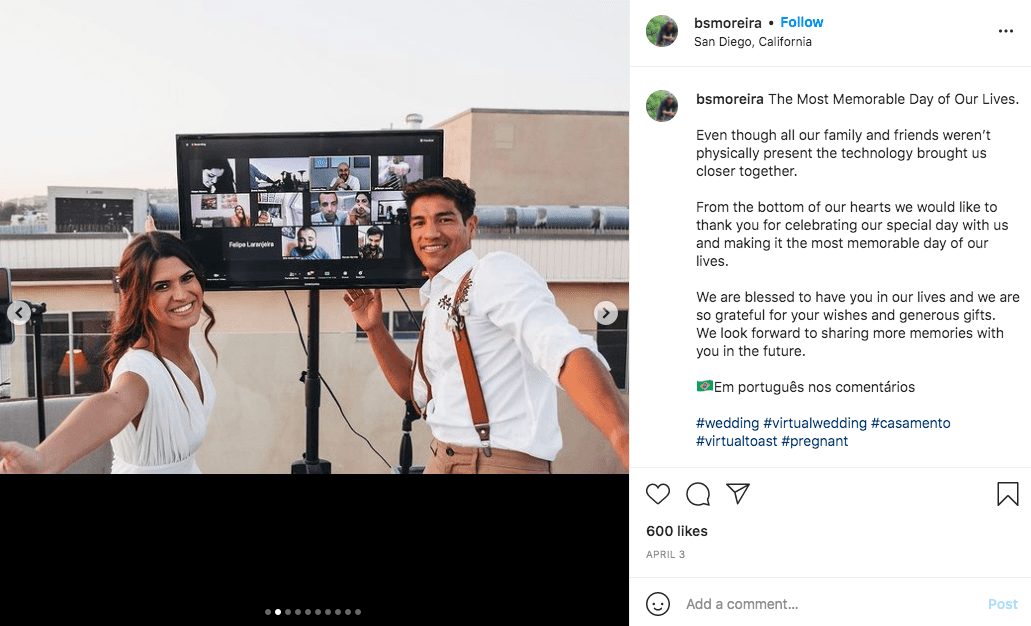 4. Incorporate A Custom Wedding Hashtag
One of the most popular wedding trends right now is wedding hashtags. They're like a personal slogan for your love story and should be included in your invitations, your wedding website, and your virtual wedding session. Encourage your guests to snap photos and videos and tag them with your wedding hashtag so you can create a social wedding photo album.
Why You Need A Wedding Hashtag
Not only is your wedding hashtag a slogan for your love story, but it can be a slogan for life. The two of you are joining as one, which will be solidified on your wedding day and in your hashtag. Online is where everyone shares photos with family and friends. Using your wedding hashtag will group all your wedding photos in one excellent social media photo album.
It makes it easy for your guests to see your perfect wedding day unfold. Not to mention, when your guests share their photos and videos, you'll get to see your wedding experience from a different perspective – theirs.
5. Have A Tech Rehearsal
Technology has changed the way we live and made things easier to do, or at least more convenient. But let's face it! It isn't perfect. So make sure to have a tech rehearsal so you can work out any kinks before the live event. Failing to do so could turn disastrous.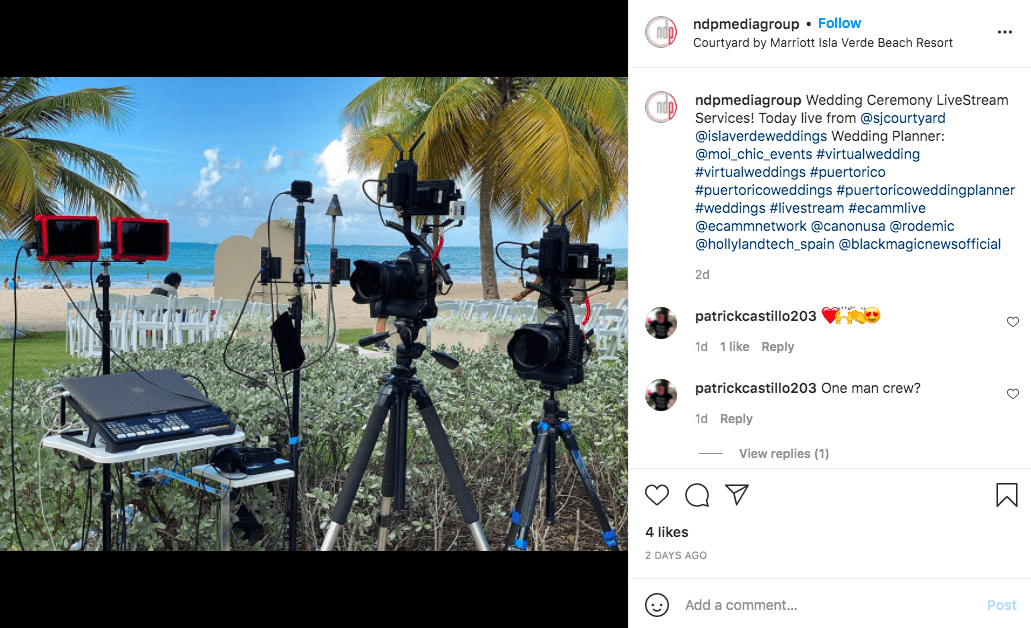 You may also want to consider having someone on hand as the dedicated "streaming administrator." They can help facilitate the virtual wedding creating a smoother and more enjoyable experience. Appoint a devoted person or professional as the streaming administrator to assist guests with queries and, most importantly, mute and unmute microphones. After all, no one wants to hear barking dogs or tv background noise from guests who forget to mute.
6. Hire A Professional Photographer/ Videographer
Ok, so you may think you don't have to hire a photographer or videographer for your virtual wedding. And well, yes! It's true, it's not required and can be a personal choice, but you'll want to be able to look back on your wedding day, so you shouldn't skip this.
Having a professional photographer and videographer at your virtual wedding will allow you to capture all the raw emotions, the giggles and laughter, speeches, your first dance, and that dress. Weddings create memories that can be cherished for a lifetime; you'll be glad you hired a photographer and videographer for your virtual event.
7. Consider The Reception
A little misnomer about virtual weddings is that they don't include a reception. And while this may be true for some couples, it doesn't have to be for you. Instead, safely prepared bento boxes with menu inserts, pre-mixed specialty cocktails, and delivery options are one approach to engage local (and distant) guests since it's another interactive virtual experience that could please your loved ones.
Sending cocktail kits, baked goods, or full meals and using an alcohol delivery service to bring your event together will help make it feel more normal and enjoyable.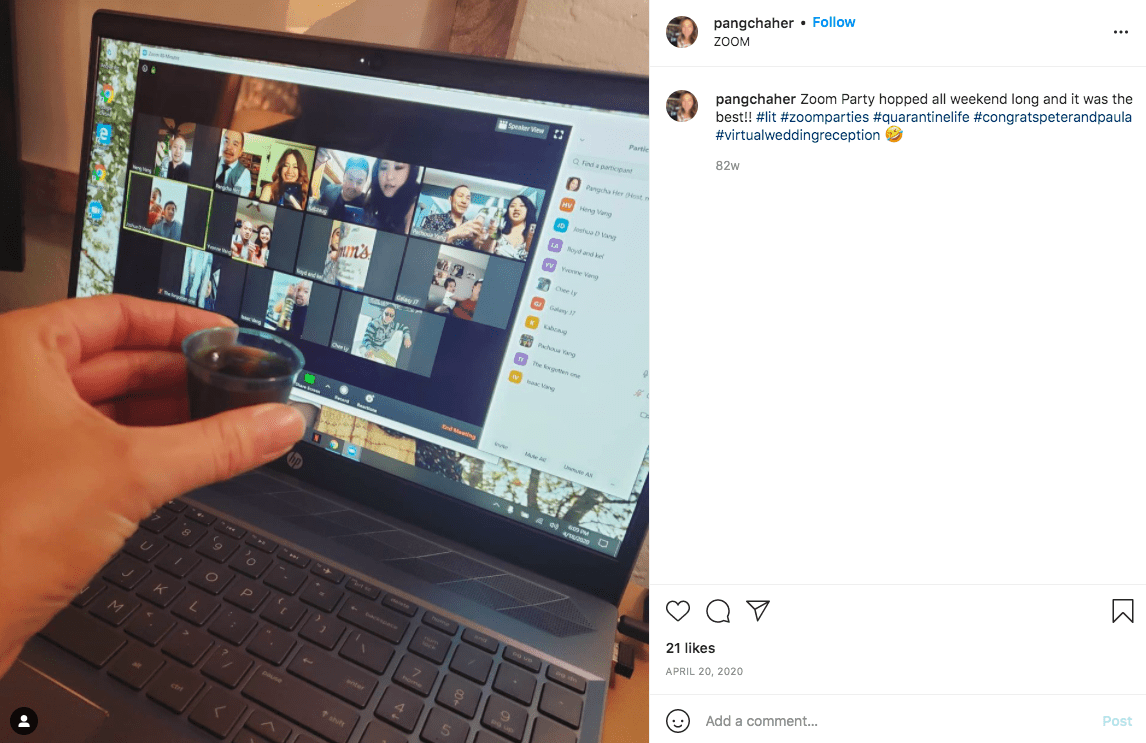 Another great idea is to create virtual games and interactive activities. This is one sure-fire way to elevate your virtual wedding into a magical and unforgettable experience. Some other ideas involve online guests by having them recite a poem during the ceremony, speak a blessing before the dinner, put on a performance, give a toast, or give a speech.
And something else to consider is hiring a professional host or emcee to help with the evening's flow. Hiring a skilled emcee to deliver directions and engage the guests attending online can be a tremendous help because virtual weddings are still so new. Therefore, it's essential to communicate fundamental directions, which an emcee or host can help with.
Your Love Shouldn't Be Canceled
The arrival of a global pandemic sure did turn the wedding industry on its head. But one thing that we love about the passionate professionals that work in this industry is that they allow their creativity to kick in even in the worst of times. Deciding that love shouldn't be canceled allowed the virtual wedding craze to take off. Saying "I Do" isn't about the "party." It's about the joining of two souls. So, no matter how you do it or where you do it, just do it!