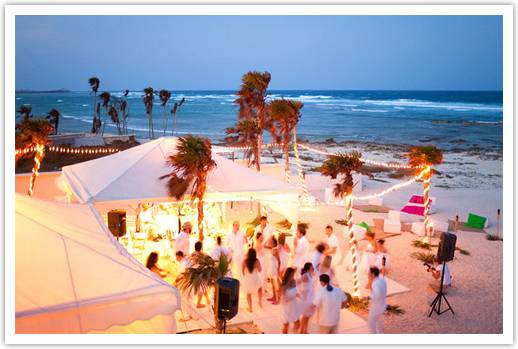 The Inspired Bride team will be going to the Dominican Republic for a week and we thought it's only fitting to do a weeklong feature on destination weddings! To start off the week, we'll tackle the differences between having a destination wedding and having a traditional wedding.
Here are some reasons why a destination wedding would be more ideal to you over a traditional wedding:
Couples these days are going out of their way to ensure their wedding is different from the rest and a destination wedding seems like the ticket to do just that
With the hustle and bustle lifestyle, the idea of having someone else think about the little details seem like the best way to go
More couples are opting for a more intimate celebration where only family and some close friends are present
Simplicity is best. You prefer to keep it simple over having elaborate details
Practicality is key. You get a wedding and a honeymoon all rolled into one. You can stay longer than your guests to have the much needed alone time and just relax after all the wedding related partying 🙂
Now on to some reasons why a traditional wedding might be more ideal to you over a destination wedding:
You've always dreamed of a big, elaborate wedding
You enjoy planning every detail of your wedding
You are a traditional couple
The idea of not having your whole family and some friends there is just unimaginable to you.
Whether you're considering on having a destination wedding or a traditional wedding, it all comes down to one thing. The wedding is the celebration of your union and the way you choose to celebrate it will depend on how you have always imagined your wedding to be (of course with your fiancé's input as well).
The idea of going away for a wedding seems great! I for one considered having a destination wedding at one point but I've always dreamed of having a wedding surrounded by family and friends. I simply can't imagine not having them there on our special day. Looking back, I can honestly say that they were a big part of our wedding Another reason why we opted to having a traditional wedding was because I as a bride took on the role of being my own wedding planner and enjoyed every minute of it. There were so many ideas and details that I felt wouldn't be possible if I left it in the hands of people who are miles away from me. Yes, call me obsessed, but this is one day where I wanted my visions to turn out exactly the way I always imagined it.
Inspired Bride would love to hear your take on this topic of whether to choose a destination wedding or have a traditional wedding.
Image from TheWeddingLocation.com